Beekeeping is perhaps one of the most rewarding and fascinating practices to undertake. Even though most people view bees as unwelcoming, such a perceptive in most cases stems from a lack of substantial knowledge about bees. Bees are naturally territorial and are hospitable as well if you know how to handle them. They need a good habitation to thrive and never tolerate any invasive behaviour. That may explain why they can attack at times when provoked. Fortunately, you can keep the bees at bay by providing an ideal environment for them. Your first step should be to invest in the best bee hive box you can afford. The beehive is their home and therefore such a decision should be taken very seriously. With many readily available beehive options available in the market, narrow down your choice by checking out the best bee hive boxes outlined below in this article.
Choosing Bee Hive Boxes – what to consider?
Before you commit your hard-earned cash to the purchase of a beehive, consider these:
Versatility
Does the hive allow the use of standardized equipment and accessories? Having one that allows you to share hive accessories such as brood and honey frames can be a plus. It should also be easy to add more frames when the bees have fully utilized available frames.
Honey Harvesting
A good one should make it easy to harvest the fruits of your labour – the honey.
Minimal Disturbance
An ideal beehive makes it easy to work on the hive with little disturbance of the bees.
Production
Choose a hive that inhibits drone production and maximizes the production of honey and brood.
Design
The bee hive box chosen should have a design that provides your bees with the right temperature and aeration. The bees should be well protection from elements of nature such as rain, cold, and temperature changes.
Setup
Choose a bee hive box that is easy to setup. The joints on the wooden components should interlink well and easy-to-read and follow instructions should be provided.
Transportation
For best convenience choose a hive that can easily be disassembled and assembled. This makes transportation easy.
Material quality
Bee hive boxes are built using different types of wood. The best bee hive boxes are those built using good quality material.
Budget
We are never equal when it comes to financial status and this will dictate what one can afford. If you are well-endowed, why then should you not go for the best you can possibly find?
Best Bee Hive Boxes
10. Flow Frame Classic 7 Beehive Frames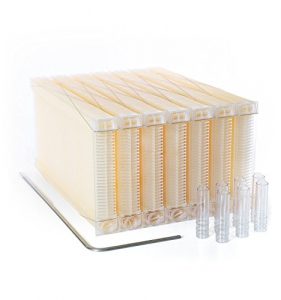 The Flow Frame Classic 7 is an upgrade of the Classic 6 Hive from Flow but they work in the same manner. The frames are designed to fit a Langstroth 10-Frame hive box. The frames do not have a wire mesh but they have a unique design that makes honey harvesting easy and safe. The beekeeper is able to see when the frames are ready since they have a transparent end that allows the beekeeper to see the interior.
Flow Frame hives eliminates the need to remove the hive frames when you want to extract honey. Instead, you simply insert the Flow Key which splits the honey cells forcing the honey to flow into the tubes and out of the hive. This is not only one of the safest methods of extracting the honey, but it also leaves the bees undisturbed. You therefore never harm the bees. The Flow hive starter kit is simply one of the best you can have.
Check Price
9. Valley Bee Supply 10-Frame Beehive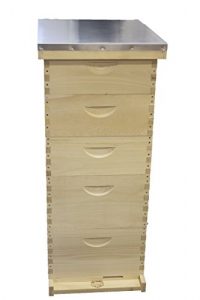 The Valley Bee Supply 10-Frame Beehive is made using unfinished New England White Pine. It comes unassembled and without any finishing. It designed for the pro-beekeeper or a beginning that is willing to buy the other beekeeping supplies separately. The unit is easy to assemble and comes fully-packed with most of what is needed for kick-starting or expanding your beekeeping enterprise.
The Valley Bee Supply Beehive comes with 2 deep boxes and 3 medium-size boxes. These have been drilled already and the joints fit perfectly. Its handles are pre-cut so as to offer a better grip and resist rot. Furthermore, the hive boxes are made using high-grade plywood which lasts for years. The unit's roof is made of heavy aluminium that is rust-resistant and it comes pre-assembled just like the bottom board, inner cover, and slide out tray. Another feature of the beehive is the entrance reducer included. Nonetheless, it is foundationless and lacks nails and frames. These have to be bought separately.
Check Price
8. Happybuy 2 Layer Beehive 10-Frame Beehive Starter Kit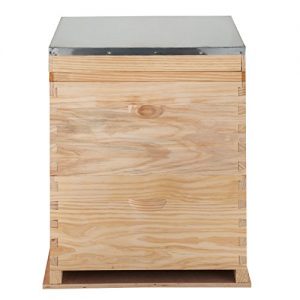 The Happybuy 2 Layer Beehive is made of pine wood and measures 24.5 x 20 x 16 inches and weighs 16.18 kgs (35.67 lbs). The unit comes with one deep brood box, an entrance reducer, 2 windows for viewing the hive, a solid bottom board and an inner cover. The foundations are also included. The honeycombs are very easy to remove so as to prevent the bees from coming into contact with the hive wall and honeycombs. Its overall design is appealing, safe, and convenient. It is also easy to install this bee hive box kit.
One of the most outstanding features of the Happybuy 2 Layer Beehive is that it is compatible with the traditional beehive. It is also important to note that the wooden material used in building the hive has been subjected to a mechanical drying treatment. This helps ensure the beehive does not crack. Its outer wall has also been polished to prevent water infiltration. Furthermore, honey is harvested via the efficient auto flow technology. This bee hive box kit is a sure bet for the savvy buyer.
Check Price
7. Popsport Beehive Wooden House 20-Frame Complete Box Kit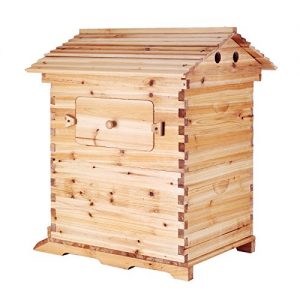 Another top pick for beekeepers is this hive box from Popsport. It has all that you need for starting or expanding your beekeeping enterprise. The complete box kit beehive is tailored to suit 10 deep and 10 medium frames. The frames that come with the unit are made of white pine whereas the hive super is made of premium fir wood. The unit has an entrance reducer and a bottom which help secure the hive from predators and insects that invade the hive.
Some other notable features of this bee hive box kit include: pre-cut finger joints that interlink perfectly, a stylish, safe, and convenient overall design, and excellent ventilation. This beehive has a dimension of 11.4 2x 20.87 x 23.62 inches and weighs 45 pounds. You can easily remove or install its frames and it comes at an affordable price.
Check Price
6. BestEquip Wooden Honey Beehive House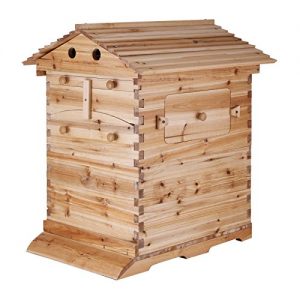 This is an ingeniously designed beehive unit that offers the habitation for your bees. It boosts the productivity of your bees and minimizes disturbances when you are working on your hive – honey harvesting or routine checks. The 20 x 16 x 10 inches unit weighs barely 35 pounds. It is easy to remove and install the hive components and this makes a great choice for most beekeepers. It is even compatible with most hive kits and its frames can be shortened to suit any hive.
The BestEquip Beehive Wooden Honey Beehive is made of excellent quality corrosion-resistant pine wood and is compatible with automatic flow raw honey frames which are not included in the package. The auto flow honey frames can be installed to up to 7 pieces. It also features a clear end-frame view which allows the beekeeper to evaluate whether the honey is ready or not without opening the hive. It is easy to install and it comes with installation instructions. This beehive can last for up to 10 years.
Check Price
5. Flow Hive Classic Langstroth 6 Frame Beehive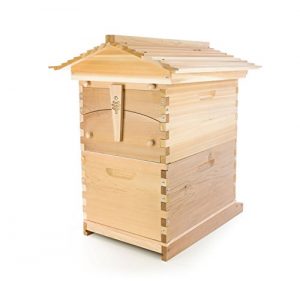 The Flow Hives have gained massive popularity in the recent past. As for the Flow Hive Classic Cedar 6 Frame, it is built using Western Red Cedar which is resistant to fungus and can repel insect invaders. It also has a screened bottom board, a queen excluder, inner cover, and roofing. The unit is easy to assemble and is delivered with an instruction manual which is easy to read and follow.
Some of the other features of the Flow Hive Classic Langstroth 6 Frame include: a brood box that has 8 standard frames without foundations and a super with 6 flow frames that has honey-collecting tubes and accompanying Flow Key. The Flow Hive is designed to minimize the disturbance of the bees when you are harvesting the honey. The Flow Key is inserted which then splits the honey cells and extracts the honey and directs it out of the hive. In this case you do not need a smoker or a beekeeping suit when you want to get some honey for breakfast.
Check Price
4. Ware Manufacturing Home Harvest Beehive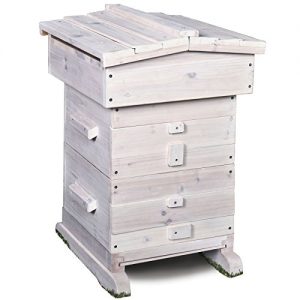 The Warré hive is one of the best bee hive box units for bees. Ware Manufacturing have designed this unit to ensure you provide the best home for your bees and enjoy maximum productivity from your bees. The hive is made from white-stained cedar, one of the most durable and insect-resistant types of wood. The unit comes unassembled but is pretty easy to put together all its components.
The peaked roof of the Ware Manufacturing Beehive helps keep rain water off your hive. The unit also has two observation windows and ventilation with adjustable airflow. This is required for keeping the hive temperature within the required levels during hot and cold seasons. This unit is also expandable. You can simply add new boxes below so as to accommodate new bees and their honeycomb. As for price it is affordable and a sure quality for money.
Check Price
3. Mann Lake HK160 Assembled Complete Hive Kit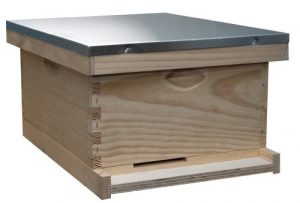 The US-made Mann Lake Assembled Complete Hive Kit is a popular choice among beekeepers. The unit comes pre-painted and it is made of pine wood. Since it is already assembled you have little to do upon delivery. The unit includes a hive box with an inner cover, a telescopic roof, entrance reducer and a bottom board. However, it does not have a queen excluder.
One of the signature features of the Mann Lake HK160 hive kit is the fact that it provides room for expansion once the bees have exhausted most of its foundations. The unit allows for the addition of a second deep hive body and that means you can scale up when need arises. The items that come with the unit are made of exceptional quality wood. However, you might have to paint it just to add some aesthetic value. You also have to check and ensure gaps between frames are well arranged.
Check Price
2. BuildaBeehive 10-Frame Deluxe Beehive Starter Kit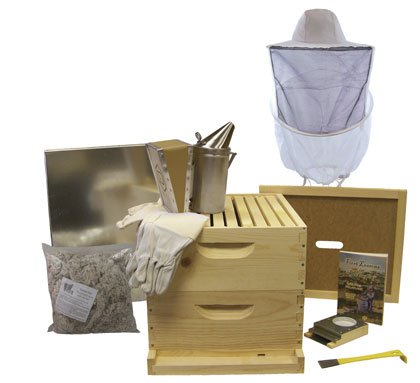 This is perhaps one of the most popular beehive kits for beginners and professionals alike. It is a complete kit with a Langstroth hive. When you buy the unit you get the hive in addition to 10 frames, excellent quality gloves, an entrance feeder, a beekeeping suit, a smoker with fuel, a hive tool, and instruction manual. This manufacturer also offers a money-back guarantee in case you are dissatisfied with the package for whatever reason.
The 10 frame supers that come with the hive are wooden and the 20 frames have plastic foundations which can be left out or replaced if you like. Available also in the hive are: an inner cover, a reversible entrance reducer, a metal roofing and a bottom board. Given all that is delivered with this hive, this is probably one of the most affordable bee hive box kit you can get in the market.
Check Price
1. Apimaye 10 Frame Langstroth Insulated Beehive Set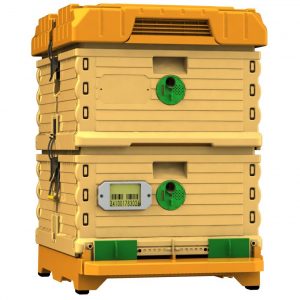 One of the major concerns to beekeepers is the condition within the hive especially during those extremely unbearable weather conditions. The Apimaye 10 Frame Langstroth Insulated beehive Set is designed to eliminate all worries that cripple even the most experienced beekeeper. It is built to guarantee a excellent habitation of the bees. All inner and exterior components of the hive make it possible for the bees to thrive even during the cold winter months. This hive kit is made of UV-resistant plastic (HDPE) and has a double layer insulation. This helps keep the colony warm when it is extremely cold and also ensure the interior is cool in summer. The unit is also resistant to moisture which usually creates an ideal a breeding ground for fungus in wooden hives.
The Apimaye beehive is one of those units that has excellent ventilation and allows the use of wooden of plastic frames interchangeably. Its design is also quite unique when compared to other hive kits. This kit has a screened bottom board that has a pollen trap and drawer. This allows the beekeeper to collect pollen that fall and get trapped on the bottom drawer. This unit is also secure from varroa mites thanks to its screened bottom board. It also has an entrance reducer that helps prevent looting. The bees are also well protected from drowning given the top cover feeder that allows you to easily feed the bees without opening the hive.
Features and Benefits
Delivered assembled and does not require painting. A great beehive kit for beginners and professionals alike.
It is a simple design that makes it easy to open and inspect, feed or move your bees.
One of the best hive boxes when it comes to fighting varroa mites and small hive beetles.
Boasts top notch insulation. It can withstand hot as well as extreme cold weather conditions. Its interior design prevents moisture buildup which normally encourages fungus growth. It also helps prevent the bees from consuming too much honey when cold during winter.
Comes with 20 plastic frames that are perfectly fitting for easy setup of the swarm comb and foundation.
Includes screened bottom board, frame spacers, entrance reducer, top feeder, and division/uniting board.
Not prone to warping and rotting as wooden beehives.
Helps ease the bees the burden of sealing the hive with propolis.
Has a design that allows the hive components to be stacked together for easy transportation.
Weighs 58.2 pounds and has dimensions of 27.5 x 24.5 x 20 inches.
What you might not like
Does not include foundation.
Quite pricey, though nonetheless worth it.
Check Price
A Final Word
The bee hive boxes you choose will hugely affect your potential for growth as a beekeeper. The best bee hive boxes discussed above offer each offer great features, benefits, and price. Choose one that meets your needs and is within your budget.