The Honey Keeper Beehive 20 Frame Complete Box Kit is a solidly built beehive unit designed with all that is needed to build a prosperous colony. Its foundation is designed using a premium fir wood while its frames are made of white pine wood. Available also is a galvanized metal capped telescopic roof top that helps direct rain water away from the hive. It also acts as a shelter from the hot sun. This unit also comes with other amazing features.
The choice of your beehive is one of the most important decisions since this will affect the kind of habitation where the bees will live and produce honey. Making a bad decision will mean jeopardizing the well being of the bees and ultimate failure in beekeeping. You therefore have to make a wise choice given the many beehive options you have in the market.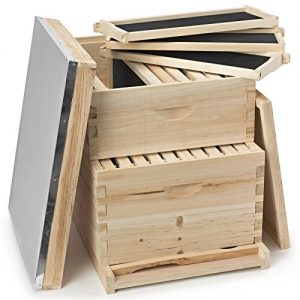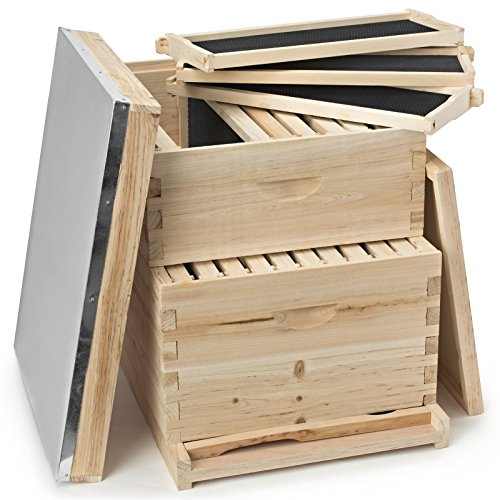 Features of the Honey Keeper Beehive 20 Frame Complete Box Kit
It is a 20-Frame Hive 10 Deep and 10 Medium beehive unit.
It is a complete unit that can be assembled for literally anyone.
Its deep super frame and medium super frame come with the foundations.
It has a solid bottom board, an inner cover, entrance reducer, as well as a queen excluder.
The unit features a pre-assembled metal telescoping roof that keep off elements of nature.
Its foundation is built using premium fir wood while the frames are made using white pine wood.
Its pre-cut frame unwaxed foundations have hexagonal-shaped foundation surface.
It has per-cut finger joints and comes with heavy duty nails. All these make it easy to assemble the unit.
Instruction manual included making the assembling process a breeze.
Has dimensions of 11.1 x 19.8 x 22.8 inches and weighs 48.45 pounds.
Pros and Cons
Pros
It has all that is needed for building a prosperous bee colony.
The foundation and frames are made using premium quality material and thus will last longer.
Has a metallic roof that helps provide the required environment for the bees to thrive.
Has a huge capacity. It can hold 10 deep frame and 10 medium size frames.
Easy to assemble thanks to its pre-cut finger joints and high quality nails included. Comes with some extra nails as well.
Not too heavy or too big to take up lots of your space. Requires a little effort to carry.
Has an easy to read and follow assembly manual to guide you.
Comes with the foundations.
Smells good.
Water-tight and durable.
It has an appealing overall design.
The joints fit nicely and tightly.
Excellent quality product at a good price.
Ideal for all skill levels whether a pro or beginner.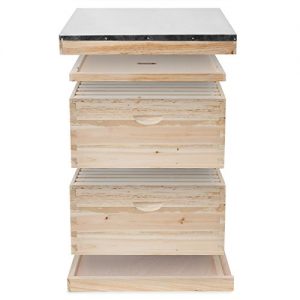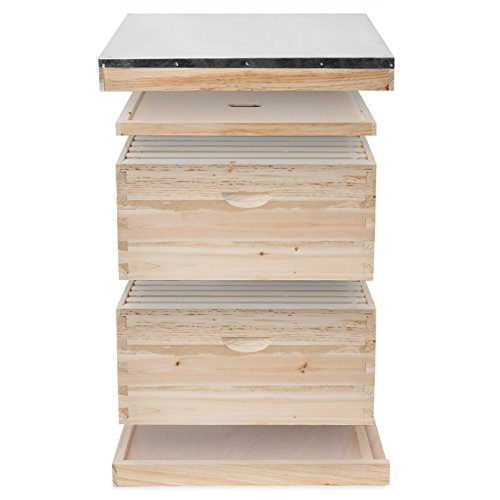 Cons
Once assembled it is heavy. It requires some effort to carry.
The nails can split the wood if you are not careful. You might have to drill into it first.
Check Price and Availability of the Honey Keeper Beehive 20 Frame Complete Box Kit
Further Thoughts
The Honey Keeper Beehive 20 Frame Complete Box Kit is pretty easy to assemble, and I was able to put mine together within less than an hour. The frames were easy to put together but wishes the bigger frames would fit tighter than it does. However I found the wood to be cheap and sensitive. The wood splits easily but this can be solved by drilling the wood before assembling.
The overall design of the Honey Keeper Beehive 20 Frame Kit is intriguing. I am well pleased with the way the unit has been designed and built. The dove tails are well cut and when I put together the unit, all sides were smooth and set perfectly. The beehive kit is also water tight and durable.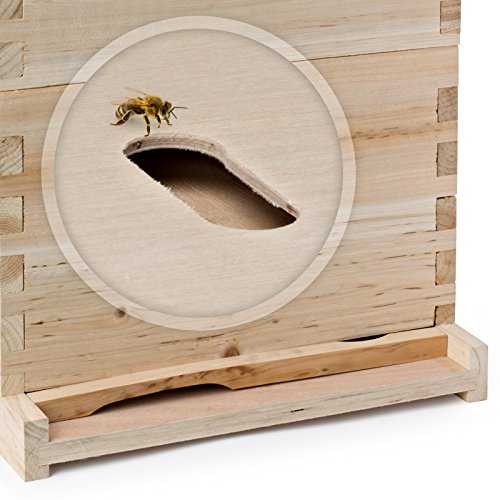 A Final Word
If you have been seeking a good quality and complete beehive box kit then your search ends here. The Honey Keeper Beehive 20 Frame Complete Box Kit is one of those beekeeping units that have been designed ideally for all skill levels. The pro-beekeeper who wants to scale up their beekeeping will find it useful not to mention the beginner who is just purchasing their first beehive.
This complete box kit is designed to give the best home for your bees. Bees being territorial and highly sensitive will find this unit as conducive for their survival. The unit's interior is ideal for building a prosperous colony and the exterior is well designed to withstand harsh elements of nature. I do highly recommend it. However, one of the drawbacks I noted about the unit is that it is heavy after assembly. If you dislike carrying heavy stuff, then you might have to seek a helping hand. But overall, this unit top class. It is easy to assemble, well-designed, and has all that is needed for building a successful bee colony. It is a definite quality for money.