If you purchase an independently reviewed item through our site, we earn an affiliate commission. Read our affiliate disclosure.
The Honey Keeper Beehive 20 Frame Complete Box Kit is a solidly built beehive unit designed with all that is needed to build a prosperous colony. Its foundation is designed using a premium fir wood while its frames are made of white pine wood. Available also is a galvanized metal capped telescopic roof top that helps direct rain water away from the hive. It also acts as a shelter from the hot sun. This unit also comes with other amazing features.
The choice of your beehive is one of the most important decisions since this will affect the kind of habitation where the bees will live and produce honey. Making a bad decision will mean jeopardizing the well being of the bees and ultimate failure in beekeeping. You therefore have to make a wise choice given the many beehive options you have in the market.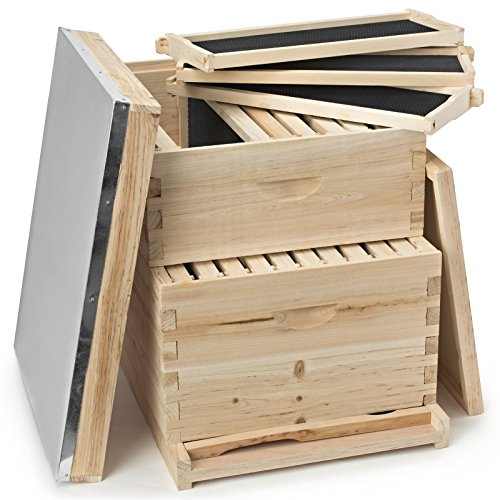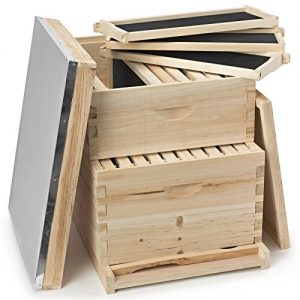 About the Honey Keeper Beehive 20 Frame Complete Box Kit
It is a 20-Frame Hive 10 Deep and 10 Medium beehive unit.
It is a complete unit that can be assembled for literally anyone.
Its deep super frame and medium super frame come with the foundations.
It has a solid bottom board, an inner cover, entrance reducer, as well as a queen excluder.
The unit features a pre-assembled metal telescoping roof that keep off elements of nature.
Its foundation is built using premium fir wood while the frames are made using white pine wood.
Its pre-cut frame unwaxed foundations have hexagonal-shaped foundation surface.
It has per-cut finger joints and comes with heavy duty nails. All these make it easy to assemble the unit.
Instruction manual included making the assembling process a breeze.
Has dimensions of 11.1 x 19.8 x 22.8 inches and weighs 48.45 pounds.
Check Price and Availability of the Honey Keeper Beehive 20 Frame Complete Box Kit
Pros and Cons
Pros
It has all that is needed for building a prosperous bee colony.
The foundation and frames are made using premium quality material and thus will last longer.
Has a metallic roof that helps provide the required environment for the bees to thrive.
Has a huge capacity. It can hold 10 deep frame and 10 medium size frames.
Easy to assemble thanks to its pre-cut finger joints and high quality nails included. Comes with some extra nails as well.
Not too heavy or too big to take up lots of your space. Requires a little effort to carry.
Has an easy to read and follow assembly manual to guide you.
Comes with the foundations.
Smells good.
Water-tight and durable.
It has an appealing overall design.
The joints fit nicely and tightly.
Excellent quality product at a good price.
Ideal for all skill levels whether a pro or beginner.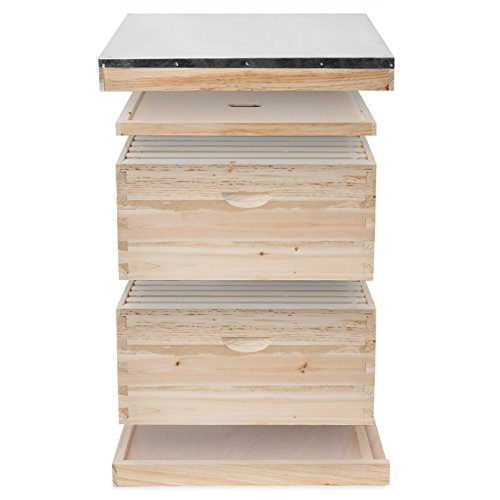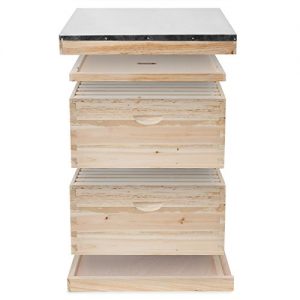 Cons
Once assembled it is heavy. It requires some effort to carry.
The nails can split the wood if you are not careful. You might have to drill into it first.
Further Thoughts
The Honey Keeper Beehive 20 Frame Complete Box Kit is pretty easy to assemble, and I was able to put mine together within less than an hour. The frames were easy to put together but wishes the bigger frames would fit tighter than it does. However I found the wood to be cheap and sensitive. The wood splits easily but this can be solved by drilling the wood before assembling.
The overall design of the Honey Keeper Beehive 20 Frame Kit is intriguing. I am well pleased with the way the unit has been designed and built. The dove tails are well cut and when I put together the unit, all sides were smooth and set perfectly. The beehive kit is also water tight and durable.
Check Price and Availability of the Honey Keeper Beehive 20 Frame Complete Box Kit
Hive Maintenance
The maintenance of the hive is more tasking when compared to installing one. If you therefore thought all major work just ended after your chose and installed a hive then perhaps you should think again. There is a lot of work that is required once the hive is installed. Regular maintenance and care is required before you even begin to harvest the honey. Hive care and maintenance is required immediately it is installed and there is no question about it. It helps create favourable conditions for the bees. It not only creates a home that guarantee a thriving colony but it also helps prevent hive absconding.
Here are recommended care and maintenance tips for the hive:
Damaged Hive Parts
Everything wears out with time and this applies to the beehive. Elements of weather causes this to happen and will result in rotting, warping, rusting, or even cracking. Some animals and insects can also destroy the hive. Therefore you should check out the hive for damages and repair them as soon as possible. Once repaired and replaced, the damaged parts can withstand potential damage from insects, animals, weather, and other agents.
Entrance Blocks
The entrance blocks are mainly installed during winter for a number of reasons; prevent heat loss, provide the required ventilation, and keep off uninvited guests such as bees and other insects. This is a simple task that requires a piece of wood to be placed at the hive entrance. You can also place a perforated material that has holes at the entrance so as to allow the bees to move in and out of the hive.
You Need Queen Excluders and Supers
These are essential components of the beehive. The supers are required since they provide some extra space of honey storage. They are required during summer when brood combs or honeycombs fill up. The queen excluder helps restrain the queen bee and prevent her from laying eggs on the honeycombs. The excluder has small holes which can allow the small worker bees to easily go through into the honey super. It should not have sharp edges that can harm the bees. The excluder should be placed in the right location. The supers are normally placed at the top compartment so as to create some extra space. These are removed during winter or once honey harvesting is completed.
Beeswax
Beeswax is an essential element for the bee colony. It is used for making combs, aligning the internal structure of the hive, and helps strengthen the overall hive when it hardens. Hive maintenance and honey harvesting result in loss of wax since honey frames and combs are torn apart during this process. To minimize this loss, you should ensure your do not interfere with the entire structure when harvesting or checking out the hive. If detached accidentally, place it back. Replacement wax can be collected from another hive or bought from a local store. Wax for sale should however be natural to work best.
Rain Cover or Shade
The hive should have a rain cover or shade so as to protect the bees and hive components from weather elements. Direct sunlight and rain water can damage wooden hives and even kill the bees. Therefore a rain cover should be installed in addition to a shade structure. You should however ensure the cover and the shade does not affect hive ventilation.
Ventilation
The hive should have proper ventilation for a number of reasons. First off, this helps eliminate the damage caused by high temperatures, condensation, and freezing. A poorly ventilated hive can result in condensation or ice formation which damages the structure and harms the honeybees. Second benefit of proper ventilation is that it allows the bee colony to enjoy sufficient air flow which is required for their survival.
Add ventilation holes if you find out the hive has poor ventilation. During freezing winter months, cover these holes using a black tar paper so as to retain heat. Dead bees should also be removed from the hive so as to eliminate any potential substances that can be harmful to the bee colony.
Strong Winds
Hives should be placed in areas that are sheltered from strong winds. Strong winds can crush the hives, result in condensation, or even direct moist air into the hive. to prevent this, use a fence, shrubs, or tree to shelter the hive from strong winds.
Insect Pests and Intruders
Skunks and mice destroy beehives. They can build their nests inside the hive or even bore holes. Raccoons and bears on the other hand are the most dangerous intruders of the hive. They steal honey and even consume the bees. To keep these off, place a big stone on top of the hive cover. You should also install a reliable fence around the beehive. A mouse guard will secure the hive too and any nests should be removed from the hive.
Woodlice and termites also destroy the beehive. These are common during dry season and can also be found in rotting woods. Use soil treatments, baits, or insecticides to eliminate them. The hive area should also be free from leaves and plant debris.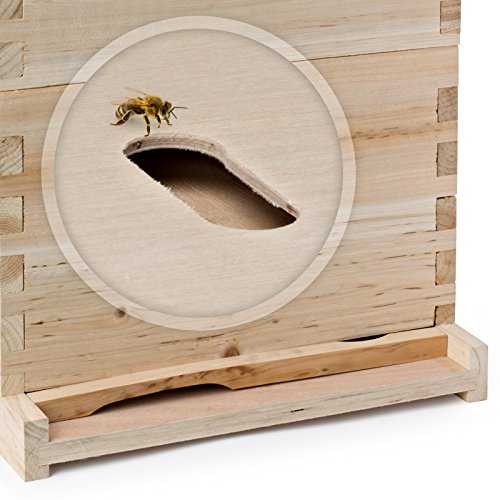 Conclusion
If you have been seeking a good quality and complete beehive box kit then your search ends here. The Honey Keeper Beehive 20 Frame Complete Box Kit is one of those beekeeping units that have been designed ideally for all skill levels. The pro-beekeeper who wants to scale up their beekeeping will find it useful not to mention the beginner who is just purchasing their first beehive.
This complete box kit is designed to give the best home for your bees. Bees being territorial and highly sensitive will find this unit as conducive for their survival. The unit's interior is ideal for building a prosperous colony and the exterior is well designed to withstand harsh elements of nature. I do highly recommend it. However, one of the drawbacks I noted about the unit is that it is heavy after assembly. If you dislike carrying heavy stuff, then you might have to seek a helping hand. But overall, this unit top class. It is easy to assemble, well-designed, and has all that is needed for building a successful bee colony. It is a definite quality for money.
Do you own the Honey Keeper Beehive 20 Frame Complete Box Kit? Leave a comment below and let us know what you think of it.
Check Price
Check Price (Australia)