Hives and other beekeeping equipment take up a huge amount of capital and have a long term impact on your success and enjoyment of beekeeping. It is therefore important that you consider not only the initial cost but also subsequent cost of additional equipment as well as recurrent costs associated with the hive type in question. It is also important to note that the type of hive chosen will affect the amount of time and beekeeper interaction with the bees. The Apimaye 10 Frame Langstroth Insulated Bee Hive Set has been tailor-made with the needs of the user in mind. It boasts an array of features that have impressed many, beginners and pros alike.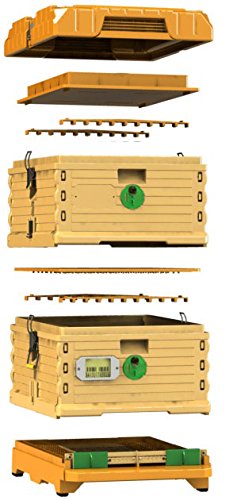 About Langstroth Beehives
Langstroth beehives are ideally the most common types of hives among beekeepers the world over. Its design resembles a stack of boxes or drawers and is made up of frames in which the bees build wax. You can choose frames with foundations or opt for foundation-less if you like.
In a nut-shell, some of the major components of a Langstroth hive include:
Hive Stand – this refers to structure on which the hive rests so as to prevent direct contact with the ground.
Bottom Board – you have two options: solid bottom or screened bottom board. The screened one comes with a sticky board which helps keep off pests.
Supers or Boxes – the supers are simply large boxes commonly used in Langstroth hives. They differ in sizes and can hold either ten or eight frames. Colder areas require two 10 frame supers full of honey and wax for the bees to survive during winter. Some supers and corresponding frames are designed for brood and others for honey. However, the bees do not necessarily use it as apportioned by the beekeeper.
Foundation and Frames – the Langstroth hives come either with premade wax frames or without. Those that come with premade wax are meant to act as a guide for the bees, showing them where to build their own.
Cover – two types of covers are available in the Langstroth hive: the outer and inner cover. The inner cover has an entrance hole and a top hole. As for the outer cover, it can either be flat across the top or simply a telescopic cover that is fitted inside the inner cover and over the top super's sides.
Check Price and Availability of the Apimaye 10 Frame Langstroth Insulated Beehive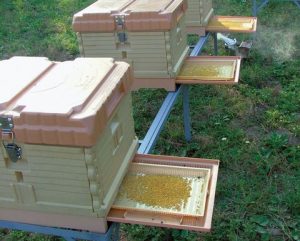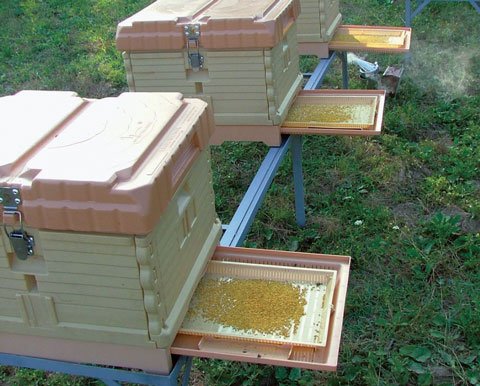 Features of the Apimaye 10 Frame Langstroth Insulated Beehive
Ideal for both beginners and professionals. It comes assembled and it natural color is appealing and requires no painting.
Has a design aimed at minimizing the impact on the bees. It is easy to open and inspect, and feed or move the bees.
Makes it easy to fight small hive beetles and Varroa mites thanks to its easily accessible design.
Well-insulated to protect the bees from extreme weather. This also helps prevent moisture build-up within the hive. The bees can therefore survive the colder winters without consuming too much honey.
It has a screened bottom board that has pollen trap and drawer that help fight small hive beetle and Varroa mite. It also has queen excluder, top feeder, entrance reducer, uniting/division board, and frame spacers.
Entrance reducer prevents looting and helps lock the front for winter. Division or uniting board can be used to divide or unite two colonies.
Queen excluder creates space between the frames so that the bees can move freely.
It includes 20 plastic frames (Handy frames) that easily connect for putting swam comb or the foundation. However, it does not include any foundation. The handy frames are designed for wax foundation only.
It has won an award in the Apimondia International Apicultural Congress.
Product dimension is 27.5 x 24.5 x 20 inches and it weighs approximately 58.2 pounds.
Made from food grade, UV-resistant plastic.
Has good ventilation which helps prevent fungus growth, a common problem in wooden hives.
It guarantees a productive colony and reduces winter food consumption.
It is a standard Langstroth beehive and allows the use of wooden or plastic frames interchangeably.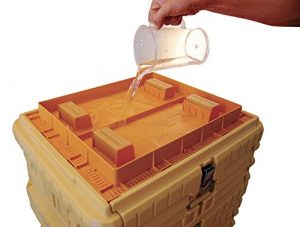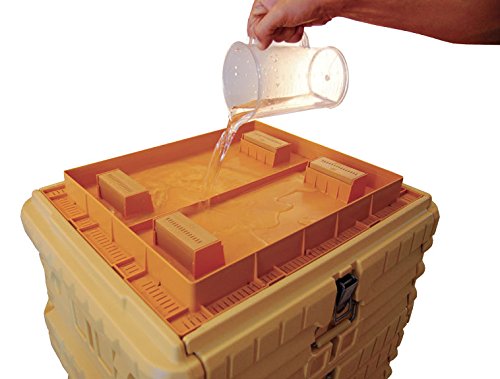 Pros and Cons
Pros
Allows for least disturbance to the bees when checking bees, moving bees or harvesting honey.
Best for keeping pests off and creating a healthy environment for the bees.
It comes pre-assembled making it easy to start the beekeeping enterprise.
Excellent design with a natural color. No need to paint.
Easy to assemble.
Can withstand extreme climatic conditions.
Well-sealed and waterproof. Reduces the work of the bees.
Stackable for easy transportation.
Quality for money.
Easy to use.
Cons
There was nothing negative that I could find with this beehive.
Check Price and Availability of the Apimaye 10 Frame Langstroth Insulated Beehive
Further Thoughts
The Apimaye 10 Frame Langstroth Insulated Beehive Set can withstand extreme heat and cold weather unlike wooden hives. The hives are tight and create a waterproof seal which makes it easy for the bees to work on creating honey instead of sealing the hive with propolis.
A Final Word
The Apimaye 10 Frame Langstroth Insulated Beehive Set has taken many by surprise. I particularly love the fact that it can withstand extreme weather conditions without jeopardizing the well being of the bees. This is a sure bet for the savvy buyer.