If you purchase an independently reviewed item through our site, we earn an affiliate commission. Read our affiliate disclosure.
The beehive environment has a huge impact on the overall health and wellbeing of the colony. Starting from the brood, the queen bee, to the worker bees, they all require some optimal conditions to survive and thrive. Beehive ventilation is essential and it ideally encompasses airflow within hives. Additionally, hive drainage goes hand-in-hand with ventilation as these affect airflow within a bee colony.
The worker bees, through their fanning of wings, generate the draught that makes it possible to cool the hive and evaporate moisture from the nectar. Temperature intermarries with these two conditions as well. As a matter of fact, honeybees thrive under warm hives; however, any slight upward change in temperature will cause overheating that is detrimental to the wellbeing of the honeybee colony.
Therefore, proper ventilation makes it possible for the colony to sail through summer heat that usually brings in excessive humidity and condensation. In this article we shall find out the importance of beehive ventilation.
Warming vs Ventilation
These two terms are inseparable when it comes to the wellbeing of the honey bee colony. Ventilation helps the colony maintain temperature and humidity within the required levels. On the flipside, warming of honey colonies is important during colder months. Hot months favor honeybees since they work best under this condition. Unfortunately, extreme temperature levels can be harmful to honeybees, hence the need for good ventilation. This is the only sure way of protecting honeybee colonies during summer. Ventilation also helps keep a check on humidity and condensation that tends to be high during hot months.
Worker bees not only regulate the temperature of brood cells, but also regulate the overall hive temperature. The fact that honeybees are cold blooded makes temperature regulation an important factor for their survival. Temperatures should never fall below 35° Celsius (95° F) within the hive. If this happens, the honeybees will lose their ability to fly. In fact, it is not uncommon to see honeybees forming a cluster and not fly out when outside temperatures fall below 50° F. This is attributable to the fact that the bees are incapable of keeping their body temperature at the level that is enough for flight at this time.
Warming is also used as a defense mechanism by some honeybee species. Some have been observed attacking wasps and yellow jackets through a heating effect. The honeybees usually form a cluster around the invading wasp, then vibrate vigorously thus generating excessive heat. This rising temperature and lack of oxygen within the cluster leads to the sudden demise of the invader. Interestingly, this strategy is also applied on an unproductive queen. This is done before a new queen is installed.
Why is Beehive Ventilation Needed?
The honeybee might be a cold-blooded insect, but it prefers warm weather to thrive best. They are however intolerant to extreme temperatures, hence the need to keep temperatures within the required levels. Good ventilation makes it possible to provide an ideal environment for raising brood, producing good quality honey and also helps keep the honeycombs in good condition.
Here are some reasons to keep beehives well ventilated:
1. Queen and Brood Survival
These two are the backbone of the honeybee colony. The queen bee is responsible for producing the future generation bees whereas the brood mature and become the lifeline of the colony. Ventilation helps keep the developing brood warm and alive. It is also important since it helps keep the queen warm enough to get through winter and also keep her cool during summer. Excessive summer heat can lead to overheating which can be detrimental to brood and queen bee. The ideal temperature range for the survival of the queen bee throughout winter is between 80 to 95° F.
As for the brood, desirable temperature level is between 89.6 to 92.6° F. A tiny shift from this range can result in serious effects such as weak and retarded bees.
2. Prevent Condensation – the bee killer
Any beekeeper is alarmed when some water is seen inside the beehive. Condensation poses a serious risk to the wellbeing of honeybees during cold weather. Hot months may demand some level of moisture for cooling the hive, but these are harmful during cold seasons. During summer, water droplets found on the surface of combs helps induce the cooling effect when air passes over the combs, acting as air conditioning for the brood and honey.
Unfortunately, the same cannot be said during cooler winter months. The moist air within hives when combined with cooler outside temperatures will result in a cold rain that can wipe out entire colonies. Proper ventilation will thus help prevent this from occurring.
3. Honeybee Bearding at Entrance
You might have noticed some crowding of worker bees at the entrance to the hive at some point. This is a phenomenon referred to as bees bearding that usually occurs when hive interior is unbearable for the honeybees.
High humidity and excessive interior temperatures makes it difficult for the worker bees to regulate the beehive interior. Their only solution will be the crowding behavior outside the hive entrance. This makes it possible to have fewer honey bees inside the hive that can regulate the airflow within the hive.
Proper beehive ventilation will help minimize the occurrence of honeybee bearding since it becomes much easier to keep interior conditions within the required limits.
4. Modern Hive Designs Lack Proper Ventilation
Feral bees do not have any challenges when it comes to temperature and humidity regulation. They instinctively choose ideal habitats that make it possible to withstand the elements and raise successful colonies. Unfortunately, most modern beehives unlike traditional designs, do not come close to what honeybees enjoy in the wild.
Modern hives are mass produced to minimize cost and increase profitability. This might make sense from a business standpoint but they do not favor the honeybees. Most of the designs are not properly insulated forcing the colony to work much harder in terms of regulating interior hive conditions.
It is therefore important for the beekeeper to provide the required ventilation for the honeybee colony so that it can fully focus on other productive activities, such as honey production.
5. Summer is Highly Critical
Summer heat may be unbearable for some other insects, but it is the most critical season for honeybees. The bees thrive best when under warm conditions. Summer is thus the peak season for honeybee production. Thus much of the honeybee livelihood relies solely on summer months.
The beekeeper should therefore make the best out of the summer months. This is a time when the colony should be given maximum comfort which can only be achieved through provision of required ventilation. Honeybees are remarkable creatures that can instinctively regulate beehive ventilation. Nonetheless, it is important to give the honeybees some boost, so that the worker bees can focus on other important tasks in the beehive, such as nectar and pollen collection in preparation for dearth seasons.
How to Provide Good Ventilation to Honeybee Colonies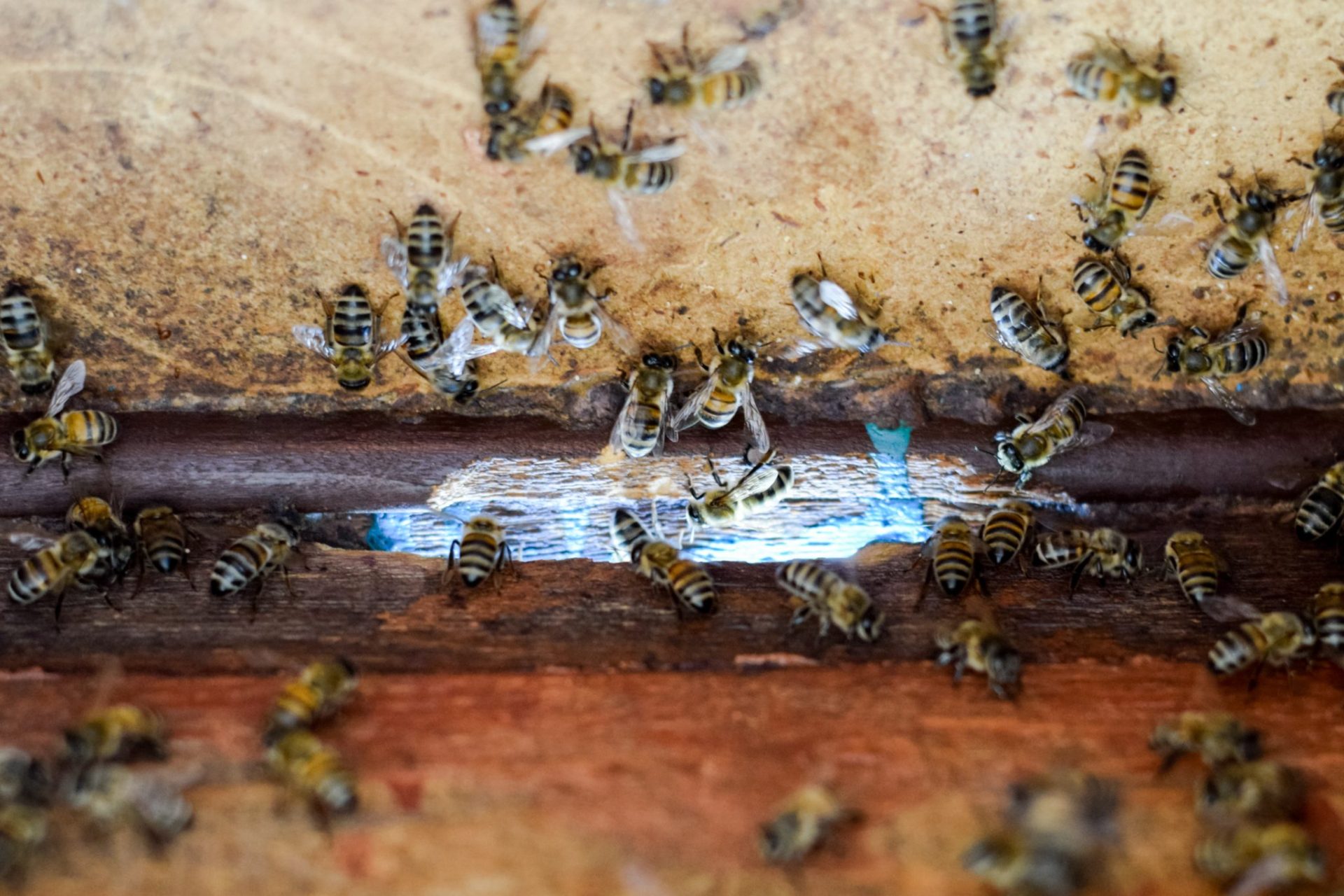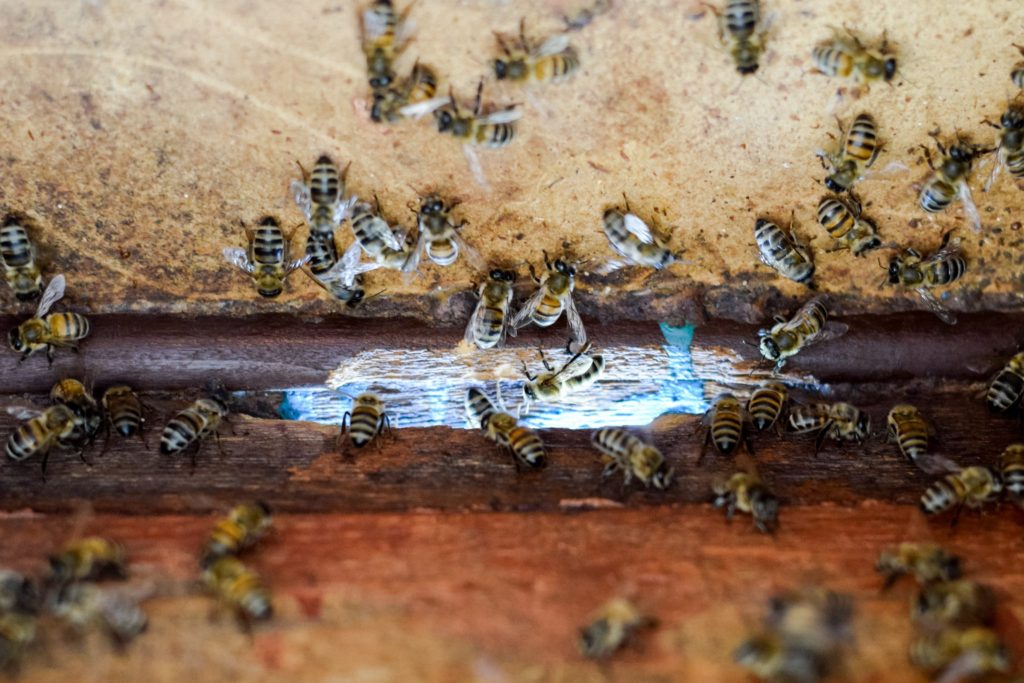 The design of the modern hive makes it possible for the beekeeper to give the bees a home that comes close to what feral bees prefer. While it might not be perfect, it has nonetheless enabled so many beekeepers to raise successful honeybee colonies. Good ventilation entails providing free air inflow through the bottom of the hive and the elimination of stale, moist, and warm air through the top of the beehive.
In order to achieve good ventilation in your hive, consider any of the below strategies that have proven to work over the years:
Hive stand
The Inner Cover
Shade
Bottom board
Outer cover
Bee boxes
Popsicle/craft sticks
Self regulation
Hive material
Feeding
1. A Hole on the Outer Cover
Drilling a hole on the outer cover is one of the ways of providing ventilation to honeybee colonies. This should be done under a sheltered location before screening it over. This hole paves a way to flow out of the beehive. This is comparable to a chimney that will pull out air from the hive interior and allow it to flow out through the hole.
Additionally, an upper entrance should be included so that it can minimize congestion at the main lower entrance and increase airflow. The upper entrance is particularly preferred by returning foragers perhaps due to its convenience. This minimizes congestion as explained earlier. An upper entrance also comes in handy during winter months by helping eliminate excessive moisture. It provides a pathway for moist air to escape from the hive.
Note – honeybees are complex insects whose behavior may not be understood some times. For instance, the bees might completely ignore a hole that has been drilled into the hive body. If this happens, it is advisable that this vent be covered with a screen guard that will cushion the colony from robber bees.
2. Using a Screened Bottom Board
This is definitely the most popular strategy of ventilating honey bee colonies. It is mostly used for countering varroa mites but also helps ventilate the honeybee colony. The board provides a pathway for air to flow into the hive through the bottom of the beehive and then flow out through the top of the hive.
A drawer or tray may be included with the screened bottom board to serve a special purpose. You can close this completely or open it depending on ventilation requirements of the bee colony. Closing it helps prevent or limit airflow whereas the contrary will help provide free airflow into the beehive.
3. Brood Box Holes
Boring holes on the topmost brood box will help provide some airflow into the hive. The holes should be an inch in diameter but should be screened from the inside. Screening helps keep off robber bees.
Intruders will also take advantage of any entrances that give way into the beehive. It is particularly wise to have at least one hole in one of the corners of the brood chamber.
4. Ventilated Inner Covers
The use of screened inner covers over traditional inner covers will help ventilate your beehive. Remember the ideal humidity and temperature should always be maintained to guarantee the survival of the young bees or brood. A screened inner cover will help maintain these optimal conditions by complementing the other ventilation measures.
5. The Hive Stand
The hive stand serves so many purposes which include easing the work of lifting heavy boxes. It is also important during hive inspection. The beekeeper does not have to lean while checking the hive.
Beehive ventilation can also be achieved by installing hive stands. Raised hives are well placed to receive free airflow around the box. This airflow will make it possible to eliminate excessive moisture and cool the honey bee colony.
6. Shade
A shade can help keep hive temperature within the required limits in hot areas or during hot summer months. Shades shield the honeybee colony from direct sunlight that can harm both brood and adult bees. Remember honeybees dislike direct sunlight and winds. This will cause even the strongest colonies to abscond.
7. Popsicle/Craft Sticks
The use of craft sticks or popsicles makes it possible to allow free air flow into the beehive. These can be placed on each of the corners of the inner cover, helping elevate the outer cover thus aiding boost fresh air.
8. Self Regulation
This strategy may seem counter-productive, but it also works when it comes to beehive ventilation. You can simply avail what the honeybees require and let them do the rest. Provide shade, a clean water source, and proximity to nectar sources. With all that in place, the honeybees can handle the rest. These amazing creatures can self regulate the hive ventilation. You might be surprised of the little support honeybees require from the beekeeper. Additionally, it will be wise to minimize hive inspection during this time since distracts the normal physiological processes of the colony.
Duties are well segregated within the honeybee colony. For instance, heater bees are responsible for warmth regulation in the hive. Heater bees comprise honeybees of all ages. Other duties that are segregated in the colony include foraging, defense, feeding the queen and brood, mating the queen, and many others.
In a nut-shell, some of the duties done by worker bees based on age include the following:
1 to 2 days old-main task include their cell and warming the brood.
3 to 5 days old-main focus is feeding of the older larvae.
6 to 11 days old-feeding youngest larvae.
12 to 17 days old-building combs, carry out undertaker task, make wax, and carry food.
18 to21 days old-guards at the main hive entrance.
22 days old to death-nectar, pollen, and water collection. The worker bee has a lifespan of between 10 to 15 days when at this stage. It will live for a total of approximately 47 days.
9. Hive Material
This is a factor often ignored by most beekeepers. Beehives should be made using thick wooden material since this not only emulates their wild environment but also acts as insulation. Winter months are particularly the most difficult for any bee colony given how low temperatures it can drop to. Windbreaks can also help during winter. It is also recommended that any form of inspection be avoided during winter months. Furthermore, this should be done only when necessary even during favorable seasons.
10. Feeding
Due caution should be exercised while feeding honeybee colonies. Any form of feeding that is adopted should not expose the brood nest to weather elements. That means those that have vertical style hives such as Langstroth should use tray feeders or empty supers.
Conclusion
Beehive ventilation is important under all circumstances, even though it requires some caution in some scenarios. For instance, it is ideal to keep the main entrance to the hive fully opened so that air can freely flow in, and allow the honeybees to move in and out with ease. Unfortunately, weak honeybee colonies tend to be predisposed to predation under this condition. If this happens to be the case, then you have to to use entrance reducer to better allow the guard bees to wade off predator bees and wasps.
Venting can also affect the sweet scent of honey, but it is essential to keep a hive vented since it will help prevent overheating that causes combs to melt. There are so many practical solutions for achieving optimal beehive ventilation for a honeybee colony, but you do not have to adopt all of them. It is however wise to apply as many strategies as possible when it comes to keeping your honeybees well vented. The bottom line of all of this is that good airflow translates to better quality honey and healthier honeybee colonies.
References
What are your thoughts on this article? Leave a comment below and let us know.