Beekeeping is quite fascinating and bees are surprisingly friendly to humans with the exception of when you invade their territory during honey harvesting. Therefore, without the right beekeeping suit, you may never be able to enjoy harvesting your honey, or being around bees since bee stings are not exciting… at all.
Below is a compilation of the best beekeeping suits to choose from. The quality of the various bee suits may differ immensely and thus you should get the assurance that what you are buying is of exceptional quality. In a nut-shell, when buying your bee suit, you should ensure it is durable, has good coverage, offers great visibility, is easy to use, and has sufficient number of pockets.
10. Pest Mall Complete Beekeeper Suit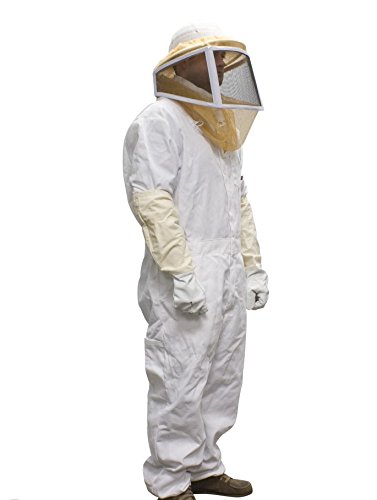 Some of the crucial features to lookout for in any beekeeping suit include: quality zippers, elastic waist, ankles, and wrists, and good quality material. A suit with a veil is also better than one without even though you can buy it separately. The Pest Mall Complete Beekeeper Suit as its name implies comes as a complete package. It comes with its own veil which is rounded in shape and is made of a combination of cotton and polyester material. It has been designed with elastic wrists and leg openings and this ensures no single bee is able to find its way into your body. The suit is also versatile and that means you can use it when undertaking other errands such as the removal of stinging insects and spiders.
The Pest Mall Complete Beekeeper Suit is comfortable to put on even during hot summer months. The suit is light enough to ensure it does not get too hot inside. Its square zipper veil keeps you well secured and the helmet is well ventilated to avoid any discomfort. Gloves are also available and they come in 3 sizes: large, extra large and small. In a nutshell here are the features of this suit:
Rounded and well secured veil.
Complete suit.
Made of 50/50 cotton and polyester material.
Elastic wrists and leg openings.
Serves many purposes asides beekeeping.
Cloves available in sizes of your choice.
Lightweight – 178 to 190 lbs.
Excellent design.
The zippers have overlapping ends to keep bees out.
Some of the key features I was impressed with include: the hat, gloves, good design, its versatility, and the fact that it is perfectly fitting and can allow extra clothes during cold weather. On the downside I did not like the mesh that does not come off completely. Overall, this beekeeping suit is worth every penny.
Check Price
9. Humble Bee 420 Round-Veiled Beekeeping Suit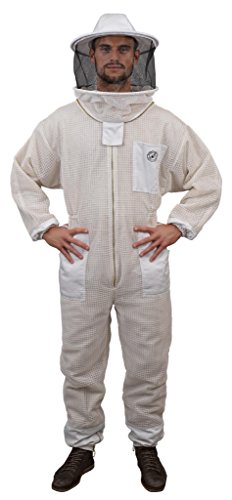 Every beekeeper can attest to the fact that it often gets so hot when working with bees such that the weak may pass out if caution is not exercised. Well, there is no better way of avoiding this than by investing in a well-ventilated and comfortable bee suit. Most beekeepers prefer the Humble Bee 420 beekeeping suit since it is quite unique in design and offers more than one can ask for. It ranks as the best of the best since it meets all criteria required of an excellent beekeeping suit.
Some of the notable features of the Humble Bee 420 beekeeping suit include:
Excellent aeration with a self-supporting round veil, a deluxe canvas carrying case, top notch brass zippers, and enduring poly-cotton-lined pockets that can never tear easily.
Its 100% synthetic ultra-breathable fabric is highly aerated and this ensures there is free flow of air when required; more so, during the hot summer months. The lightweight foam insert also provides excellent protection against bee stings.
The suit is tailor-made for a snag fit. It has an elastic waist, elastic ankles, elastic wrists, in addition to foot and thumb holds. All these ensure everything is held comfortably in place.
The suit is available as a unisex design for both women and men. It is available in sizes of between 6'2″ – 6'3″ (186 – 191 cm). Its veil is removal and hence makes storage and cleaning very easy.
Humble Bee is known for its charitable endeavors. It gives away 10% of its earnings to not-for-profit organizations that boost beekeeping activities and bee conservation strategies. Why should you not be part of such a self-less effort?
The 360° mesh ensures you get unobstructed view when working on the bees.
A friend of mine whose husband is a big guy initially had a problem getting a beekeeping suit for him. But once she placed the order for this suit, it was nicely fitting and was easy to put on. She describes it as perfectly-fitting and easy to put on. I found that the suit keeps me cool and its veil keeps the bees away from the face. On the downside, a few buyers found what they ordered to be too big. Others feel it is more expensive when compared to some other suits. But overall, this suit is quality for money.
Check Price
8. VIVO 
BEE-V105 

Professional White Beekeeping Suit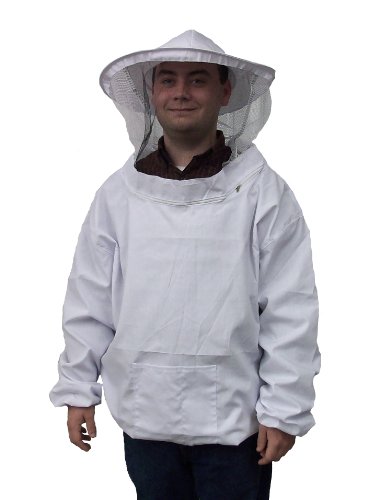 VIVO as a brand is well-known for its quality beekeeping suits, among other beekeeping equipment. Its BEE-V105 Professional White Beekeeping Suit is nothing short of the best quality. It is one of the best suits in the market and is in particular ideal for the new beekeeper. It gives the beekeeper two option: full blown suit or the jacket only which can be worn with some loose pants. Most beekeepers prefer the latter option since it saves some money. The machine-washable bee suit has been designed to offer maximum protection, convenience and comfort to the beekeeper. All parts have been tailor-made to ensure its perfectly fitting.
Some of the features about this beekeeping suit include:
Extremely lightweight and protective. You will not feel tired on it even after a long day in the field.
Its spacious carrying pockets allow you to tag along with most of your beekeeping tools when doing your rounds on the bee hives.
The attached round veil keeps the bees on bay. You do not have to worry a minute of the bees stinging on your face.
Easy to wear and care for and is durable as well.
The suit has elastic waistband and cuffs that ensure the suit holds well to the body for maximum comfort.
The jacket is machine washable and the hood hand washable.
I found that the VIVO BEE-V105 is nicely fitting and never pulls nor exposes the skin when moving. I am also impressed with it since it stays cool in hot weather. On the downside, some think it is not ideal for the professional, but rather geared towards newcomers. It also unfortunately lacks thumb holds.
Check Price
7. Aspectek Professional Beekeeper Suit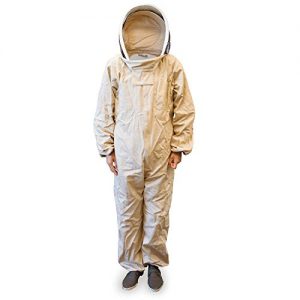 The The Aspectek Professional Beekeeper Suit has been custom made to meet the needs of the savvy buyer. Its self-supporting veil gives you maximum visibility and with its two way neck zippers you can enjoy maximum convenience. It features a fencing style hood which is quite attractive. When you do not need it you simply flip it back without need to remove it completely. It even has elastic loops for your ankles and thumbs.
The Aspectek Professional Beekeeper Suit is made from 100% cotton and comes in a neutral color. This is more calming to the bees. It is a durable suit that will last for a long time to come even after washing it several times. Its quality zippers and Velcro are strikingly strong and you can easily grab them even with your gloves on. The legs openings are also adjustable and you can loosen or tighten them as you wish.
Despite its many pros this suit also has its share of flaws. You have to buy a size up otherwise you may not get your perfect fit. Overall, it is a durable suit at a very affordable price.
Check Price
6. Humble Bee 410 Polycotton Beekeeping Suit with Round Veil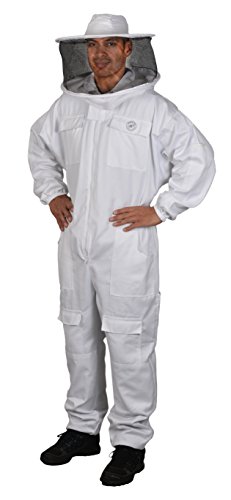 The Humble Bee 410 is another amazing bee suit that has captured my attention. Its round veil is an instant attraction and it also keeps the veil away from your face all around yo the back of the head. This is ideal for maximum protection and it also gives you maximum visibility at the same time.
By buying this suit from Humble Bee you contribute to bee education and conservation efforts since they donate 10% of their earnings to these activities. You are therefore guaranteed of getting an excellent quality suit and still participate in a good course. The 2 year warranty provided will also keep you covered.
The Humble Bee 410 Polycotton Beekeeping Suit is breathable and lightweight. It made of 50/50 cotton and synthetic material. Furthermore, it comes with a carrying case that can be used to store away the suit when not in use. You will also get various sizes to choose from. It also has the right number of zippers where they are required. If you are looking for an excellent quality bee suit with the right mix of cotton then look no farther. This bee suit is a great fit and its veil is quality for money.
Check Price
5. Mann Lake Economy Beekeeper Suit with Self Supporting Veil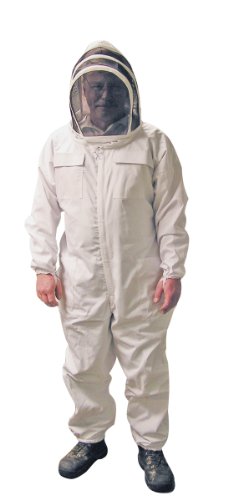 This is an excellent quality beekeeping suit from a top manufacturer in the market. It boasts some amazing features including: ankle zippers, thumb holds, a self-supporting and collapsible veil, elastic ankles and waist, and heavy duty zippers for maximum protection. If you have been tolling a while with the idea of getting a beekeeping suit then think no more. The Mann Lake Economy beekeeping suit stands for exactly what its name denotes. It is ideal for all budgets and has been tailored to endure. However, as a word of warning, do not let the word "Economy" put you off. It is by all means beyond your quality expectation.
In a nut-shell, this beekeeping suit has the following features:
Reasonable budget to meet the needs of most buyers.
Has thumbs holds for maximum comfort and protection.
Zippers at the ankles ensure you can easily get in and get out of the suit.
The veil has some extra protection on its backside.
It is made of 40% polyester and 60% cotton.
It is also fitted with elastic material on the wrists and ankles so as to keep off bees.
It is light weight. You will not get exhausted walking around with it.
Notable features I was impressed with include: its reasonable price, extra protection on the veil, thumb holds, very comfortable and easy to wear and remove. On the downside, I wished it had neck loop for hanging and the face mesh comes close to your head.
Check Price
4. Natural Apiary Beekeeping Deluxe Suit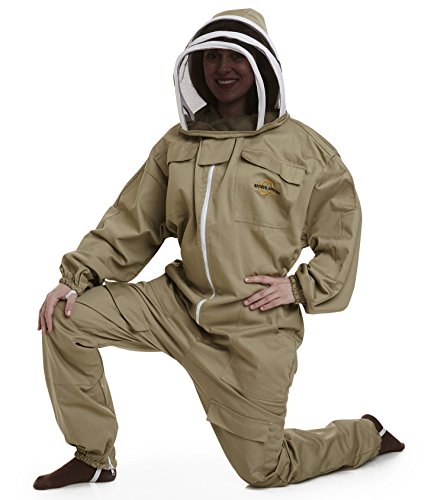 The Natural Apiary Beekeeping Deluxe Suit will live up to your expectations. I chose this as one of the top suits precisely due to the fact that it made of 100% cotton. It is therefore superbly breathable as you can expect. I also love the fact that this suit is machine washable and has been designed to last. It is one of those suits that will serve you for a long time.
The Natural Apiary Beekeeping Delux Suit is the ideal beekeeping suit for the serious beekeeper. It has been fitted with reinforced kneepads and you can get it in various sizes. You can therefore get the best fit irrespective of your gender or body size. Another great feature of this suit is the amount of pockets it has. You get both easy access hip pockets and some extra closing pockets about the knee. With these pockets you will be able to carry lots of tools around. It has 8 closing pockets in total.
Other great features of the suit include elasticized straps that are fitted under the boots which help prevent bees from sneaking into the boots. The wrist and ankle area is also elasticized so as to further provide a good seal against attackers. You will also find it easy to get this suit in and out since it has a long zipper for the body as well as zippers on the ankle area. Furthermore, it has a self supporting veil which helps keep the veil away from your face on every side.
This suit is an ideal choice for the seasoned beekeeper as well as the beginner and it is even covered by a full replacement warranty. It is definitely worth every penny.
Check Price
3. BeeKool Ventilated Full Bee Suit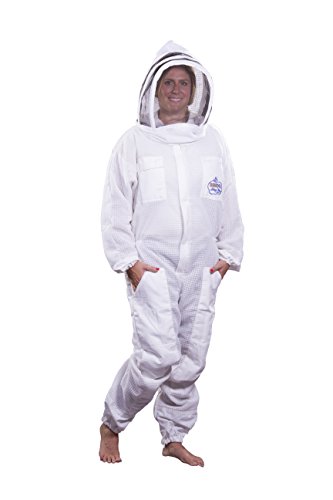 The BeeKool Ventilated Full Bee Suit is another bee suit that has captured my attention. The name in itself suggests it is cool and is ventilated. It is a unique beekeeping suit made up of 3 thin layers: two nylon layers which sandwich a waffle like material giving it maximum breathability. The 3 layers act as a buffer against bee stings, and despite the fact that it heavier than other cotton materials, it is still breathable. The suit has also been fitted with thumb loops that add to its elasticized wrists. These can be put over the gloves for extra security.
The BeeKool Ventilated Full Bee Suit also has elasticized ankles and excellent quality zippers making it a great fit at a great price. Its veil is large and comfortable and it also has plenty of pockets that can be used to carry your tools around. In comparison to other suits this one is much cooler. The main disadvantage with this suit is the fact that it is a little bit small when compared to your regular suits. Therefore to get a perfect fit, ensure you order a size up from your usual size.
Check Price
2. Eco-keepeer Professional Grade Bee Suit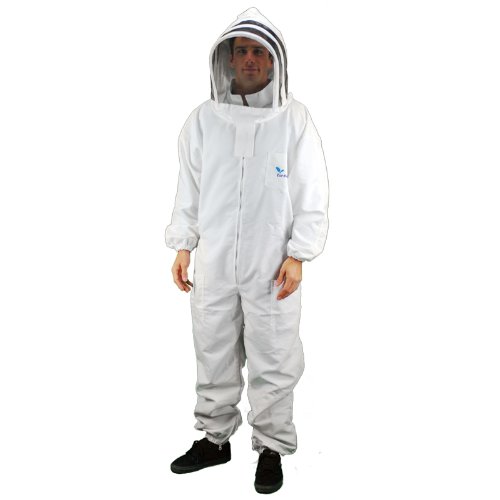 It is apparent that Eco-Keeper beekeeper suits are among the top in the market today. The Eco-keeper Professional Grade Bee suit comes with some amazing features. It is a rounded style bee suit that offers the best amount of visibility to the user. It is made of tightly woven 60/40 blend of cotton and polyester respectively. This makes it difficult for bee stings to get through the material. It is also lighter when compared to 100% cotton suits.
When it comes to price, this quality suit is much more affordable when compared to similar suits. It is quite a breeze to put it on and take it off thanks to its durable plastic zippers, zippered ankles and elasticized wrists. You will also get vVelcro on top of the zippers for additional protection.
One of the major weaknesses of this beekeeping suit is that it lacks all the pockets and extras that other suits have. However, it remains a favorite to most beekeepers due to its rounded veil. I particular find these kind of suits very attractive.
Check Price
1. Ultra Breeze Beekeeping Jacket with Veil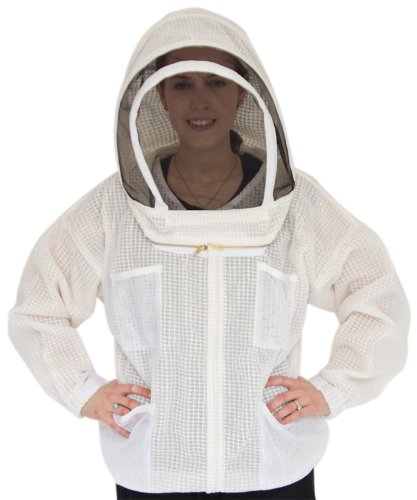 This beekeeping suit from Ultra Breeze ranks as the best beekeeping suit in 2017. It is an excellent quality beekeeping suit designed for all skill levels – beginner, average or professional. This outstanding suit is made with 3 layers of ventilated mesh fabric that makes it impossible for bee stings to penetrate. It is extremely easy to put on and remove and offers maximum comfort. It has been tailored to fit. Furthermore, it is available in various sizes, starting from small, medium to large.
The main features of this beekeeping suit include:
Ventilated fabric for maximum comfort especially during hot summer months.
Comes with excellent protection jacket veil.
The hood can be hand washed and the suit is machine wash cold. Do not twist or wring the suit though. You should also avoid bleach.
Since it is not a full blown suit, it meets the needs of those who love such a design.
Extremely light weight. Weighing barely 2.6 pounds.
I love that the suit is comfortable and well ventilated. I also love the extra protection provided by the veil. It is also say it is easy to clean unlike other suits.
Check Price
A Final Word
You will never go wrong with any of these beekeeping suits. You should only be keen when placing an order since some may be a bit smaller than your ordinary bee suit size.