If you purchase an independently reviewed item through our site, we earn an affiliate commission. Read our affiliate disclosure.
Bees have never really gotten the level of buzz they deserved. Bees are essential for the survival of not only plants but also animals since both exist in a symbiotic environment. They have and continue to face some serious challenges including pesticides that threaten their very existence. Plenty of effort has been put to save bees and there is still more to be done in order to protect bees. The honeybee population feeds the entire globe. According to USDA (the United States Department of Agriculture), one out of 3 mouthful benefits from honeybees within the US. This shows how much we rely on bees for survival. To bee a beekeeper (pun intended) you do not need much to get started. A burning desire and a little cash will be enough. Bees are ideally self-sustaining and thus they are easy to manage. You will have to procure a beehive box such as the popular VIVO BEE-HV01 Complete Hive Kit. This kit is a 20 frame beehive with a capacity of 10 deep and 10 medium frames.
The Beekeeping Experience
Ask any beekeeper about their experience with bees and you might get similar stories but each will have their own differences. Your work does not end once you have installed the beehive and brought in the bees. Every bee colony has its own unique characteristics, experiences, and seasons. A beekeeping enterprise should therefore be treated as a journey and not a destiny. Every hive should be treated according to its unique needs. The bee behavior will vary given the differences in sunlight exposure. One hive may be hostile and another docile and this does not mean you got the wrong type of bees. Every bee is a sentient being that has its own survival needs, management ideas, and sense of place. Beekeeping is all about the bees and not the honey. The latter is an outcome that will come when the bees are well treated.
Record keeping is important when it comes to beehive management. Keep lots of pictures and comprehensive notes since these come in handy a few years down the line. It will help you understand bee behavior in relation to varying conditions and thus help better manage your bees. Check out our article on the best beekeeping apps, some of which will help you with record keeping.
About the VIVO BEE-HV01 Complete Bee Hive Kit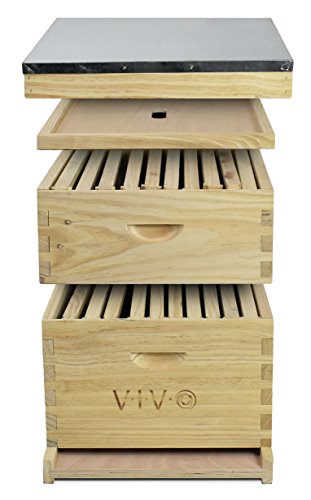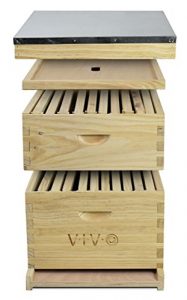 The VIVO BEE-HV01 is a 20 frame wood beehive box kit unit built for both the beginner and professional beekeeper. It offers a great home for the bees to thrive. You are also provided with the hardware required for assembling your beehive. Some of the features and benefits of this beekeeping kit include:
Complete 20 frame wooden box kit with 10 medium and 10 deep frames.
Features a telescopic cover that has a metal cover.
Available is an inner cover, 10 medium frames with dimensions of 6.25 inches by 19 inches and 10 deep frames with dimensions of 9.2 inches by 19 inches.
You also get a plastic hive excluder in addition to a sturdy bottom board that has an entrance reducer.
The kit is delivered with the hardware required for assembling the beehive unit.
It is built using New Zealand pine wood.
Its black plastic foundation sheets have hexagonal surfaces.
The beehive unit has dimensions of 6 x 25 x 9 inches and weighs 51.4 pounds.
Check Price and Availability of the VIVO BEE-HV01 Complete Bee Hive Kit
Pros and Cons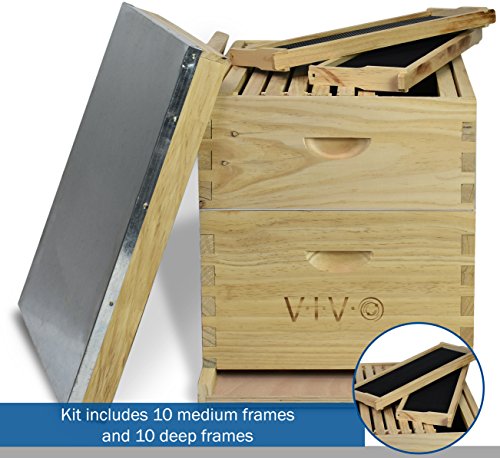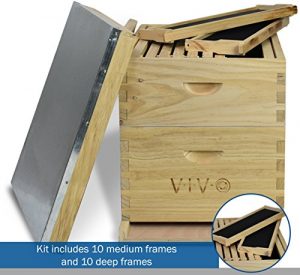 Pros
It has a spacious beehive box that can accommodate a huge bee colony. The bigger the colony the more the honey produced.
It is easy to assemble the unit and the manufacturer provides the tools needed for assembly. You can also refer to the easy to follow manual provided for assembling the kit.
The telescopic roof protects the bees from nature elements.
It comes with queen excluder to keep her safe and well secured.
Ideal for both beginners and professional beekeepers.
It has an attractive overall appearance.
All hive components are of excellent quality, durable and perfectly-fitting.
Very attractive price.
Cons
It is not assembled and therefore any mistake when assembling can ruin the unit.
Not pre-painted. Manufacturer recommends you apply tung oil to the exterior.
There have been instances of the hive box swelling after being outside for some time.
Further Thoughts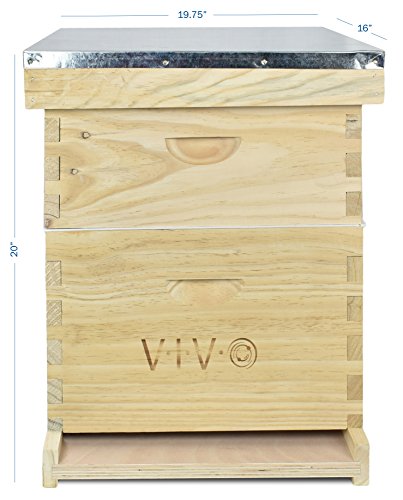 The VIVO BEE-HV01 Complete Hive Kit is designed for all skill levels. The unit is delivered unassembled and a manual is provided to guide you when assembling. It ideally doesn't take much to put together as the hive components are easy to fit together and are made of excellent quality material. You should however be extremely cautious when assembling the components. Get help if necessary.
The overall design is particularly appealing and its spacious interior ideal for building a thriving bee colony. It may take at least 2 hours to assemble the unit and if you are slow 3 hours. You also need to paint it once assembled. As for price, it is definitely worth considering.
Conclusion
The VIVO BEE-HV01 Complete Hive Kit makes a great home for the honeybees. The unit is well built. The wood type and quality is attractive and the telescopic cover included helps shelter the bees from elements of nature. Assembly is required and you have to paint it or alternatively apply tung oil on its exterior. The instructions that come with the package are easy to follow also and will be helpful if you are uncertain of how to assemble the unit. It is a beekeeper kit that I do recommend, especially for beginners. You will be surprised by its price. It is surprisingly affordable and way below what one would expect.
Do you own the VIVO BEE-HV01 Complete Hive Kit? Leave a comment below and let us know what you think of it.
Check Price