If you purchase an independently reviewed item through our site, we earn an affiliate commission. Read our affiliate disclosure.
Acorn Beekeeping is a supplier of beekeeping equipment in the USA. The company also exports some of its products to other countries in the world. One of the best products from the company is its foundation sheets. The plastic foundation sheets from Acorn Beekeeping are popular among beekeepers. This is an Acorn Beekeeping plastic foundation review to guide you when you are buying foundation from this reputable beekeeping supplies company.
About Acorn Beekeeping Plastic Foundation
Acorn Beekeeping foundation comes in different sizes and colors to suit the needs of individual beekeepers. All of their plastic foundation sheets on sale have a breakaway communication hole. It allows the bees in the beehive where you use this foundation to move freely between beehive frames. The optional breakaway hole is a corner of the foundation that you can break off before placing the foundation in the beehive.
The plastic foundation sold by Acorn Beekeeping comes in two wax coating designations: standard and heavy. Standard wax coating is a single layer of wax applied to the plastic foundation. The designation 'heavy' means that several coatings of wax have been applied to the foundation sheets. In some cases, it may be necessary to add a layer of beeswax coating on the foundation that has the 'standard' wax coating. However, it is not necessary to add extra coatings of beeswax on the frames that have the 'heavy' beeswax coating from the company manufacturing plant. Click here to learn how to coat plastic foundation with beeswax.
Under normal circumstances, a strong colony draws comb quickly over the Acorn Beekeeping plastic foundation sheets with the standard wax coating. Weak hives and newly installed colonies benefit more from heavier wax coatings.
Advantages of Acorn Beekeeping Plastic Foundation
Beekeepers using plastic foundation such as those made by Acorn Beekeeping enjoy a number of benefits over those not using foundation, or even those using wax foundation.
Long Lasting
Acorn Beekeeping plastic foundation is durable and lasts many years longer than wax foundation. It is also easy to clean even by boiling without losing its strength. This is unlike wax foundation which cannot withstand the boiling of beehive frames for cleaning purposes.
Strong and Durable
A second advantage of Acorn Beekeeping plastic foundation is its strength. It holds comb drawn over it well on the beehive frames. There are only rare cases where plastic foundation has allowed comb to fall from the frame. This strength extends into honey extraction. The plastic foundation helps the comb withstand high centrifugal forces in honey extractors. You can therefore extract honey faster when you have plastic foundation, and quickly return the frames to use in the beehive.
Comes in Different Colors
Thirdly, plastic foundation sold by Acorn Beekeeping comes in different colors. Black color is great for use in brood boxes. It provides a contrasting background to the white bee eggs. You can see the eggs laid by the queen bee easily with black foundation frames. Spotting the eggs is important if you cannot see the queen bee but want to make sure that she is in the hive and laying eggs – important factors for a thriving honey bee colony.
White foundation on the other hand is excellent for use in honey super beehive boxes. It makes it very easy for the beekeeper to see whether there is honey stored in the beehive boxes.
Improves Pest Control
Lastly, you get some passive wax moth and rodent control with the Acorn Beekeeping plastic foundation. The plastic is impervious to the burrowing activities of these destructive agents in beehives. In the event that you have a wax moth infestation, the larvae of the moths burrow through the comb and hit the plastic foundation. It cannot get through the plastic, and so is restricted to one side of the frame. This has an overall effect of slowing the spread of the infestation. This is an advantage that plastic foundation has over wax foundation.
Rodents getting into the hive are also restricted to a small section of the hive due to this similar effect. They cannot go through the first beehive box since they are arrested at the first beehive frame.
Review of Acorn Beekeeping Plastic Foundation
In this review, we'll be looking at the following foundation sheets and frames from Acorn Beekeeping:
Deep Black Brood Plastic Wax Coated Foundation
Medium Plastic Wax Coated Foundation
Deep Drone Comb Plastic Foundation Plastic Frames
Heavy Wax Coating Black Frame (9-inch)
Let's check them out.
1. Acorn Beekeeping Deep Black Brood Plastic Wax Coated Foundation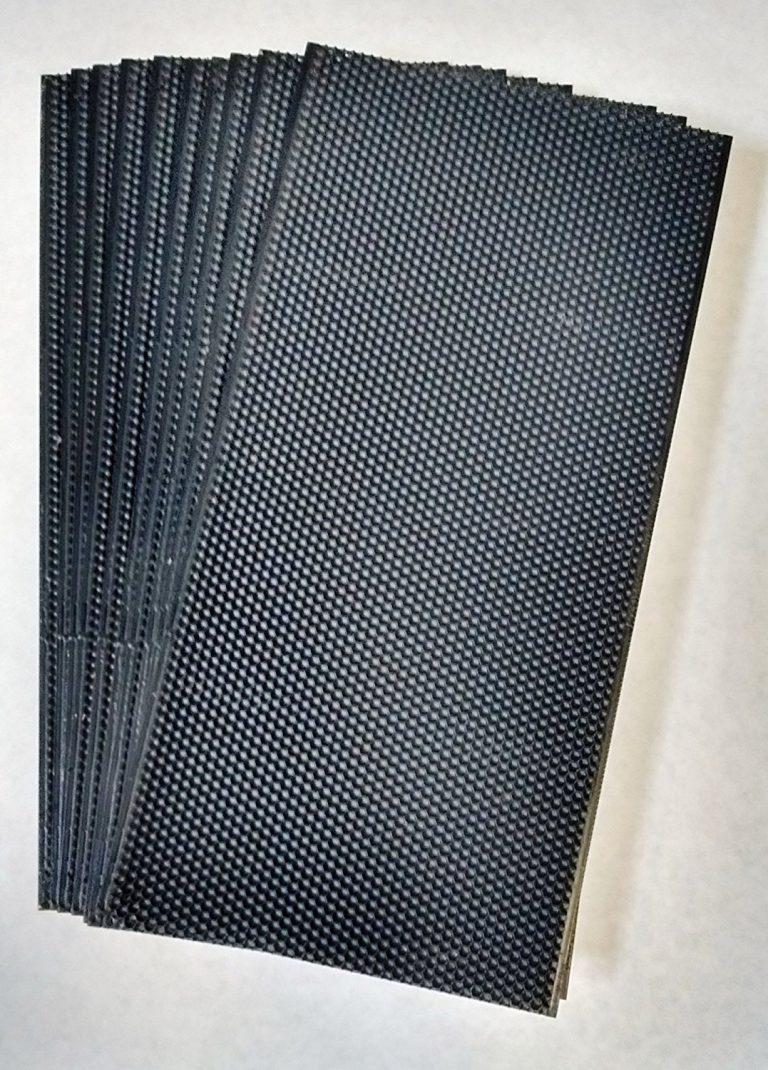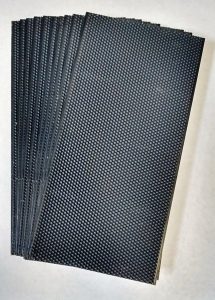 This is plastic foundation for use in brood boxes. The foundation is for deep beehive boxes and fits well into frames. It is made in the USA, so you are generally better assured of quality. It is great for use in both small and large beekeeping operations. Both beginner beekeepers and experienced ones looking to go into foundation beekeeping, are served well by this offering from Acorn Beekeeping. The foundation comes in a black color which makes it easy for the beekeeper to see bee eggs on the comb. Eggs on the comb in brood boxes show that the queen is laying and keeping the honey bee colony going.
Acorn Beekeeping sells this black plastic foundation in packages of 10 and 100 pieces. These are enough to fill 10 beehive boxes of the 10-frame size and 12 beehive boxes of the 8-frame size. The foundation is also wax coated so that bees will draw comb on it once it is used in beehives. Beeswax is generously used to coat the foundation sheets, so you do not need to add any more after purchase. A regular cell pattern is used on the foundation, so your bees have an excellent guide for their comb drawing activity. This plastic foundation is strong. It keeps the comb on the frame with very little chance of falling off.
The Acorn Beekeeping Deep Black Plastic Foundation has a cell size of 5.2 mm. This is a good cell size for producing large and strong honey bees. Using the foundation gives you many worker bees from this cell size, with not many drones being produced. Large worker bees have increased foraging power and are better at carrying out beehive 'housekeeping' activities.
If you want more drones, Acorn Beekeeping has foundation and plastic frames with a cell size that is perfect for drone bee rearing (we'll take a look at one such foundation sheet later). Optionally, applying wax and filling the cells on some sections of the plastic foundation allows bees to build cells of their preferred size, including drone cells.
This product confers all the advantages of plastic foundation to your beehive and honey bee colony. It adds strength to the comb drawn in the beehive and also helps with some moth control. It is also suitable for use on wooden beehive frames.
Check Price
Check Price (Australia)
2. Acorn Beekeeping Medium Plastic Wax Coated Foundation (100ct)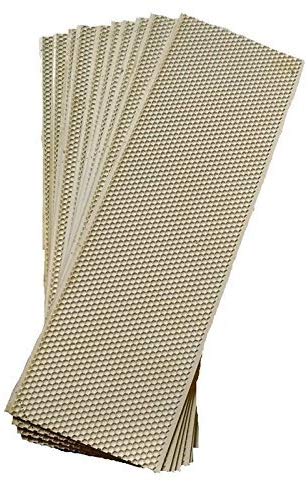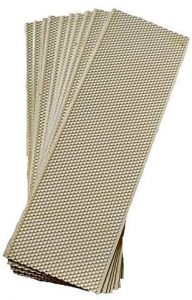 The Acorn Beekeeping Medium Plastic Wax Coated Foundation is white-colored and suitable for medium-sized beehive frames. The plastic foundation comes coated with beeswax so that honey bees accept it with ease. This white plastic foundation is sold in a pack of 100 sheets. They are enough for beekeepers with small operations since they are adequate to fill many beehive boxes with foundation frames. The foundation sheets are made in a rectangular shape that fits easily into medium-sized beehive frames. They are easy to install and stay on the frame in a tight fit. The foundation sheets do not fall off, even when subjected to high centrifugal forces.
A great plus for these white plastic foundation sheets is their reusability. It makes them very long-lasting. Purchasing a set of these plastic foundation sheets coated with beeswax is a worthy investment for your beekeeping operation. With periodic cleaning and reassembly of beehive frames, these plastic foundation sheets are going to be in use in your apiary for many years before you need to replace them. The sheets can withstand short periods of boiling and water blasting to clean beehive frames. You do not even have to remove the plastic foundation sheets from the wooden beehive frame to carry out periodic cleaning.
The white color on these plastic foundation frames makes them suitable for use in honey supers. This is in addition to their medium size, which is common for Langstroth beehive super boxes. The white color gives a good contrast to the light browns and yellows of stored honey. With these foundation sheets, you can easily see if the honey bees in your beehive have stored honey and if it is properly cured. You can also easily see the capping of the cells in which ready honey is stored. This makes it possible for beekeepers to know when stored honey is ready for extraction without much of a struggle, and without the risk of harvesting incompletely cured nectar.
These foundation sheets are of great quality and give excellent results in your beekeeping operation. They can be used by both beginner and experienced beekeepers in their apiaries.
Check Price
Check Price (Australia)
3. Acorn Beekeeping Deep Drone Comb Plastic Foundation Plastic Frames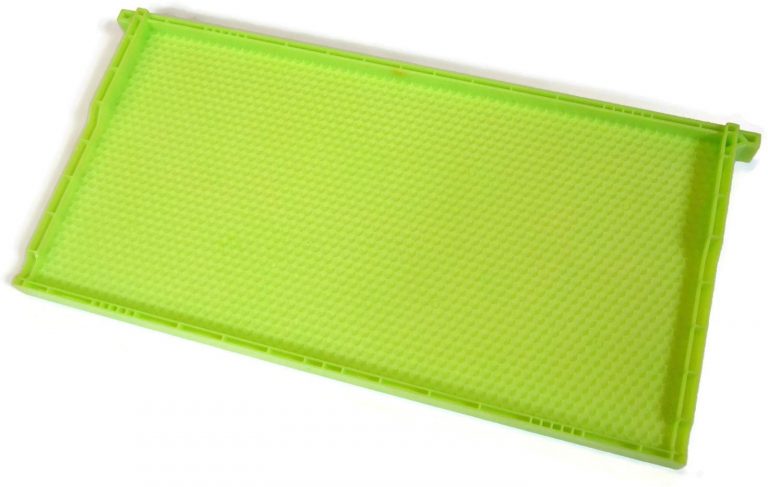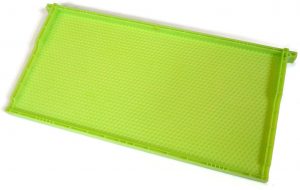 Plastic beehive frames are an interesting development in beekeeping due to being contiguous with their plastic foundation. By eliminating seams, their assembly is stronger than wooden frames with plastic foundations installed in them. Acorn Beekeeping offers the Deep Drone Plastic Frame to beekeepers, that aim to benefit from the advantages of using plastic frames in their beekeeping.
The frame is made of plastic and has plastic foundation in the middle. This frame is designed with drone brood in mind, as its cell sizes are optimal for the development of drones in the honey bee colony. 10 frames are sold in each pack. The number is just right for beekeepers since they only need one or two of these frames per beehive. The number of drone bees needed in a beehive is not as high as the number of worker bees needed. The 10-pack is enough for the beekeeper with 5-10 beehives in their apiary.
This plastic frame from Acorn Beekeeping is nicely shaped to fit Langstroth beehive deep brood boxes. It can be used in both 8-frame and 10-frame beehive boxes since it is built to standard measurements. The frame has the right depth and very strong ears to keep it in place. The frame features the latest Acorn Beekeeping mold advancements that have the sidebars of the frame tapering downwards. It does not leave excess space around it that can lead bees to build burr comb. The top bar and bottom bars of the frame are strong and hold the weight of the frame well. This drone brood frame comes coated with wax, so bees will draw comb on it readily. You do not need to add a layer of wax to it and risk obscuring the cell size set by the pattern on the plastic foundation.
This frame is a great investment for your apiary. It is capable of lasting for many years without loss of performance.
Check Price
Check Price (Australia)
4. Acorn Beekeeping Heavy Wax Coating 9-inch Black Frame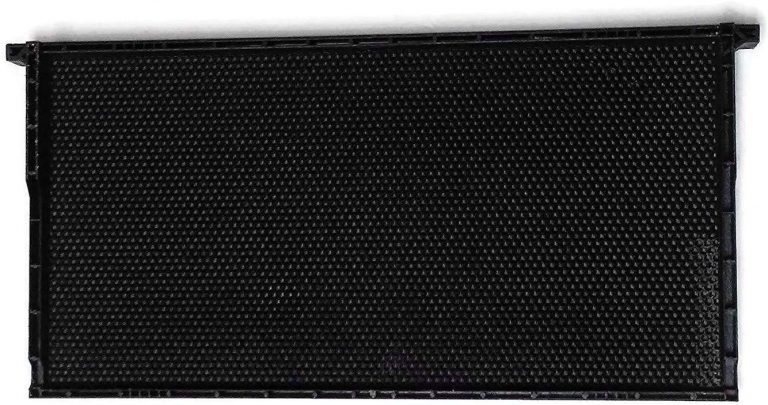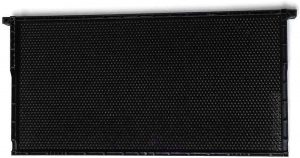 The Acorn Beekeeping Heavy Wax coating 9-inch Black Frame is contiguous with its plastic foundation. The frame is made using molding technology that is used by Acorn Beekeeping in its USA factories. This frame is for use in deep beehive boxes that are being used for brood rearing. It is of high quality and lasts for long. The frame is made with extra-strong ears that keep it on the beehive box with no risk of falling off, or the ears breaking. It also features Acorn Beekeeping's design with strengthening splines along the four bars of the frame. The sidebars taper downwards just as with wooden beehive frames.
This plastic beehive frame is black in color. It is a great color that allows you to see honey bee eggs and larvae easily. It mimics the dark color of honeycomb that has been used for long in brood boxes. Acorn Beekeeping uses its 'heavy' standard of wax coating on this plastic beehive frame. The heavy wax coating is achieved by applying several layers of beeswax so that beekeepers buying the frame do not need to add any beeswax coatings to the frame. Additionally, no assembly is needed once you have bought this frame. It comes ready to be placed in the beehive box of your choice.
Beekeepers with small operations are favored by this frame offering. 52 pieces are included in every pack you purchase These are enough frames for 5-6 beehive boxes. The frame is built to very exact Langstroth beehive frame measurements. It works well in both 8-frame and 10-frame beehive boxes. Beekeepers with larger operations can get more than one pack of these frames, enough to meet their brood box frame needs.
The plastic foundation on this frame makes bees draw comb on it with cell sizes suitable for worker bee rearing. It has a regular pattern of cells on it that extends to the ends of the frame so your honey bees are going to use the whole frame for rearing their young. It gives you a cell size of 52 mm which is the best for worker bee brood.
Check Price
Check Price (Australia)
Conclusion
Acorn Beekeeping is a reputed American manufacturer of high-quality equipment for use in beekeeping. The company molds and waxes all the plastic foundation sheets it sells. The plastic foundation sheets are made using injection molding. Certification from standards organizations and excellent quality controls at the company assure beekeepers that Acorn Beekeeping products are among the best they can get for their honey bee colonies.
The company also has round-the-clock customer care to address your queries whenever they arise. You are welcome to use the information in this Acorn Beekeeping plastic foundation review to make great foundation selection choices that will help your honey bee colonies get drawing comb quickly.
Have you ever used Acorn Beekeeping Plastic Foundation? Leave a comment below and let us know what you think of it.