Honey Extractors are the rugged and simple mechanical devices used for extracting honey from honeycombs. They simply utilize centrifugal force within a drum or a container that has frame baskets. This is where the combs are spun and the honey flung out. Extracting is one of the final steps in the beekeeping process, and it's where you reap your rewards for all you've sowed.
There are great benefits associated with honey extractors and these cannot be ignored. Its primary benefit is that it ensures the combs remain intact and can be reused by the bees to make more honey. There are two types of extractors to choose from: radial or tangential. The main difference between them lies in the manner in which the frames are held within the basket. With the various honey extractor brands available in the market you can never run short of a choice if considering getting one. Here are the best honey extractors available on the market today.
10. Honey Keeper Pro 2 Frame Extractor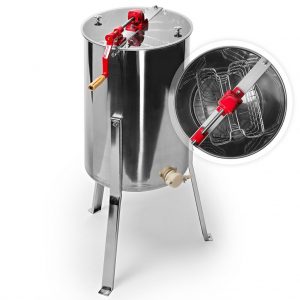 Different honey extractors are not created equal. Each unit has its pros and cons and they have been designed to suit the varying needs of the buyers. if you have  many bee hives then that means you have to get an extractor that can handle that number. The same applies to those with few hives. You should also consider your budget since different units have their own unique prices. The Honey Keeper Pro 2 Frame extractor happens to be one of those units that compete well with similar high-end extractors in the market. It is a stainless steel unit that comes with a clear plastic lid for monitoring the extraction process. It is designed to fit 2 deep, medium, and shallow frames and has a well-positioned honey gate. The unit is also easy to assemble and use.
What makes the Honey Keeper Pro 2 Frame extractor different from other units in the market is its versatile stainless steel legs. They can be attached to the floor or removed whenever necessary and based on user comfort. They have also been designed in such a way that a 5 gallon bucket can perfectly fit underneath the extractor. It is also easy to spin thanks to its steel gears and sealed bearings. Furthermore, the unit can easily be cleaned using warm soapy water.
The Honey Keeper Pro 2 Frame extractor is efficient and a quality for money manual extractor. The price is great too, and one of the best deals available. In terms of quality, it is sturdy and heavy-made. On the downside, I found that sometimes the handle still turns after you stop spinning. But overall, this is a definite quality for the money.
Check Price
9. Best Choice Products 2 Frame Stainless Steel Honey Extractor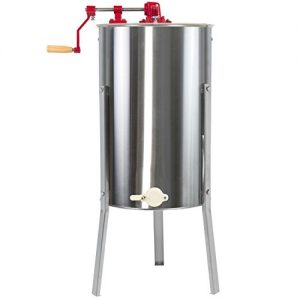 The Best Choice Products 2 Frame Stainless Steel Honey Extractor comes at an affordable price and does not disappoint when it comes to performance. One of its key pros is the fact that it comes with clear and easy-to-understand instructions. It is also easy to use and has a well functioning honey gate. It is an excellent fit for the beginner or casual beekeeper.
Some of the other striking features of this product include a clear and double-sided lid. This allows for easy viewing of the drum and a solid metal crank that is reliable when it comes to spinning the drum baskets. One of the major setbacks associated with this extractor is the fact that it has sharp edges on its legs. If you are not careful you may end up getting injured. Overall, it is an excellent unit and I would recommend it to anyone especially if you just started you beekeeping business. It is a good performer and definitely good value for money.
Check Price
8. OrangeA 4 Frame Electric Honey Extractor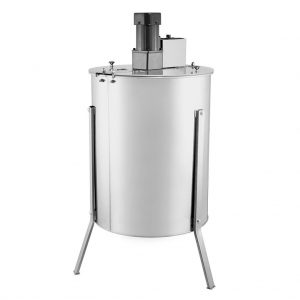 The OrangeA 4 Frame Electric Honey Extractor from is designed with the end user in mind. All its features have been tailored to ensure maximum efficiency, versatility, and convenience. The spacious 4 Frame unit measures 50 cm wide and 85 cm high. It is very powerful delivering a power of 1300 rpm thanks to its 1.1A, 120W motor power.  The unit has 3 stainless steel legs that provide some convenience when extracting the honey. You also get a plastic honey gate, 2 clear Perspex lids for monitoring progress, and a conical drum. It is a tangential extractor that meets the needs of the hobbyist or beginning beekeeper.
Other notable features of this electric honey extractor include: a slightly rounded inner honeycomb mesh that ensures the honey combs do not break. The unit can spin 4 frames at once and that means you can complete your honey extraction within a short time. It is also relatively lightweight, barely 37.5 pounds.
I found that the OrangeA 4 Frame Electric Honey Extractor extracts the honey quickly. The motor is not loud when in operation and the unit worked smoothly. On the downside, I was forced to raise the unit with bricks so that it fits a honey bucket. But overall, this unit delivers as expected.
Check Price
7. Goodland Bee Supply 2 Frame Honey Extractor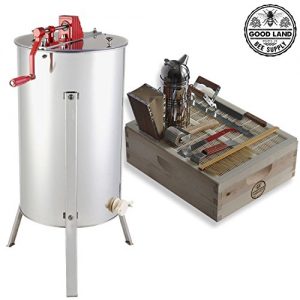 Different buyers have their own unique preferences when it comes to honey extraction equipment. However, no one is ever willing to try out a brand that has a bad reputation. Goodland Bee Supply is one of those brands popularly known by most beekeepers. Its beekeeping equipment is synonymous with good quality and the 2 frame honey extractor is no exception. The sturdy extractor has been built with some features that not only guarantee efficiency but also provide convenience of use.
Some of the notable features of the Goodland Bee Supply 2 Frame Honey extractor include: 16-gauge stainless steel construction, three piece legs for maximum stability, additional beekeeping accessories (bee smoker, uncapping roller, frame spacer, and frame grip), manually operated tangential honey extractor, and a double sieve design. The unit will fit nicely into a 5 gallon bucket and since it is made of steel that means it is easy to clean, can resist rust and other elements and will last for a good while.
This unit is ideal for the beekeeper who owns between 1 to 10 hives. It can accommodate 2 deep, medium, and shallow frames at a go and that means you will accomplish you task within a short time. The unit's uncapping roller comes in handy whenever the hot knife has missed some places in the honey combs. Other notable features of the extractor include; a comfortable wooden handle, long extractor needles for maximum extraction, spacious unit, and optional cheesecloth.
Some of the features that I particularly liked include: the legs, its sturdy built, spacious frame basket, additional accessories, cleans up easily, ability to spin fast, and the affordable price. However, it would have been better if it had a gear for slowing it down when you want to stop it.
Check Price
6. VIVO BEE-V002 2 Frame Stainless Steel Honey Extractor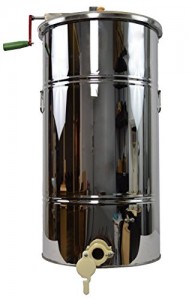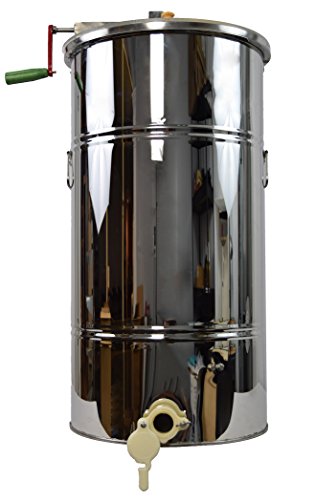 VIVO is one of the top global brands known for its excellent quality beekeeping products. The VIVO 2 Frame Stainless Steel Honey Extractor is a solidly built unit that is designed for the casual beekeeper. It comes with a stainless steel finish and has two carrying handles for easy handling. It also has a well functioning stopper or honey gate. Its drum of 29 inches is sufficient in accommodating a reasonable number of frames.
Some of the main pros of this unit include: value for money, durability, and how easy it is carry. On the flipside it has some design issues and the sharp edges pose a risk of injuring the user. Overall, this unit is an good performer. The price is reasonable and it has all you need as a casual or amateur beekeeper.
Check Price
5. Mann Lake HH160 Stainless Steel 6/3 Frame Hand Crank Honey Extractor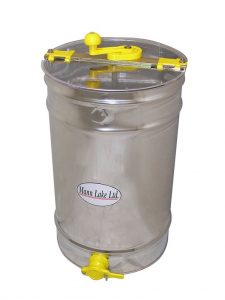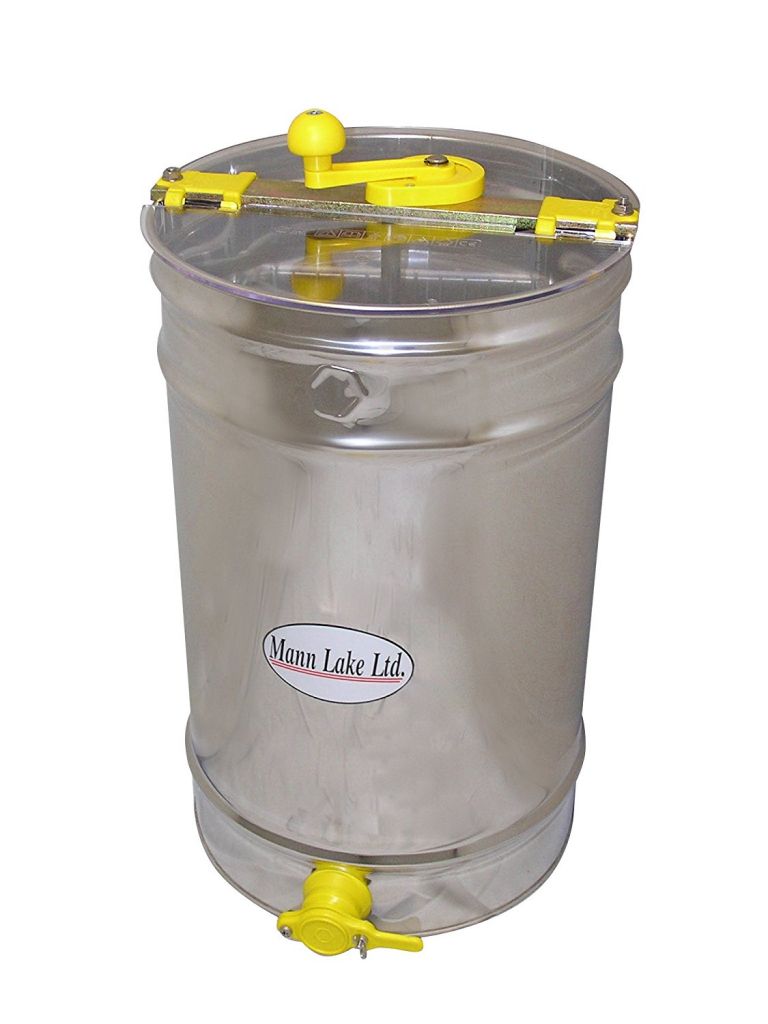 Every beekeeper understands that there can never be a substitute for an excellent quality honey extractor. The Mann Lake HH160 Stainless Steel honey extractor comes with a plethora of amazing features. It is a 26 gauge stainless steel unit specifically built for the savvy beekeeper. It is one of those units that you buy and forget about buying any other for years. It is a tangential extractor with the capability of holding up to six shallow and three medium or deep frames.
The Mann Lake HH160 extractor has a dimension of 18 inches width and a height of 26 inches. Since it is tangential in nature, that means you have to remove the frames and flip them so as to extract on both of the sides. The extractor comes with a 1-1/2 inch honey gate, weighs approximately 26.1 pounds and it does not have legs. The unit is a no-brainer to use and it is quite easy to clean as well. You will also like the fact that it is made of stainless steel. This means it is resistant to rusting and abrasion.
I must say that I was impressed with its performance. It was fast in extracting the honey and was easy to clean. On the downside I would be happier if it had legs.
Check Price
4. Little Giant Farm & Ag EXT2SS Stainless Steel Honey Extractor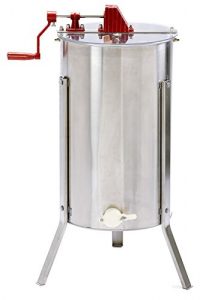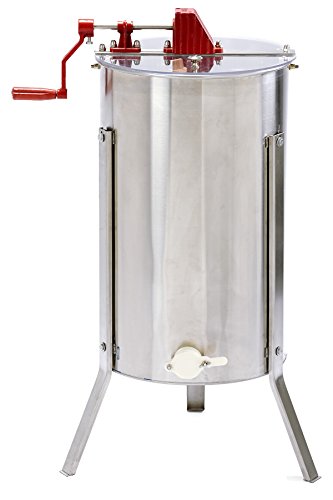 If you are a more experienced beekeeper then you can never go wrong with the Little Giant Farm & Ag Stainless Steel Honey Extractor. It is a tangential extractor that is well pleasing thanks to its amazing inner and exterior features. It has a clear plexiglass lid so you can monitor progress, and its overall build is sturdy and durable. What particularly intrigues me about this stainless steel extractor is the fact that it is a capable performer. It is highly efficient and will hardly ever disappoint.
Some beginners might find it frustrating to use this honey extractor but overtime, with practice it should become easier to use. This is due to the fact that it does come not come with any instructions. There is also some slight paint chipping on the extractor so I'd advise to inspect carefully before use.
Check Price
3. The Goplus 2 Frame Stainless Steel Honey Extractor
The Goplus 2 Frame Stainless Steel Honey Extractor is also a top notch honey extractor. It is particularly built for those on a low budget, especially the hobbyists who simply want to get a basic extractor for less demanding honey extraction.
I like the Goplus 2 Frame Stainless Steel Honey Extractor because of the great quality it provides. However it also has its shortcomings. Some of its key features include the clear lids that allow the user to view the drum and monitor progress. It is also of a decent size and not bulky. You will therefore find it easy to carry it around your beekeeping enterprise. Professional beekeepers may find this unit to be a bit limiting.
This honey extractor from Goplus is built to last and is also easy to use. If you are just starting out as a beekeeper, it will suit you well. It is one of those units that will grow with your business. The unit does not come with instructions for assembly or product maintenance and thus you have to go an extra mile in learning about them. However, this unit still remains a favorite to many beekeepers.
Check Price
2. The Hardin Professional 3 Frame Manual Honey Extractor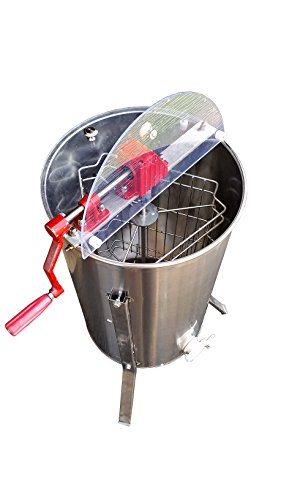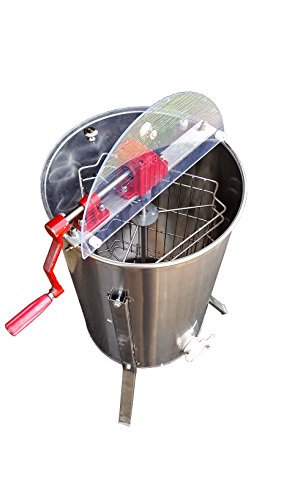 This is an excellent honey extractor for the money. It is a manual extractor with a 16 gauge Stainless Steel Tank. It also has a clear plexiglasss top that allows you to monitor the honey extraction process. Other great features of this extractor include: an optional stand or leg and a steel gear construction that has sealed bearings.
You will never be disappointed by this top notch honey extractor. In case you are not satisfied with it you can return it since it is covered by a lifetime warranty. This extractor is definitely worth every penny.
Check Price
1. VIVO BEE-V003D 3 Frame Honey Extractor
VIVO as a brand has become a household name. It is known for top performing products and this includes beekeeping equipment. Its BEE-V003D 3 frame honey extractor has taken the market by storm. It comes fully-packed with amazing features and is ready for use. The sturdy unit is built from 304 stainless steel material and that means it can easily be cleaned and can resist rust and abrasion. Its 15 inch diameter drum is capable of holding 3 shallow, medium, and deep frames at once. The unit also has good clearance for placement of the honey bucket. It allows a distance of 15.25 inches between the honey gate and the floor.
You can easily monitor the progress with your honey extraction process when you use this unit. Its clear plexiglass lid is well-positioned within the extractor for easy viewing. It also keeps off dust and other particles during extraction. The unit has been built for all skill levels and therefore a beginner will use it for many years. Other important features include; spiral; bevel gears that make spinning smooth, easy assembly and disassembly, a cone-shaped bottom, and weighs 27.8 pounds.
The VIVO BEE-V003D is an economical extractor and I am more than happy with the unit. It's easily assembled and it is sturdy and well built. On the downside, the ball bearings are not as smooth as expected. But overall, this unit performs beyond expectation.
Check Price
A Final Word
Before you buy your honey extractor ensure you evaluate its features and compare various brands before you settle on one. Buy a unit that is build to last and can perform efficiently well.