If you purchase an independently reviewed item through our site, we earn an affiliate commission. Read our affiliate disclosure.
Honey extractors are simple mechanical devices that extract honey from honeycombs. They use centrifugal force in a drum or container with frame baskets. This is where the honey is flung out and the combs are spun. Extracting is one of the final steps in the beekeeping process, and it is where you reap the benefits of your efforts.
There are numerous advantages to using honey extractors that should not be overlooked. Its main advantage is that it keeps the combs intact so that the bees can reuse them to make more honey. There are two types of extractors: radial and tangential. The primary distinction between them is how the frames are held within the basket. These types can either be powered manually or electrically.
With so many honey extractor brands on the market, you'll never be short of options if you're thinking about purchasing one. So, let us assist you in making that decision with our hand-picked list of the best honey extractors on the market today. Let's take a look at them.
Overview of the Best Honey Extractors
15. VINGLI Upgraded 4 Frame Manual Honey Extractor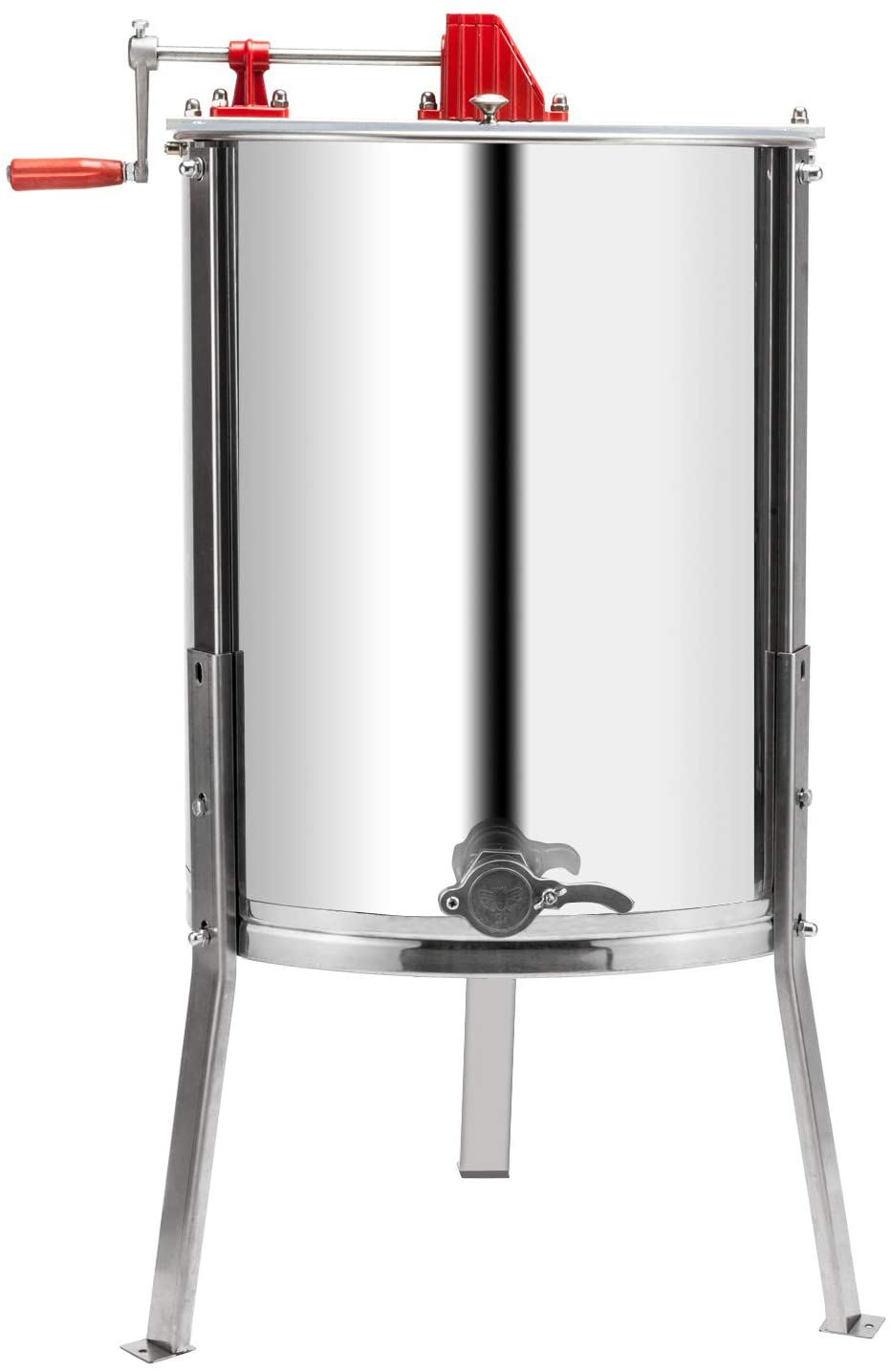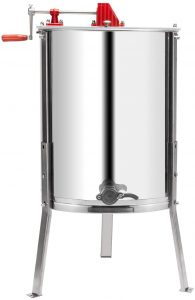 The Vingli Upgraded 4 Frame Honey Extractor is made using stainless steel and is manually cranked. It has its cranking mechanism and gearing installed at the top, externally. This ensures that the drum of the extractor does not have items in it that would contaminate or lower the quality of honey. This extractor comes in a silver color and has 3 legs holding up the drum. It also has a honey valve installed on the side. The legs are adjustable in height depending on your preference and the honey collection container you are using. They raise the height of the extractor from 40.6 inches to 47.3 inches at best. This extractor is great for both small and large beekeeping operations.
Design and installation of the cranking mechanism of this extractor are well done. The crank and gearing are made using strong metal that does not break even with vigorous craning. Adequate bearing is provided on the craning mechanism as well as alignment of the shafts and gears for efficient use of your energy. The crank handle is easy to use and shaped for great grip in your hand. Installation of the cranking mechanism is on a reinforced bar featuring the Vingli branding on it. The cover of the extractor is made using Plexiglass. It allows you to see beehive frames in the extractor drum so you know when extraction is complete.
The adjustable height of the drum using its legs gives you clearance for your honey container under this extractor's drum. You get clearance of between 16.3 inches at minimum to 23 inches at maximum. This manual honey extractor is made using strong and durable stainless steel. It is safe to use with honey for human consumption.
On the downside, sturdiness can be an issue with this extractor. It may wobble and shake so much in operation that nuts, bolts and other parts come loose.
Check Price
14. Goplus 2 Frame Stainless Steel Honey Extractor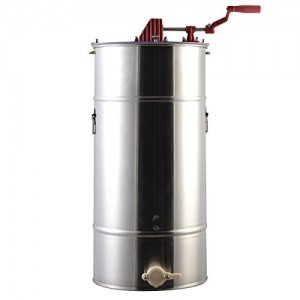 The Goplus 2 Frame Stainless Steel Honey Extractor is also a top notch honey extractor. It is particularly built for those on a low budget, especially the hobbyists who simply want to get a basic extractor for less demanding honey extraction.
I like the Goplus 2 Frame Stainless Steel Honey Extractor because of the great quality it provides. However it also has its shortcomings. Some of its key features include the clear lids that allow the user to view the drum and monitor progress. It is also of a decent size and not bulky. You will therefore find it easy to carry it around your beekeeping enterprise. Professional beekeepers may find this extractor to be a bit limiting.
Click here to read our full review of the Goplus 2 Frame Stainless Steel Honey Extractor.
This honey extractor from Goplus is built to last and is also easy to use. If you are just starting out as a beekeeper, it will suit you well. It is one of those units that will grow with your business. The unit does not come with instructions for assembly or product maintenance and thus you have to go an extra mile in learning about them. However, this unit still remains a favorite for many beekeepers.
Check Price
13. Little Giant Farm & Ag EXT2SS Stainless Steel Honey Extractor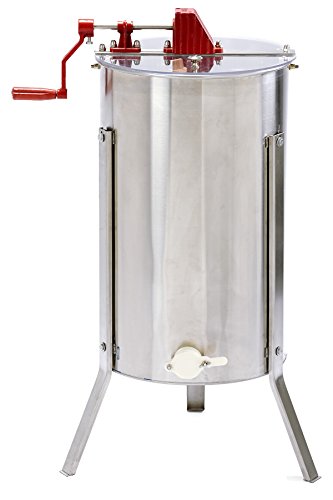 If you are a more experienced beekeeper then you can never go wrong with the Little Giant Farm & Ag Stainless Steel Honey Extractor. It is a tangential extractor that is well pleasing thanks to its amazing inner and exterior features. It has a clear plexiglass lid so you can monitor progress, and its overall build is sturdy and durable. What particularly intrigues me about this stainless steel extractor is the fact that it is a capable performer that is highly efficient.
Click here to read our full review of the Little Giant Farm & Ag EXT2SS Stainless Steel Honey Extractor.
Some beginners might find it frustrating to use this honey extractor but overtime, with practice it should become easier to use. This is due to the fact that it does come not come with any instructions. There is also some slight paint chipping on the extractor so I'd advise to inspect carefully before use.
Check Price
12. VIVO BEE-V002 2 Frame Stainless Steel Honey Extractor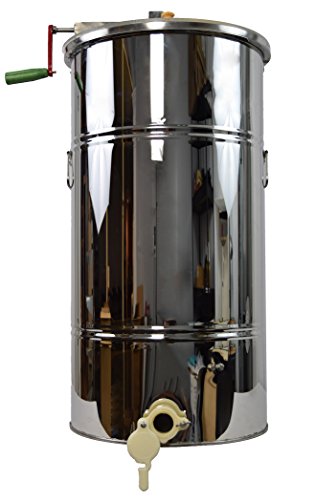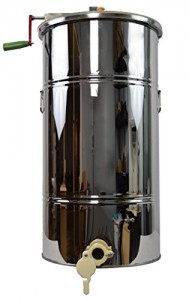 VIVO is one of the top global brands known for its excellent quality beekeeping products. The VIVO 2 Frame Stainless Steel Honey Extractor is a solidly built unit that is designed for the casual beekeeper. It comes with a stainless steel finish and has two carrying handles for easy handling. It also has a well functioning stopper or honey gate. Its drum of 29 inches is sufficient in accommodating a reasonable number of frames.
Click here to read our full review of the VIVO BEE-V002 honey extractor.
Some of the main pros of this unit include: value for money, durability, and how easy it is carry. On the flipside it has some design issues and the sharp edges pose a risk of injuring the user. Overall, this unit is an good performer. The price is reasonable and it has all you need as a casual or amateur beekeeper.
Check Price
11. Harvest Lane Honey 2 Frame Metal Extractor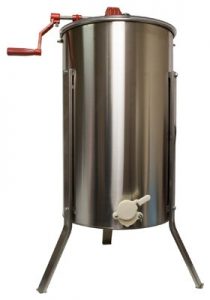 The business of honey extraction is not easy. You have to harvest at a particular time to get the best results. However, if you want the best results either with a small or large frame, then this implement will give you expected results. There is a hand crankshaft which the processor uses to spin frames inside the housing of the extractor at a very high speed which forces the centrifugal power to push the honey from the frame.
Click here to read our full review of the Harvest Lane Honey 2 Frame Metal Extractor.
The Harvest Lane Honey 2 Frame Metal Extractor can be used to simplify the process of honey extraction. The material is made from food grade stainless steel which is easy to clean after every use. This extractor has the capacity to hold up to two frames and its three legs make setting it up anywhere a possibility. It is ideal for deep, medium and shallow frames.
It is durable and the extraction method is fast and clean. The hand crank is fast in spinning the frames and the enclosed gears cannot contaminate your honey. This extractor is a great buy at its price which is pocket-friendly.
Check Price
10. Mann Lake HH160 Stainless Steel 6/3 Frame Hand Crank Honey Extractor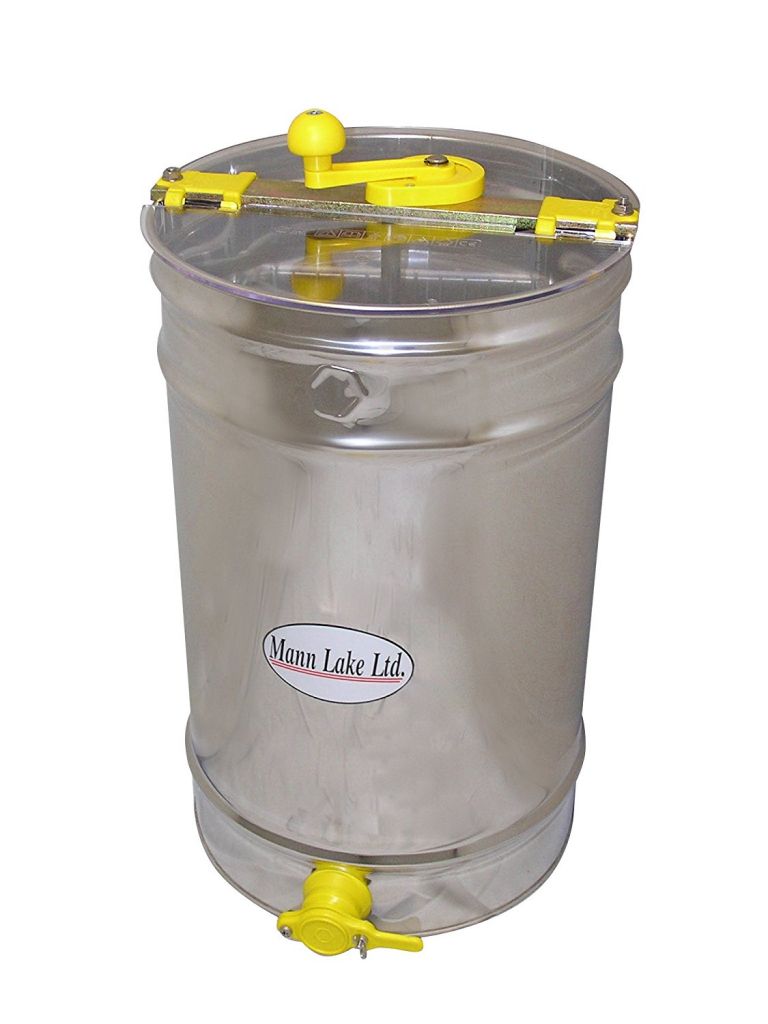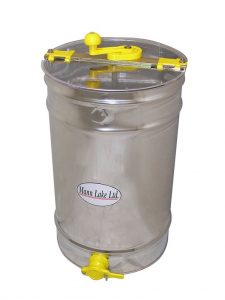 Every beekeeper understands that there can never be a substitute for an excellent quality honey extractor. The Mann Lake HH160 Stainless Steel honey extractor comes with a plethora of amazing features. It is a 26 gauge stainless steel unit specifically built for the savvy beekeeper. One thing that's special about this unit is that you can buy and forget about buying any other for years. It is a tangential extractor with the capability of holding up to six shallow and three medium or deep frames.
The Mann Lake HH160 extractor has a dimension of 18 inches width and a height of 26 inches. Since it is tangential in nature, that means you have to remove the frames and flip them so as to extract on both of the sides. The extractor comes with a 1-1/2 inch honey gate, weighs approximately 26.1 pounds and it does not have legs. The unit is a no-brainer to use and it is quite easy to clean as well. You will also like the fact that it is made of stainless steel. This means it is resistant to rusting and abrasion.
I must say that I was impressed with its performance. It was fast in extracting the honey and was easy to clean. On the downside I would be happier if it had legs.
Check Price
9. Hardin Professional 3 Frame Manual Honey Extractor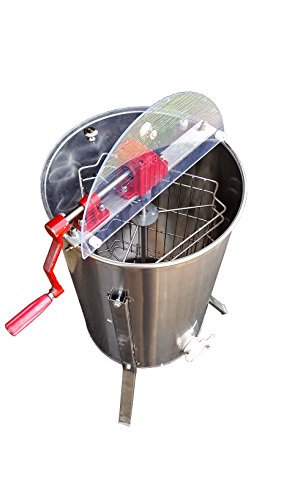 This is an excellent honey extractor for the money. It is a manual extractor with a 16 gauge stainless steel tank. It also has a clear Plexiglas top that allows you to monitor the honey extraction process. Other great features of this extractor include: an optional stand or leg and a steel gear construction that has sealed bearings.
Click here to read our full review of the Hardin Professional 3 Frame Manual Honey Extractor.
You will never be disappointed by this top notch honey extractor. In case you are not satisfied with it you can return it since it is covered by a lifetime warranty. This extractor is definitely worth every penny.
Check Price
8. Goodland Bee Supply 2 Frame Honey Extractor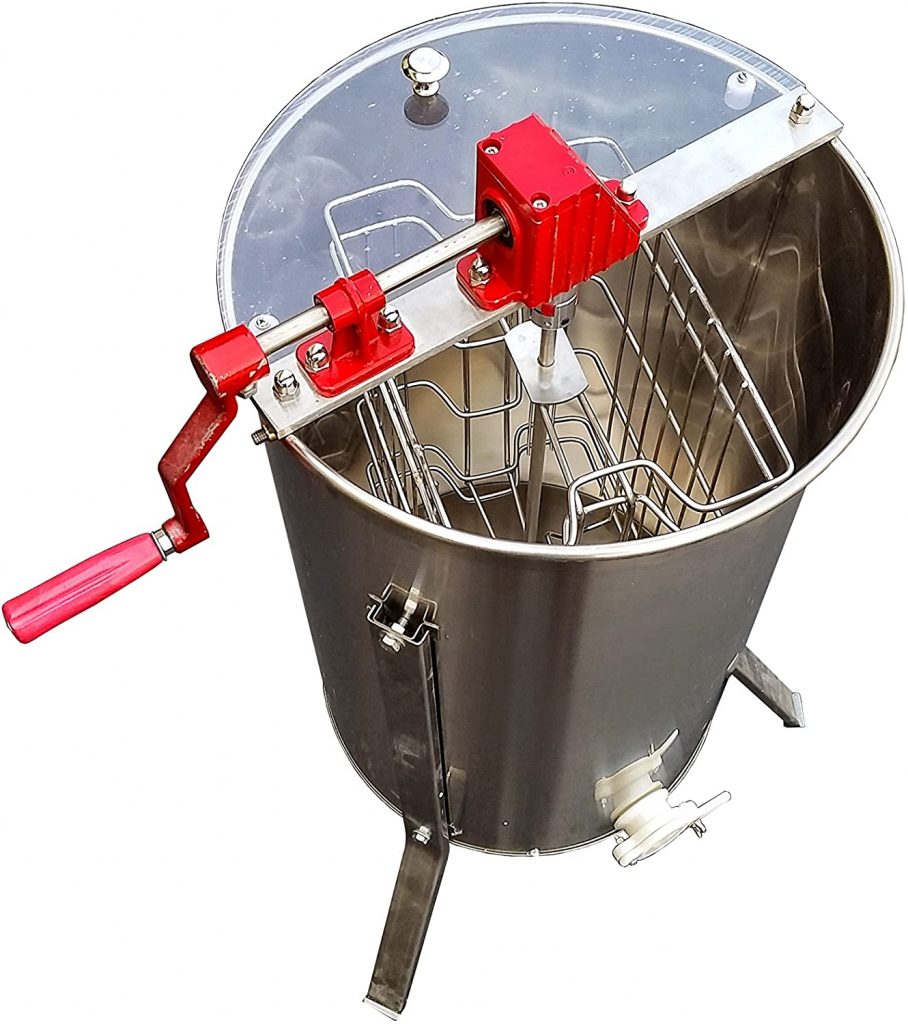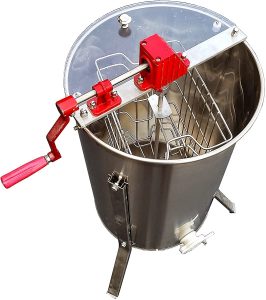 Different buyers have their own unique preferences when it comes to honey extraction equipment. However, no one is ever willing to try out a brand that has a bad reputation. Goodland Bee Supply is one of those brands popularly known by most beekeepers. Its beekeeping equipment is synonymous with good quality and the 2 frame honey extractor is no exception. The sturdy extractor has been built with some features that not only guarantee efficiency but also provide convenience of use.
Some of the notable features of the Goodland Bee Supply 2 Frame Honey extractor include: 16-gauge stainless steel construction and three piece legs for maximum stability, manually operated tangential honey extractor, and a double sieve design. The unit will fit nicely into a 5 gallon bucket and since it is made of steel that means it is easy to clean, can resist rust and other elements and will last for a good while.
This unit is ideal for the beekeeper who owns between 1 to 10 hives. It can accommodate 2 deep, medium, and shallow frames at a go and that means you will accomplish you task within a short time. The unit's uncapping roller comes in handy whenever the hot knife has missed some places in the honey combs. Other notable features of the extractor include: a comfortable wooden handle, long extractor needles for maximum extraction, spacious unit, and optional cheesecloth.
Some of the features that I particularly liked include: the legs, its sturdy built, spacious frame basket, additional accessories, cleans up easily, ability to spin fast, and the affordable price. However, it would have been better if it had a gear for slowing it down when you want to stop it.
Check Price
7. BestEquip 2 Frame Electric Honey Extractor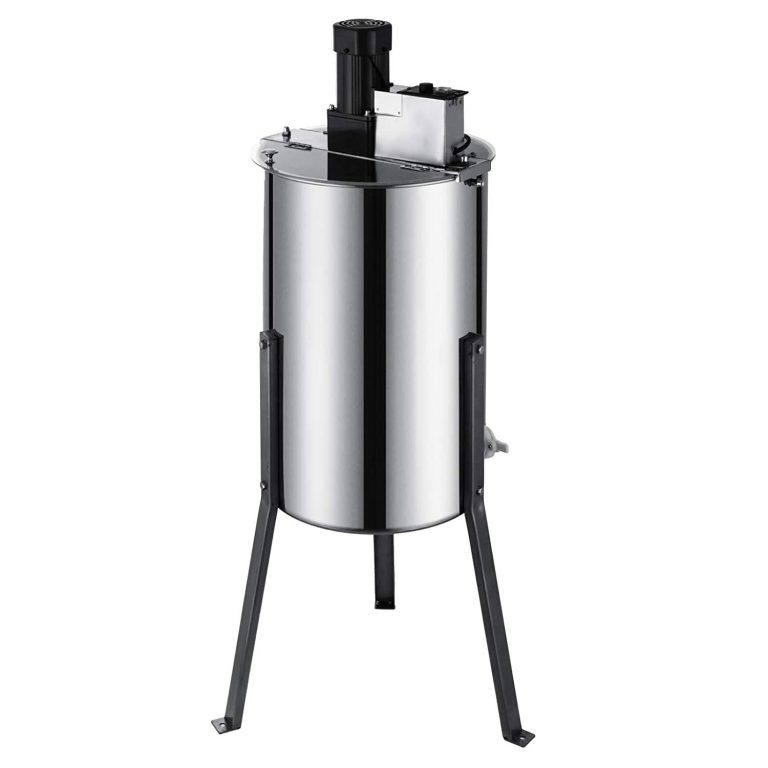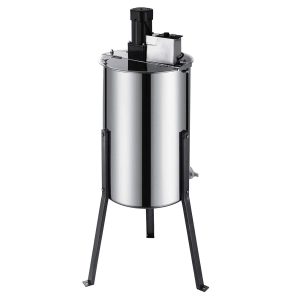 The BestEquip 2 Frame Electric Honey Extractor is one of the equipment with ability to make your beekeeping experience very satisfying. It runs on electricity so you do not get tired cranking it with your hands. The extractor comes in a shiny silver and black color due to food safe stainless steel used to make its drum. At its top is a black electric motor. This motor has a variable speed controller to ensure you do not damage honeycomb on beehive frames. The speed controller is in addition to a simple On/Off switch for your safety. This extractor stands on 3 metallic legs that are painted black. On the side of this extractor's drum, a honey valve is installed for emptying honey into your collection container.
Seeing into the drum of this extractor is possible when you are extracting honey. The extractor comes with transparent Perspex covers for its top. Its motor is mounted on a thickened beam for strength and durability of the extractor. You are able to extract honey from 2 beehive frames at a time using this extractor. Its drum measures 15 inches in diameter. The extractor has a height of 47.2 inches from its legs to the tip of the electric motor at its top.
Assembling this extractor and using it is simple for both beginner and experienced beekeepers. It is an ideal extractor for use in small and medium sized beekeeping operations. Furthermore, having an electric motor makes this extractor easy to use, fast and effective in honey extraction. It does not tire you out and does a very good job removing honey from honeycomb within a short time.
Look out for dents in the drum, strength of the legs in operation and the fit of the lid over the top of this extractor. Such construction errors have been found on previous models by various beekeepers.
Check Price
6. GoodLand Bee Supply HE2MOT 2 Frame Electric Extractor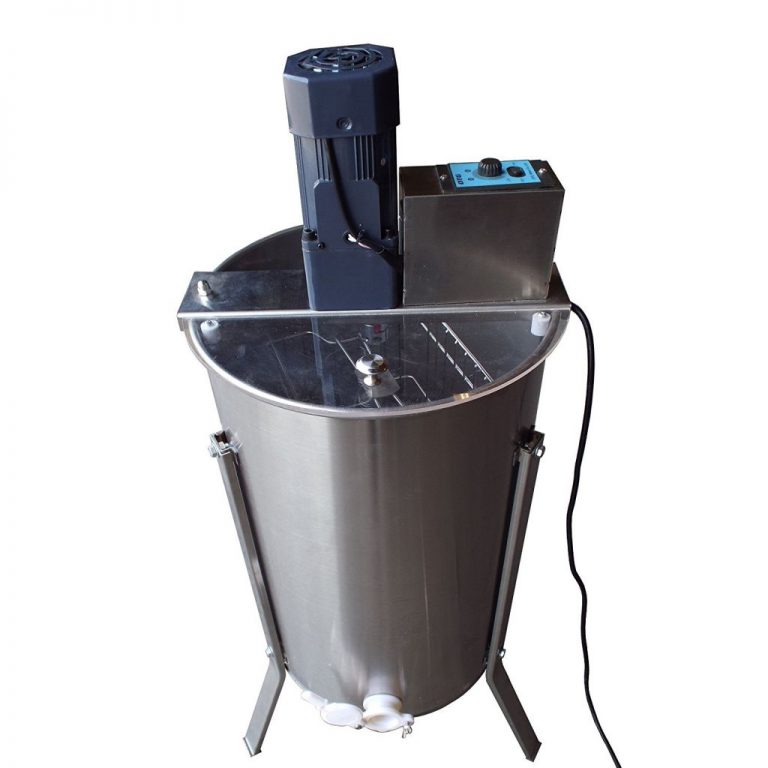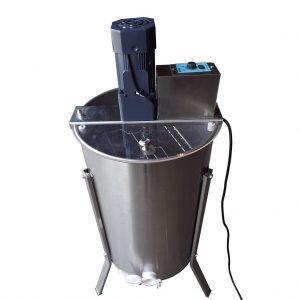 This is one extractor that those with multiple bee hives must consider. This is a professional two frame electric honey extractor that comes with the following benefits:
A smooth 16-gauge stainless steel tank
Steel Gears
A sealed bearing
A clear Plexiglas lid that enables easy viewing while the extraction process is going on.
The royal leg stand that makes offloading of the honey a hassle-free process.
The rave combinations of the above features make this extractor a model when it comes to the issue of its performance index. It has a 110v variable speed that ensures a fast and clean extract of the honey from the honeycomb. It can achieve the extraction of two deep, medium or shallow frames. Another beautiful thing going on well with this model is the availability of its parts in the event that you need a replacement.
On the downside however, there is need to improve on the design of the drum which accommodates the frame. It has crossbars pressing into the comb thereby blocking some of the honey from coming out. This issue should be looked into and a good adjustment should be made that will stop this loss of extracted honey.
Overall, the GoodLand Bee Supply HE2MOT 2 Frame Electric Extractor is no doubt an excellent buy. It will give you great value for your money.
Check Price
5. Happybuy 3 Frame Electric Extractor with Strainer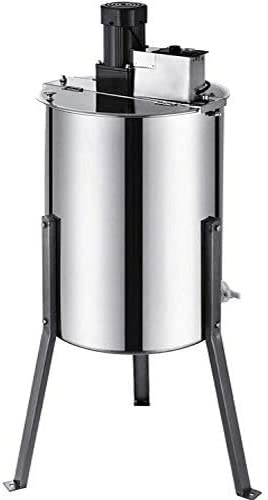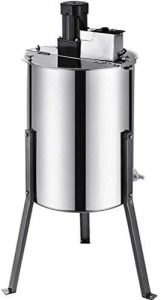 Get through honey extraction in short time using this electric honey extractor. The Happybuy 3 Frame Electric Extractoris a stainless steel drum tangential extractor. It runs on 120 Volts AC electricity. The Happybuy 3 frame electric extractor features an electric motor mounted at its top. A control box next to the motor allows for speed variance in the motor with a top speed of 1300 RPM. This is in addition to an On/Off switch. Bolts are used to secure the legs of this extractor tightly onto the cylindrical drum. 3 legs are used, each secured using 2 bolts. At their bottom ends, the legs have a flattened pad with a hole for bolting down the extractor.
Both beginner and experienced beekeepers are suited to use this honey extractor. The extractor can be used in beekeeping operations of any size up to moderately large ones. Operating it is easy and you extract honey from many beehive frames within a short period of time. During its use, you are able to see into the inside of the extractor through its Perspex top lids. This extractor measures 15 x 15 x 24 inches in dimension. The drum has a height of 24 inches and a diameter of 15 inches. It has a 2-inch honey gate installed on it. The bottom is conical-shaped for best emptying of extracted honey from the drum.
The frame holders of this extractor take any size beehive frame. It enables you to quickly go through all your beehive frames from which you are extracting honey. What's more, the extraction of honey with this extractor is in an enclosed space. It reduces chances of the honey getting contaminated. Materials used to make the drum of the extractor are food safe.
There may be defects arising from assembly and shipping of the Happybuy 3 Frame Electric Extractor. They are not catastrophic, but may require you to be handy with tools and adept at fixing stuff.
Check Price
4. VEVOR Stainless Steel 4-Frame Electric Honey Extractor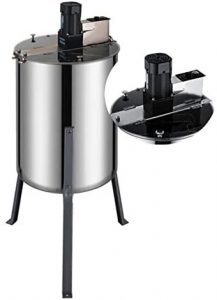 This is an electric honey extractor that takes 4 frames at a time. It is suitable for both small and large beekeeping operations. The extractor is made by a reliable manufacturer of beekeeping equipment so you are sure of its quality. Food safe stainless steel is the main material used to make this extractor. The extractor has its electric motor installed at the top. Beside the motor is a control box to turn the motor On and Off, as well as vary the speed of the motor. The top of the drum on this extractor is covered by two half-moon Plexiglass lids. They are hinged onto the bar on which the motor is mounted across the top of the drum.
The VEVOR Stainless Steel 4-Frame Electric Honey Extractor stands on 3 metallic legs. It has a height of 46.5 inches from the top of the electric motor to the tips of its legs. The drum on the extractor has a diameter of 19.7 inches. Flattened lower tips on the legs increase sturdiness of the extractor. They also have bolt holes to allow better securing down of the extractor if you wish to. This extractor is well built and assembled with excellent craftsmanship. It is strong, sturdy and durable. You get no honey leaks from the drum of the extractor. The honey gate installed on the side at the lower end of the drum is reliable and allows fast emptying of honey from the extractor.
The large-capacity frame basket of used in this extractor allows you to extract honey from many beehive frames at a time and finish the job quickly. Furthermore, selection and mounting of electrical parts of this extractor is done with careful attention to safety and ease of use. The motor even has an inbuilt cooling fan to ensure it does not heat up and get damaged.
On the downside, some beekeepers have had problems with the variable speed motor of this honey extractor not working as expected.
Check Price
3. Honey Keeper Pro 4 Frame Electric Honey Extractor
Different honey extractors are not created equal. Each unit has its pros and cons and they have been designed to suit the varying needs of the buyers. if you have many bee hives then that means you have to get an extractor that can handle that number. The same applies to those with few hives. You should also consider your budget since different units have their own unique prices. The Honey Keeper Pro 4 Frame Electric extractor happens to be one of those units that compete well with similar high-end extractors in the market. It is a stainless steel unit that comes with a clear plastic lid for monitoring the extraction process. It is designed to fit 4 deep, 8 medium, or 8 shallow frames and has a well-positioned honey gate. The unit is also easy to assemble and use.
The Honey Keeper Pro 4 Frame Electric honey extractor features a variable speed motor that allows you to control how fast the extractor is spinning. The motor has an on/off switch and a 120 volt grounded power cord.
The legs of this extractor are made of stainless steel can be attached to the floor or removed whenever necessary and based on user comfort. The legs actually raise the extractor 12 inches off the ground such that a 5 gallon bucket can perfectly fit underneath the extractor. It is also easy to spin thanks to its steel gears and sealed bearings. Furthermore, the unit can easily be cleaned using warm soapy water.
The Honey Keeper Pro 4 Frame Electric honey extractor is quite efficient and provides great quality. This sturdy and heavy-made extractor is well worth its price. On the downside, I found that sometimes the handle still turns after you stop spinning. But overall, this is a definite quality for the money.
Check Price
2. Hardin HE3MOT Royal 3 Frame Electric Honey Extractor


Use this electric honey extractor in small and medium sized beekeeping operations. The Hardin HE3MOT Royal 3 Electric Three Frame Stainless Steel Honey Extractor is fitted with an electric motor so you go finish honey extraction quickly. This electric honey extractor is made using stainless steel. It has legs supporting its drum at a suitable height above the ground. The electric motor to provide rotary motion for the extractor is installed at the top. You also get a honey drain valve at the bottom of this extractor, installed on the side. This honey extractor is well built. It feels solid and delivers good results while being durable and a worthy investment for your beekeeping.
This electric honey extractor weighs 29.1 pounds. It has handles on the side for easy handling when you want to move the extractor. The handles are well installed and do not come off even when you lift up the extractor with some honey inside it. You get a variable speed motor installed on this extractor. It also has an On/Off switch. The motor runs on an Alternating Current (AC) of 120 volts. During extraction, remember to turn the frames so you extract honey from both faces of the honeycomb. This is necessary because the Hardin honey extractor is a tangential extractor.
Being electric, this Hardin HE3MOT honey extractor allows you get through a lot of beehive frames in a short period of time without getting tired in your hands. Furthermore, this extractor is well built and uses food safe materials in its construction. It does not come apart easily or affect the quality of honey extracted using it.
On the downside, the electrical end of this extractor is not well thought out. The extractor has a poorly designed mounting for the motor and electric controls.
Check Price
1. VIVO BEE-V004E 4 Frame Electric Honey Extractor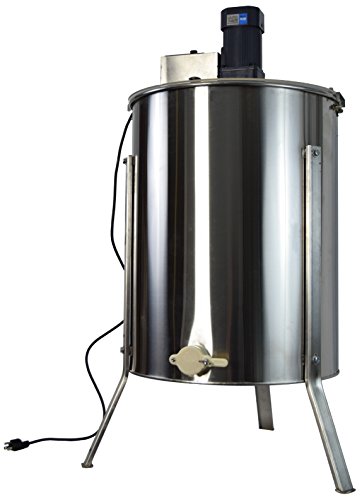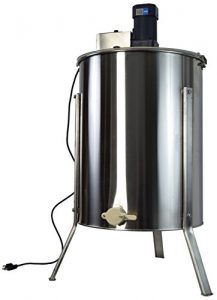 VIVO as a brand has become a household name. It is known for top performing products and this includes beekeeping equipment. Its BEE-V004E 4 Frame Electric honey extractor has taken the market by storm. It comes fully-packed with amazing features and is ready for use. The sturdy unit is built from 304 stainless steel material and that means it can easily be cleaned and can resist rust and abrasion. Its 18.5 inch diameter drum is capable of holding 8 shallow, 8 medium, or 4 deep frames at once. The unit also has good clearance for placement of the honey bucket. It allows a distance of 15.75-inches between the honey gate and the floor.
You can easily monitor the progress with your honey extraction process when you use this unit. Its clear Plexiglass lid is well-positioned within the extractor for easy viewing. It also keeps off dust and other particles during extraction. The unit has been built for all skill levels and therefore a beginner will use it for many years. Other important features include a 120V AC motor that comes with a built in fan to prevent it from running too hot. It also has a built in safety feature which causes the motor to automatically power off whenever the lid is opened, and automatically resumed whenever its closed again.
Click here to read our full review of the VIVO BEE-V004E honey extractor.
The extractor spins smoothly, is easy to assemble and disassemble, comes with a conical shaped bottom and weighs 45 pounds.
The VIVO BEE-V004E is a quality extractor and I am more than happy with the unit. It's easily assembled and it is sturdy and well built. Overall, this unit performs beyond expectation.
Check Price on Amazon
Check Price on eBay
Choosing your Honey Extractor – Tangential vs Radial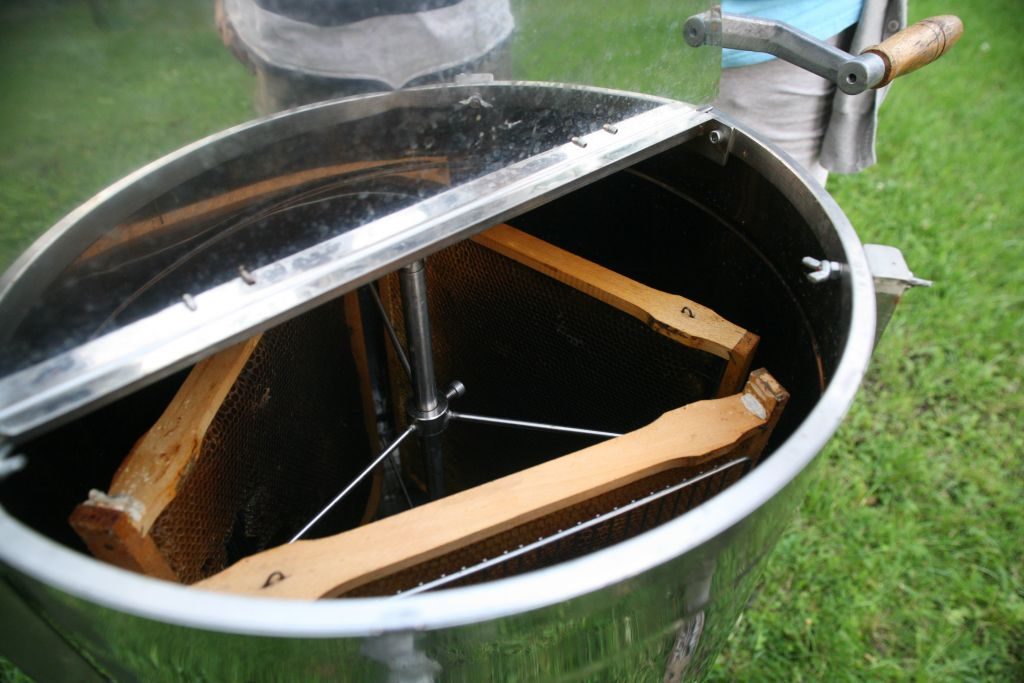 The honey extractor's mode of operation can either be radial or tangential. This refers to the manner in which the honey frames are arranged in the drum and spun in order to remove the honey from the frames.
Within the honey extractor is a drum where the frames are placed and then the spinning begins. The frames that have been uncapped are placed on the drum for the honey to flow out from the wax cells. Uncapping is usually done using a hot knife or a hot air gun. Once uncapped, it becomes easy to remove the honey from the frames. The honey hits the walls of the drum and is then directed to the bottom of the drum where it flows through the valve located on the edge of the honey extractor.
Any honey that has been extracted from the frames should be collected immediately. Otherwise when it stays for too long it affects the spinning process.
Tangential Honey Extractor
A tangential honey extractor refers to the extractor where the every frame is removed then flipped for a second round of spinning. Each side of the frame has to be spun once so as to remove the honey from both of the frame sides. This is means it takes plenty of effort to spin a bigger number of honey frames.
Advantages
It is cheaper than the radial extractor.
Since you spin every side individually, chances are high that nothing remains in the frames.
Ideal for a small enterprise since it is cheaper.
Disadvantages
This is taxing since the frames have to be removed and flipped every time.
It may not suit a beekeeper with many frames to extract. Not the best for the commercial beekeeper.
Radial Honey Extractor
The radial honey extractor is the most popular among beekeepers. In this extractor, the honey frames are usually loaded once then both sides of the frames are spun at once. This is highly efficient when compared to the tangential since you do not have to keep removing and flipping honey frames. It will therefore be a great choice for commercial beekeepers since they have to spin plenty of honey frames.
Advantages
Highly efficient.
Spins more frames within a short time.
Well suited for commercial beekeepers or those who have many beehives.
No double work when extracting honey from frames.
Disadvantages
It is more expensive when compared to tangential honey extractors.
The tangential and radial honey extractors may also be further categorized as either manual or electric powered. You therefore have to consider this. If you cannot handle hand cranking then it makes perfect sense to get an electric powered unit. A combination of radial and electric powered features makes the best choice for those with huge beekeeping operations. You can also buy such a combination if you started small and have plans of scaling up with time.
Manual vs Electric Honey Extractors
The honey extractor can either be manually operated or electrically powered. As the name suggests, each of them works based on the kind of power or effort involved in the operation.
Whether manually or electrically operated, honey extractors all work in the same manner – they utilize centrifugal force. Within the interior of the extractor is a cylindrical drum that holds the frame basket. This drum is spun either by manual force or electric power and it removes the liquid honey from the combs.
Electric Honey Extractor
As the name implies, this type of honey extractor is powered by electricity when spinning the bee frames placed at the central shaft of the extractor's drum. This unit uses an electric motor that is linked to an electric current supply which generates the power required for spinning the frames within set speed. The speed at which the frames are spun must be regulated. Too high speed can damage the frames and render them useless. Spinning speed that is too low on the other hand may not remove any honey from the frames. Electric honey extractors are used in large scale commercial operations, but they can also be used by smaller beekeepers too.
Advantages
The electric honey extractor removes large amounts of honey within a shorter time.
They are the easiest to operate. All you have to do is turn on the electric motor and the spinning begins automatically.
In terms of speed, the electric unit is faster than a manually operated extractor.
It is best suited for large scale bee farms.
Disadvantages
Quite expensive when compared to manual extractors.
Manual Honey Extractor
The manual honey extractor is operated using your hands or through use of physical effort. It does not require electricity to operate. Manual extractors generally have the same internal components as its electric counterparts except the electric motor. It can hold 2 to 4 frames.
Advantages
It does a good job even in areas without electricity.
It does not damage honey combs since speed is controlled by hand.
Energy conscious, no electricity bills to be paid.
It is cheaper than electric extractors.
Disadvantages
Less efficient when compared to electric extractors.
Does not suit commercial beekeepers.
Both the electric and manual honey extractor does an excellent job when it comes to extracting honey. You need to evaluate your needs before deciding on which one to buy.
Conclusion
Before you buy your honey extractor, ensure you evaluate its features and compare various brands before you settle on one. You can't go wrong with any of the best honey extractors discussed above. Each of these units are built to last and can perform efficiently well. Choose the one that is within your budget and best meets your needs – whether tangential or radial, and whether manual or electrically powered.
Do you own any of the honey extractors on this list? Which extractor(s) do you think should be added to this list? Leave a comment below and let us know.