If you purchase an independently reviewed item through our site, we earn an affiliate commission. Read our affiliate disclosure.
Quick Overview
The Humble Bee 420 Aerated Beekeeping Suit with Round Veil is a top class beekeeping suit.
The Humble Bee 420 Aerated Beekeeping Suit features a self-supporting round veil, durable poly-cotton lined pockets, a deluxe canvas carrying case, and heavy duty brass zippers. The material used in manufacturing this veil is fifty percent synthetic and fifty percent cotton for providing an outstanding protection against stings of bees.
The suit features ultra-breathable ventilation which is designed to keep you during hot climatic conditions. This material makes sure that the suit is durable for a good time. The suit is very protective against bee stings while still managing to keep you comfortable, even if you've been wearing it for a long period of time. Even more, its all-around mesh does not obstruct viewing when wearing this veil. The suit is also unisex so women can wear it just as well.
The Humble Bee 420 suit has an elastic wrist, elastic waist, and elastic ankles, together with foot and thumb holds that keep everything in its position. The veil came in a deluxe carrying case made from sturdy canvas material with a durable brass zipper and strong canvas strap handles. The zipper on this suit makes it easy to pull even when I'm putting on my bulky gloves.
Choosing Humble Bee Beekeeping Suits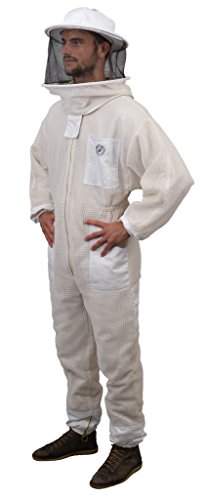 You have so many options to consider when you need a beekeeping suit from Humble Bee. For starters, the process of making a choice and placing an order seems to be daunting because there are so many to choose from. Fortunately, expert guidance can help decipher all that. The various suit designs out there have been explained herein to make things a little easier for anyone considering a beekeeping suit.
All About Beekeeping Suits
An ideal beekeeping suit has a number of features that include: a number of pockets, ideally 5 or even more. These are 2 Velcro pockets at chest area, 2 double stitched pockets around the waist area, 2 pockets at leg region, and 2 other pockets on the sleeves for the hive tool. Also included is a self supporting veil, foot holds and elastic thumb holds that helps guarantee a snag fit, and Velcro flaps for covering sipper tabs.
The Beekeeping Veil
The veil comes in a number of designs including: round, fencing, and square veil. Suits that have a round veil offer a wide view and normally have a lot of space between the mesh and your face. The breathable mesh helps provides the required ventilation and also keeps the wearer cool during hot months.
The fencing veil is ideally a modern design that comes with a design that helps keep the veil away from the head and hair. It is one of the best choices for the beekeeper who has long hair. Square veil on the other hand comes in a compact and foldable design. This makes it easy to store the veil. Its front view is wide and the side provides sufficient area to give the best ventilation. It is well suited for those who would love to use a smaller storage space.
How about Ventilated, Aerated, and Poly-cotton suits?
The fact that beekeeping suits are designed using various materials does not mean you just pick that lands on your hands at first. The poly-cotton suit is made using a 50/50 blend of polyester and cotton. This has been tailored in such a way that the fabric blend well making it impossible for bee stings to come through.
Ventilated bee suits boast a 3-layer design and are made of 100 percent synthetic fabric on the exterior and foam at its core. The foam creates a gap that makes it impossible for the stinger to get into your skin. Finally, the aerated beekeeping suits are made of standard poly-cotton fabric in addition to mesh, and foam panels at the chest and back area which helps provide best aeration.
What Size to Choose?
Bee suits come in various sizes starting from those designed for kids to those that fit adults. A suit that will properly fit will make all the difference once you begin working on bees. Humble Bee beekeeping suits are available in all sizes and you do not have to go far before you get what fits perfectly. Remember at times you may find yourself working an entire day under hot weather. A beekeeping suit should therefore give you the required level of comfort. It should not only be comfortable during hot and cold weather but should also allow you to move freely when lifting and placing beekeeping equipment and accessories. At times you have to wear a sweater or jumper underneath the suit therefore what is chosen should be well fitting even when you have some extra clothes.
As a general guide, choose a beekeeping suit that is a bit larger size when compared to your clothing so as to allow some room for other clothes underneath. The waist band circumference should also be considered. The elastic waist band should fit well even when you have clothes underneath. A slightly buggy beekeeping suit is more ideal since it provides some room for other clothes.
About the Humble Bee 420 Aerated Beekeeping Suit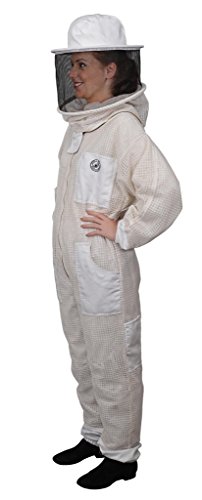 The beekeeping suit is your best asset as a beekeeper. Activities such as beehive routine inspection and honey harvesting can never be a success if you do not have the right protective clothing. The suit should be made of good quality material that is comfortable in all weather and should also be strong enough to last longer. Humble Bee 420 beekeeping suit is made of excellent quality material and is available in various sizes including the size for kids.
Features
Available in XX-small, X-small, Small, Medium, Large, X-Large, XX-Large, and XXX-Large.
It is an aerated beekeeping suit that will work well even under hot weather conditions.
Comes with a round self supporting veil.
Tailored with heavy duty brass zippers that seal perfectly.
It has well-positioned poly-cotton lined pockets as well as a canvas carrying case.
To guarantee a snag fit, the suit has elastic waist, elastic ankles, foot and thumb holds, and elastic wrists.
It is a unisex beekeeping suit available in sizes that will fit well both men and women.
Its veil is removable so as to make cleaning easy.
Product dimensions; 13.2 x 13.2 x 3.5 inches.
It weighs barely 4.41 pounds meaning you will enjoy maximum comfort even after an entire day of work on the suit.
Exceptional customer service. Ready to listen and accept returned suits.
Check Size, Pricing and Availability of the Humble Bee 420 Beekeeping Suit
Pros and Cons
Pros
The material is sturdy enough to provide maximum protection against stings of the bees.
It also has ultra-breathable ventilation to keep you cool even in hot weather.
The veil has shades for ensuring that I do not need sunglasses when harvesting.
Comfortable to wear even when you have some clothes on.
Affordable price.
Various sizes available for you to choose, including ones for kids.
Durable material.
Pockets and carrying case available for the user.
It is easy to clean.
Lightweight to work around with while working.
Good customer service.
Cons
There are no cons that I could find with this beekeeping suit.
Further Thoughts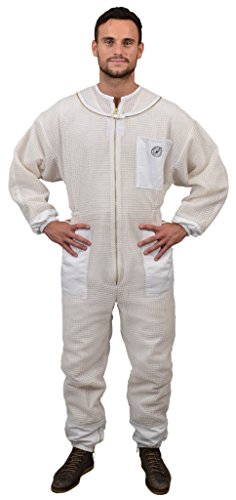 Beekeeping suits are never created equal and each of us has our unique preferences when making a choice. The Humble Bee 420 Beekeeping Suit is tailored to meet the needs of a wide variety of users. If you have been searching for a beekeeping suit for your entire family then certainly this brand will provide all you need. The suit comes in sizes customized for kids, teenagers, and adults and it can also be worn with some other clothes underneath.
Those who are also looking for suits that are comfortable even in extremely hot climates are sorted when they buy from this brand. This is a 100% breathable suit and hence its popularity. The ankles, waist, and neck of the suit are tight-fitting which is a strong-point for the manufacturer. Gone are the days when you would wear a safety suit only to be tormented by an aggressive bee that managed to sneak in. You will also be surprised to learn that Humble Bee suits are among the least priced when compared to other brands in the market. As a matter of fact, most of those who buy from them the first time tend to be amazed by the price tag.
What's more, Humble Bee donates ten percent of its earnings from these suits to organizations dedicated to the conservation of bees. This is one manufacturer that I would never hesitate in recommending.
Conclusion
If you evaluate the Humble Bee 420 Beekeeping Suit on four specific criteria: size, price, quality, and user reviews, you get nothing short of excellence. It is a beekeeping suit tailored for all climatic regions and all skill levels and ages. Users are raving about its comfort and price. It is a new generation beekeeping suit that is highly praised in the market. I can confidently recommend this beekeeping suit to anyone.
Do you own the Humble Bee 420 Beekeeping Suit? Leave a comment below and let us know what you think of it.
Check Price
Check Price (Australia)