The Humble Bee 420-L Aerated Beekeeping Suit has a self-supporting round veil, durable poly-cotton lined pockets, a deluxe canvas carrying case, and heavy duty brass zippers. The material used in manufacturing this veil is fifty percent synthetic and fifty percent cotton for providing an outstanding protection against stings of bees. The ultra-breathable ventilation is one hundred percent synthetic to keep me cool during hot climatic conditions.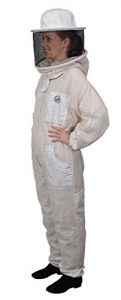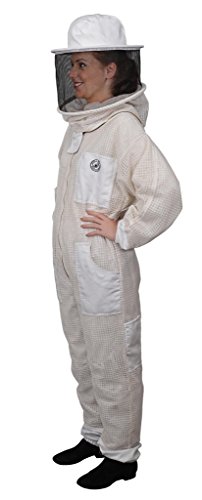 This manufacturing material makes sure that the suit is durable for a good time. The suit is very protective against bee stings while still managing to keep you comfortable, even if you've been wearing it for a long period of time. Even more, its all-around mesh does not obstruct viewing when in this veil. I love this suit because it is unisex and that my wife can use it when necessary.
When I was going through the sizes of this beekeeping suit, I realized that it comes in different sizes and despite the size of your body. All I had to do was to review my size on the chart before placing my order. The standard color is linen white. Products of Humble Bee always have an excellent quality, and they come with extras you cannot compliment. My head and eyes are shaded by the brim of the hat for me not to require the use of sunglasses.
The Humble Bee 420-L has an elastic wrist, elastic waist, and elastic ankles, together with foot and thumb holds that keeps everything in its position. Humble Bee, the manufacturing company, donates ten percent of its earnings from these suits to organizations dedicated to the conservation of bees.
My veil came in a deluxe carrying case made from sturdy canvas material with a durable brass zipper and strong canvas strap handles. The zipper on this suit makes it easy to pull even when I'm putting on my bulky gloves.
Check Size, Pricing and Availability of the Humble Bee 420-L Beekeeping Suit
Pros and Cons
Pros
The material is sturdy enough to provide maximum protection against stings of the bees.
It also has ultra-breathable ventilation for keeping me cool in hot weather.
The veil has shades for ensuring that I do not need sunglasses when harvesting.
Cons
There are no cons that I could find while reviewing this suit.