If you purchase an independently reviewed item through our site, we earn an affiliate commission. Read our affiliate disclosure.
A beekeeping suit is essential for any beekeeper. With so many different brands and types of bee suits available, it can be difficult to choose. Fortunately, even on a tight budget, obtaining a bee suit is not difficult. Ventilated bee suits are very popular among beekeepers, and the list below includes the best ventilated bee suits for you to choose from. This article is only about ventilated bee suits; you can also read about our best sting proof bee suits right here (which may or may not be ventilated).
Overview of the Best Ventilated Bee Suits
1. Ultra Breeze Large Beekeeping Suit with Veil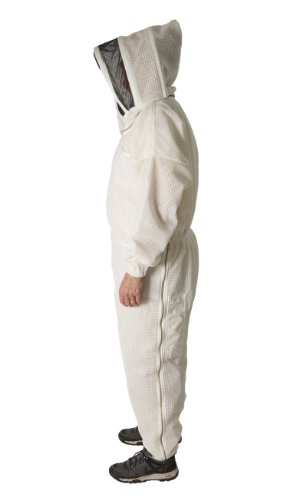 Stay safe and free from stings with the Ultra Breeze Large Beekeeping Suit with Veil. It has been designed for the beekeeper who desires an excellent quality bee suit that is ventilated. Its mesh of 3 layer ventilated material offer exceptional breathability and cushions against bee stings. I fell in love with this suit as soon as I lay my hands on it. It transformed my beekeeping experience from being a chore to pleasure.
What I love mostly about this beekeeping suit is the ease to put it on and off. It features 2-way YKK brass zippers on both the suits and the jacket. The zippers run all through the length of the leg. You also get multiple pockets in addition to a roomy and detachable hood that can be hand washed. It is an American made suit that has been subjected to excellent workmanship and is made of high quality material.
Click here to read our review of the Ultra Breeze Beekeeping Jacket with Veil.
This suit is machine washable and the hood can be hand washed. It will also fit both men and women, though women may have to wear smaller sizes than the ordinary ones. This is one of the weaknesses of this suit. Otherwise it is one of the best suits in the market today.
Check Price
Check Price (Australia)
2. Humble Bee 431 Ventilated Beekeeping Suit with Fencing Veil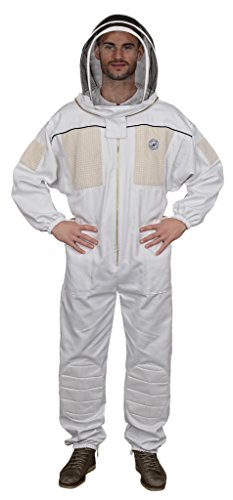 The Humble Bee 431 Ventilated Beekeeping suit is another excellent suit for those looking for ventilated bee suits. It is one of the best suits for hot weather conditions. It is a unisex design that has all you may ask of a beekeeping suit.
Some of the features that I find useful in this suit include: its collapsible fencing veil, cushioned kneepads, heavy duty brass zippers, a deluxe canvas carrying case, and long lasting double-stitched pockets. It is made of a blend of 50/50 medium weight cotton and synthetic material. Its ultra breathable synthetic ventilation also keeps you cool during the hot seasons.
One of the great benefits associated with this suit is that you can easily put it on and off. It comes with elastic waist, elastic ankles, elasticised wrists, and thumb and foot holds that ensure you are comfortable and well protected. Its veil is also easily removable for cleaning and storage. I love this suit and recommend it to any serious beekeeper since it is great value for money.
Check Price
Check Price (Australia)
3. Natural Apiary Zephyros Protect Beekeeping Suit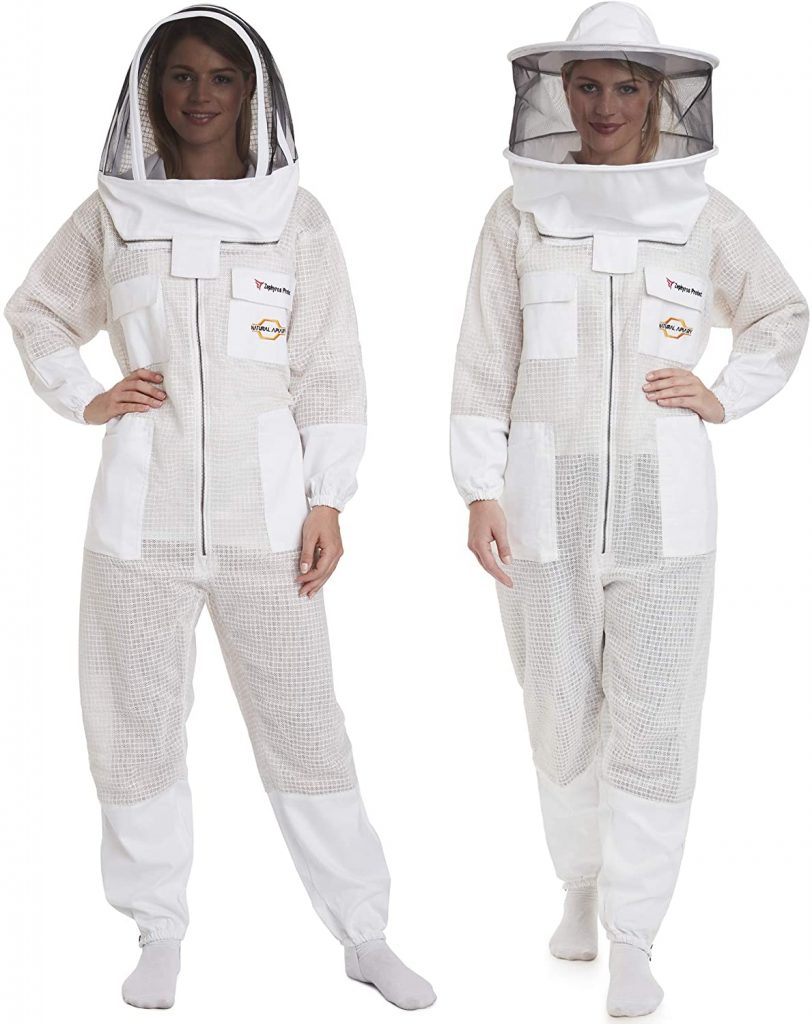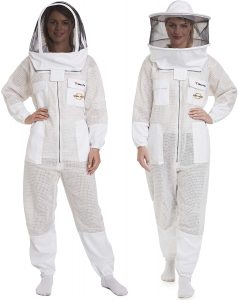 What in particular matters a great deal when considering a beekeeping suit? Well, ask any professional beekeeper and you will be told that material quality, aeration, color, protection, and veil should be well evaluated. The Natural Apiary Zephyros Protect Beekeeping Suit features a three-layer design tailored to offer protection, comfort, and versatility. One striking feature of this beekeeping suit is the fact that the most overlooked aesthetics like color has been taken into account. It is available in a number of colors that allows you to stay fashionable. Furthermore, the suit has extra features meant to make beekeeping hassle free.
Click here to read our review of the Natural Apiary Zephyros Protect Beekeeping Jacket.
The Natural Apiary Zephyros Protect Beekeeping Suit is made with 65% cotton and 35% polyester. The Fencing veil is 100% premium cotton and is also detachable. The suit comes in 4 color options, has stretchable feet and hands, reinforced knee patches, YKK zips, and is extremely lightweight, weighing 3lbs. available also are 5 pockets for carrying beekeeping accessories. The elastic openings prevent bees from getting in and its elastic waist fits all sizes. Therefore, you do not have to worry about your size. Nonetheless, sizes are available for up to 3XL. Another notable feature of the suit is the extra thick collar round neck that secures your neck from stings. This is a sure bet for the savvy buyer.
Check Price on Natural Apiary
Check Price on Amazon
4. Bees & Co U85 Ultralight Beekeeper Suit with Square Veil
Staying safe in beekeeping is a result of many precautions including wearing protective clothing. The Bees & Co U85 Ultralight Beekeeper Suit with Square Veil is a full suit that covers you from the head to the legs. It comes with a square veil for protecting your head and neck. This beekeeping suit is designed and manufactured to be ultra-light so you barely feel its weight on you. It is available in 8 sizes. The suit is ventilated with most of its surface being a mesh. This allows air to flow easily in and out of the suit to cool you down. Its color is a bright Sateen White. This ventilated bee suit has elasticized cotton cuffs, ankles and waistband.
Elasticized foot loops and thumb loops are added to the suit so it does not ride up your limbs and leave them exposed. Wearing this suit, you get 3 pockets for your gadgets and tools. They are deep and wide so they keep your property secure. These pockets are also easy to access with beekeeping gloves on your hand. Two of these pockets are on the hip area of the suit, while one is on the front left breast area. The manufacturer has added some branding on the breast pocket. This Bees & Co U85 Ultralight Beekeeper Suit with Square Veil opens up using zippers. It has two heavy duty zippers installed on it.
Check Price
5. Forest Beekeeping Ultra Light Weight Ventilated Jacket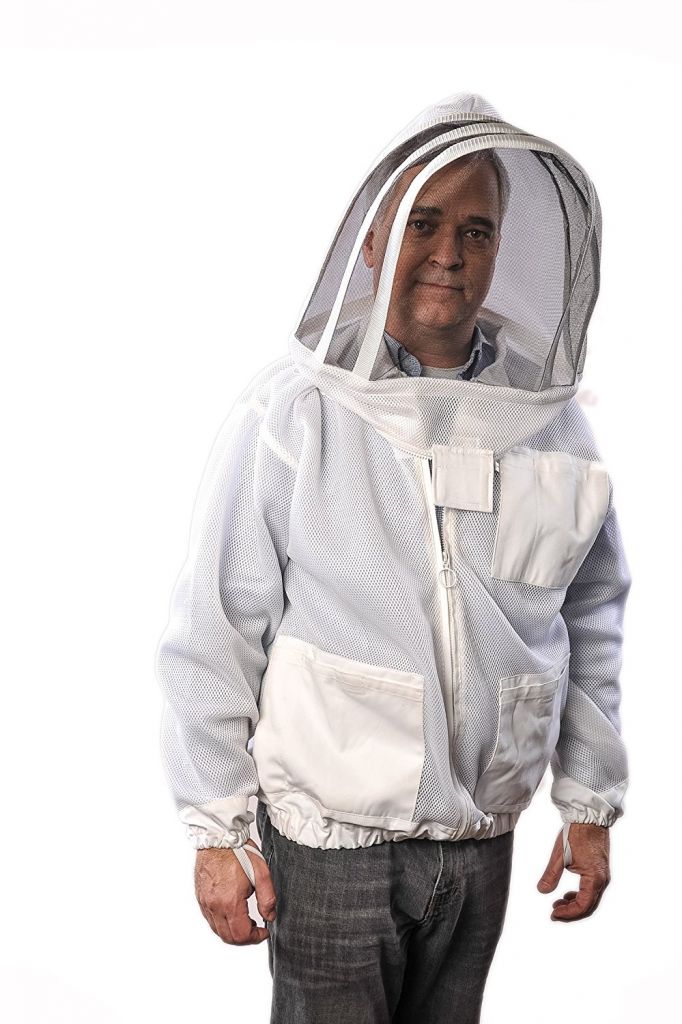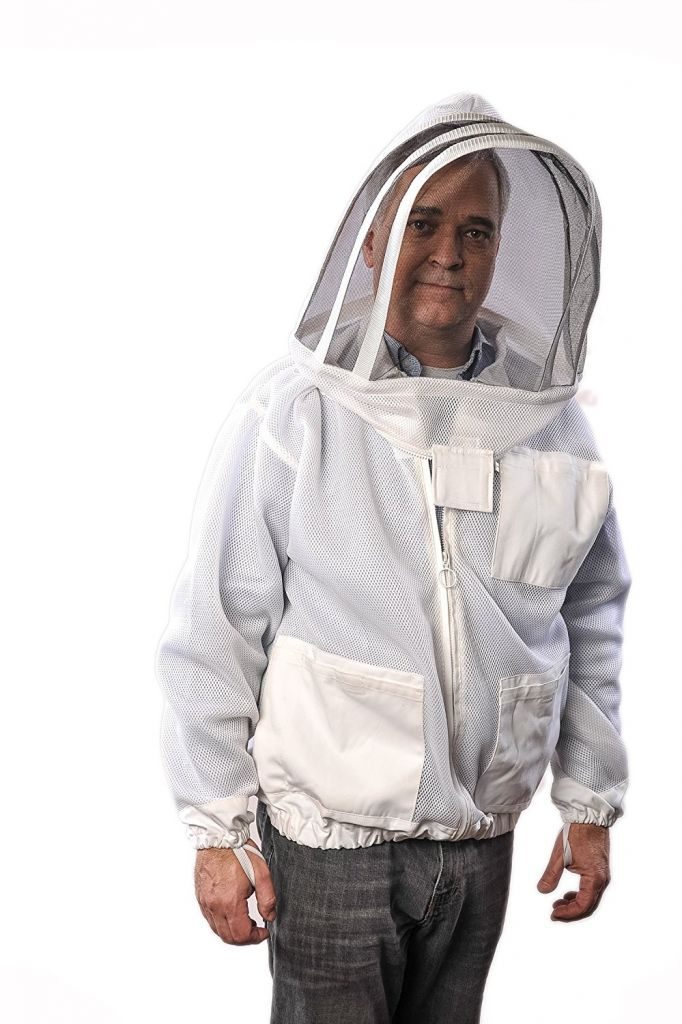 We can all attest to the fact that the beekeeping suit is a must have for any beekeeper no matter how much you can withstand bee stings. In fact, a ventilated beekeeping suit makes things so much easier since you can use it when cold and hot as well. The Forest Beekeeping Ventilated Jacket is designed for the beekeeper who is fed up with wearing heavy suits that prove to be uncomfortable during hot weather. This jacket not only offers maximum protection to the wearer but it is also highly breathable to suit those hot summer months. It is a unisex design that is available in various sizes.
Click here to read our full review of the Forest Beekeeping Ultra Light Weight Ventilated Jacket.
The Pro-Breeze Vented beekeeping jacket is designed using special vented mesh fabric that gives it maximum breathability. This makes it comfortable even during those extreme hot days when clothes prove to be discomforting. It is ideal for those engaging in outdoor, backyard, or rooftop beekeeping since it allows for easy movement thanks to its flexible fabric. Some other features to watch out for include; multiple pockets, YKK zippers, its spacious and detachable hood that allows you to keep the veil off your face. This suit is highly durable and will last for long. The excellent workmanship that was put into it brings out a top notch suit that is sized to fit and a sure quality for the money. On top of that, it is machine washable.
Check Price
6. Oz Armour Ultra Cool Ventilated Full Beekeeping Suit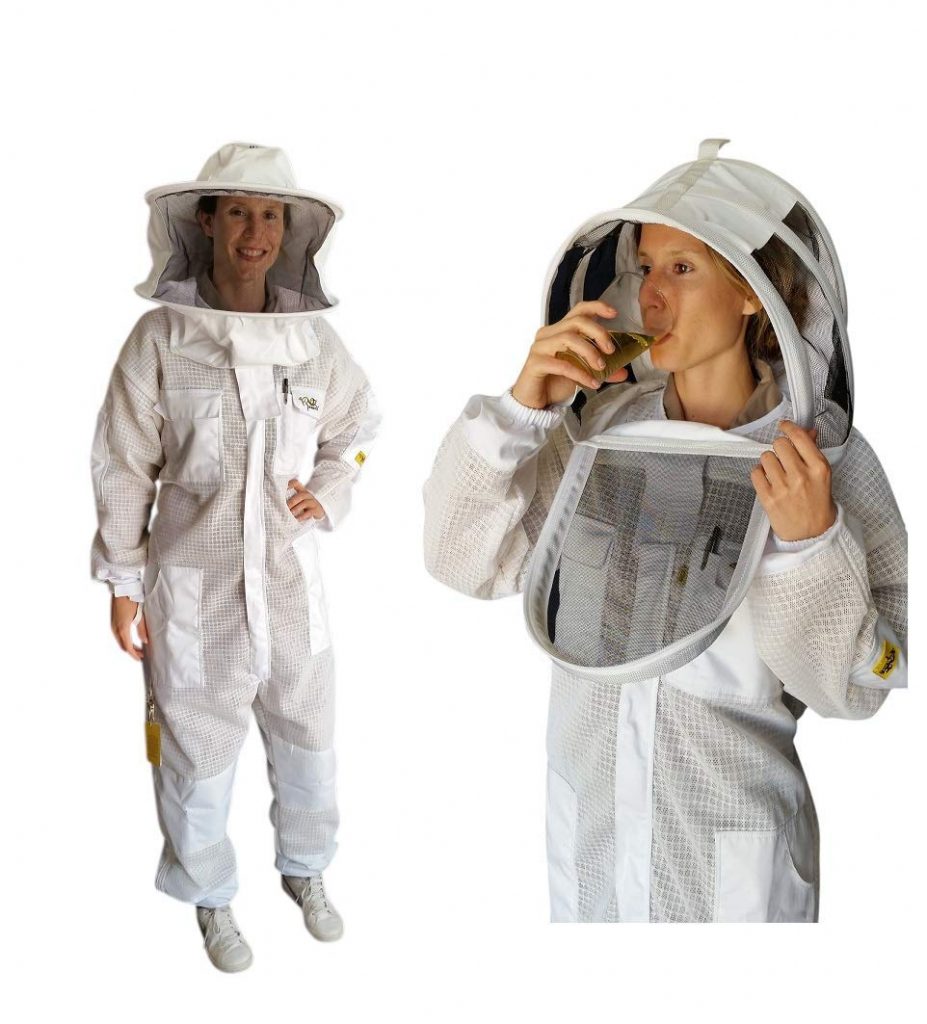 Available in nearly all sizes you can think of, including: Extra small, Small, Medium, Large, and Extra large is this ventilated bee keeping suit from a top manufacturer – Oz Armour. Its signature features are the three-layer mesh fabric, option of fencing and round veil, and the cow-hide ventilated gloves. This means you do not have to purchase the gloves separately when you buy it. It is a professional quality beekeeping suit that has been tailored with the needs of the ultimate user in mind. Some of its protective features include: heavy duty zipper, elastic ankles, elastic thumb holds, and elastic wrist.
One major advantage associated with this ventilated beekeeping suit is the three-layer fabric that not only allows for free circulation of air but it also ensures the suit does not cling onto the skin when it rains. This therefore means that the bees can never get close to your skin even during rainy seasons. You will also enjoy maximum visibility thanks to its excellent design veil. You also have convenient and highly durable hive tool pocket that allows you to keep your essential tool whenever you are working on the beehive.
This beekeeping suit is tailored to last. It is washable both by machine and hand hence making things so much easier for you. It also allows for additional clothing underneath. Just ensure you choose a one size up whenever you make an order.
Check Price
7. Pest Mall Complete Beekeeper Suit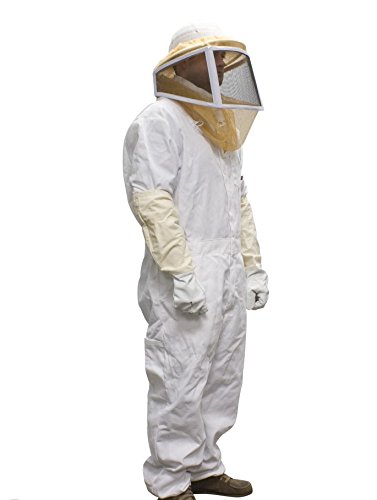 The Pest Mall Complete Beekeeper Suit not only boasts of all that is desired of a professional grade suit but it also comes at a reasonable price. The complete beekeeping suit comes with a veil and is available in various sizes. Nonetheless, the number of sizes available is limited and they start from L, XL, to XXL. Asides serving as a beekeeping suit, this item can also be utilized by the homeowner or the professional who wants to rid their environment of harmful insects such as wasps and spiders.
The Pest Mall Complete Beekeeper suit comes with 3 quality beekeeper gloves and ventilated helmet. It also has elastic wrists and leg openings that guarantee a snag fit to keep off bees from sneaking in and stinging. Its veil is square shape and it is made of 50% cotton and 50% polyester. The suit also has reinforced pockets that come in handy when you want to carry other tools. It is also important to note that Pest Mall will only ship your right size. You therefore have to make a request for your exact size upon purchase. If you fail to do so, then expect no bee suit in return.
Check Price
8. Bee Smart 800 Ventilated Beekeeping Suit with Round Veil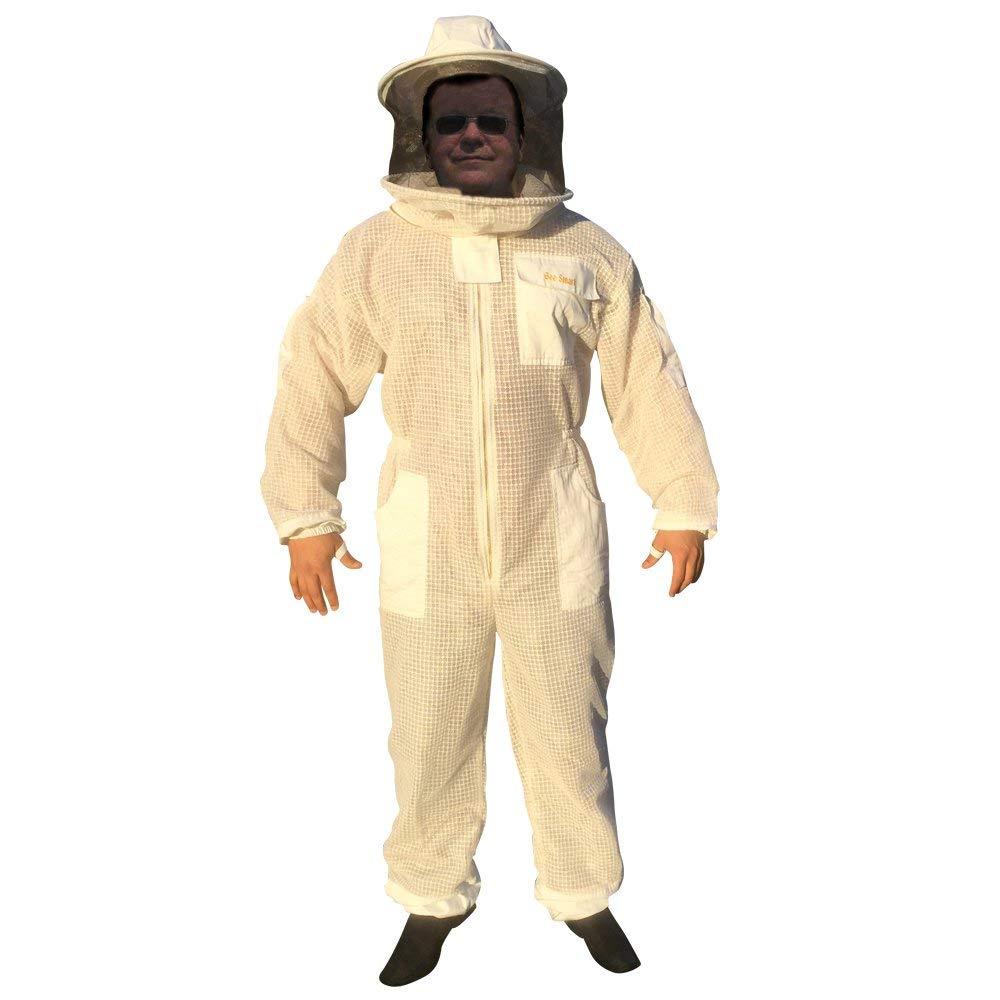 This is one of those beekeeping suits tailored for those who reside in hot areas. It offers great features in terms of safety and comfort irrespective of the wearer. You never have to worry about bee stings when you have this on, neither will you worry about discomfort due to extreme heat. Its high quality three-layer mesh fabric is well aerated to ensure you are kept cool in hot weather and the lightweight foam insert protects you from bee stings.
This bee suit is available in sizes ranging from Large to 4XL. It features carefully designed thumb straps that securely hold the sleeves within the gloves. This acts as a buffer against determined bees. The well-placed pockets as well as Velcro cover at the end of the zippers also offer extra protection.
This bee suit is a great fit even when you have a jeans or a long-sleeved shirt underneath. It also comes with a removable veil so as to make cleaning and storage hassle free. The heavy duty brass zipper with its large ring tabs that runs through the suit not only makes it easy to pull apart this ventilated bee suit but it also allows no openings that bees may use to get through. It is a durable ventilated suit that has many pockets for carry your beekeeping accessories. Others features worth mentioning include: elastic waist, wrist, thumb, foot holds, and elastic ankles. The zipped veils also have two zipper heads that have ring handles to make it easy for you to grab with gloves. This is a sure quality for the money.
Check Price
9. Buzz Beekeeping Supplies Professional Beekeeping Suit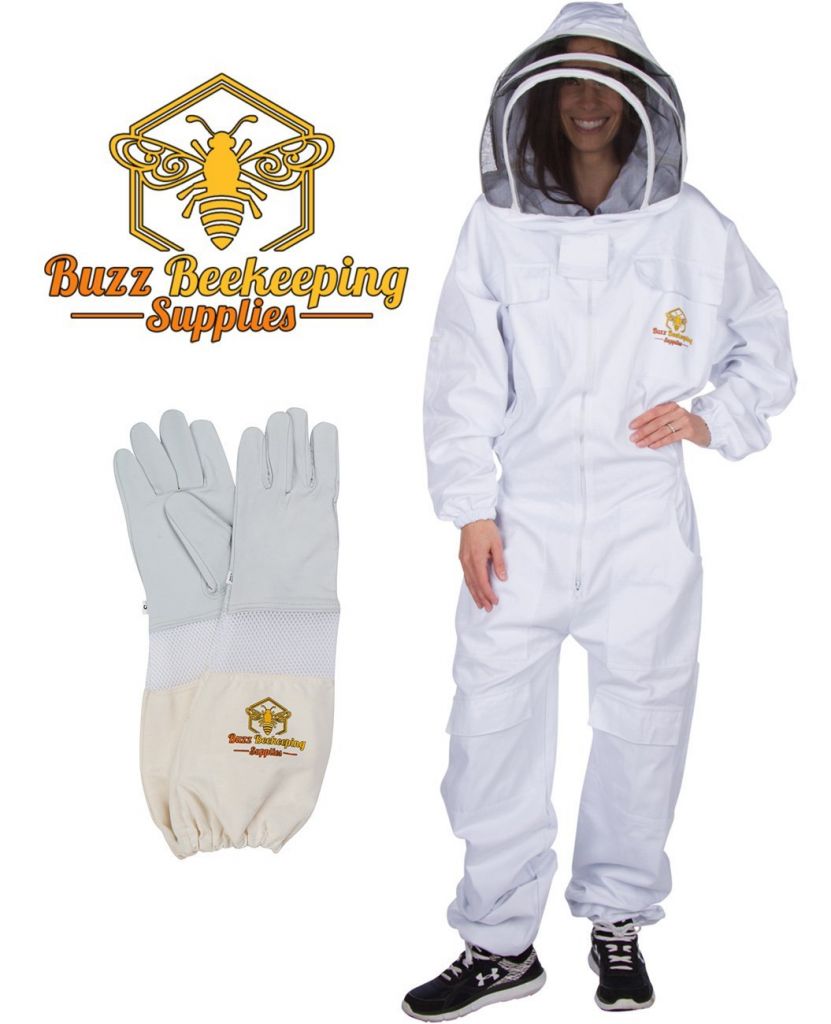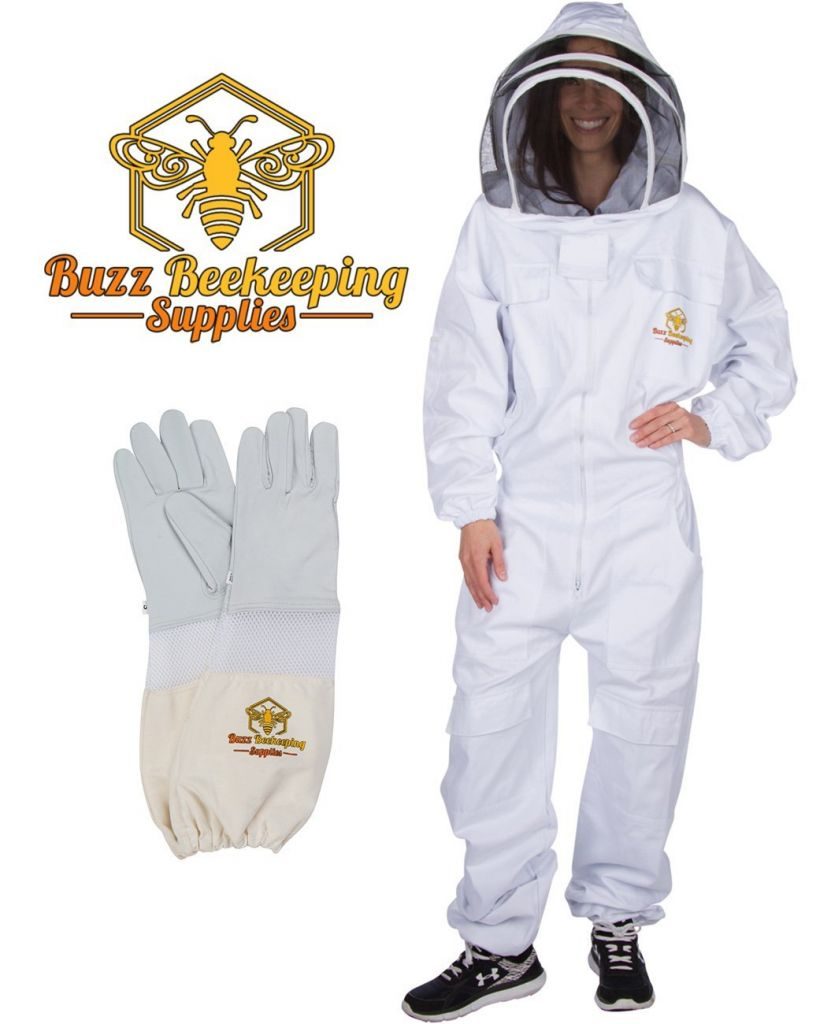 The signature feature of the Buzz Beekeeping Supplies beekeeping suit is its 10 conveniently located pockets that allow you to keep your beekeeping essentials such as the hive tool and brush. The suit is made using cotton and poly blend that is highly breathable and comfortable to walk around with. You will also enjoy maximum protection against bee stings thanks to its elastic wrists and ankle cuffs that keep off aggressive bees. It also has an inside collar that protects your neck from stings.This suit from Buzz Beekeeping Supplies features ventilated sleeves for added comfort, however the rest of the suit is not ventilated. They also offer extra goatskin gloves and that is a plus to the buyer.
This suit also has a detachable head fencing that can easily be put on and off thanks to its double slider zipper. Since the veil is perfectly fitting, you need wear a cap underneath. All potential entry points for bees are covered to give maximum protection. The heavy duty zippers are also highly durable and some of the pockets have heavy duty Velcro flaps.
This beekeeping suit is ideal for both the hobbyist and professional. It offers maximum flexibility when handling tools and is lightweight so as to ensure you do not tire walking around with the suit. It also allows for some additional clothing underneath. This is a sure bet for those not looking for anything too expensive.
Check Price
10.
Mann Lake Provent Beekeeper Suit with Self Supporting Veil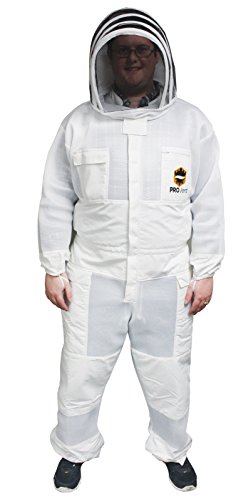 This is another great bee suit that is ventilated. It allows you to stay cool even during those hot sunny days when you are working on your beehives. It made of durable materials that will last for days to come. Its layer of rubber material netting lies in between two layers of splendidly woven netting. Both the veil and the suit are made with open netting hence it allows air to stream in freely.
You will feel comfortable and free to walk around with this suit since the suits are cut generously. You can also carry some of your items around on the two chest pockets. It also has two hive tool pockets, a pair of side pant pockets, and another pair of back pockets. You will love its self-supporting collapsible veil that can be easily folded for easy storage. Furthermore, it has two way zippers at the chest and neck that allows you to easily remove and put it on.
This beekeeping suit delivers as expected and I can recommend it to anyone who is serious about keeping off bee stings.
Check Price
Honourable Mentions
The beekeeping suits below aren't design ventilated first, but the materials used in their making are able to keep you somewhat cool whilst wearing it. These kind of suits generally tend to cost less than full blown ventilated suits.
11. Mann Lake Economy Beekeeper Suit with Self Supporting Veil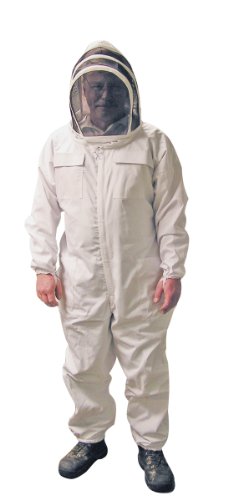 The Mann Lake Economy Beekeeper suit as suggested by its name is precisely what it portrays – affordability. However, do not be deceived by the name economical. It is simply affordable and still functional as required. It is made using excellent quality cotton and polyester material and all its openings are well secured to prevent bees from entering.
This beekeeping suit is made of 60% cotton and 40% polyester. It is flexible on the wrists and ankles and comes with a self-supporting veil. Its thumb holds are also flexible and it has heavy duty zippers that are designed to last long and also make putting on and off a breeze. Furthermore, the back of the hood has a double layer so as to act a buffer to bee stings.
Other notable features of the suit are: 5 pockets for carrying beekeeping accessories, extra 2 zippers on front side of the veil, is machine washable, a breathable hood and various size options. On the downside, its collapsible veil may allow bees to come too close to their face. But overall this suit meets the needs of most beekeepers and is affordable. It is one of the cheapest options currently on the market.
Check Price
12. Honey Keeper Full Body Professional Beekeeping Suit with Self Supporting Veil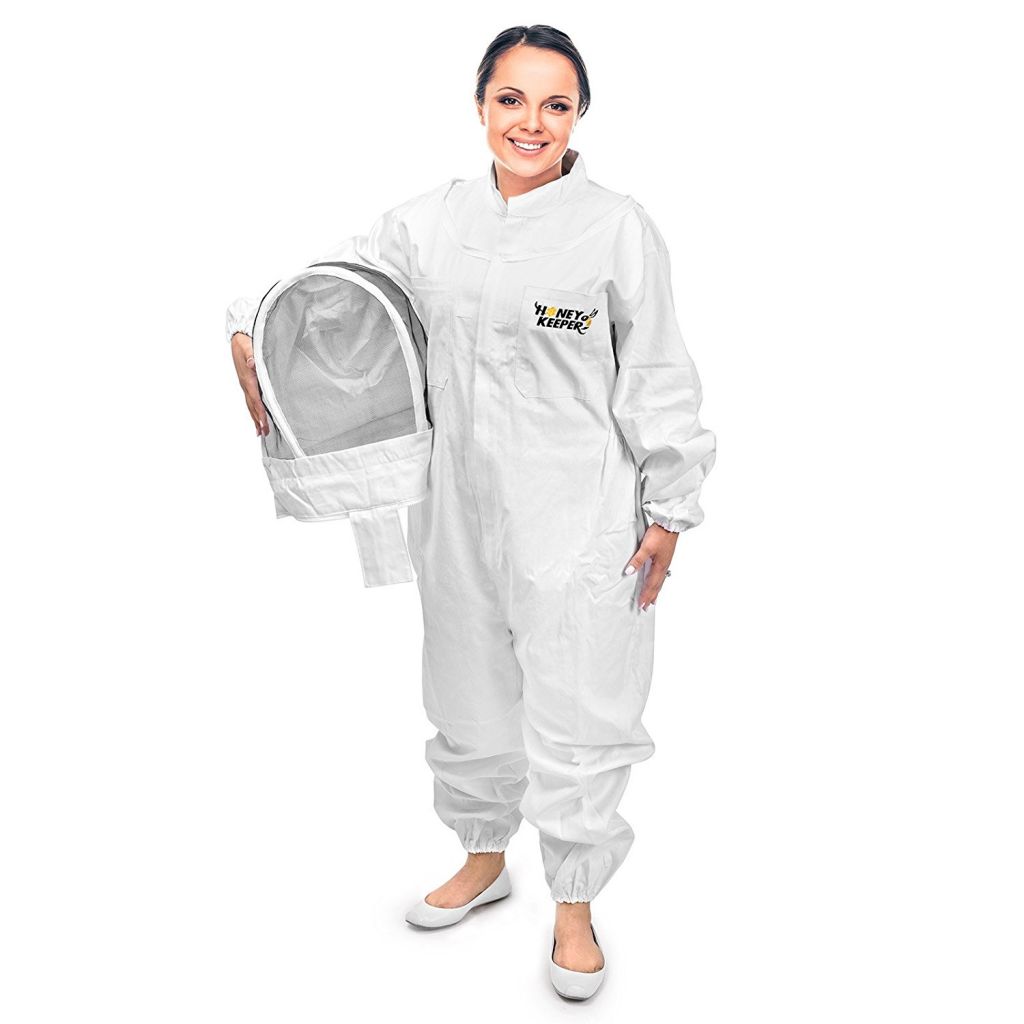 Are you tired of wearing beekeeping suits that serve you well only when weather conditions are cool but fail miserably when temperature soar up? Well, this beekeeping suit is ventilated and that means it does a good job in all kind of weather. It excels when it comes to safety as well as comfort. On top of that, it is so much cheaper when compared to other ventilated bee suits. The full beekeeping suit with its veil guarantees great protection when working on your beehive. It is made using premium white cotton that is not only cool and lightweight but also durable.
One feature that is worth mentioning about this beekeeper suit is the fact that its veil hood is supported by wires that helps maintain its shape. Available also is a veil screen that protects your face and offer maximum visibility on the front and sides. You will also enjoy the elastic bands around the ankles and the wrists which keep it well-closed and secure from stubborn bees. It is so easy to move around when you have this suit thanks to its lightweight and flexible cotton material. You can wash the suit by machine and the head covering by hand. It also has two pockets on the back and front to make it easy for you to keep you necessaries. You can also fold it flat for easy storage.
Check Price
13. VIVO BEE-V106 Professional Full Body Beekeeping Suit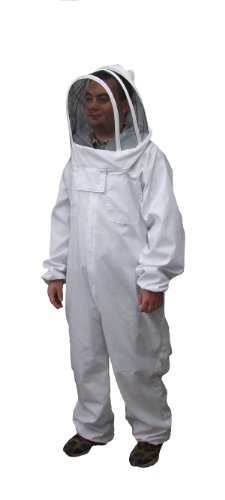 VIVO as a brand has built a good reputation with beekeepers. It is popularly known for its wide variety of top notch quality beekeeping equipment and accessories. They have designed the BEE-V106 Professional Full Body Beekeeping suit to offer the desired protection to beekeepers. It is particular a great choice for beginners.
This beekeeping suit has elastic waist and foot holds that keep the suit securely held on the body with no gaps for bees to escape and sting. It also has a self-supporting and collapsible veil in addition to heavy and sturdy zippers that securely fasten the suit. The ventilated beekeeping jacket is one of those suits coveted by many. It ideal for heights between 5-feet 7'-inches and 6-feet 2'-inches and is lightweight. The shorter beekeeper can also give it a try since the elastic waist makes it a perfect fit for almost anyone. Its jacket is machine washable and the veil can be hand washed. Overall, the suit is quality for money.
Check Price
14. Reliancer Beekeeping Jacket with Sheepskin Gloves & Ventilated Fencing Veil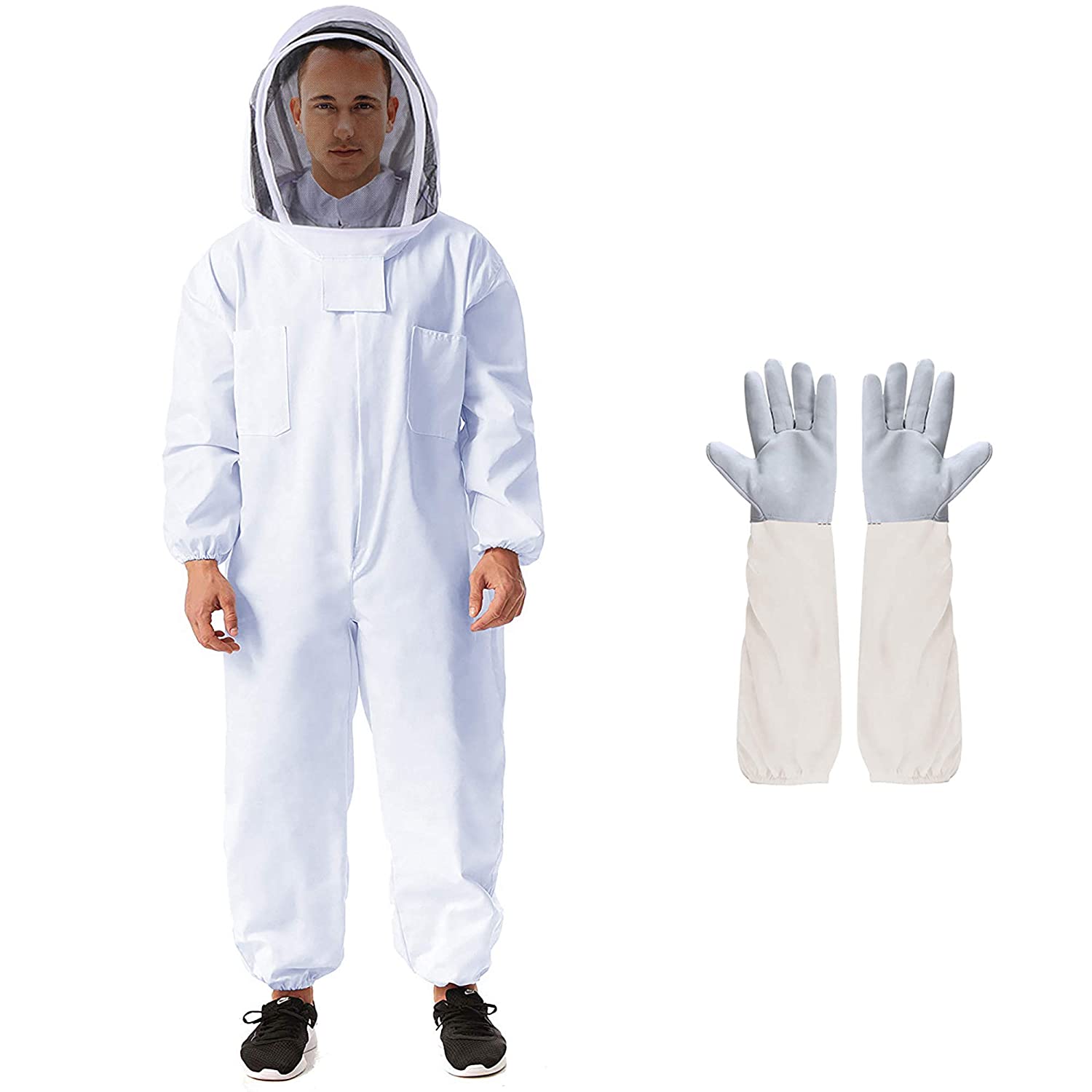 The Reliancer Beekeeping Suit is a ventilated bee suit with a fencing veil. It is made sing a blend of cotton and polyester. The resulting fabric which is 65% cotton and 35% polyester allows free passage of air in and out of the suit. This fabric is 220 Gsm which is thick enough to prevent bee stings from reaching you while being light in weight. The fabric is also friendly to bees because it does not tangle up their legs. Additionally, this fabric does not catch the barbs of bee stings when they try to sting you. This suit comes with a self-supporting veil which can be taken off when you want. For total protection of your body, you get a pair of goatskin leather beekeeping gloves upon purchase of this ventilated bee suit.
Bringing equipment, gadgets and tools to the beehive is easy with this suit. It has pockets on it for securing such items. These pockets are deep and open easily when you need to access items in them. You will also be glad to note that cuffs on this suit and its gloves are elasticized. They stay in place even with vigorous activity or extended working periods. The waist is also elasticized so the suit stays in place the entire period you are wearing it. This ventilated bee suit is available in 3 sizes; large, X-large and XX-large. They enable most adult beekeepers to use this suit comfortably for their protection.
Check Price
Why Ventilated Bee Suits are Necessary
Bees aren't naturally vicious creatures, and will only attack when they feel like their hive is threatened. Think of it as self defense. Actually, they only sting when they feel like their hive is threatened. In their mind, they see a giant trying to attack their home, of course they're going to defend it. Put yourself in their shoes. The beekeeping suit is necessary to protect yourself from the bees natural defense mechanisms. And you're going to need to protect yourself from bee stings from head to toe, especially if you're a beginner. Beyond that however, you want to keep cool while you work on your hives during the hot summer days. That's where the ventilated bee suit comes in. It keeps you cool and protected and the same time.
What to Consider When Purchasing Ventilated Bee Suits
1. Temperature
Ventilated bee suits are important especially in warmer climates. It is important to stay cool when doing your hive inspections.
2. Color
White works best on beekeeping suits as bees do not like dark colors. Stick with white or lighter colors in general.
3. Quality
It is important to get quality for your money. Choosing a ventilated bee suit made of quality, lasting materials. It is also important to choose a lightweight bee suit so that you won't be bogged down with too much weight. A quality beekeeping suit will also do better in protecting you from stings.
4. Veil
A beekeeping veil is necessary as you have to protect one of your most important assets – your face. Veils create a buffer between the bees and your face. The best veils, such as the rounded veil are made so that the mesh won't collapse on your face, allowing bees to get close. It is also recommended to keep a ball cap underneath the veil to keep it further away from your face.
5. Security
You need a bee suit that will provide more than adequate security. Choose a suit that is the right size for you. It is important for the suit to be fitting as you don't want it to be loose. Additionally, choose a suit with quality zippers and elastic around the wrist, ankles, and waist. This will ensure that your suit stays down and that no bee can crawl up into any opening.
Conclusion
The best ventilated bee suits mentioned above are ideal for the beekeeper looking for a comfortable suit during the hot summer days. You should never experiment when making a purchase since bee stings are not exciting … at all.
Do you own any of the suits on this list? Which other ventilated beekeeping suit(s) do you think should be added to this list? Leave a comment below and let us know.