If you purchase an independently reviewed item through our site, we earn an affiliate commission. Read our affiliate disclosure.
The idea of beekeeping invokes fear in some people. This fear is not misplaced because no human being can stand the sting of the bees. In fact, there have been cases of people who have been stung to death bees. However, technology has changed the face of beekeeping for the best. With the right suit, you can inspect or harvest your beehive without fear of getting stung by the bees. This article presents the best beekeeping veils that will guarantee your safety, as well as your comfort while you are around the beehive. Different beekeeping veils are not created equal. They come in various deigns, shapes, models, and types and that means you can never run short of what to choose from. Choose the one that will suit your needs best and is within your budget. Let's check them out.
Overview of the Best Beekeeping Veils
10. Sunflower 2 in 1 Beekeeping Hat and Veil with Gloves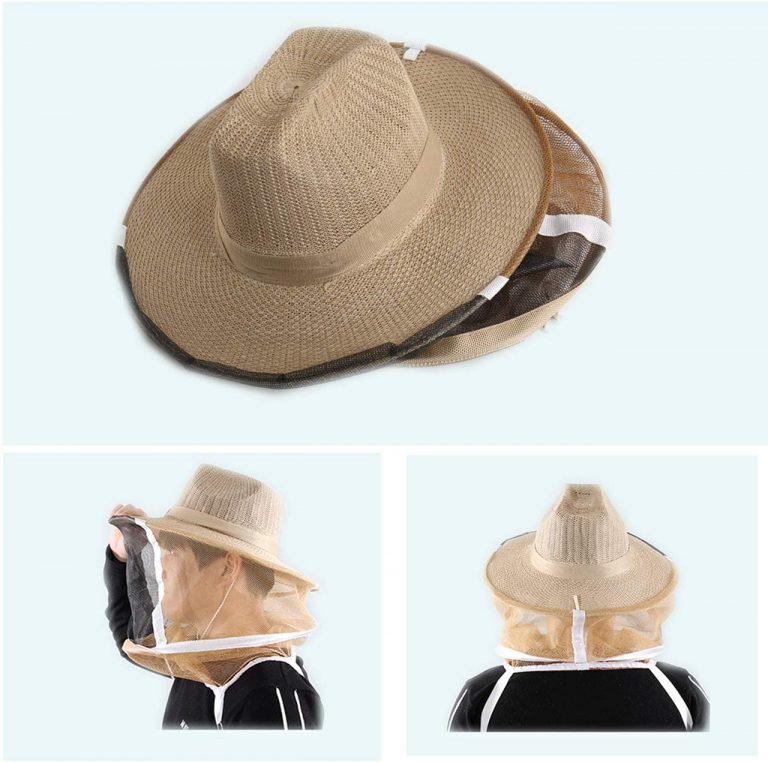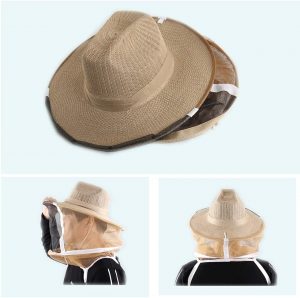 This is a beekeeping veil that comes with an accompanying pair of goatskin beekeeping gloves. The veil is built with a round hat and screen mesh. It is a design that allows you great sight through the mesh and around you. An elastic band is used on the shoulder section of this veil to keep it tight against your body. It helps prevent honeybees crawling up your clothes and into the veil to sting you. There are also shoulder straps to keep the veil in place. They prevent the veil from riding up and leaving you exposed. The shoulder straps work well so you can keep working through long periods of time without having to readjust the veil.
The Sunflower 2 in 1 Beekeeping Hat and Veil gives you great protection from bee stings including at the rear of your neck. It hangs down your back and stays away from your neck so bees do not come close to your skin. Cotton and goatskin materials are used in making the closed up part of this veil. It is thick enough to prevent bee stings from getting through it. In addition to protection from bee stings, this veil also keeps your skin from being exposed to UV rays of the sun when working outdoors.
On the downside however, this veil is a little too short for some beekeepers. It does not go far down enough on the chest and shoulders area. As such, bees may crawl through such a space and sting you.
Check Price
9. BeesNise Beekeeping Veil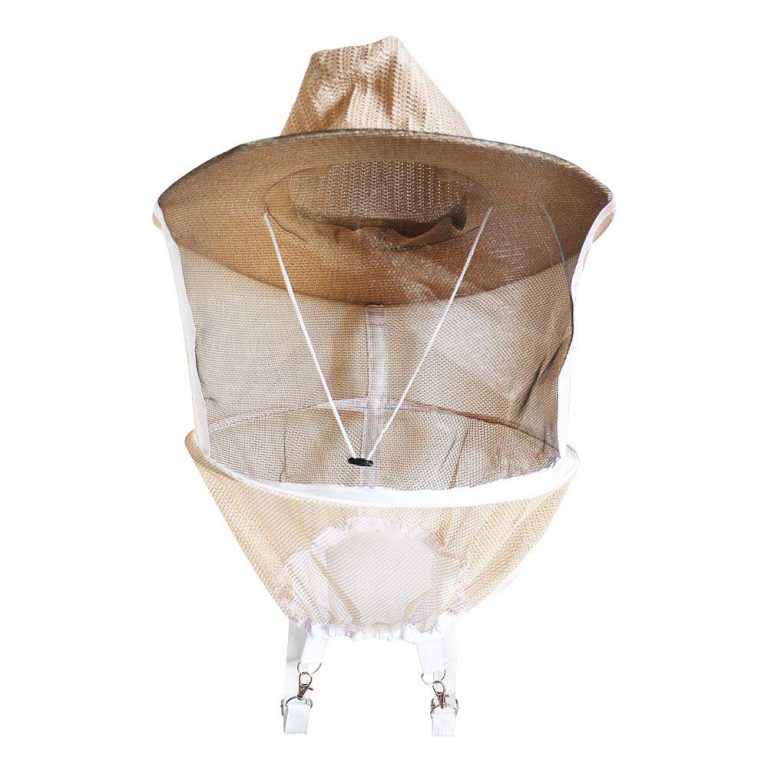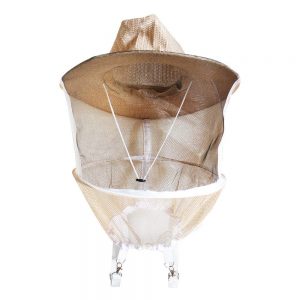 The BeesNise Large Beekeeping Veil has a round hat veil with a screen mesh attached to the brim. The entire hat is breathable so you can keep working even in hot weather. It is made using a blend of cotton and linen that does not allow bee stings through it even when wet. This makes the veil effective at preventing bee stings while allowing passage of air through the fabric. A fine screen mesh is used with this veil so you get excellent vision. Onto the hat is attached a chin strap to help keep it in place even as you bend and make other body movements in your beekeeping activities.
Under the mesh of this veil, a large section of cotton and linen cloth is attached to form the chest and shoulders section of this veil. It is effective at keeping you protected from bee stings and has an elastic band around its bottom opening. This band of elastic helps keep the veil tight against your body so bees cannot crawl under the veil and get a chance to sting you. For additional securing of the veil onto your body, two shoulder straps are sewn onto the bottom section of this beekeeping veil. They help ensure the veil does not ride up and leave you exposed to bees.
This beekeeping veil is well designed and sewn together. It has many features to ensure it stays on securely through the entire period you are in your apiary. The only drawback is that the hat is rather small, and as such, may not fit well onto the heads of some beekeepers.
Check Price
8. Holulo Beekeeping Jacket with Fencing Veil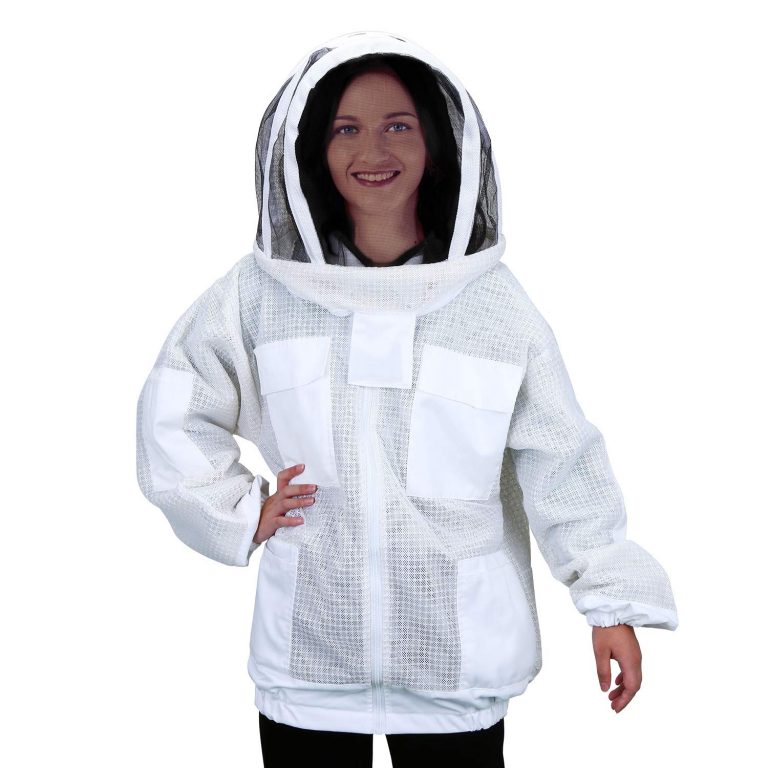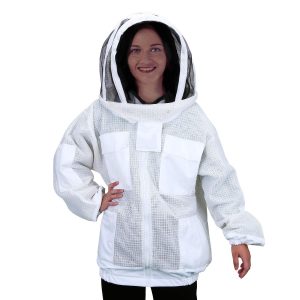 This is a beekeeping jacket with a veil attached to its top. The Holulo Beekeeping Jacket with Fencing Veil is made using breathable cotton fabric. The cotton is in 3 layers to make the fabric thick enough to prevent bee stings from reaching you. It comes in white color on both the jacket and veil. The veil used on this jacket is a fencing veil. It is well attached to the jacket at the rear of the neck so you are protected all round the face and neck. A heavy duty plastic zipper allows removal of the veil for cleaning and when you are taking off the jacket after work is finished.
The Holulo Beekeeping Jacket with Fencing Veil comes in 3 sizes. They are Large, X-Large and XX-Large. Various straps are used at points on this jacket to keep the veil and cuffs in place securely. This is a suitable beekeeping veil and jacket for both men and women. It is a safe solution for beekeepers when visiting their beehives. Both beginner and professional beekeepers are able to use it in their beekeeping operations without any difficulties. This combined beekeeping jacket and veil is great for both short visits to the beehive, as well as longer beehive and colony maintenance activities.
One downside of this beekeeping jacket and veil is that the veil may sometimes fold onto itself and touches your face. This can allow bees to get too close and sting you.
Check Price
7. Goodland Bee Supply Natural Cotton Beekeeping Veil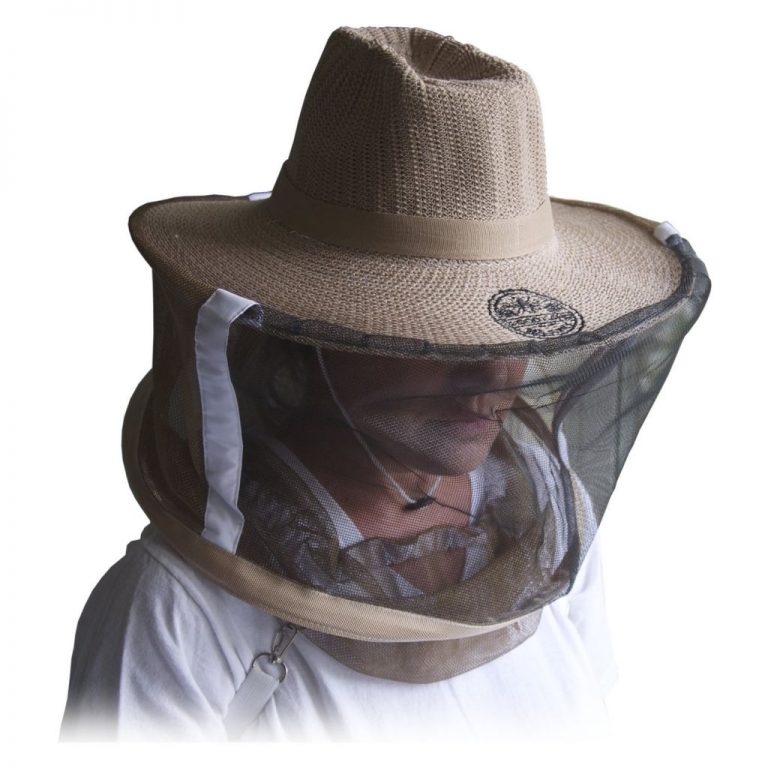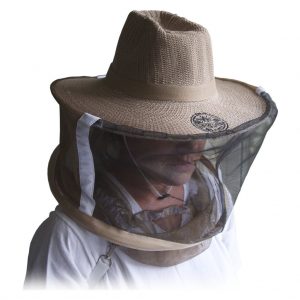 Weighing 9.6 ounces and with a dimension of 16 x 16 x 2.5 inches is this natural cottonbeekeeping veil from Goodland Bee Supply. It is a professional grade veil that offers top notch protection against aggressive bees. This is made for those who would love to keep off bees while harvesting or inspecting their hives and still get the required comfort even when it is extremely hot. The fabric is light weight and breathable and the veil is designed in such as way that gives the beekeeper maximum visibility.
This beekeeping veil is made of glass fibre that has a fire proof coating. It is also hand washable and will fit well 6-3/8 to 7-3/8 cap sizes. The veil is easy to remove and will serve you well on those days when you do not want to wear a full bee suit. It will also come in handy when you need assistance and your helper does not have full gear. You will enjoy lots of ventilation as well as protection. You can never go wrong with this beekeeping veil.
Check Price
6. Mann Lake CL122 Stingless Binding Round Veil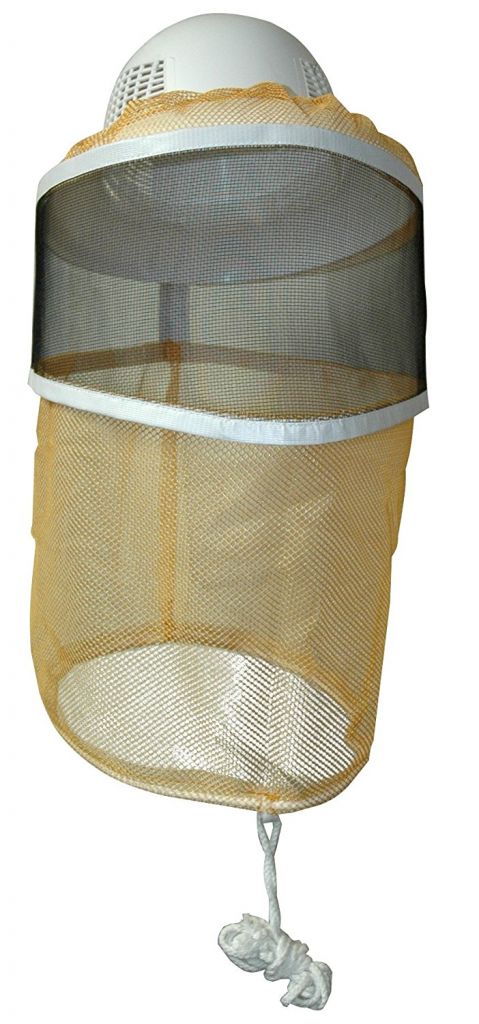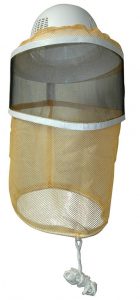 The thought of being around bees scares some people to the core, let alone the reality of actually opening and working on a beehive. But pro beekeepers will tell you that it does not really have to be scary when you understand what you are doing and have the right gear for working on the beehive. The Mann Lake CL122 Round Veil is a beekeeping veil that ensures you are well secured when inspecting the hives or harvesting your honey. It has all that you may desire of a protective beekeeping veil. It is available in elastic, string or zipper that each guarantee a snag fit.
This rounded veil with its stingless binding is a top choice for the beginner, hobbyist or professional. It does not have seams that can obstruct vision and has a string. The veil weighs barely 5.6 ounces and has dimensions of 14 x 14 x 8.1 inches. It is important to note that this is a veil only and you'd have to buy an additional bee hat. You can however use a baseball hat since it works just fine. The main advantage associate with it is that it never gets hot underneath even when temperatures are extreme and unbearable. It is sure quality for the price.
Check Price
5. Humble Bee 210 Polycotton Beekeeping Veil with Round Hat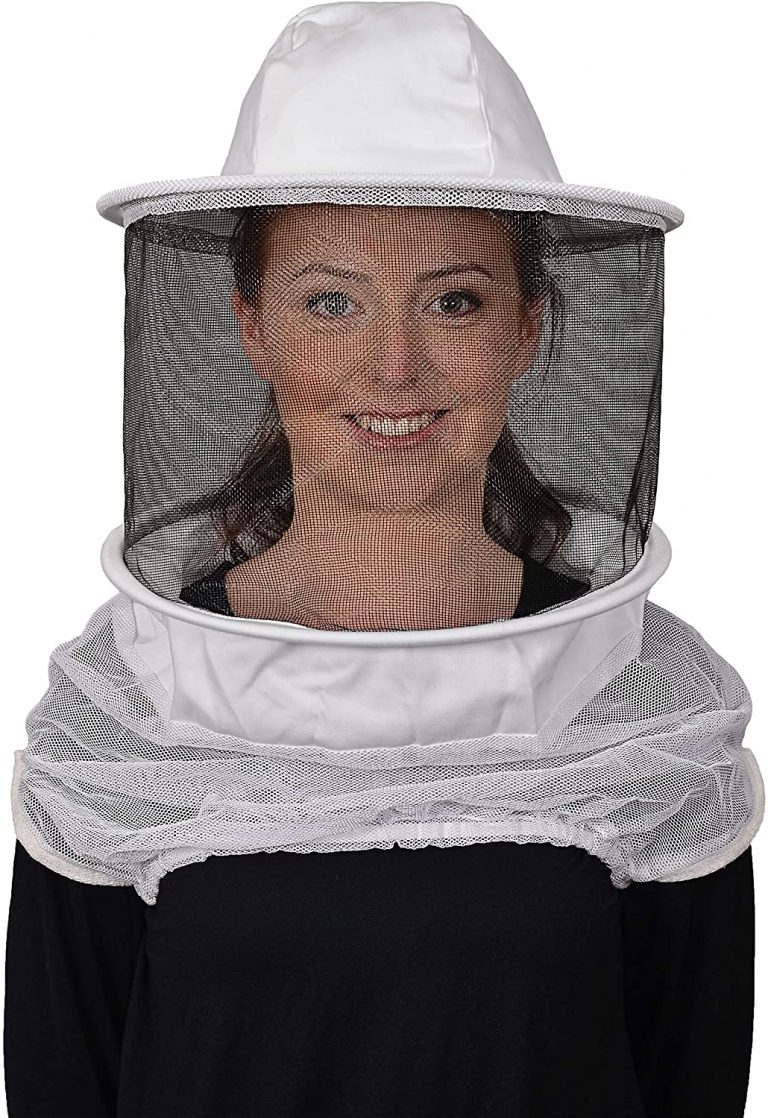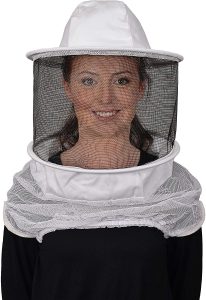 The Humble Bee 210 Polycotton Beekeeping Veil with Round Hat is fashioned out of a blend of cotton and polyester materials. It has a round hat, with reinforced brims and shoulder straps. The shoulder straps are elasticized. They help keep the veil and hat in place even when you bend down. A round hat on this beekeeping veil ensures that the mesh does not come into contact with your skin. It keeps away and allows for ventilation of your face and neck. Being away from your skin also ensures no bees will force their stings through the mesh to your skin.
This beekeeping veil is made by a reputable manufacturer in the USA. The blend of cotton and polyester used in making this veil and hat gives you protection from bee stings and allows passage of air through it for ventilation. This beekeeping veil has an oversized mesh to cover your neck and shoulders too. It also makes the veil to be suitable for a wide range of body sizes. The veil works well on both men and women. You have great sight through the mesh of this beekeeping veil. It allows all-round sight with great ease. The total weight of this Humble Bee beekeeping veil is 7.1 ounces.
You are free to use this beekeeping veil with a suit or without one. The type of suit and presence of a zipper or Velcro patches on the suit you wear do not matter because this veil is designed to work as a standalone bee sting protection for you.
The veil is made using materials that give it breathability while maintaining its ability to protect you from honeybee stings. However, inexperienced beekeepers may get themselves stung up while wearing this beekeeping veil, if they do not ensure that the mesh is not close to the skin of their necks at the rear.
Check Price
4. Natural Apiary Apiarist Beekeeping Jacket with Fencing Veil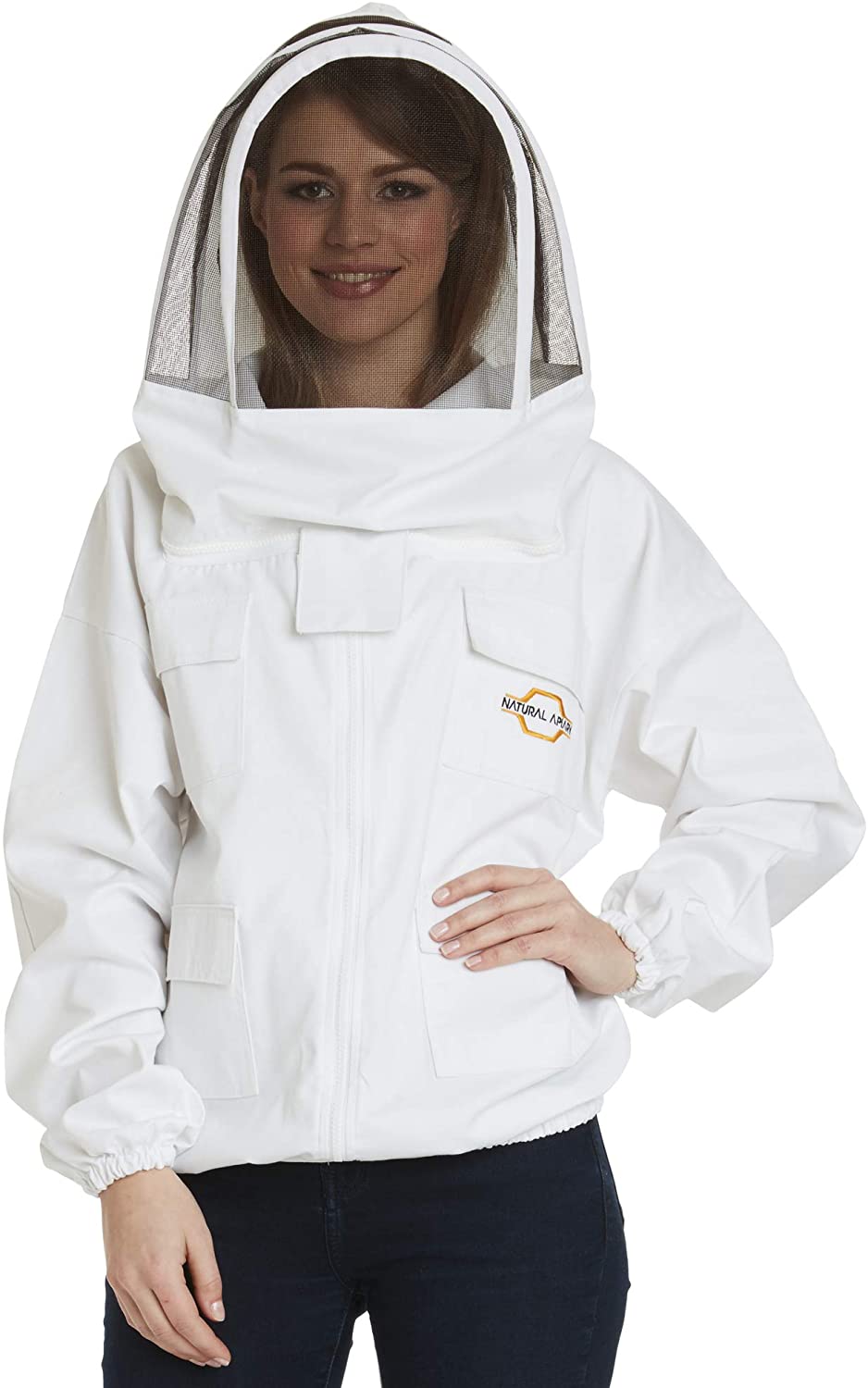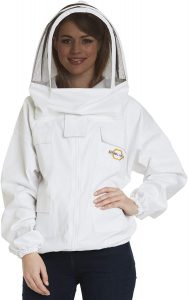 This is a great choice for the beekeeper who wants the jacket as well as the veil. It is an attractive looking beekeeping gear designed to make the task fun and enjoyable. Its elastic forearms and ankles are particularly impressive since it prevents bees from getting in. The veil is also detachable and to facilitate washing or storage. You can also keep your beekeeping accessories on its perfectly placed pockets that are spacious enough to accommodate all you need.
This Natural Apiary beekeeping jacket is made using 65% cotton and 35% polyester. It is machine washable and comes with strong YKK Zippers that are not only strong but reliable as well. Available also is the reinforced extra thick collar that ensures your neck is well protected from stings. All stitching and zippers are tough and durable to offer the required protection for a long time. The jacket is well-fitting for a wide range of body sizes thanks to the fully elasticized waist that is accommodating. The pockets are also positioned to meet the needs of right handed and left handed users. The wood offers plenty of face room and the material is light and comfortable. It is also easy to put on and off the veil as well as the jacket. Overall, it is a good quality jacket with veil and worth the price.
Check Price on Natural Apiary
Check Price on Amazon
3. Humble Bee 220-ST Aerated Beekeeping Veil with Round Hat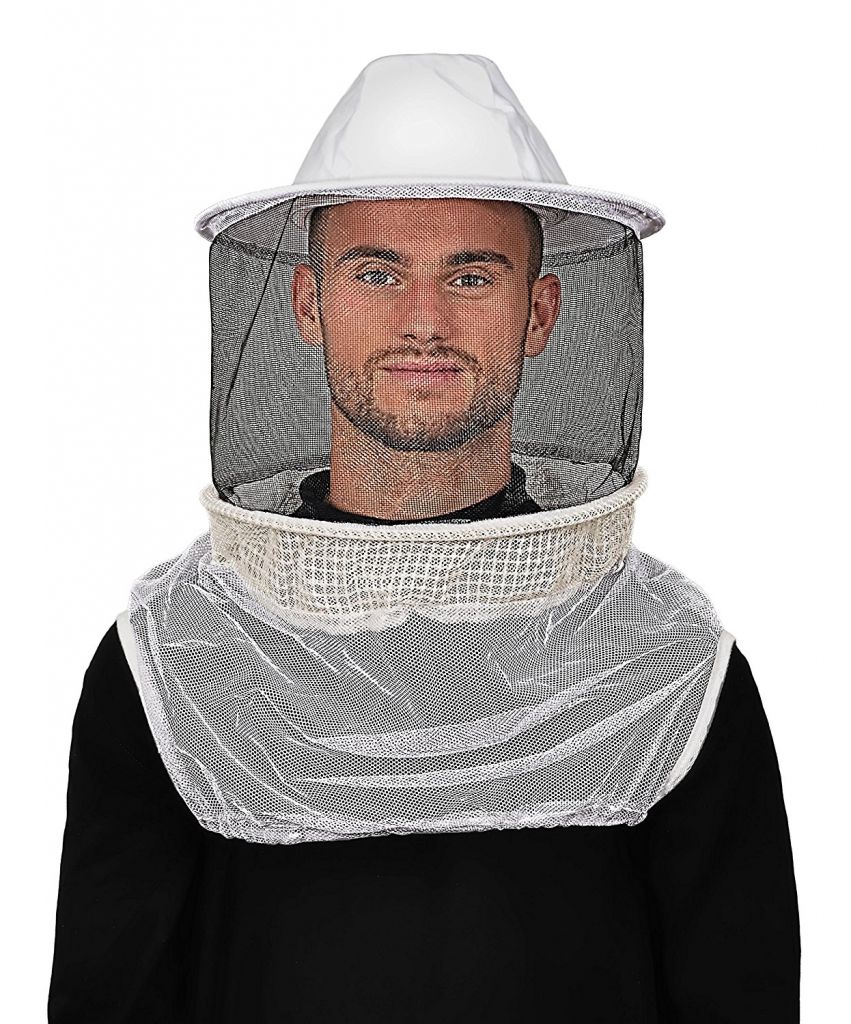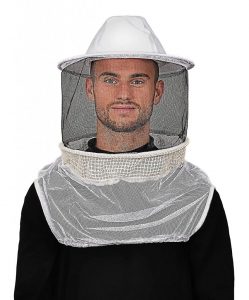 For those who already have a beekeeping suit but require a good quality beekeeping veil, this is a sure bet. It offers the quality value for price. Humble Bee is a well known brand when it comes to beekeeping equipment and accessories, and this veil lives up to the brand's reputation. You can wear it without experiencing discomfort in all weather conditions. It is particularly a standard size veil that will fit most beekeepers irrespective of sex of body size.
This veil is made of a 50% cotton and 50% synthetic blend. This combination brings out a breathable veil that feels great on your head. It also comes with an oversized mesh that runs the neck and shoulders so as to offer maximum protection from stings on these areas. The elastic straps also ensure the veil is well secured in place. The veil is also easy to put on and off and weighs barely 8.8 ounces which is almost negligible to feel on your head. This product has a dimension of 13.2 x 13.2 x 1 inches and is comfortable to walk around with. Exceptional workmanship has been put to the design so as to guarantee maximum comfort and protection. You can never go wrong with this beekeeping veil.
Check Price
2. Forest Beekeeping Jacket with Round Veil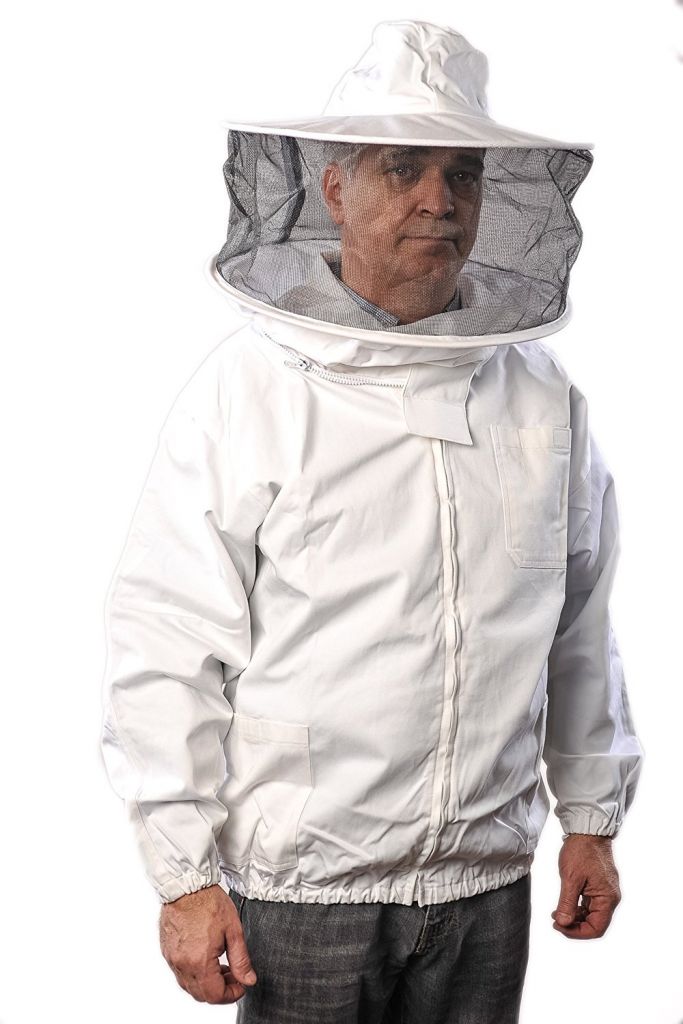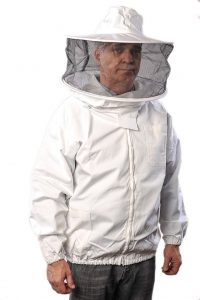 If you have ever tried an uncomfortable beekeeping veil, then you can understand how frustrating it becomes during hot summer months. Things can even be much worse if the bees come close to your face. The Forest Beekeeping Jacket with its round veil hood is tailored to give maximum comfort and protection to the beekeeper. It made of cotton and its round wood is made of 100% premium cotton blend. The hood is double layered so as to prevent bee stings from come anywhere close to your face or skin. It is also detachable and has a velcro strap that guarantees a snag fit.
This beekeeping jacket has excellent quality YKK zippers that are longer lasting and it also has elastic waist and wrist in addition to a fiberglass screen that gives unobstructed view. It is a unisex design that is lightweight and features 3 front pockets for your convenience. This works great for commercial beekeepers as well as hobbyists.
Check Price
1. Foxhound Bee Company Adult Beekeeping Jacket with Round Veil and Hat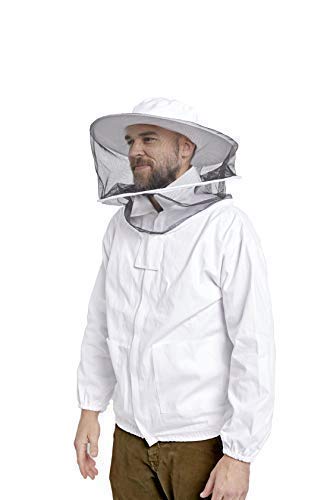 Veils for beekeeper safety come in many designs. Choosing the best beekeeping veils for your safety is important so you do not get stung by honeybees. The Adult Beekeeping Jacket with Round Veil and Hat is made by Foxhound Bee Company. This is an American company with a good reputation for quality beekeeping equipment and supplies. This is a beekeeping jacket that comes with a round hat veil for protecting your face and neck area. The veil on this jacket is made using a fine mesh that does not hinder your vision. A round hat on your head keeps the veil well away from your skin, so that bees do not sting you through the screen mesh.
The veil of this beekeeping jacket attaches firmly and easily onto the shoulder area of the jacket. It also comes of easily for when you are taking the jacket off. This veil can be left hanging from the rear of the jacket when you want. It goes around your head including the back of your neck. This veil is also great for cooling your head, face and neck. It allows free passage of air currents into the protected space behind it to cool you. This beekeeping jacket is made in a unisex design, so it looks nice on both men and women. The jacket also features pull ring zippers for ease putting it on and taking it off.
Foxhound has made this beekeeping veil in a great design using some of the best materials in the industry, so it gives great protection against bee stings. Additionally, you have great vision through this veil so you do not miss anything even when it is in your peripheral vision.
Check Price
Conclusion
A veil that is worth its price must provide maximum security as well as the comfort that will follow. Read through our selection of the best beekeeping veils that you can rely on today. Remember beekeeping is always fun and rewarding but it can also be disastrous if you do not have the proper gear. Bee stings can sometimes be serious, especially for those who are allergic to bee venom. It is better to be safe than sorry. Chooses a good quality veil and eliminate any potential bee stings.
A veil alone is not enough. You should also be sure to check out the best ventilated bee suits and the the best sting proof bee suits.
Do you own any of the beekeeping veils on this list? Which veil(s) do you think should be added to this list? Leave a comment below and let us know.