If you purchase an independently reviewed item through our site, we earn an affiliate commission. Read our affiliate disclosure.
The future of beekeeping lies with our children. This is just but one of the reasons as to why ought to encourage kids to familiarize themselves with honeybees. This will enable them assist with hive inspections and the like, and in the future to be able to manage their own bee colonies. Boost your child's confidence by purchasing them their own beekeeping suit. This should be made of almost 100% cotton, and should be accompanied with a veil that is detachable, and well fitting. The market is flooded with several kids' beekeeping suits, but here are some of best ones you can choose from depending on your needs and budget.
In Depth Overview Recommended Kid's Beekeeping Suits
9. Humble Bee 420 Aerated Beekeeping Suit with Round Veil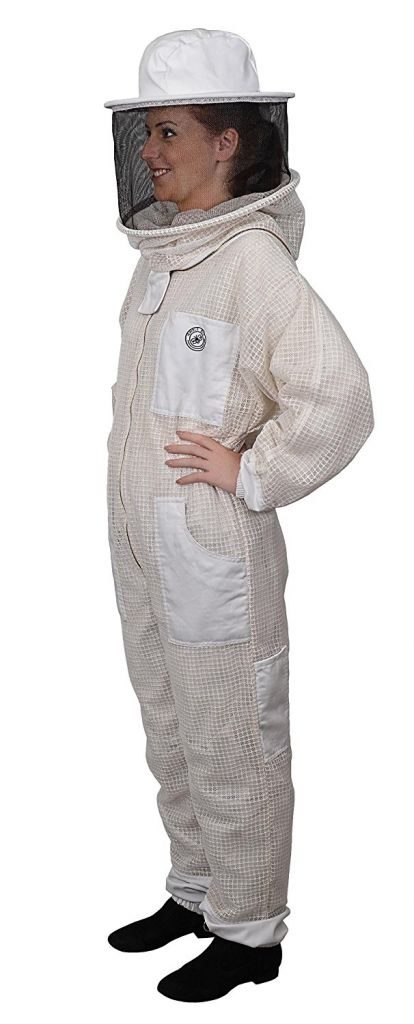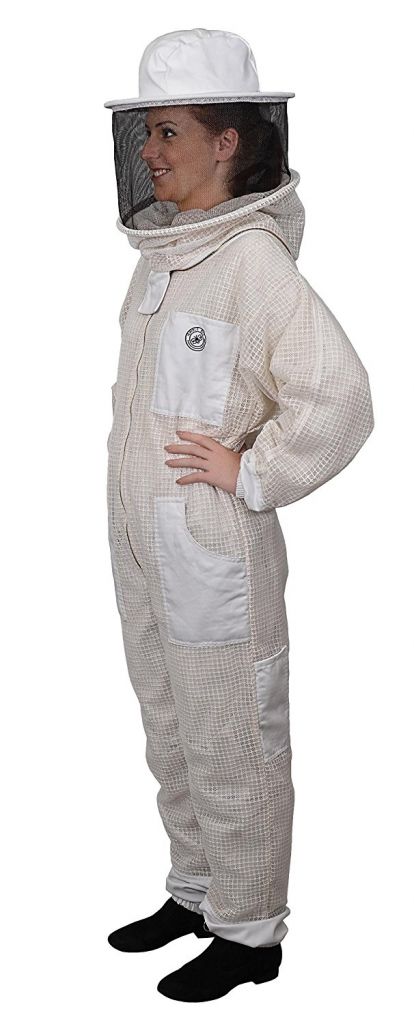 The  Humble Bee 420 bee suit was made mainly for those individuals who reside in areas where temperatures are over the top. It is also fit for hot natured individuals, kids included of course. Aerated beekeeping suits are manufactured using a poly-cotton standard fabric. It has additional mesh and panels along the chest and back areas. Poly-cotton beekeeping suits on the other hand is of equal blend of cotton and polyester both 50% proportions. It gives room for an extra air flow in the suit due to the fact that it is aerated. It however does not adequately prevent bee stings due to lack of extra layer of foam.
The Humble Bee 420 beekeeping suit is suitable for children because it is available in the following sizes: Small, X-Small and XX-Small. These sizes will fit kids from ages 5 to 14. Additionally, it is accompanied with a round veil that is naturally self supporting. This keeps your kid's face protected even as they operate in the hive.
Pros
Its aerated design makes it much more comfortable.
It has a self supporting round veil.
Its elastic ankles, waist, thumb and foot hold for security and comfort.
It is available in sizes that fit kids from ages 5 to 14.
Cons
It is costly.
Doesn't offer adequate protection against stings.
Check Price
8. Natural Apiary Apiarist Beekeeping Suit with Fencing Veil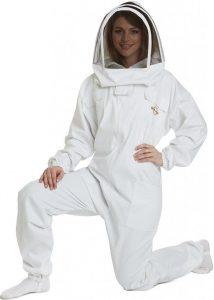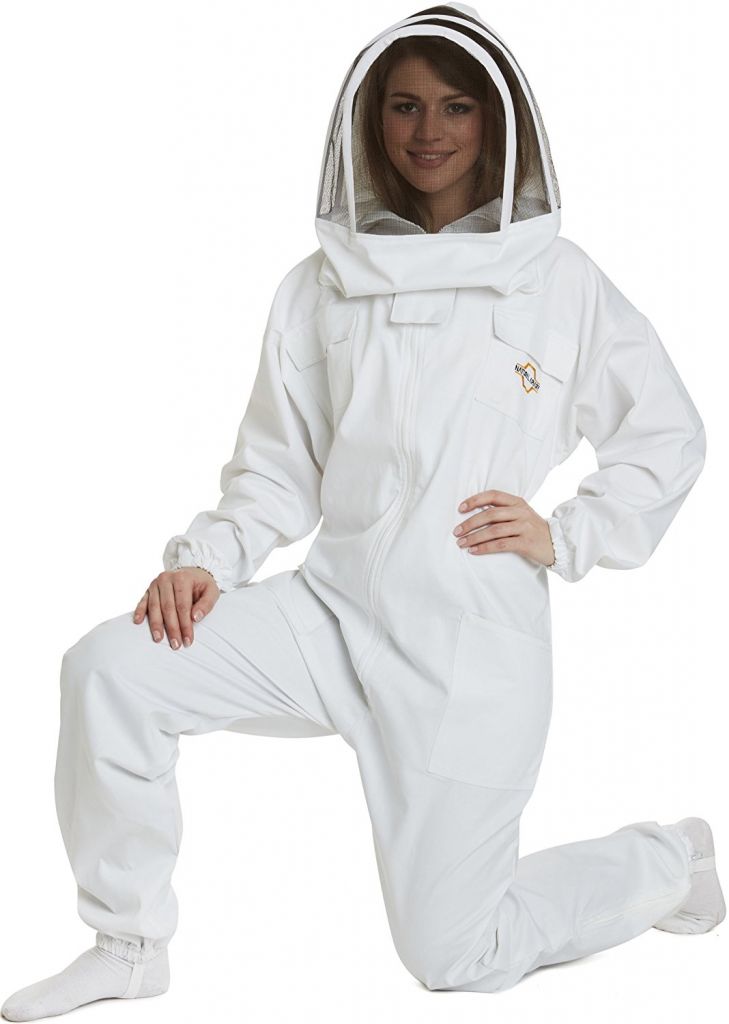 This suit offers good protection and is fashionable. Its openings are elastic keeping bees away. It comes in multiple colors that might be considered soft, and suitable for kids. Of course, white is always preferable, but this is acceptable as long as they are not dark colored. It allows the beekeeper kid to be fashionable. It is available in the following sizes: Small, X-Small and XX-Small and highly preferred for kids from age 5 to 14 years.
Pros
It is made in various sizes and your kids are not left out.
It is available in a variety of colors.
You can easily zip it up.
It is secure because of several elastic materials placed on hands and ankles.
Cons
Its fencing veil does not adequately keep off bees.
Check Price on Natural Apiary
Check Price on Amazon
7. Ultra Breeze Beekeeping Veil and Jacket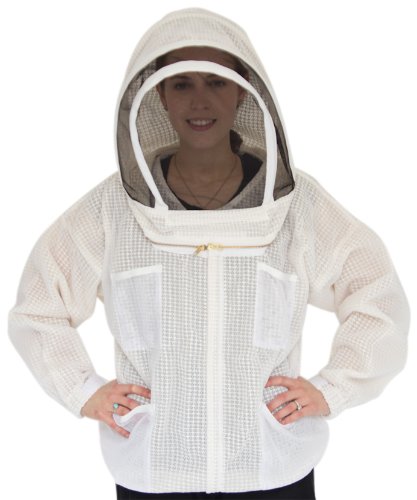 This jacket is recommended for starter kids who do not want a full bee suit that. It is available in Small and X-Small and is suitable for kids from 8 to 14 years old. The material used is very much ventilated keeping the wearer cool. It is accompanied with a veil and this comes as one package saving you money.
Pros
It is available in various sizes suitable for kids.
The material used to make it is ventilated.
It is easy to take care of because it is machine washable.
Offers outstanding sting protection.
Cons
Doesn't give full body protection.
Check Price
Check Price (Australia)
6. Eco-Keeper Professional Grade Child's Beekeeping Suit with Round Hood Veil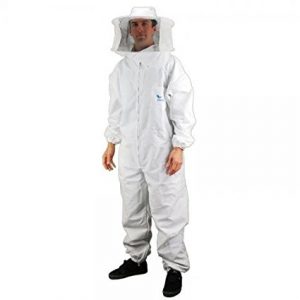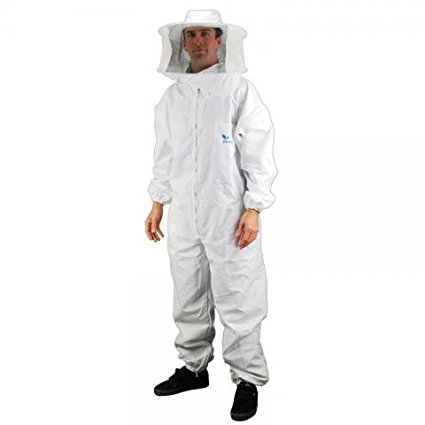 This is the suit that offers your kids a bang on your buck. It comes complete with a veil and is reasonably priced. Its heavy zippers and double layered hood offers security. It is available in XX-Small, which can fit children up to 4 feet tall.
Pros
Its heavy duty zippers and hood in double layered fabric offers maximum security.
It has a neck zipper that is 2 way for protection and easy fit.
The round hood veil offers optimum protection.
It is priced reasonably.
Cons
It's available in limited sizes for kids.
Check Price
5. Humble Bee 410 Poly-cotton Beekeeping Suit with Round Veil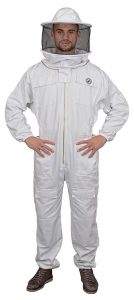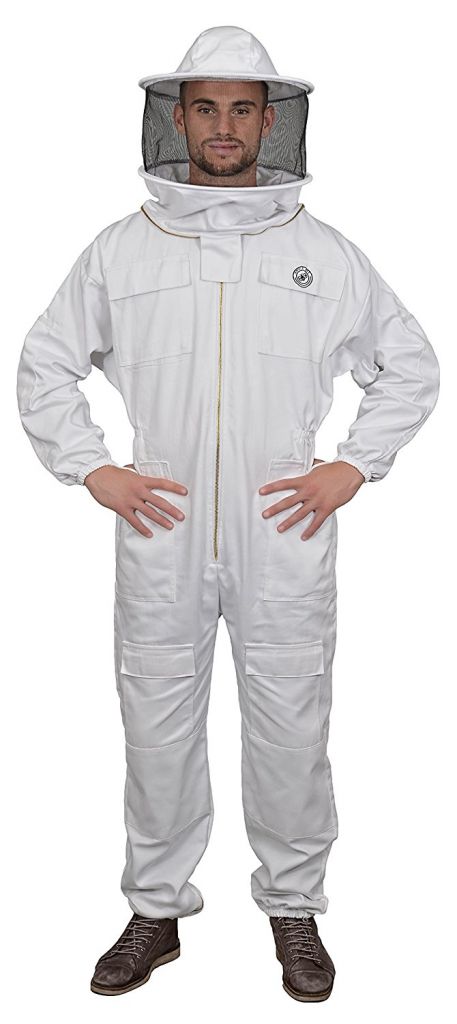 The Humble Bee 410 poly-cotton beekeeping suit has a premium blend of cotton and synthetic fabric in equal proportions. It is designed together with a round veil. It is durable and a suit with medium weight which has valuable features fit for the purpose. The suit is unisex. Its zippers are of heavy duty, it has a full-faced mesh reinforced and 8 pockets, all double stitched. This suit gives your kids freedom of movement in totality due to its elastic wrists, ankles and waist bands. Additionally, this kids bee suit is medium in weight, gives comfort in all weathers as well as playing its major role which is to offer protection against bee stings. It is available in Small, X-Small, XX-Small and is suitable for kids from age 5 to 14 years.
Pros
It has a detachable round veil that supports itself.
All the tools needed for beekeeping can basically be carried without difficulties in the 8 double stitched pockets, made of strong canvas cloth, long lasting zippers ad durable rope handles made of canvas
It is available in all sizes and caters for all sexes.
The veil gives unobstructed view given its 360 degree mesh
Because of its elastic waist, wrists and ankles, it fits perfectly, moreover, its thumb and foot elasticity offer comfort.
It comes in a variety of sizes for kids from ages 5 to 14 years.
Cons
Given the variations in body size, it can sometimes be difficult to find that perfect size that will fit your kids the best.
Doesn't have any gloves.
Check Price
Check Price (Australia)
4. BeeCastle Premium Cotton Beekeeping Suit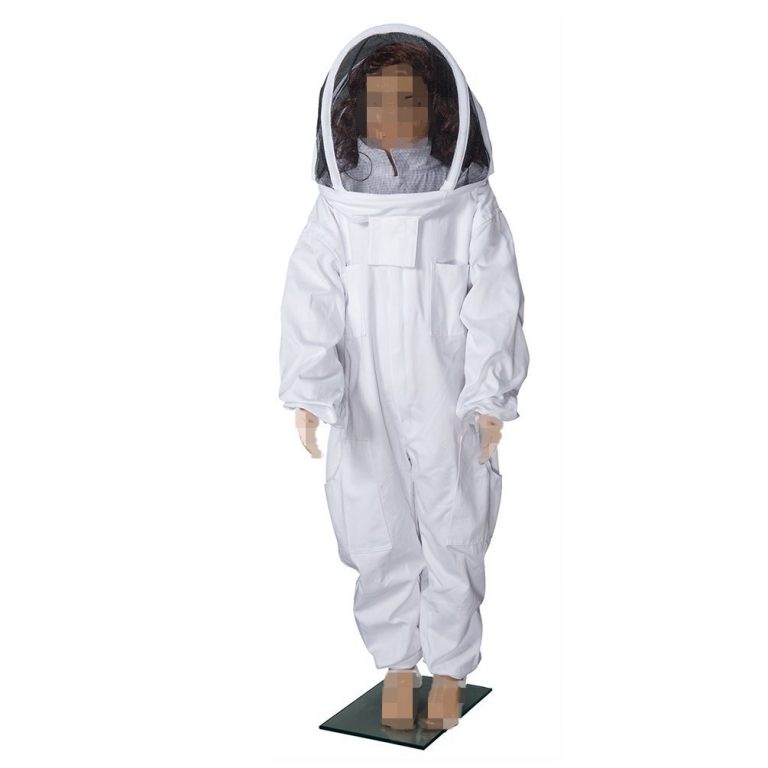 Fitted with a fencing veil and even available as an Extra large is the BeeCastle Premium Cotton Beekeeping Suit, which is specifically tailored for kids. It is a high end bee suit at an affordable price. The 100% premium cotton makes it unique when compared to other options you may think of. It suits heights of 124 to 130 cm or 4 to 4 feet 2 inches. It has an elastic waist, ankles, thumb, wrists, and foot holds. This will ensure it fits perfectly to prevent bees from sneaking in.
Pros
100% cotton.
Perfectly fitting thanks to the elastic waist, foot holds, elastic wrists, and elastic ankles.
Fencing veil.
Machine washable.
Available in Small, Medium, Large and Extra Large – all kids sizes.
Comfortable to wear.
Cons
May not be ideal for very small children.
Check Price
3. NewBee Children's Beekeeping Suit with Domed Veil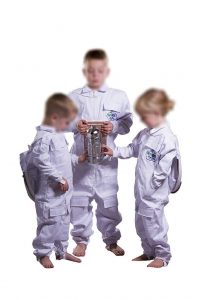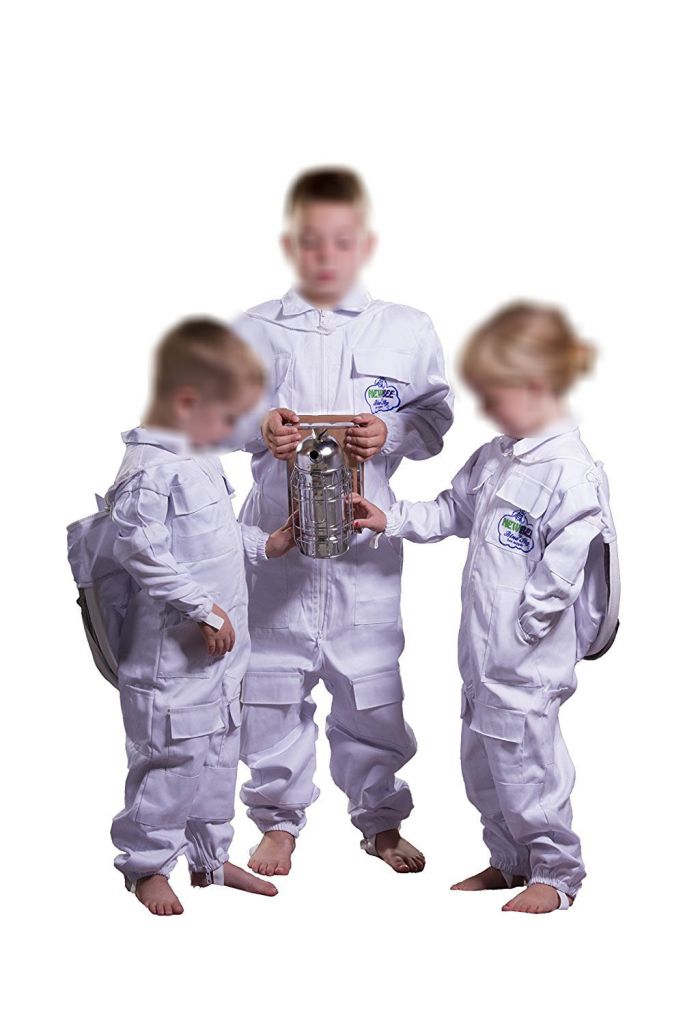 This is another great choice for your kids with its signature domed veil. It is designed with the needs of the final user in mind. You will love the design at the arm and leg area which is designed to accommodate your growing child. He or she could probably use it for a number of years before outgrowing it. The elastic wrists and thumb loops are also worth noting. Furthermore, it has plenty of pockets. It is available in Extra Large, Large, Medium, Small and X-Small – all of which are kid's sizes.
Pros
Domed veil.
Elastic wrists and thumb loops.
Many pockets.
Grows with your child.
Available in many sizes.
Excellent quality zippers.
Lightweight.
Cons
It does not come with any gloves.
Check Price
2. Bee Smart 210 Children Bee Keeping Kids Suit with Fencing Veil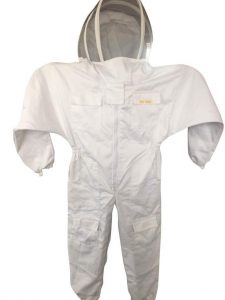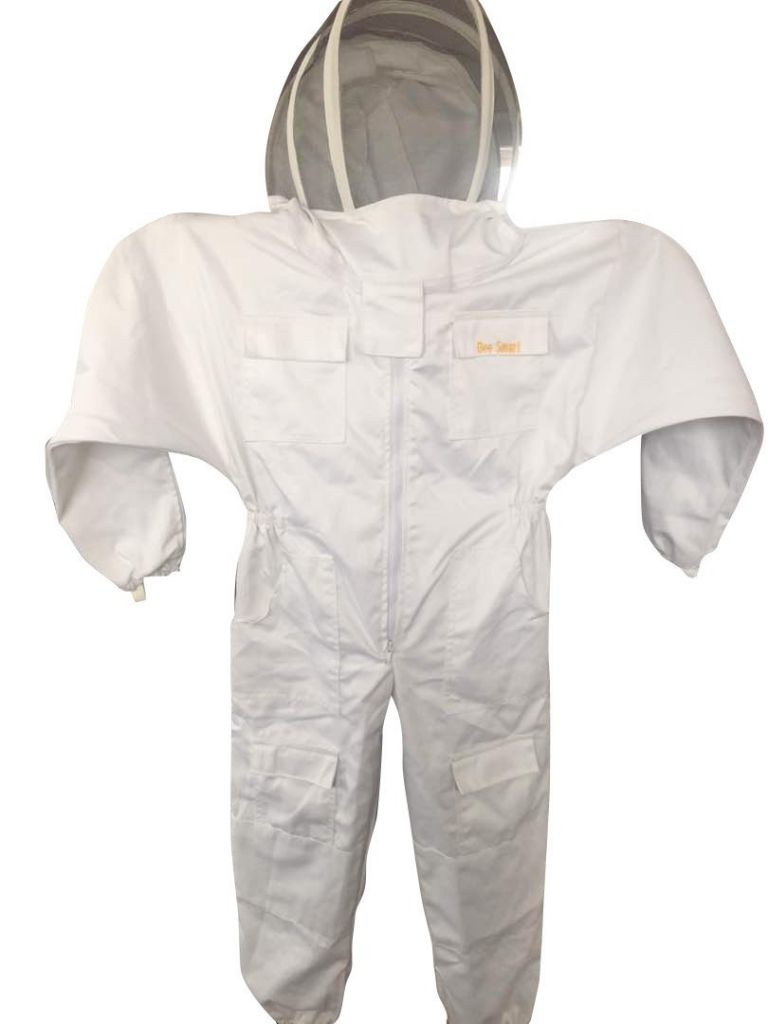 This is a well made 50% by 50% blend of poly-cotton and synthetic material beekeeping suit for kids. It is tailored to secure the kids when handling the beehive. The Bee Smart storage bag is ideal for keeping some necessaries such as hive tool and brush. It is also accommodating for other inner clothing such as jeans and a long-sleeved shirt. It is available in Large, X-Small and XX-Small, all of which are children sizes.
Pros
Good material quality.
Thumb straps and Velcro patch at zip end to keep off determined bees.
Heavy duty brass zipper and large ring tabs that make it easy to pull apart even with gloves.
Allows for inner clothing such as jeans and long-sleeved shirt.
Closes perfectly to prevent bees from sneaking in.
So many pockets.
Elastic wrists, waist, thumb and foot holds, and elastic ankles.
Cons
Check Price
1. Mann Lake CV500 Honey Maker Beekeeping Suit with Veil (Child)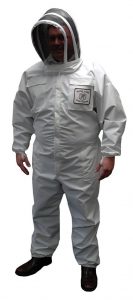 This cotton/polyester beekeeping suit for kids is similar to the full size suit only that this one offers the additional benefit of elastic waist and two-piece construction. It has all that is needed to keep your kid well secured from bee stings: elastic wrists, thumb holds, self supporting and collapsible veil, as well as elastic ankles. It comes in white. Only one size is available and that is 6 – 10.
Pros
Excellent quality material.
Double piece construction and elastic waist.
Generously cut to allow for growth.
Quality for the money.
Collapsible veil.
Hive tool pocket.
Cons
Check Price
Factors to Consider when Buying Kid's Beekeeping Suits
Temperature of the Location
Depending on the weather and the temperature of your location or environment, it is highly recommended that you consider a beekeeping suit that will give your kids the comfort that they need. This is also keeping in mind that beekeeping is a hobby, meaning that lots of hours will be spent around the hives.
Color of the Beekeeping Suit
It is important to note that bees do not cope well with dark colors. This means that when purchasing a bee suit for your kids, it is highly recommended that you go for colors that won't agitate them. Colors like lighter pastel or better still, white are highly recommended.
Quality of Material used in the Beekeeping suit
Even though it is recommended that you look for a bee suit that is lighter in weight, especially for kids, quality is paramount. This way, the kids won't feel the bee stings in the event they are stung.
Honestly, at some point while going through the bee hive, a sting is a must. The quality of a bee suit cannot therefore be compromised.
The Shape of Veil used
It is highly recommended that every kids' bee suit must have a veil. You can purchase the suit elsewhere and the veil at a different place. However, a good bee suit for kids should be inbuilt. This way, the kid doesn't have to worry whether the veil slides off or not, and doesn't have to keep adjusting to not expose the face to bees. A rounded veil however is highly preferred for kids because it keeps bees off. Kids' bee suits come with fencing or collapsible veils. If your kid wears one, it is recommended that a ball cup is put underneath the fencing veil to keep it away from the child's face.
Consider the Security Provided by Beekeeping Suit
Purchase your kid a beekeeping suit that has high quality zippers with elasticity around the waist, wrist and ankles. This will enable the suit to stay put and stays down as it is meant to. This way there are no uninvited bees getting inside clothing.
There are various beekeeping suits in the markets for kids and one of the most highly recommended ones is the Humble Bee 410. This a poly-cotton beekeeping suit with a round veil highly recommended for all age sets from kids to adults. The suit has several nice features incorporated in consideration with the mentioned features. It is white in color which maintains peace with the bees as they are not threatened. This bee suit has both foot and thumb holds meaning that it does not slide about while your kids are working on the bees.
The suit is accompanied with a round veil that stands on its own. This as we have seen earlier is very vital as it gives your kid's face the protection needed from bee stings.
Getting the right Design for the Veil
Another very important feature to look at when purchasing your kid a beekeeping suit, is the design or type of veil. Veils come in various shapes-fencing, square and round veils. With a round veil, you get a wider view, a bigger space between the protective mesh and the face. This type of veil gives room for breathing and offers excellent ventilation, more so, on hot days of summer.
On the other hand, the fencing veil is highly recommended for kids with styled hair or long bulky hair. It features a contemporary design that allows for the least contact between the head or hair and the face. If your intention is to minimize on storage space, then it is suggested that you go for a square veil. It has been made with a compact design that allows it to fold. The mesh on its front view provides a wide view whereas the mesh on the side is easily breathable.
The Size and Type of Material also Matters
You also ought to consider the type of material used, and the size of beekeeping suits you require. With regards to material, one of the most preferred in making beekeeping suits is poly-cotton. Other common materials used include ventilated and aerated material.
Aerated beekeeping suits are manufactured using a poly-cotton standard fabric. It has additional mesh and panels along the chest and back areas. Poly-cotton beekeeping suits on the other hand is of equal blend of cotton and polyester both 50% proportions.
Ventilated beekeeping suits have a design that has three layers with its most exterior layer being made of 100% synthetic material, while the core is made of foam which offers air gap between the layers of fabric.
Also, the size of your child's beekeeping suit will most definitely matter. It is vital that you purchase your child a suit that fits them properly. Jackets and gloves should fit well or else the child will experience difficulties operating in the hive. The suit purchased should not prove difficult to remove as there should be no help required.
A Final Word
Given the various kids' beekeeping suits available in the market for children, purchasing a proper suit might prove difficult. The good news is that once you are equipped with tips on how and what to look at when purchasing a suit especially for kids, you can easily find one that perfectly matches your budget and various needs. As a passionate beekeeper who wishes to pass this practice on to generations in the family, you not only want a beekeeping suit that fits excellently, but one that is also durable and is of good quality.
Which beekeeping suit(s) for kids do you think should be added to this list? Leave a comment below and let us know.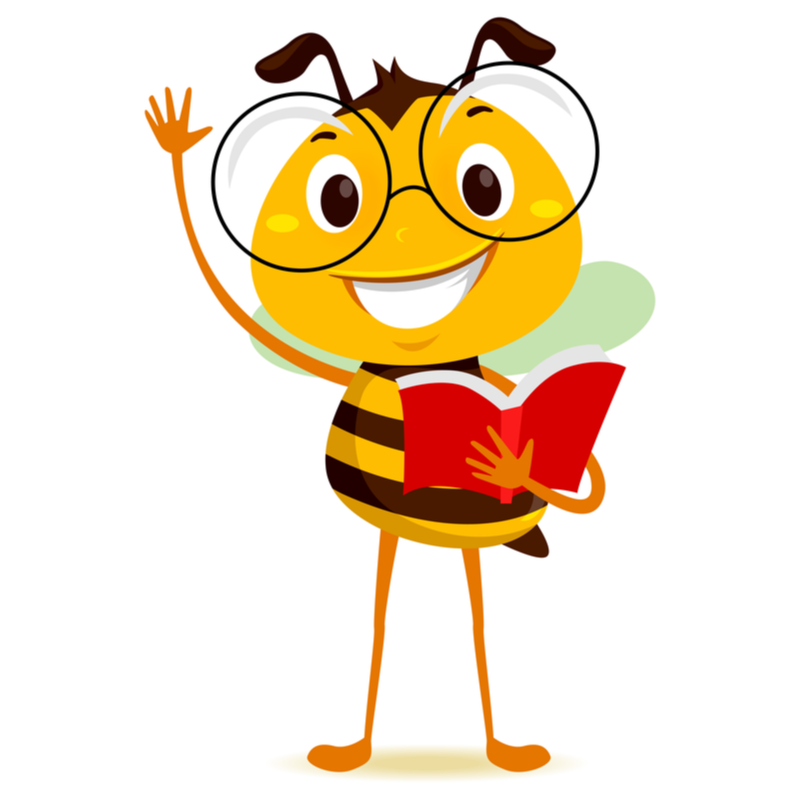 GET YOUR FREE EBOOKS BEFORE YOU GO!
As our gift to you, we're offering you our very own eBook bundle on getting started in beekeeping. Just enter your email and we'll send them to you.
No thanks, I don't want the free ebooks.