If you purchase an independently reviewed item through our site, we earn an affiliate commission. Read our affiliate disclosure.
As a new beekeeper, it can be hard to choose protective gear like a beekeeping jacket that will keep bees away. Before you start a business like beekeeping, you need to do your own research, just like you would for any other business. BeeKeepClub wants to help you get started by giving you all the information you need. If you want to keep bees, you should make sure you have the Ultra Breeze Beekeeping Jacket with Veil. We will talk at length about this protective gear and the different kinds of beekeeping jackets you can buy today.
About Ultra Breeze
Ultra Breeze is one of the best-known brands in the world that makes protective clothing for beekeepers. Bill Samples helped start it. After working on his own bee farm, he was inspired to make a better suit that is more comfortable, keeps you cool, and protects you as much as possible from bee stings. This is how Ultra Breeze came to be. Since then, it has been made better, and now it is one of the best beekeeping suit brands.
About the Ultra Breeze Beekeeping Jacket with Veil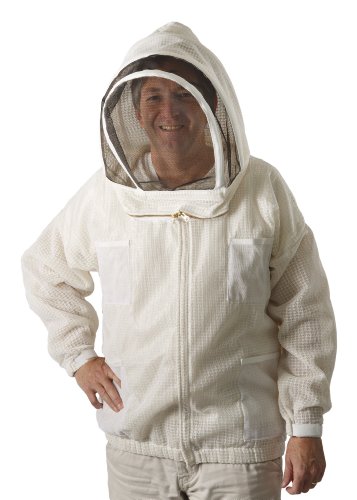 The Ultra Breeze Beekeeping Jacket with Veil is a great way to avoid getting stung by bees. It's made of three layers of breathable mesh fabric that keeps you safe from stings and lets enough air in to keep you cool. This is different from some other beekeeping jackets, which only have one layer and keep body heat inside instead of letting it escape. In the end, this can make you feel too hot, especially if you live in a warm place. Also, single-layer suits don't protect enough from stings, especially when they are wet from sweat.
With the Ultra Breeze jackets, you can enjoy beekeeping without worrying about getting stung. They have all the features you need to stay safe from bee stings. The two-way YKK brass zippers make them easy to put on and take off. The jacket has many pockets so you can carry your hive tools with you. It also has a large, detachable hood that is meant to keep the veil off your face.
The design of the Ultra Breeze beekeeping jacket is simple but good. The high-quality materials used to make these jackets in the U.S. make them very durable. They are also easy to take care of. You can wash the jacket in the washing machine on the cold setting without bleach, but you shouldn't twist or wring it because that can damage it. The hood can be washed by hand, though.
Check Size, Price and Availability of the Ultra Breeze Beekeeping Jacket
Features
It is beautifully made and has brass zippers and breathable polyester or polyester/vinyl fabric that will last longer. It is made of three layers of mesh fabric that bee stings can't get through. The design of the fabric makes it comfortable and cool to wear as well. This is not like single-layer suits that let bee stings through, especially when they are wet. Don't forget that 3-layer suits don't keep heat in and are comfortable when it's hot. Single-layer suits keep heat in and don't feel good when it's hot.
It's a ventilated jacket for beekeeping, so it's easy to wear in the summer when it's hot. This also makes it a good choice for people who live in places that are hot all year long.
Brass zippers from YKK are strong and last a long time. They make the beekeeping jacket easy to put on and take off.
The jacket has a big hood that you can take off. This keeps the veil away from your face, which is the best way to protect yourself.
As you might guess from the name, this beekeeping jacket has a veil for fencing.
This is an American-made product that was made with top-notch skill. It is made of good materials that will last longer.
Sizes are usually based on what men wear, so women should choose a size or two smaller than what they usually wear. You should also choose a size that gives you some room to bend and stretch. So, a slightly bigger one will do.
You can wash the jacket in a machine with cold water. The hood can be washed by hand, and bleach should not be used to clean the jacket. Also, you shouldn't twist or wring the fabric.
Pros and Cons
Pros
Easy to wear and remove.
It has three layers that makes it more comfortable and offers enough protection against bee stings.
It is strikingly cool and comfortably during hot seasons and hot areas.
The hood zips on nicely and closes up securely courtesy of the Velcro.
Veil offers enough space for easy viewing. It is also kept far from the face by the detachable hood. This makes it impossible for bee stings to penetrate into your face.
Its 3 layer material is not only hardy but also longer lasting.
Spacious enough to allow for movement and not too heavy to move around with.
All critical areas including the waist are well-covered given the lengthy design of this beekeeping jacket.
It comes with an elastic waist area, which is strong and comfortable.
The spacious woody allows for a ball cap to fit in if you would want to wear one.
Ideal for those who dislike hot overalls. Comfortable to wear with some extra clothes inside.
A well made American beekeeping jacket. Mesh, zippers, and stitching are top notch.
Cons
The screen on the hood is excessively fine making it hard to see through.
You have to turn for you to see sideways, as your peripheral vision is obstructed.
Check Size, Price and Availability of the Ultra Breeze Beekeeping Jacket
Further Thoughts
Those who are just starting to keep bees and want to do it for a long time should buy a good quality jacket like this one. The beekeeping jacket is made well to meet the needs of beekeepers of all skill levels, from beginners to experts. It has three layers of fabric that protect against bee stings. This mix of materials also makes sure that the jacket doesn't soak up heat but instead lets it out, which is why it is a well-ventilated beekeeping jacket. During those hot months, you can wear this and not get upset at all. This beekeeping jacket doesn't stick to your skin either, even when you sweat. It doesn't weigh much and is easy to put on. If you live somewhere cold, you can also use it because it's big enough to fit some warmer clothes.
The Ultra Breeze Beekeeping Jacket has a good hood and veil. Its hood fits well, and the Velcro doesn't leave any spaces where bees can get in and sting. The hood comes off and keeps the veil away from your head, so bees can't sting you. It will also be easy for you to wear a ball cap if you need to. The hood can also be washed by hand.
Available Sizes of the Ultra Breeze Beekeeping Jacket
This beekeeping jacket is one of the best because it comes in a variety of sizes. It is recommended that you buy a size or two bigger so that you have room to move and bend. This bee jacket, on the other hand, was made guided by men fit. If you are a woman, you should choose a size that is one step smaller.
Many people wonder if the size of the jacket for beekeeping is important or not. Well, if you get a jacket that fits you well, you can enjoy working with the bees. So, it's a good idea to buy a jacket from a company that has a lot of options, not just for jackets but also for other accessories like beekeeping gloves.
Check out the list below to get an idea of which size will fit you best. If you are in between sizes, choose the bigger one so you can bend and stretch while working with your bees.
X Small (5-feet tall, 100-pound)
Small (5-feet 5-inch tall, 130-pound)
Medium (5-feet 8-inch tall, 160-pound)
Large (6-feet + tall, 210-pound)
X Large (6-feet + tall, 260-pound)
XX Large (290+ -pound)
How to Care for the Ultra Breeze Beekeeping Jacket
No matter how good the gear is, it will wear out over time. But how far your beekeeping suit can take you depends on how you treat it and take care of it. Here are some tips from beekeepers on how to take care of your suit:
Regular inspection – Check the suit every time before you wear it. Check for any tears, holes, seams, or rips. A mistake can lead to some serious problems.
Identify holes – Once you've put on the suit, look for holes or gaps that bees could fit through. Also, the zippers should be strong and fit well. Also look at the veil. This should never touch your face and give you a wide view from the front, sides, and back.
Proper storage – The beekeeping suit should be kept in the right way. You can hang it up somewhere safe, but don't put it under anything heavy. You should also stay away from sharp objects and places where insects that eat fabric are common.
Cleaning correctly – When it's time to clean your beekeeping suit properly, follow the instructions. The beekeeper's veil should only be washed by hand, and the suit should be washed in cold water in a washing machine. Avoid bleach and dry the suit in the shade if you can. On the other hand, beekeeping gloves should be washed by hand in cold water and dried in the shade. You should also never use bleach or a dryer on the gloves.
Conclusion
The Ultra Breeze Beekeeping Jacket has been listed among our rankings of the best ventilated bee suits. It is a suit that provides you maximum protection from bee stings. It has not only been designed to protect you from stings, but it also designed with an outstanding workmanship. Its ventilated fabric allows sufficient air to seep in and therefore keep you cool and comfortable. It is one of those jackets that have been designed to endure. If you desire a high quality beekeeping jacket then look no further.
Do you own the Ultra Breeze Beekeeping Jacket? Leave a comment below and let us know what you think of it.
Check Price
Check Price (Australia)