Thanks for visiting our website. For us to continue writing great content, we rely on our display ads. Please consider disabling your ad-blocker or whitelisting our website before proceeding.
If you purchase an independently reviewed item through our site, we earn an affiliate commission. Read our affiliate disclosure.
As a beginner beekeeper, it can be quite daunting to choose any bee protection gear such as a beekeeping jacket. Just like with any other enterprise, you need to carry out own research before committing to such a business such as beekeeping. BeeKeepClub aims to provide you with all the relevant information you need to get started. The Ultra Breeze Beekeeping Jacket with Veil should be on your must-have list if you want to engage in beekeeping. We will review this protective gear extensively, as well as the various types of beekeeping jackets available in the market today.
About Ultra Breeze
Ultra Breeze is one of the leading global brands that manufacture the some of the best beekeeping protective clothing. It was co-founded by Bill Samples who, after working on his own bee farm, got inspired to design a better suit that is more comfortable, cool, and offers maximum protection against bee stings. This led to what we now call Ultra Breeze. It has undergone refinements since then and it is now one of the best beekeeping suit brand.
About the Ultra Breeze Beekeeping Jacket with Veil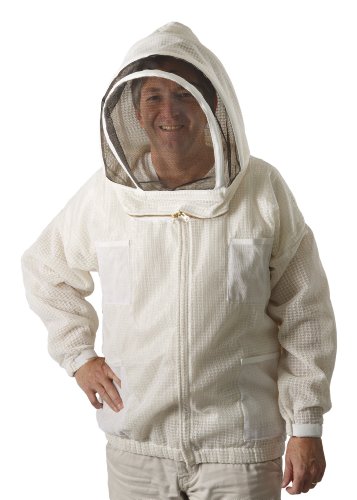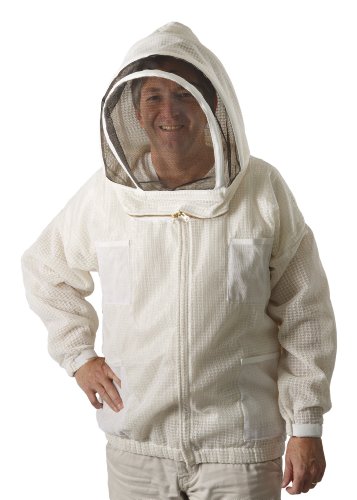 The Ultra Breeze Beekeeping Jacket with Veil offers outstanding protection from bee stings. It is made of three layers of ventilated mesh fabric that not only protects you from stings, but also offers sufficient breathing space to keep you cool. This is unlike other beekeeping jackets that only have a single layer which traps the body heat instead of dissipating it. This ultimately can make you uncomfortably hot, especially if you in an area with a warm climate. Furthermore, single layer suits do not provide enough protection against stings, especially when wet with sweat.
You can comfortably enjoy your beekeeping experience with the Ultra Breeze jackets since they come with the features required for maximum protection against bee stings. They are easy to put on and remove courtesy of the 2 way YKK brass zippers. The jacket features multiple pockets so that you can carry your hive tools around with you, and it has a roomy detachable hood which is designed to keep the veil off your face.
The Ultra Breeze beekeeping jacket features a simplified, yet excellent design. These American-made jackets have been designed using high quality materials so they are quite durable. They are quite easy to maintain too; the jacket can be machine washed on the cold setting without bleach, however it should not be twisted or wrung, as this can damage it. The hood can be hand washed however.
Check Size, Price and Availability of the Ultra Breeze Beekeeping Jacket
Features
It is superbly designed and comes with brass zippers, longer lasting ventilated fabric comprised of polyester or polyester/vinyl. It is made of 3 layer mesh fabric that makes it impossible for bee stings to get through. The fabric design is also comfortable and cool to wear. This cannot be compared to single layer suits that can allow bee stings to especially when wet. Remember, 3 layer suits do not trap heat and are comfortable when hot. Single layer suits trap heat and are not comfortable when hot.
It is a ventilated beekeeping jacket meaning it is comfortable to wear during hot summer months. This also makes it one of the best choices for those who reside in areas that are hot throughout the year.
The YKK brass zippers are strong and durable. They make it easy to put on and remove the beekeeping jacket.
The jacket has a spacious hood that is detachable. This helps keep the veil away from your face for best protection.
As its name suggests, this beekeeping jacket has a fencing veil.
This is American made product subjected to top level workmanship. It is made of high quality material that is longer lasting.
Its sizing is ideally men-guided and therefore women should choose a slightly smaller size when compared to what they normally wear. It is also wise to choose a size that allows some space for bending and stretching. A slightly larger one will thus suffice.
The jacket is machine washable with cold water. Its hood can be hand washed and bleach is not recommended when cleaning the jacket. You should also avoid twisting or wringing the fabric.
Pros and Cons
Pros
Easy to wear and remove.
It has three layers that makes it more comfortable and offers enough protection against bee stings.
It is strikingly cool and comfortably during hot seasons and hot areas.
The hood zips on nicely and closes up securely courtesy of the Velcro.
Veil offers enough space for easy viewing. It is also kept far from the face by the detachable hood. This makes it impossible for bee stings to penetrate into your face.
Its 3 layer material is not only hardy but also longer lasting.
Spacious enough to allow for movement and not too heavy to move around with.
All critical areas including the waist are well-covered given the lengthy design of this beekeeping jacket.
It comes with an elastic waist area, which is strong and comfortable.
The spacious woody allows for a ball cap to fit in if you would want to wear one.
Ideal for those who dislike hot overalls. Comfortable to wear with some extra clothes inside.
A well made American beekeeping jacket. Mesh, zippers, and stitching are top notch.
Cons
The screen on the hood is excessively fine making it hard to see through.
You have to turn for you to see sideways, as your peripheral vision is obstructed.
Check Size, Price and Availability of the Ultra Breeze Beekeeping Jacket
Further Thoughts
Those starting out in beekeeping and would love to stick to it for a while should invest in a good quality beekeeping jackets such as this. The well-made American beekeeping jacket is designed to meet the needs of all skill levels, starting from beginner to the expert beekeeper. It is made of 3 fabric layer that act as a buffer against bee stings. This material combination also ensures the jacket does not absorb heat but dissipates it, no wonder this is a ventilated beekeeping jacket. You can wear this during those hot months and never feel agitated at all. This beekeeping jacket does not also stick to the skin when you sweat. It is lightweight and comfortable to wear. If you reside in cold areas then you can also use it since its spacious enough to accommodate some inner clothing.
The hood and veil of the Ultra Breeze Beekeeping Jacket are well-made. Its hood with its Velcro fits well without creating gaps that allow bees to sneak in and sting.  The hood is detachable and keeps the veil away from your head making it impossible for bees to sting. You will also find it easy to wear a ball cap if necessary. You can also wash the hood by hand.
Does Size Matter?
The various size options available for the user makes this beekeeping jacket one of the best. It is advised that you purchase a slightly bigger size so as to allow for movement and bending. This bee jacket design is however guided by men fit. If you are the female counterpart then you should choose one step smaller size.
Many wonder whether the size of the beekeeping jacket matters or not. Well, you can enjoy working with the bees if you get a jacket that fits you properly. Therefore, it is wise to buy a jacket from a manufacturer that has a wide range of options when it comes to not only the jackets, but also other accessories such as beekeeping gloves.
Refer to the following listing so you can have an idea of the size that will fit you best. If you fall between sizes, it is best select the larger size to allow for bending and stretching as you work with your bees.
X Small (5-feet tall, 100-pound)
Small (5-feet 5-inch tall, 130-pound)
Medium (5-feet 8-inch tall, 160-pound)
Large (6-feet + tall, 210-pound)
X Large (6-feet + tall, 260-pound)
XX Large (290+ -pound)
How to Care for the Beekeeping Suit
Any protective wear no matter its quality will wear out with time. However, the way you handle and care for your beekeeping suit will determine how far it can take you. Here are some expert tips on how you can care for your beekeeping suit:
Regular inspection – check the suit every time prior to wearing it. Check out for holes, seams, rips, or any tears.  An oversight can have some serious repercussions.
Identify gaps – once you have worn the suit check out for bee-sized gaps or any spaces that can allow bees to sneak in. The zippers should also be hardy and tight fitting. Check out the veil as well. This should never touch your face and should provide a wide view on both sides and the front.
Proper storage – the beekeeping suit should be well stored. You can hang it in a safe location and avoid keeping it underneath heavy items. You should also avoid contact with sharp objects and areas where fabric-eating insects are common.
Proper cleaning – once it is time to have your beekeeping suit properly cleaned, follow the recommended instructions. The beekeeping veil should be hand washed only and the suit machine washed in cold water. Avoid bleach and it is best to dry the suit in a shade. The beekeeping gloves in the other hand should be hand washed in cold water and also dried in a shade. Never use a bleach or dryer on the gloves as well.
Conclusion
The Ultra Breeze Beekeeping Jacket has been listed among our rankings of the best ventilated bee suits. It is a suit that provides you maximum protection from bee stings. It has not only been designed to protect you from stings, but it also designed with an outstanding workmanship. Its ventilated fabric allows sufficient air to seep in and therefore keep you cool and comfortable. It is one of those jackets that have been designed to endure. If you desire a high quality beekeeping jacket then look no further.
Do you own the Ultra Breeze Beekeeping Jacket? Leave a comment below and let us know what you think of it.
Check Price
Check Price (Australia)