If you purchase an independently reviewed item through our site, we earn an affiliate commission. Read our affiliate disclosure.
Given the plethora of beekeeping suits available in the market, it can never be easy for anyone to decide on what to buy. Fortunately, with a few tips you can be able to select a suit that meets your needs and budget. A beekeeping suit such as the Humble Bee 410 Polycotton Beekeeping Suit with Round Veil has been designed with the needs of the beekeeper in mind. It is made of excellent quality material in addition to a variety of key features.
Back to the Basics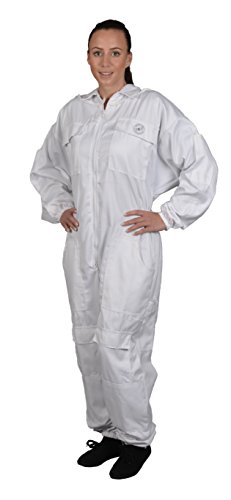 Good quality beekeeping suits should have the required amount of pockets. All Humble Bee suits have been designed with up to 8 or more pockets. You will get 2 pockets on the legs, other 2 on the chest, 2 hive tool pockets on the sleeves, as well as 2 double-stitched pockets on the waist area. Furthermore, the veils are always removable therefore you can remove them when you want to wash the suits. Other great features include: elastic thumb and foot for perfect fitting, Velcro flaps for covering the zipper tabs, and brass zippers that are durable.
Get the right Veil Design
Other major things to consider when buying your beekeeping suit is the type or design of the veil. You can choose a round veil, square veil, or fencing veil. The round veil gives you a wide view and provides a lot of space between the face and the protective mesh. It is highly breathable and offers excellent ventilation especially on hot summer days. The fencing veil on the other hand features a modern design that guarantees minimal contact between the veil and your hair and head. This is ideal for the beekeeper that has long or styled hair. For those who need to minimize storage space, the square veil is a perfect choice. It has been designed with a compact folding design for easy storage. Its front mesh offers a wide field of view and the side mesh is highly breathable.
Type of Material and Size Matters
You also have to evaluate the material type and size of your beekeeping suit. As for the material, the most common material in beekeeping suits includes poly-cotton, aerated, and ventilated. The aerated suits are made using standard poly-cotton fabric with additional panels and mesh along the back and the chest area. The Poly-cotton suit is made of around a 50/50 blend of polyester and cotton. As for the ventilated suits, they have a 3-layer design, featuring 100% synthetic on its exterior and a foam core that provide an air gap between its 2 fabric layers.
The size of your beekeeping suit also matters and therefore you need to get a suit that fits you properly. The gloves and jackets should be well-fitting otherwise you may have a difficult time when working on your hives. The suit should also be easy to remove with no need for help.
Leg bands are also available to complement the beekeeping suit. These act as a barrier to bees that fall on the ground around the beekeeper. They will either fly back up or simply find their way up your legs by climbing. Some may sting your ankle or leg. It will be even worse if the bee manages to climb way up through your pants into key areas. You therefore have to consider a leg band or choose a bee suit with elasticized ankles and wrists. As a general rule, ensure what your wear has all its openings sealed. Remember bees can easily find any opening. The outfit should therefore be well sealed. All cuffs should never be left open.
The texture of the material also has an impact on how bees will respond to the beekeeper. Some of the materials that seem to attract the least attention in bees are smooth materials such as nylon. They are quite challenging to grab when compared to rough materials like wool and fleece.
How about Footwear?
Bees can be reared in almost anywhere these days. You can install a few hives in your backyard, root top, garden, or ranch. It is important to note that this is one of those ventures that require good quality footwear. You will work on rugged grounds at times and in other instances lift heavy wooden boxes. These may be full of honey and bees. In other cases, you collect swarms and this means you have to use a ladder. Such an activity requires the boots that are comfortable and offer best support for legs, feet and ankles.
You can use boot laces to seal all openings or tuck the pants into the footwear. The high top boot design is popularly used by beekeepers since it does not expose the ankles. You can also seal cuffs around the wrists using a duct tape.
What to Wear Underneath
This is an often ignored aspect of beekeeping. Most people opt for clothing that are thick and long. This is added to thick socks just in case stubborn bees try to look for their way through the feet. This may be one of the ways of staying protected from bees but not a wise option. The bee suit in itself gives you the required protection from bee stings. Therefore, you are already well protected when you have a good quality beekeeping suit. The clothes underneath should not only allow you work comfortably but should also be bearable to have for an entire day.
Color of the clothing is also an important factor to consider as a beekeeper. You should avoid dark colors since bees become more aggressive when subjected to such colors. They are however lulled by light color clothing. You should also check out material composition of the clothing in question. Some of the materials that spark the aggressiveness in bees include those made of animal products like wool, fur huts, or leather. These tend to be heavier by design making it almost unbearable to wear during hot seasons.
Beekeeping Gloves
These are essential gear in beekeeping. The hands come into contact with bees and are therefore more prone to bee stings. They are an easy target for aggressive bees especially when you hold honeycomb frames. Most beekeeping gloves are made of leather and have a design that runs over to the elbows. The rubber dishwashing gloves can also suffice as beekeeping gloves. Some may even use latex surgical gloves when dealing with bees. Most expert beekeepers work on their hives without gloves. But for beginners, it is prudent to use gloves and once you are accustomed to handling bees you can do away with gloves. Some expert beekeepers even wear only a veil and a plain shirt and jeans when handling bees. However, never try this if you are just starting out in beekeeping.
Check Size, Price and Availability of the Humble Bee 410 Beekeeping Suit
About the Humble Bee 410 Polycotton Beekeeping Suit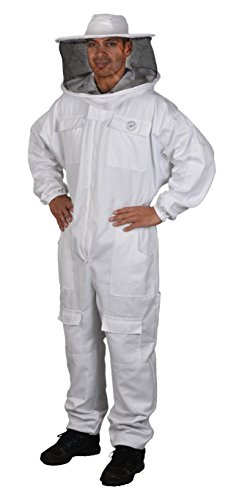 The Humble Bee 410 Polycotton Beekeeping Suit with its round veil has been designed using a premium blend of 50/50 synthetic fabric and cotton. It is a durable medium-weight suit that comes with some amazing features. It is unisex and has heavy duty zippers, a reinforced full-face mesh, and 8 double-stitched pockets. You will also full freedom of movement since its waistband, ankles and wrists have been designed with an elastic touch. Furthermore, the suit is medium weight and comfortable enough to keep you safe from stings in all weather conditions.
Features
It has a self-supporting round veil that is removable.
It features 8 pockets for carrying all your stools. The pockets are built using tough canvas cloth alongside a durable zipper and strong canvas rope handles.
It is a medium size unisex beekeeping suit for men and women.
It has a 360 degree mesh that ensures unobstructed viewing.
Product dimension are 16.3 x 16.1 x 2.9 inches. It weighs about 3.6 pounds with a shipping weight of 3.6 pounds.
Is color is linen white.
Perfectly fitting thanks to its elastic wrists, waist, and ankles. The foot and thumb are also elastic to keep it comfortably in place.
Pros and Cons
Pros
Comfortable in all weather conditions.
8 pockets available for additional convenience.
Unisex suit that is perfectly fitting.
Durable material.
Has an excellent mesh that gives an excellent view without any obstruction.
Cons
Difficult to get the right size.
Doesn't come with any beekeeping gloves.
Check Size, Price and Availability of the Humble Bee 410 Beekeeping Suit
Further Thoughts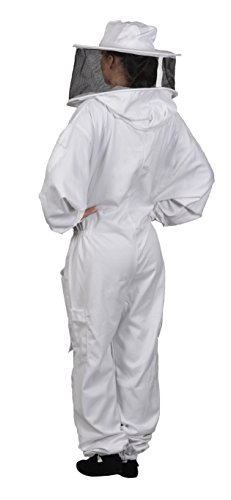 I like that the Humble Bee 410 Polycotton Beekeeping Suit has an elastic band on each of its arms that runs over the thumb to hold the material in place. I found the polycotton material blend is of excellent quality and very comfortable. The suit is also very affordable, especially compared to other brands on the market.
Conclusion
As a beekeeper, you desire a beekeeping suit that is not only excellently fitting, but is also made of high quality material and is durable. The Humble Bee 410 Polycotton Beekeeping Suit has been designed using high quality material with no compromise on perfectly-fitting features. It is one of those suits that have been tailored to suit all weather conditions. It is a great fit for men and women and it comes in various sizes. This is one of those beekeeping suits I never hesitate in recommending to a friend.
Do you own the Humble Bee 410 Polycotton Beekeeping Suit? Leave a comment below and let us know what you think of it.
Check Price
Check Price (Australia)