Thanks for visiting our website. For us to continue writing great content, we rely on our display ads. Please consider disabling your ad-blocker or whitelisting our website before proceeding.
If you purchase an independently reviewed item through our site, we earn an affiliate commission. Read our affiliate disclosure.
Goodland Bee Supply manufactures and sells beekeeping equipment of various types in the USA. It promises good quality and long life of all its manufactured products. The Goodland Bee Supply GL1STACK deep brood box is one of their offerings. It is a 10-frame, deep brood box for Langstroth beehives. It is made with beginner beekeepers setting up their first beehives in mind. The beehive box comes as a complete package that can allow you to start housing bees as soon as you want.
About the Goodland Bee Supply Gl1STACK Deep Brood Box
This beehive box is largely made using wood and some plastic. The package consists of a bottom board, an entrance reducer, a beehive box, beehive frames, an inner cover and a telescoping top cover. The beehive frames each black plastic foundation installed in them. This makes the Goodland Bee Supply GL1STACK a complete beehive that can be used to rear a honeybee colony. The black foundation helps you see bee brood better and makes sure that drawn comb does not break and fall off the frames. All parts of the box are made using pine wood, except for the plastic foundation.
Design
In manufacturing this brood box stack, Goodland Bee Supply uses kiln-dried pinewood. The wood is great for honeybees. They are comfortable living in a pine beehive and carrying out their various beehive activities. The included entrance reducer helps with boosting beehive security for the honeybee colony. It also helps with regulating the ventilation of the beehive.
Components
The various functions of the included parts are:
Bottom board
The bottom board provides a base on which the beehive is stacked. It also allows for a bottom entrance into the beehive. The bottom board also comes with an entrance reducer.
Deep brood beehive box
The beehive box included in this stack is of the deep size. It is great for use by bees in rearing their brood. The box holds frames and the covers of the beehive in place.
Inner cover
This is a block of wood that creates dead space between the beehive cavity and the top cover. It helps with regulation of temperatures in the beehive and prevents bees from propolizing the top cover onto the beehive box.
Telescoping lid
This is the top and outermost cover of the beehive. It makes sure that rainwater and snow does not get into the beehive. It also prevents direct sunlight from entering the beehive.
Beehive frames
These provide a surface on which honeybees attach honeycomb. The frames included in this stack have foundation installed in them. You should make sure that the foundation is well installed and coated with some beeswax so that it is readily accepted by honeybees.
Assembly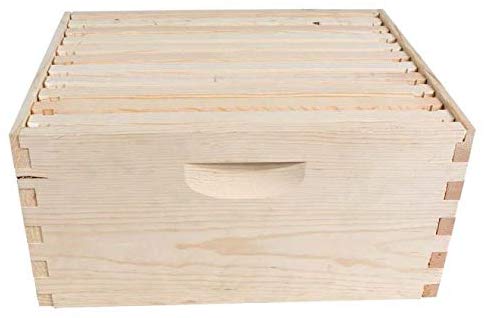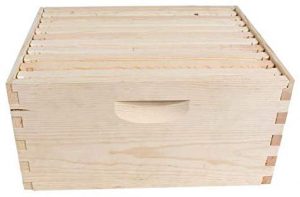 The design of this beehive box stack and the included items show careful thought and consideration of the beekeeper's needs. Goodland Bee Supply ships the beehive box and most parts unassembled. This helps with reducing the risk of damage during transit. Once you receive the package with the parts of the beehive box stack, you need to assemble them.
During assembly of this starter stack beehive box, it is alright to use brad nails or some screws on the wooden joints. They add strength to the joints, improve hardiness of the box and increase the lifespan of the beehive stack. For beekeepers with experience using wood glue, you can use some for the additional strength it renders to wooden joints. If using wood glue, make sure it does not run or seep from the joints.
Check Price and Availability of the Goodland Bee Supply Gl1STACK Deep Brood Box
Pros and Cons
Pros
Kiln treated pine wood is used to make the beehive box and all its parts. This makes the box easy to work with for bees and the beekeeper too. Pinewood is easy to work with and does to split easily during nailing and other operations. This is important because the it ships unassembled. Using wood that easily splits would make assembly a risky undertaking for inexperienced beekeepers.
This beehive box stack is a complete solution for beekeepers that are either starting their beekeeping operation or adding the number of beehives in their apiary. The stack includes all that you would need to start a colony. Further expansion of the beehive requires additional boxes and optional beehive parts such as a queen excluder.
Cons
This Goodland Bee Supply starter stack contains only one beehive box. The box is great for brood but may not be able to hold a large honeybee colony comfortably. For starter package bees, the box is adequate for a short period of time. You need to add another box for more space soon after the honeybee colony is established.
You need to have the right tools and possibly some experience assembling Langstroth beehives. This deep box stack requires assembly after purchase, and unfortunately no instructions are included. The reason it is shipped unassembled is understandable, but beginner beekeepers have a tough time putting everything in the stack together properly.
Beekeepers that are against the use of foundation or plastics in beekeeping cannot use this stack. Goodland includes black Pierco foundation made using plastic in this brood box kit. You can remove the foundation and discard it so that you remain with the rest of the stack and enjoy the full benefits of owning this starter beehive stack.
A Final Word
Goodland Bee Supply's long history in beekeeping seems to work to the company's advantage with the Goodland Bee Supply GL1STACK deep brood box. They've definitely paid attention to important details. This makes the stack a recommendable purchase for beekeepers that are starting a new beehive. Even minor details that would be missed, such as handles on the box, are all addressed in this beehive box stack.
The major challenge with this deep brood box stack is the use of plastic foundation in the beehive frames that are included in the package, which may not be to the liking of naturalist beekeepers. Overall, this is a great addition to your beekeeping operation. It does not disappoint. The Goodland Bee Supply GL1STACK deep brood box delivers on its promises to your great satisfaction.
Do you own the Goodland Bee Supply Gl1STACK Deep Brood Box? Leave a comment below and let us know what you think of it.
Check Price