If you purchase an independently reviewed item through our site, we earn an affiliate commission. Read our affiliate disclosure.
There are various methods available to beekeepers to control hive beetle populations in their beehives. Hive beetles can fly from a single hive and spread to the entire apiary, as such, they are a nuisance that must be swiftly dealt with. Using hive beetle traps are a common control method in beekeeping. It can be easily factored into your integrated pest management process. This article features the best hive beetle traps for beehives. They are useful for both beginner and experienced beekeepers finding their hives infested by these pests.
Hive beetles are an invasive pest in beekeeping and are generally categorized into small and large. The small hive beetle is the more popular one in beekeeping. It differs in size with the large hive beetle which requires herbivore faeces and decomposing plant material as the favoured environments to lay its eggs. These invasive beetles in hide in places not easily accessible by honeybees in a beehive. The beetles may get trapped by bees but can in fact trick worker bees into feeding them. Large hive beetles can be prevented from entering the hive by using entrances that are too small for them but big enough for honeybees.
Can Honeybee Colonies Fight Hive Beetles?
Strong and healthy honeybee colonies are able to keep their beehive clear of hive beetles. Weak colonies however, are overwhelmed by the pests. The beekeeper must step in to help the hive if the colony is young or had swarming happen in its recent past. Other beekeeping management mispractices may also lead to the colony being weak, and it is the duty of the beekeeper must help the colony fight the hive beetle infestation.
When a hive beetle population becomes too large in a beehive, it can cause sudden, catastrophic problems. Hive beetles can cause the honeybees to abscond the beehive. The beetles defecate all over in the beehive (even in honey) and lead to the formation of yeast. This yeast leads to fermentation of honey and the bees leave for a less stressful environment.
Hive beetle traps go a long way in preventing the beekeeper from suffering losses in their beekeeping operation.
What to put into Hive Beetle Traps?
In a beehive, hive beetles are often to be found clustered in corners or on your beehive frames. Hive beetle traps use different mechanisms to reduce hive beetle populations. They are also used in different sections of the beehive. There are hive beetle traps that go on the top of the beehive, in the middle section among the frames and in the bottom section of the beehive. They are suitable for use in many types of hives including the popular Langstroth beehive.
Most hive beetle traps use oil to kill the beetles. Some traps need you to place bait inside it. There are small hive beetle traps that kill the beetles by starving them. They hold the beetle inside the trap until it dies due to not reaching food. Beekeepers should know the name of the trap they are using and if they need to add anything to it. Among hive beetle traps, there are those that are disposable and these generally do not need the beekeeper to add anything to them.
Overview of the Best Hive Beetle Traps
10. Beehive Beetle Collector Trap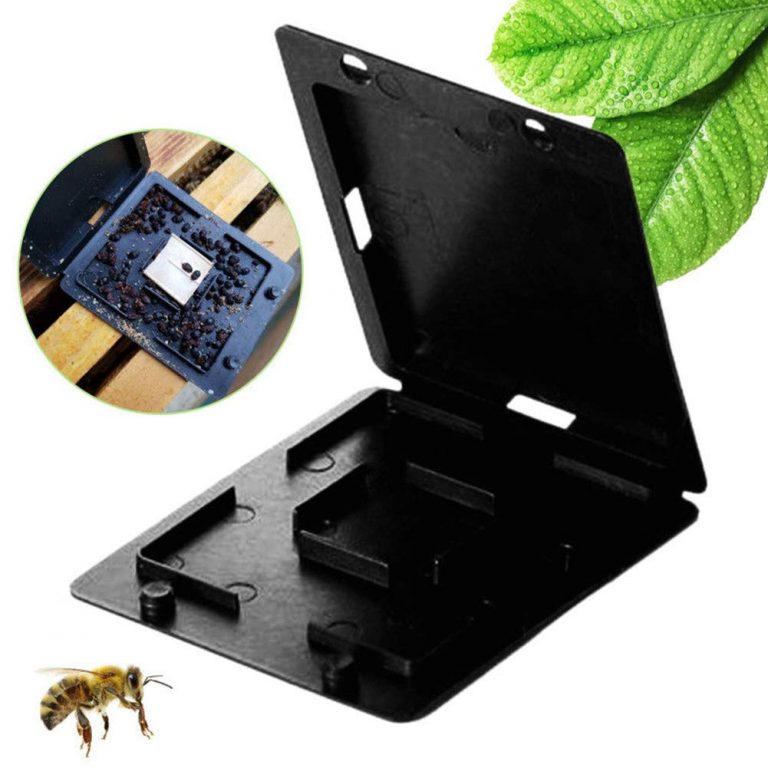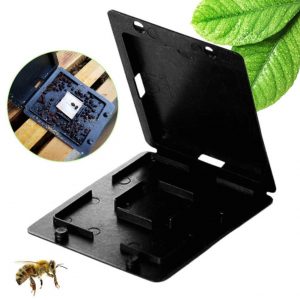 This beehive beetle fly trap is an insect capture case designed to catch hive beetles. It attracts the beetles and traps them. The trap is durable and can be used over a long time in your beehives. It can be emptied by opening it up. The trap is easy to open and close. It is safe for use around children, pets and honeybees. Trapped beetles are inside the trap, so honeybees cannot reach them. This hive beetle trap is colored black and comes in a pack of 1, 4 or 8. The pack of 8 are enough for use in many beehives and in any season when you see hive beetles invading your beehives.
This beetle trap is great for helping beekeepers control small hive beetles. It requires the beekeeper to use bait such as check-mate in the middle of the trap. You do this while holding the flap of the trap open and then close it. This bait in this hive beetle trap attracts small hive beetles into the trap. The trap is placed on top of beehive frames. Bees harass hive beetles into the traps you place in individual beehives. The beetles also seek refuge in the dark space provided by the trap.
The small hive beetle trap promises beekeepers excellent control of hive beetle infestations. The trap is harmless to bees since it does not contain or make use of any pesticides and poisons. It measures 90 x 76 x 7 millimeters.
Check Price
9. Minelife Beehive Beetle Trap (10-Pack)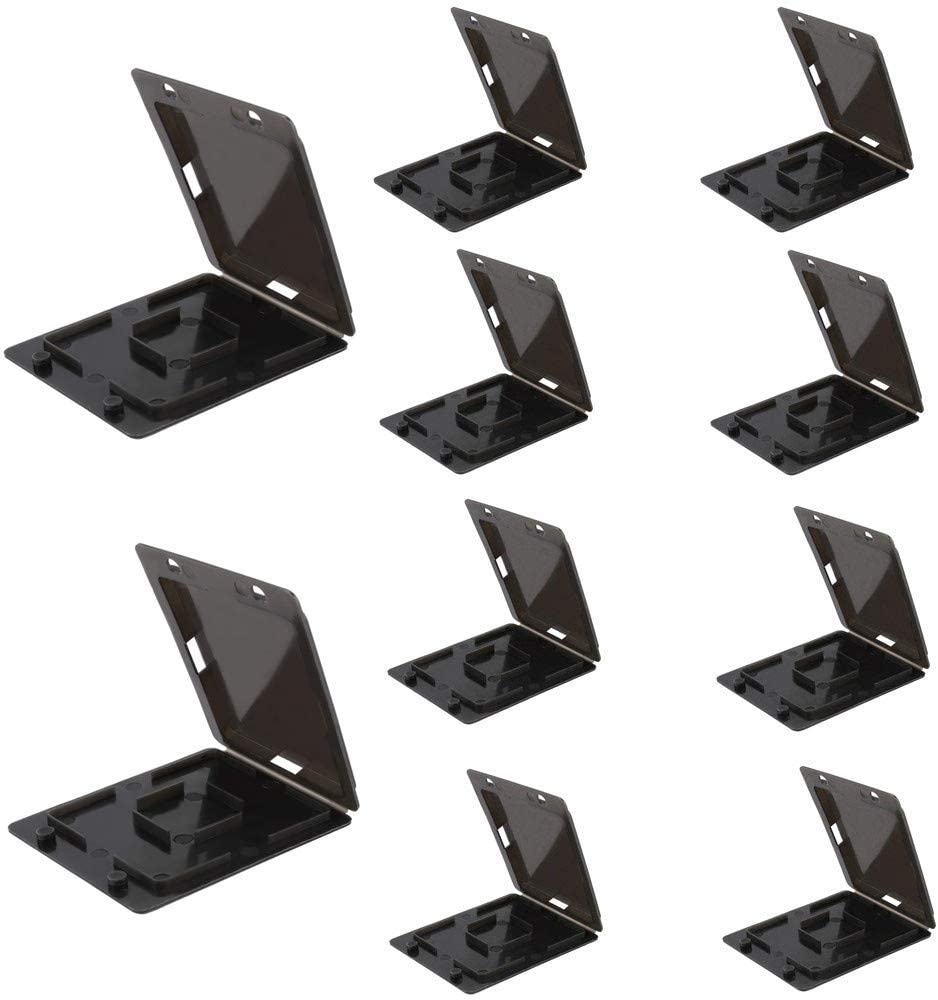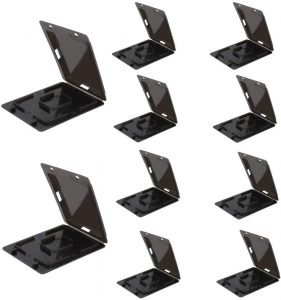 Control small hive beetles in your beekeeping operation with the Minelife Beehive Beetle Traps, made with non-toxic materials. That's right, these traps are made using food safe plastic that does not harm honeybees or humans consuming beehive products. The traps comes in a black color which is great for mimicking the dark enclosed spaces that small hive beetles love to hide in. A folding design used to make keeps the trap very slim. This makes small hive beetles see the trap as a narrow space in the beehive, similar to the crevices where they love to hide.
To fit into the small spaces left in beehives, this trap measures 2.99 inches x 3.54 inches when closed. Small hive beetles wandering into the trap, or chased into the trap by honeybees, enter easily but cannot get out. Openings into the trap are too small for honeybees, so they do not gain access into the trap and get caught. Entrances into the trap are also designed to be one-way for maximum effectiveness.
This trap is designed in a modern style so it is easy to place in a beehive and remove it when you need to. Both experienced and beginner beekeepers are able to use it with no problems. You may use this trap with oil and other substances such as vinegar to speed up the death of small hive beetles caught in the trap. The Minelife Beehive Beetles Traps are reusable. Once it has caught some hive beetles, you only need to empty it and clean it then put it back into the beehive to continue trapping small hive beetles. It is durable and the hinge strip of the trap is capable of opening and closing many times without getting damaged.
Check Price
8. American Bee Supply Beetle Blaster Trap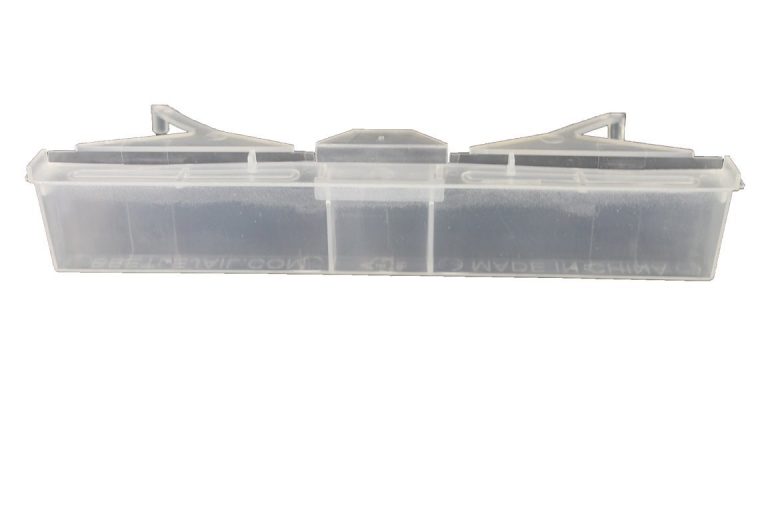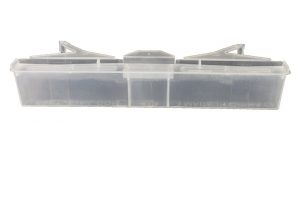 The bee blaster trap is a small hive beetle trap made by American Bee Supply. It is sold in a pack of 10. The traps are small and as such fit into small spaces. The bee blaster trap for small hive beetle control is best used above the frames of brood boxes. This allows the trap to catch many small hive beetles in a short period of time. Beekeepers are free to use this trap whenever they detect small hive beetles in their beehives.
In heavy infestations, you can use two of these traps per brood box in your beehive stack. The traps are placed between the 1st and 2nd frames, and between the frame 9th and 10th frames for a 10-frame Langstroth beehive setup. In the 8-frame Langstroth beehives, place your second beetle blaster trap between the 7th and 8th frames. The beetle blaster trap is a disposable. It cannot be used repeatedly in your beehive. Once it is full of trapped small hive beetles, remove it from the beehive and discard it. Make sure to properly dispose of your beetle blaster traps.
This small hive beetle trap is made in the USA. It is constructed in an effective design. Materials used to make this trap are also high quality. Good craftsmanship of the traps makes them popular as one-time small hive beetle control method among beekeepers. Beetle blaster traps are safe for your honeybee brood. They can be placed in the hive to control small hive beetles in any season including during honey-flow.
Check Price
7. HunterBee Reusable Small Hive Beetle Trap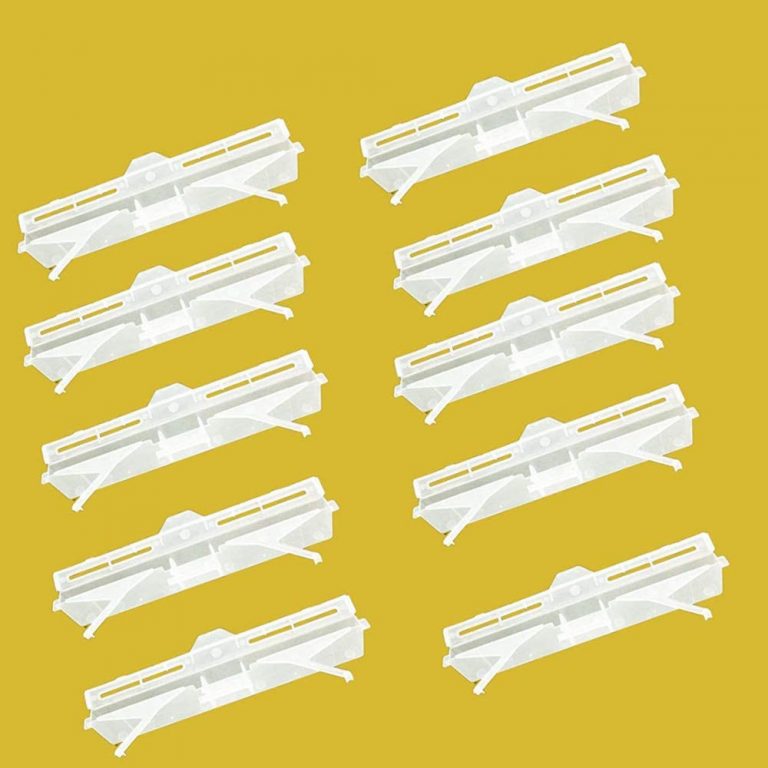 Small hive beetle control is a breeze for you when using the HunterBee Reusable Small Hive Beetle Trap. The trap is made using plastic so it lasts for long. Additionally, it is reusable by design. All you need to do is remove dead beetles from the trap, clean it up, and it is ready for continued use keeping your beehives free of small hive beetles. This small hive beetle trap is baitable using oil, vinegar or other appropriate substances to speed up the death of small hive beetles that enter the trap. A carefully thought out design of the trap ensures that beetles gain easy entry into the trap but cannot get out.
HunterBee has made this small hive beetle trap in a slim, long and deep design. Its width allows it to easily go between beehive frames in a Langstroth beehive, without altering the frame spacing of your beehive. Even then, it is still wide enough to avoid the trap falling through the space between beehive frames. You can use it in both 8-frame and 10-frame Langstroth beehives. The length and depth of the HunterBee Reusable Small Hive Beetle Trap gives it enough volume to hold bait substances and many small hive beetles. It therefore lasts for long in the beehive, catching many small hive beetles before it fills up and needs to be emptied.
The HunterBee Reusable Small Hive Beetle Trap comes in black color. It measures 8.85 inches in length and has a depth of 1.57 inches. You have the options of purchasing the trap in sets of 5 traps, 10 traps and 20 traps. These options are well set and fit the needs of both small scale beekeepers and those with many beehives in their apiaries. The trap is well designed, intuitive to use and has served both beginner and experienced beekeepers well.
Check Price
6. Busy Bees 'N' More Langstroth Screened Bottom Board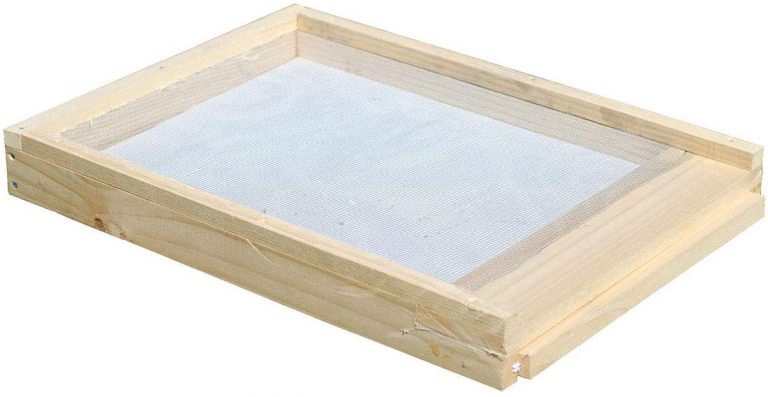 Pest control in beekeeping is promoted by use of a screened bottom board such as the Busy Bees 'N' More Langstroth screened bottom board. It allows mites and other small pests and parasites of honeybees to drop out of the beehive. They cannot climb back onto bees even if they recover from the effects of treatments applied to weaken or kill them. The Busy Bees 'N' More Langstroth screened bottom board is a high quality and durable bottom board made using wood and a metal screen mesh. It comes ready to use and assembled so it is easy to use by both beginner and experienced beekeepers.
The Busy Bees 'N' More Langstroth screened bottom board is made in the USA. It helps with your visual inspection by allowing you a peek through the board into the inside of the beehive. This screened bottom board also allows ventilation and cooling of the beehive. It enables excellent balance of humidity between the air and the inside of the beehive. This saves you from having to use extra control for condensation control in the beehive. Your bees will not be repulsed by the bottom board because it is made using the best Eastern White Pine wood from Michigan State of the USA.
This bottom board is built to last many years. It used best quality wood and the various joints in the screened bottom board are brought together very well. Both wood glue and screws are used to ensure best strength of joints. Using screws allows for taking some part of the screened bottom board apart for modifications such as installation of a sliding panel to make the bottom board closed during cold seasons. The landing board of this bottom board is flat and works well with access and security control additions to your beehive such as entrance reducers. It is also easy to use with a moving and robbing screen.
Check Price (10-Frame)
Check Price (8-Frame)
5. Fdit Beehive Beetle Trap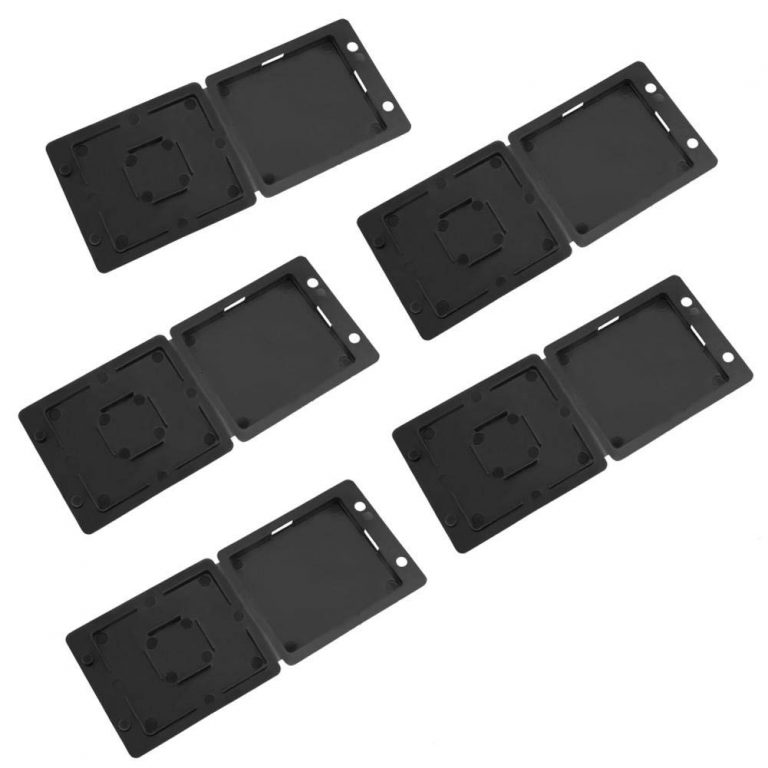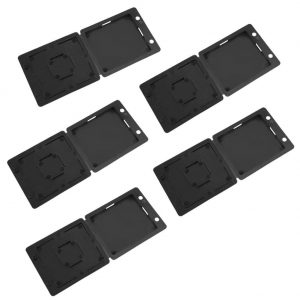 Fdit is a manufacture of assorted home and garden items. The manufacturer has made this hive beetle trap for use in beekeeping. It is sold in a pack of 5. The traps can be used at a rate of one per beehive. In heavy hive beetle infestations, you may use more than one trap at a time. These traps are for placement between the tops of beehive frames and the next beehive box. The trap sits on the frames and traps beehive beetles. You may use bait in these traps to attract more hive beetles. Beekeepers may also apply some hive beetle oil on small sections of the trap to kill the hive beetles.
Frequent checking and emptying is required for these beehive beetle traps. They are reusable and last a long time. If you find the trap full of hive beetles, you have to empty it out. The traps are made using high quality plastic materials and show excellent craftsmanship. They do not fall apart or get damaged easily. They are colored black to mimic the dark spaces and small hidden spaces that hive beetles love to use for their shelter.
These beehive traps are not toxic to bees. They are food safe for use in beekeeping that produces beehive products for human consumption. An individual Fdit beehive beetle trap measures approximately 18.5 x 7.6 cm. It weighs 82 grams. The trap is made using high quality ABS plastic material. It works well with Langstroth beehive setups and effectively controls hive beetle populations.
Check Price
4. Beetle Jail Clear Plastic Small Hive Beetle Trap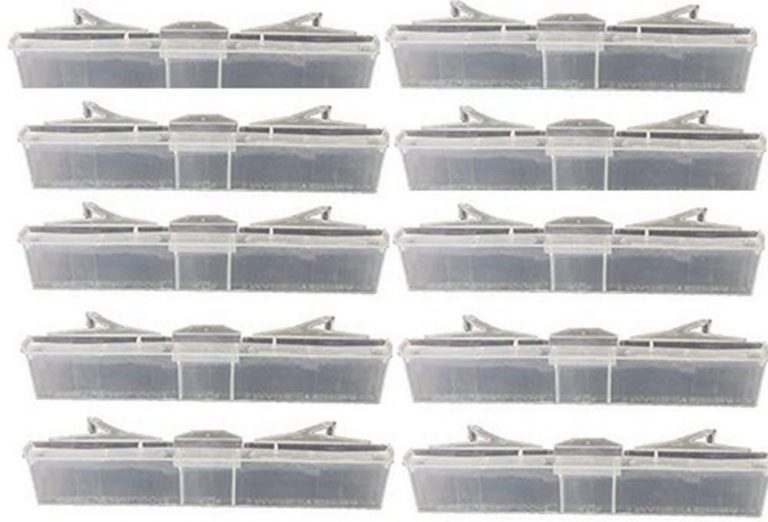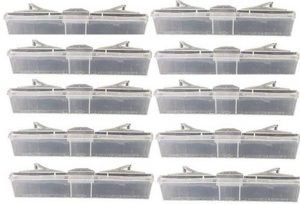 The Beetle jail clear plastic small hive beetle trap is a great trap tool used by beekeepers to control small hive beetle invasions in beehives. The trap is slim and made using clear plastic. This allows the trap to fit into the small space between beehive boxes. You can see when the trap has caught small hive beetles and needs to be emptied out. This small hive beetle is effective and delivers on its promise to get rid of small hive beetles in beehives. It is sold in a pack of ten traps which are enough for a single beehive in heavy infestations.
This beetle jail clear plastic small hive beetle trap is a safe product to use in a beehive. It does not have or make use of poisons and pesticides. The trap is therefore safe for honeybee brood and adults. This trap may be used dry or with oil. It does not come with oil for use in it. Beekeepers can use any hive beetle oil in the beetle jail trap. The trap is well built and can be used with ease by all beekeepers. This small hive beetle trap has openings that allow the beetles to enter but not leave. It attracts small hive beetles that see it as a safe space to hide.
Use the beetle jail clear plastic small hive beetle trap to help your honeybee colonies beat small hive beetles. In addition to hive beetle oil, this trap can also be used with apple cider juice and vinegar as a beetle attractant mixture.
Check Price
3. GreenBeehives IPK Screened Bottom Board & Small Hive Beetle Trap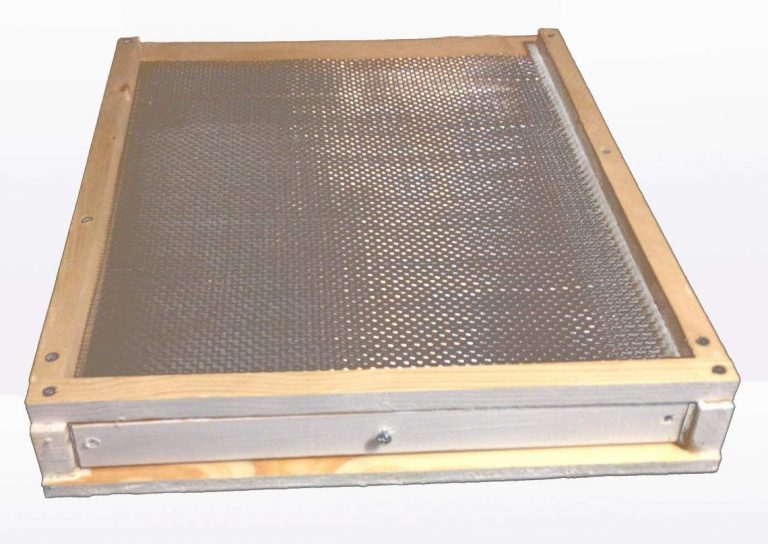 This integrated bottom board and hive beetle trap is made and sold by GreenBeehives. The manufacturer is a popular maker of beekeeping equipment and accessories. The GreenBeehives IPK screened bottom board & small hive beetle trap is made to fit 10-frame Langstroth beehives and promises to significantly lower the population of the pests in your beehive. The trap is made using aluminum and wood and boasts an effective working period of 2-3 days. It features a screen that allows the small hive beetles to fall through. Honeybees in your beehive however, cannot fall through the small-sized mesh of the aluminum screen.
Under the screen of this small hive beetle trap is an aluminum tray. The tray is used to hold oil that kills hive beetles. Any suitable oil including cooking oil and hive beetle oil can be used with this trap. The trap also catches hive mites as a bonus to the beekeeper. This small hive beetle trap does its job without introducing poisons or pesticides into your beehives. It works with 10-frame Langstroth beehives. It measures 19 7/8 x 16 ¼ inches. The trap is assembled with excellent craftsmanship and painted with a mildew-resistant exterior coat.
To use this trap, you must replace your current bottom board with it. Its tray slides towards the back of the hive and bees cannot reach it to seal it with propolis. By covering the entire bottom of the beehive, this small hive beetle trap is very effective.
Check Price (1o-Frame)
Check Price (8-Frame)
2. Foxhound Bee Company Small Hive Beetle Trap for Naturally Trapping Hive Beetles in Oil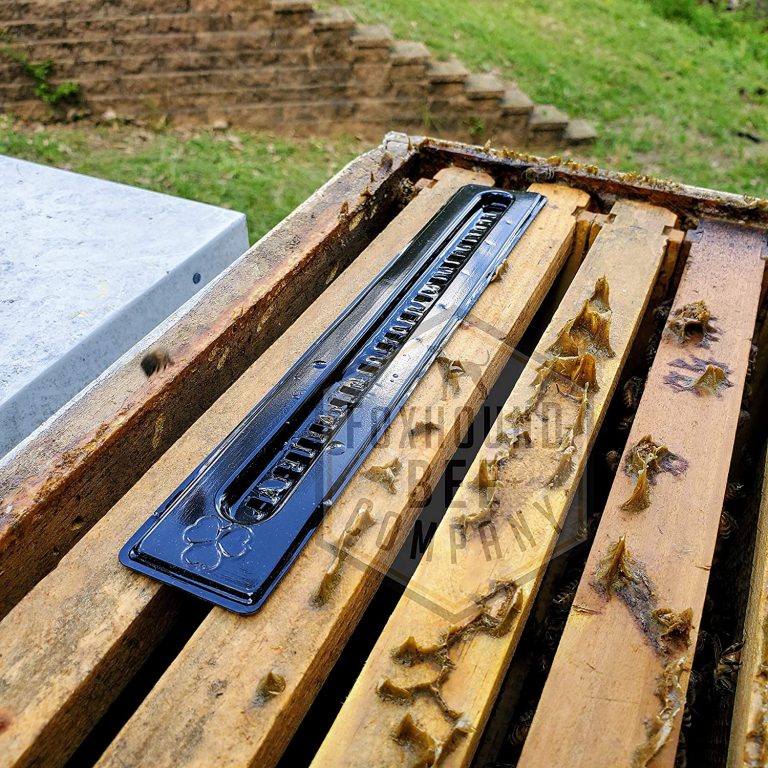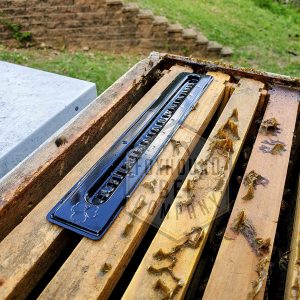 Foxhound Bee Company is the manufacturer of this small hive beetle trap. The trap works by naturally attracting small hive beetles into its inner space. It mimics the small spaces that small hive beetles naturally love hiding in. Honeybees often corral small hive beetles into small spaces such as this trap. You are free to put some oil in the trap to speed up killing the entrapped small hive beetles. This trap is well designed. It easily fits between beehive frames without affecting the spacing of the frames.
Honeybees and beehive products are safe when you use this trap in a beehive. It is made using food grade materials that do not affect the quality of beehive products. Its small entrance holes do not allow bees to enter the trap so they remain safe. When using oil in this trap, fill the trap only halfway. The trap works well in summer and spring when small hive beetle numbers increase in beehives. In heavy infestations, you may use several traps in a single beehive for best results. Once a trap is full of dead small hive beetles, remove it from the beehive and clean it for reusing or discard it. This trap is sold in a pack of 12 traps.
The traps can be reused after it is full of trapped small hive beetles. If you do not wish to reuse it, disposing of the trap is easy. One minor drawback is the trap is made using very thin and weak plastic material. It causes it to be weak and easily damaged at the ends. As such, be careful when applying the traps in your beeive.
Check Price
1. Foxhound Bee Company Small Hive Beetle Oil Traps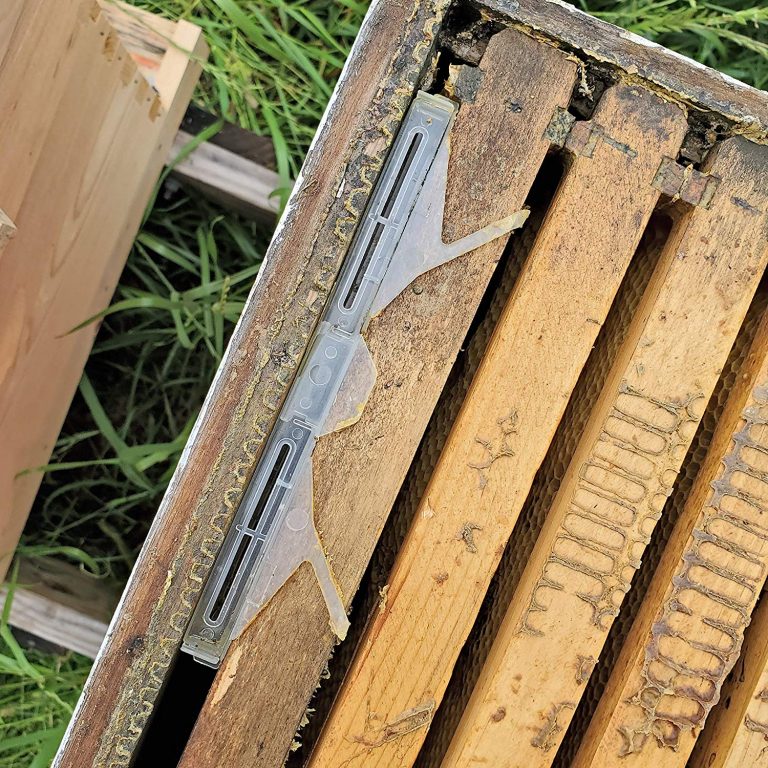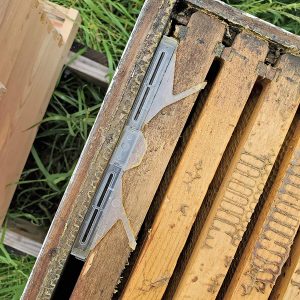 The Foxhound Bee Company traps for small hive beetles are sold in packs of 6. They are oil traps that are made to be enough for up to 3 beehives. The traps are built with the small spaces of Langstroth beehives in mind. They are slim and long to fit in beehive boxes. The traps are used on the top bars of Langstroth beehive boxes. They have clips to hold securely onto beehive frames. You may also use these hive beetle traps on other beehives if they can fit. The traps measure 6.2 x 2.8 x 2.1 inches and weigh 0.5 ounces per trap. These small hive beetle traps do not disturb or harm your honeybees.
Each of the Foxhound Bee Company small hive beetle oil traps has 3 compartments. Two compartments hold oil to kill beetles while the third compartment lures the beetles to the trap. This trap can use vegetable oil or mineral oil. These traps are made using clear plastic. You easily see small hive beetles trapped in the traps. This way, you know when it is time to empty the trap and set it again to continue trapping small hive beetles.
Thin slots in the sides of the traps allow small hive beetles to enter the trap but not leave. At the same time, the oil in the traps quickly kills the trapped beetles. The compartments of this small hive beetle oil trap are easy to open up for cleaning and refilling of oil and bait.
Check Price
Oils for Hive Beetle Traps
1. Blythewood Bee Company Hive Beetle Trap Oil

Blythewood Bee Company is a manufacturer of many beekeeping products. The company has many high quality products for beekeeping. It has stringent quality and safety standards that ensure its products are effective and durable. The Blythewood bee company hive beetle trap oil is used by beekeepers to top up their hive beetle traps. It is useful after cleaning traps or when setting new one. This oil comes in a tall transparent purple bottle. On each side of the bottle is prominent labeling and branding so you are sure you have the right product. 3 images of small hive beetles in varying angles are on the label as well as the name Blythewood in prominent lettering.
This hive beetle oil comes in a bottle with a flip cap and is easy to use. Opening the flip cap allows beekeepers to easily add oil to their hive beetle traps. The flip cap also seals up the bottle securely when closed. A bottle of Blythewood Bee Company hive beetle trap oil lasts through several uses and does not expire quickly. It is effective at killing hive beetles and is made using a food grade formulation of oils.
Beekeepers can use this Blythewood Bee Company hive beetle trap oil in any hive beetle trap. The oil works great in any trap and can be used by both beginner and experienced beekeepers. Make sure to not spill the oil in your beehive. Each bottle of the oil contains 8 oz of the oil. It causes hive beetles in traps to drown and rids your apiary of small hive beetles. The bottle containing this Blythewood Bee Company hive beetle trap oil is not bulky. It is easy to keep it on a shelf among your beekeeping equipment, tools and materials. The oil is not dangerous to honeybees.
Check Price on Blythewood Bee Company
Check Price on Amazon
Other Hive Beetle Control Methods
In addition to trapping hive beetles, there are other methods of keeping the beetles in check. These include soil treatment and use of chemical treatments in the beehive. They have different modes of working and have differing levels of effectiveness. These methods help the beekeeper with clearing hive beetles from the hive or keeping them at manageable levels. Prevention of hive beetle infestations should be in your integrated pest management plan.
1. Keeping the Hive Clean
Maintain cleanliness in your beehives and the general area of the apiary to reduce its attractiveness to hive beetles. This includes cleaning the beehive and removing any debris that accumulates on the bottom board of your Langstroth beehive. The debris provides pupation grounds for hive beetles within the beehive. It works against some of the methods you may be using to control the hive beetles.
2. Soil Treatment
Soil treatment for control of hive beetles takes advantage of the beetle's vulnerabilities in its lifecycle. Hive beetles love moist sandy soil. Beekeepers may locate their colonies in different types of soil. Treating the soil in your apiary with drenching pesticides prevents the larvae of the hive beetles from pupating. It kills the larvae in the soil. Use drenching chemicals that are not harmful to bees. Mowing down vegetation in the apiary is recommended before you treat the apiary soil with your pesticide. Water sources for bees and feeding stations should also be removed among other measures taken if the pesticide you use may be harmful to bees.
3. Chemical Methods
Beekeepers may use chemical control in the beehive on hive beetles. The chemical called Coumaphos is popular since it is registered and approved for in-hive use. It is sold under various brand names. You may consult agricultural authorities in your area to get the recommendations for your location. The beekeeper may be required to remove some beehive boxes from the stack. This leads to some beekeepers using chemical hive beetle control method after harvesting honey and on empty beehive boxes. Most treatment products for hive beetles must be left in place for extended time periods of more than a month. It is also recommended that you do not over-expose hive beetles to pesticides so they do not develop resistance.
4. Other Methods
Other beekeeping practices you can use to keep your beehives free of hive beetles include not tossing burr comb to the ground near your beehives, giving bees just enough space for effective patrolling and extracting honey from frames within a few days of removing the frames from the beehive.
Conclusion
Using hive beetle traps in beekeeping is an environment friendly way to manage the pests. Beekeepers can use these traps to ensure healthier and stronger honeybee colonies. They reduce the need for the use of pesticides in getting rid of these pests. The traps can be placed in the hive before or after detection of hive beetles.
What you have ever used any of these hive beetle traps? Leave a comment below and let us know how effective is was for you.