If you purchase an independently reviewed item through our site, we earn an affiliate commission. Read our affiliate disclosure.
The Harvest Lane Honey Beekeeping Suit is a quality beekeeping suit for protection against bee stings. Harvest Lane Honey has a good reputation for durable and quality products among beekeepers, and they offer a wide range of products for beekeepers including equipment and tools. This beekeeping suit is well designed and is highly functional. It is made in China with high quality materials and meets safety standards for beekeeping suits. Let's check it out a bit further.
About the Harvest Lane Honey Beekeeping Suit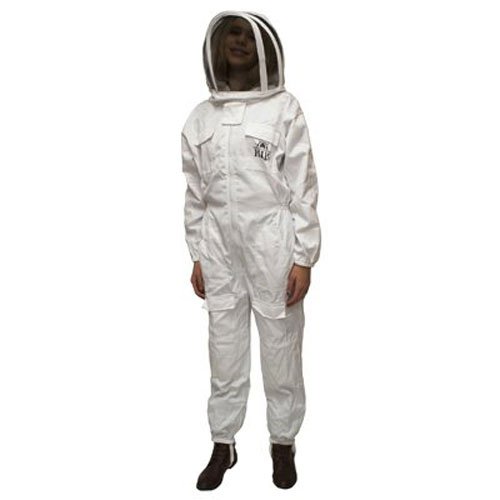 Harvest Lane Honey beekeeping suit is a full-body protection suit. With the fencing veil attached, the suit runs from your head to the legs. This assures beekeepers that they are covered from bees that may want to sting them. The suit does not require you to invest in additional protective wear for your legs unlike beekeeping jackets and smocks. Everyday clothing worn by beekeepers such as trousers and a t-shirt can comfortably go under the suit.
The beekeeping suit is light in weight. It also allows a good range of motion in the top section. This suit is easy to clean and can be laundered with your other clothes. Beekeepers washing the suit are advised to use a damp cloth on the veil in place.
Materials
The Harvest Lane Honey Beekeeping Suit is made using a blend of cotton and polyester. This blend of fabric allows air to pass through it. It keeps beekeepers cool inside the suit. This is a good feature of the suit since it lacks purpose-built ventilation panels seen in other beekeeping suits. The beekeeping suit covers your whole body to keep you safe from bee stings. A Harvest Lane Honey logo is found on the front right breast pocket of the suit. This is a great assurance of quality. It shows that Harvest Lane Honey stands behind their product.
Veil
A full fencing veil is used on the Harvest Lane Honey Beekeeping Suit. It attaches to the suit using a zip around the neck-shoulder section of the suit. Fencing veils allows excellent visibility for beekeepers and reduces disorientation. They give excellent visual angles both sideways and vertically. The beekeeping suit allows beekeepers to easily check on bees and see what they are doing during hive maintenance activities.
Pockets
There are 6 pockets on the Harvest Lane Honey beekeeping suit. These are enough for most beekeepers. They are made deep and double stitched to the fabric of the suit. These pockets hold your beekeeping tools safely and securely. The pockets on this suit are found in a pair on the front chest area on the thigh section of the suit and on the legs of the suit. The pockets on the chest and legs are covered with flaps to keep everything inside the pockets.
Sizes
This suit is available in three different sizes. The sizes fit beekeepers of varying body sizes well. The available sizes of the Harvest Lane Honey Beekeeping Suit are: Small, Medium and Large. Beekeepers are advised to buy a suit that is one size larger than the clothes they wear. It allows a comfortable fit without being too tight. Having a beekeeping suit one size larger than your normal clothing also allows you to wear something under the suit and not get too hot or squeezed in the suit.
Check Price and Availability of the Harvest Lane Honey Beekeeping Suit
Pros and Cons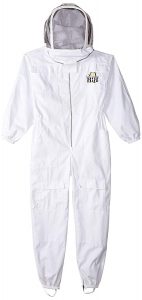 Pros
Strong durable zips are used on the beekeeping suit. These are found on the front, around the shoulders of the suit for veil attachment, and on the ankles of the suit.
This suit is breathable. It allows some airflow into the suit and around the body of the beekeeper. This makes the suit very suitable for use in warm weather. In cold weather, beekeepers may wear some clothing under the suit to prevent getting too cold.
The Harvest beekeeping suit has elastic on the waist. This gives the suit a comfortably tight fit on beekeepers and reduces cumbersomeness while wearing the suit. Beekeepers' movements while wearing the suit are unhindered and very graceful.
Cons
Harvest Lane Honey has not availed a sizing chart for this suit. Beekeepers have only 3 sizes to choose from. The suit is not very suitable for large sized beekeepers that need extra-large beekeeping suits.
This beekeeping suit does not come with a protective carrying case. You have to come up with your own means of storing and transporting the suit when it is not in use.
The hood of the beekeeping suit can be a little floppy. Wearing a cap or hat under the veil may solve this problem for beekeepers.
The suit does not come with gloves.
Further Thoughts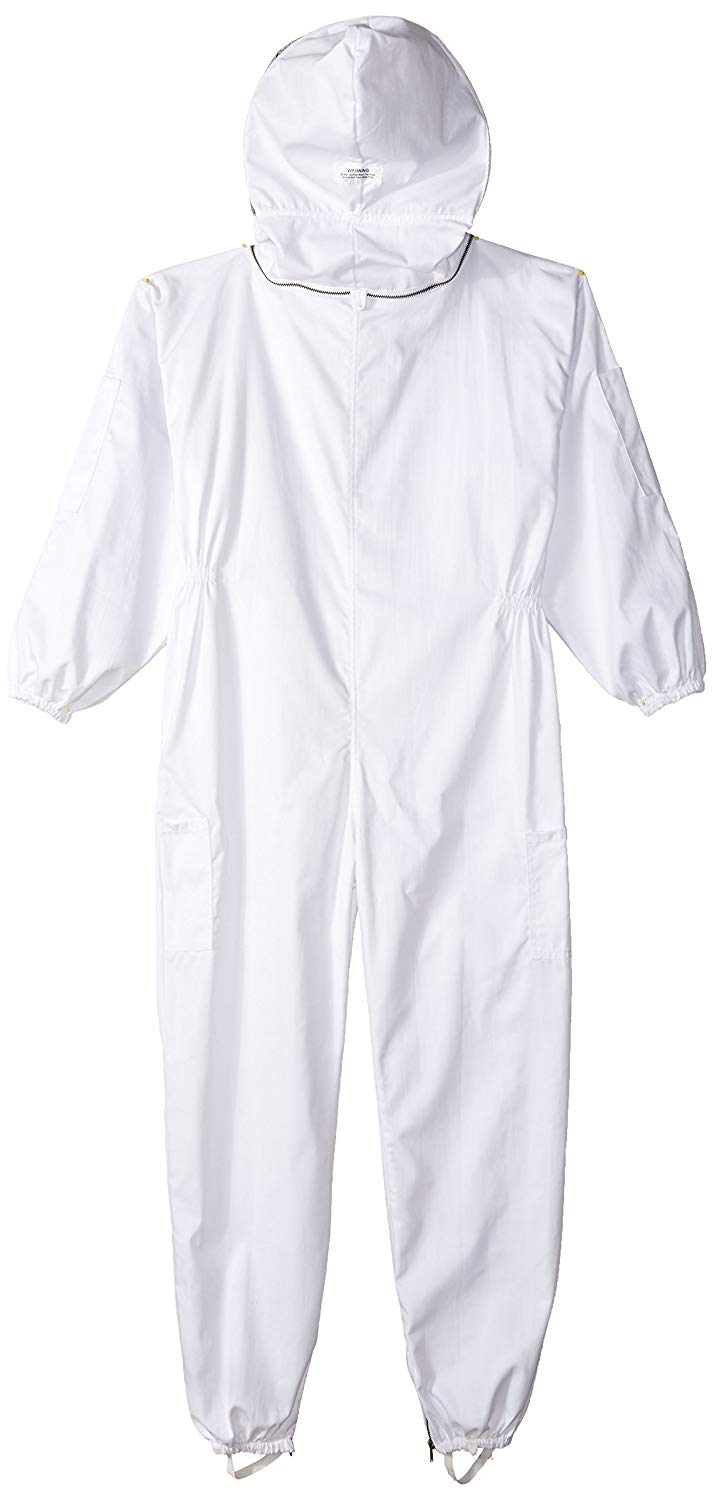 The wrists and ankles of the Harvest Lane Honey Beekeeping Suit are elasticized. This works well with beekeeping gloves and socks that beekeepers wear to ensure full body protection. Elastic gives the suit a tight grip on these areas of beekeepers' bodies by reducing the chances of riding up. Beekeepers should have a pair of beekeeping gloves for their hands since the Harvest Lane Honey beekeeping suit does not cover your palms, back of hand and the fingers. For your lower legs, a pair of heavy socks and boots suffices. They complete the head-to-toe protection that beekeepers need while around bees.
To make sure that the Harvest Lane Honey beekeeping suit stays in place, Harvest Lane Honey has included thumb holds on the arms of the suit. There are also foot holds on the legs of the suit. These two additions are insurance that the suit will stay in place once you put it on. The beekeeping suit is good for both beginner and amateur beekeepers. It works well for both male and female beekeepers.
Conclusion
The Harvest Lane Honey Beekeeping Suit is a good quality beekeeping suit coming from a reputable beekeeping supplies company. This suit gives you excellent protection in all weather conditions. It is sure to keep you protected from bee stings even with aggressive bee colonies. The suit is useful for beekeepers visiting their apiaries for inspection, maintenance activities and honey harvesting. The beekeeping suit is available for purchase both online and from beekeeping supplies retailers.
Do you own the Harvest Lane Honey Beekeeping Suit? Leave a comment below and let us know what you think of it.
Check Price