If you purchase an independently reviewed item through our site, we earn an affiliate commission. Read our affiliate disclosure.
Bee stings hurt! We know we are not here to hurt them, but, the bees don't know that! I know some beekeepers that are practically immune to the stings. Obviously, they do get hurt, however, the regular stinging has probably become a habit and the sensation is soon forgotten. However, there are some people who are actually a bit more sensitive to these stings and once stung, can have some serious allergic reactions. Due to these reasons, the standard beekeeper suit was invented which, thankfully, works well to protect the wearer from stings, which otherwise would have caused some unbearable pain.
However, bees are most active during summer and these heavy suits can get uncomfortable fast. Therefore, innovators from Eco-Keeper came up with the lightweight Eco-Keeper Professional Grade Beekeeper Suit. The main difference between the standard and this Eco-Keeper's suit? It is light! The suit is made out of lightweight material, however, the durability, comfort, and protection it provides are still top-notch. I'll say it from now on, this bee suit comes highly recommended. Read on to find out why.
About Eco-Keeper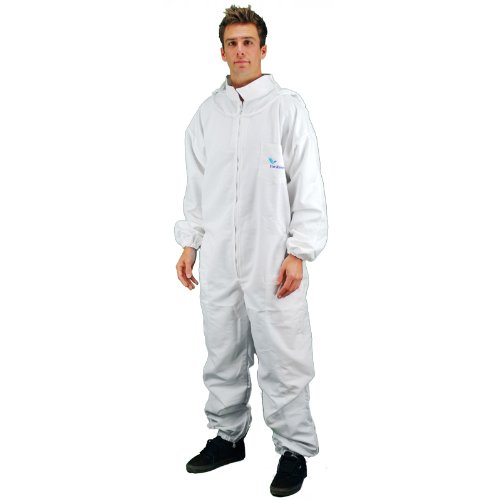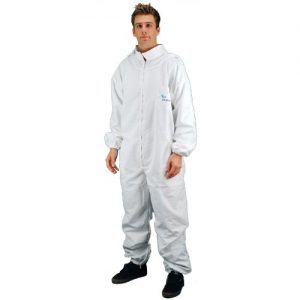 Eco-Keeper has been in the market since 2005 and they have been producing some amazing non-chemical pest control products since then. They manufacture important beekeeping tools like the smoker and the hive tool and of course the bee suit. They also manufacture other products such as the Bed Bug Glue Trap, Bed Bug Tent, Embed Mattress Encasement, Live Animal Trap and Copper Mesh (to capture rodents at home).
As the beekeeping suit is one of their most popular products, they have different versions of it like the Hooded Suit, Round Style Hood Suit, and the Vented Bee Suit. The hooded suit has 2-layers of the hood like the standard suit except that it is much lighter and more durable. The round-style hood suit has a veil of panoramic view for the user's convenience, plus it has the ability to keep the user cool during warm days. The last one is the Vented Bee Suit, which has the standard veil, however, it has a three-layered material and allows air to ventilate inside the suit due to its open net-like material. Regardless of their features, these beekeeping suits offer the comfort a user needs during warm seasons and function as a strong protective barrier for all bee stings.
To check out our rankings of the best ventilated bee suits, click here.
About the Eco-Keeper Professional Grade Beekeeper Suit
Without beekeeping suits, beekeeping will definitely be a painful activity. Furthermore, without a good beekeeping suit, beekeeping will be uncomfortable, especially in warm and humid climates. The Eco-Keeper Professional Grade Beekeeper Suit is made from 60% cotton and 40% polyester, which makes it a very light material compared to conventional suits. It features a tightly woven fabric designed to keep bee stings at bay, and in my experience, it does a great job of this. Furthermore, thanks to its lightweight build, it's comfortable to wear during the summer and fall seasons. It should be noted that even though it is not a vented bee suit, it still manages to keep you cool. Lastly, it has a 2 layer hood, with a self-supporting collapsible veil – it is a full bee suit, missing only the gloves and boots. and great for heavy-duty purposes.
Features
2 Layer Hood
Self-supportive, collapsible veil
2 Way neck zipper
Available in all kinds of sizes from XX small to XX large
Elastic waist and wrist
Check Size, Price and Availability of the Eco-Keeper Professional Grade Beekeeper Suit
Pros and Cons
Pros
It's lightweight and still provides the protection a standard suit does.
Very comfortable for warm days.
It's durable.
Easy to wash in the machine.
Zips smoothly, especially around the shoes, neck, and veil.
Easy to get out of, since the veil is self-collapsible.
Cons
Zippers are plastic. May not be durable enough.
Velcros that come with the zippers cannot seal properly.
The hood is too wide and may get tangled up in small places.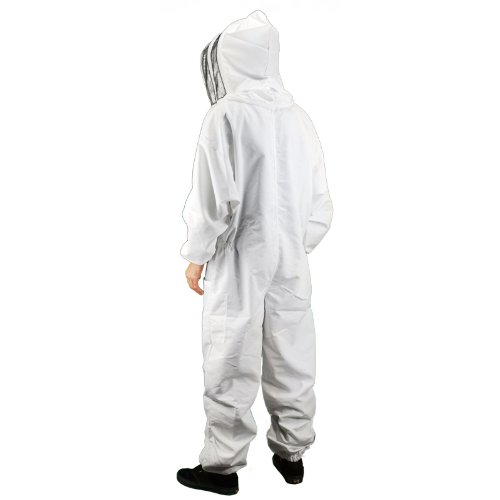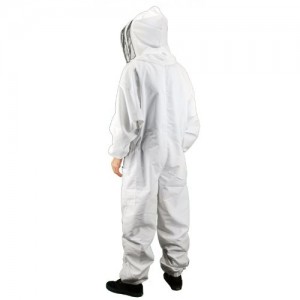 Further Thoughts
The flaws of the Eco-Keeper Professional Grade Beekeeper Suit are small nitpicks because this suit overall is a very well-made product. The material is of high quality and the suit even works in aggressive colonies. It is easy to wear and much easier to take off. The suits provide a good vision and since the weaves are very tightly interconnected in the fabric, it works well in protecting against bee stings. Furthermore, the suit contains pockets, so instead of putting extra weight on the arms, you can easily fit 1-2 hive tools in the pockets. Of all the beekeeping suits I have used this is one that has never disappointed me. I recommend it to anyone who is looking for a good quality bee suit.
Conclusion
All in all, the Eco-Keeper Professional Grade Beekeeper Suit is one of the highest quality bee suits on the market, and at its current price, it definitely makes a compelling argument for purchase. Although the zippers may open easily and may not be durable enough, the suit provides great protection, with its amazing 2-3 layered woven material, which you'll hardly even feel. This bee suit provides comfort and saves you from the pain and all the medical expenses you'd have to deal with after being stung. It is a great value for money and should be recommended to any beekeeper who wants to have a minimal number of bee stings in their lifetime!
Do you own the Eco-Keeper Professional Grade Beekeeper Suit? Leave a comment below and let us know what you think of it.
Check Price
Check Price (Australia)