Any serious beekeeper understands the tremendous benefits associated with the bee smoker and cannot afford to survive without one. The tool has a rich history and has undergone various modifications and you can now get one that is near perfect. There are various types of bee smokers out there and thus it is pretty easy to get the right one for your business or hobby.
It goes without saying that to get in order to get the most out of your tool, you have to get the best bee smoker. In summary buy a bee smoker that has these features:
Heat protection cage to avoid getting burnt on your hands.
Made of good quality and durable stainless steel material.
Comes with a mounting hook so that you can hang it when it is not in use. It will also ensure it cools down safely after use.
Easy to use since at times you might have to use it one-handed. It should also be easy to pump.
With that said, here are the best bee smokers available on the market today:
Quick Navigation
10. Domed Top Bee Smoker in the Honestbee Hives Beekeeping Starter Kit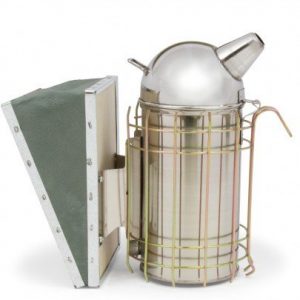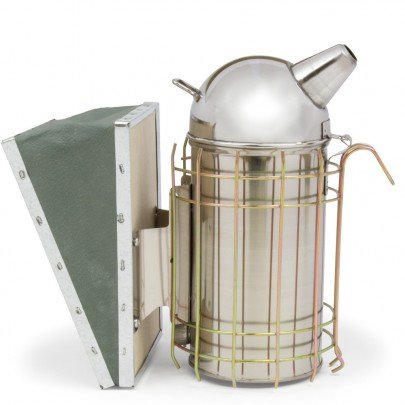 To start the list of the best bee smokers on the market at present is this bee smoker from Honestbee. The unit boasts a wide array of desired features making it one of the most sought-after units. The European style bee smoker is made of stainless steel and has sturdy gray leather bellows. It is also fitted with a heavy heat shield cage that prevents heat burns and keeps the user cool while working on the hives. The unit even has a handy hook that helps keep it safe and within reach when not in use.
The Honestbee Domed Top Bee Smoker has a huge capacity. It is 11 inches high and has a barrel height and diameter of 7 and 4 inches respectively. This is ideal for accomplishing most jobs without the need to refuel the smoker. Furthermore, the smoker comes with a bee brush that has a sturdy wooden handle and soft bristles that help push aside the bees without harming them.  Available also with the package is a 10 inch standard beehive tool for lifting the frames from the hive. Given all the benefits that come with this bee smoker, it is a sure quality for money. This is a must have for every beekeeper.
Check Price
9. HLPB Stainless Steel Bee Smoker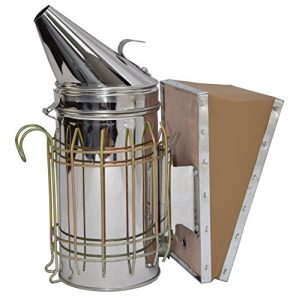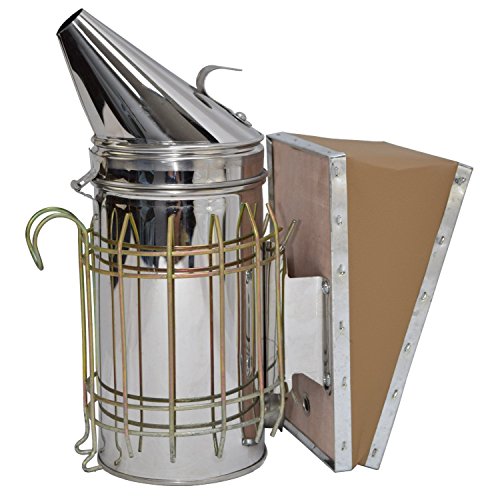 Are you looking for an excellent quality bee smoker designed for superior airflow and heat protection? Well, the HLPB New Stainless Steel Bee Smoker is precisely what you are looking for. The sturdy unit has been designed not only to deliver but to last as well. Its stainless steel construction prevents the unit from rusting and wear and tear. The unit is also heat resistant making it comfortable to work with.
The HLPB bee smoker has a heat shield that helps secure the user from heat burns when working on the beehives. It is also fitted with a mounting hook and a safe hook which makes it convenient and safe to use the unit. You can simply hang it nearby or next to the hive box when not in use. It also has top-notch vinyl bellows and a removable base plate that allows free circulation of air. In addition to these, it has a hook on the top which prevents accidental burns when the beekeeper is opening and closing the smoker. You can also use the bellows as scent cover for deer hunting. This unit's overall design ensures the bees are subjected to a slow-burning and cool smoke that calms the bees without harming them. It is ideal for all skills levels whether you are a beginner or a pro beekeeper.
Check Price
8. Hoont Commercial Grade Beekeeping Bee Smoker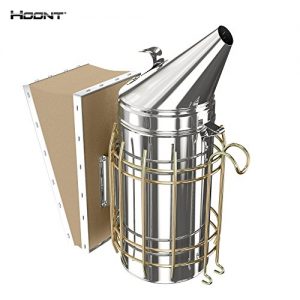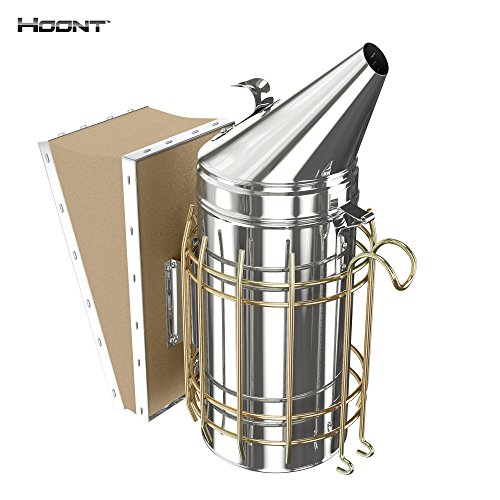 Another excellent bee smoker to consider is the Hoont Commercial Grade Beekeeping Bee Smoker. The unit has been designed with excellent features, all geared towards making beekeeping hassle-free. It is made with a heavy duty stainless steel material that adds to its durability. It is also fitted with a heat shield for keeping the hands cool when you are working on the beehive and helps protect you from getting burned. The smoker also has a superior airflow bellow that guarantees an ideal flow of smoke into the hive to calm the bees and ensure you undertake your task smoothly. The unit gives an excellent smoke output and that is why it is preferred by most beekeepers.
The 11.3 x 8.2 x 5.3 inches bee smoker weighs 1.8 pounds which is quite light per say. If you do not like carrying around heavy items when doing your work then this should be a good choice for you. Its metal hook allows you to hang the smoker on the box edge or nearby when you are busy working on other things on the hive. The unit is also easy to light thanks to its heavy duty oxygen tray. It is also quite affordable. You cannot go wrong with this quality bee smoker.
Check Price
7. CO-Z Stainless Steel Bee Smoker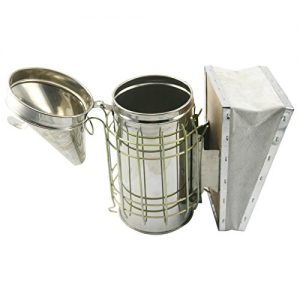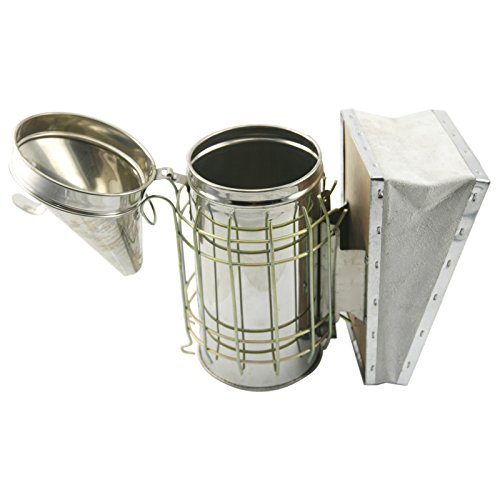 Weighing barely 1.9 pounds and with a dimension of 12x9x5 inches, this bee smoker has been designed to make honey harvesting or beehive inspection a breeze. It comes with a heat shield which protects the beekeeper from getting burned. The heat shield also keeps the hands cool. Other features that make the kit desirable include: a sturdy stainless steel construction, perforated and removable plate base that provides maximum airflow, and a hook for mounting the smoker when not in use. This is one of those units that are guaranteed to last. When it comes to price, this bee smoker is very affordable.
If you are looking for an easy to use, carry and store bee smoker, then the CO-Z Stainless Steel Bee Smoker is a great choice. What I love most about this bee smoker is the fact that it is durable and lightweight. When I need to use both hands, I simply hang it in a convenient place using the mounting hook. It is the best for calming bees when you want to perform routine checks, harvest the honey or merge bee colonies. It does the job well and they I highly recommend it.
Check Price
6. Honey Keeper Beehive Smoker with Heat Shield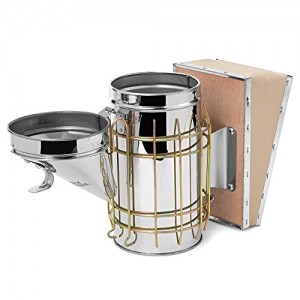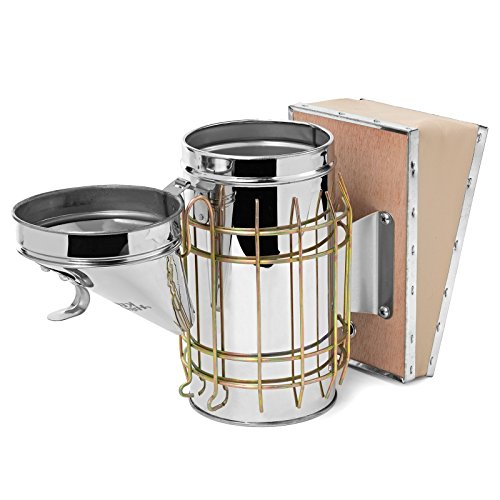 Honey Keeper is one of those brands that resonate with most beekeepers. It is known for its wide array of excellent quality beekeeping equipment and accessories. The Honey Keeper Beehive Smoker with Heat Shield is no exception when it comes to top quality. It is a highly rated bee smoker boasting a plethora of amazing features. To begin with, it is made of stainless steel material which is durable and resistant to rust and abrasion. It also has a heat shield that ensures you are well secured from heat burns when working on your beehives. Apart from these, it has a mounting hook that allows you to hang the smoker when you are not using it.
Other features that make this unit a must-have for every beekeeper include: a heat aerator for providing better airflow and long lasting smoke, top-notch bellows that guarantee consistent airflow, and its lightweight that make it easy to carry around. The unit weighs 1.6 pounds only and has a dimension of 11 x 8 x 5 inches. It is a smoker definitely worth every penny.
Check Price
5. Agralogix Bee Smoker with Oxygenator Fuel Tank Insert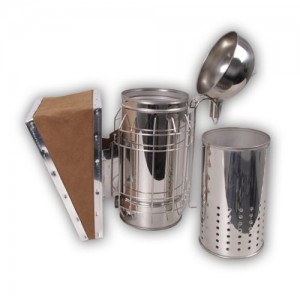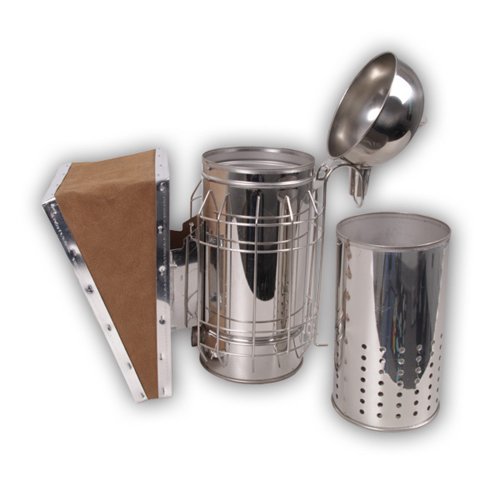 This is a top smoker from a reputed brand. It is an ideal smoker that produces a lot of smoke with less effort and with use of little fuel. It has an attractive design featuring a stainless steel finish that has been built to last.
The Agralogix Stainless Steel Bee Smoker comes at an excellent price, though when compared to other products it is smaller in capacity. It is easy to refill and works efficiently. It is also easy to use and hence an excellent choice for the starter who still has a lot to learn. I love its unique design and when compared to previous designs, this one works best. The only drawback associated with it is that it is a little bit smaller in capacity when compared to other smokers. Otherwise, it is an excellent choice for any beekeeper.
Check Price
4. Aspectek Beehive Smoker with Heat Protection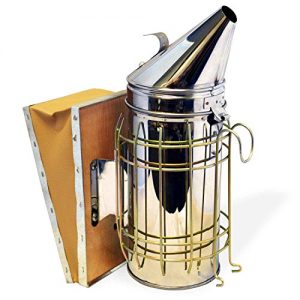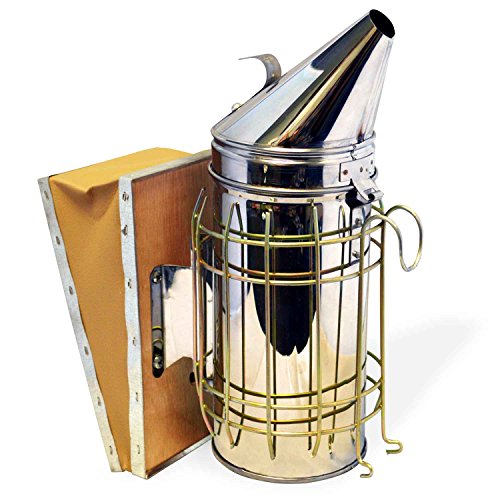 The Aspectek Beehive Smoker is one of those smokers that will intrigue you at first sight. It is a user-friendly smoker that suits the beginner or professional. It is quite unique in design and when compared to other smokers and this one comes with a scent cover as a bonus. You can also use it for deer hunting if you like.
This smoker is easy to work with and is economical to use too. It burns for a long period with no unnecessary fill ups in between smoking. It is an efficient smoker that will never disappoint even in cases when you have a bee emergency. The smoker quickly lights up and keeps burning until you are done with your work. However, one setback associated with this smoker is that it has sharp edges and therefore if you are not careful enough you might get injured.
Check Price
3. VIVO BEE-V001 Beehive Smoker with Heat Shield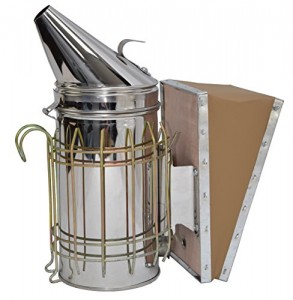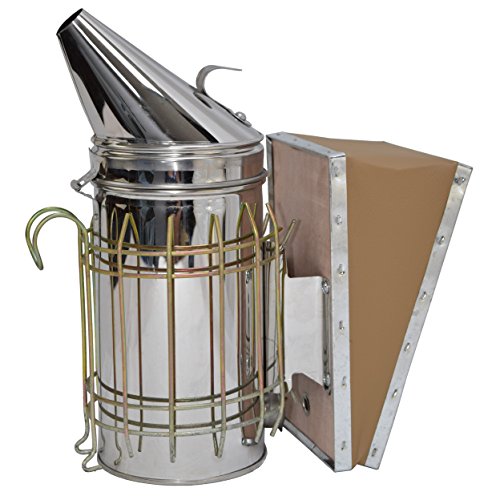 The Vivo BEE-V001 Beehive Stainless Steel Smoker with Heat Shield is an excellent quality smoker at an attractive price. It is well-designed with all the necessary components rightly put in place. The smoker has a hook for hanging it when in use and produces nice, thick smoke for a long period. It is also quite a breeze to pump this smoker.
This smoker is also fitted with a heat cage which will protect you from injuries and ensure the bees are kept at bay. You should however be careful with its bottom since it tends to get hot. You should ensure you keep it on a safe surface once you are done with it. It is  great quality for money and I recommend it to anyone irrespective of whether you are the hobbyist or a professional beekeeper. It's definitely a steal for the price.
Check Price
2. Goodland Bee Supply Beehive Smoker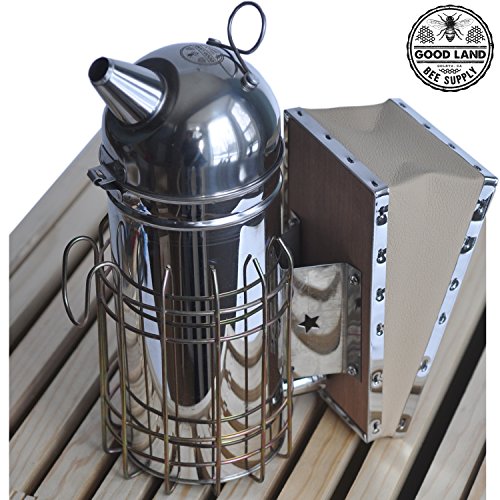 Goodland Bee Supply is another reputed manufacturer of beekeeping equipment and tools. It has built a good reputation with most beekeepers due to their exceptional quality products. Its bee hive smoker captured my attention when I saw it for the first time. It is an easy-to-clean smoker that is ideal for all beekeepers. It comes at an affordable price, therefore, for those on a tight budget or the beekeeping enthusiast this smoker will suit you best.
When compared to other bee smokers, this one is quite large and thus it lasts longer since it can hold more fuel. Its pump is also easy to use making it easy for you to undertake your business. It fires up easily and as expected and will go beyond your normal hours of inspection. Furthermore, it is easy to clean and it does not have any screws or protruding nails inside. It has an attractive design and is safe to use.
Check Price
1. Mann Lake HD540 Stainless Steel Smoker with Guard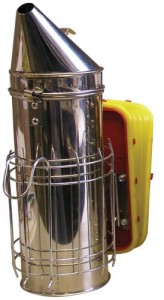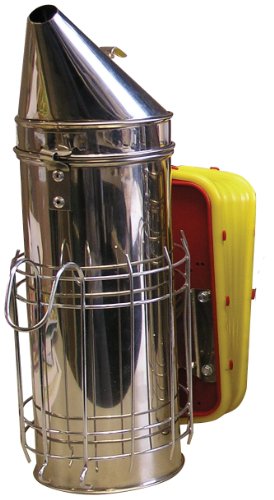 This bee hive smoker from Mann Lake has been designed specifically for those who prefer rubber pumps over the ordinary leather pumps. It is one of those smokers that captured my attention when I first laid my eyes on it. It is quite easy to light and the smoker stays burning for a long time ensuring you get sufficient smoke for an extended period of time.
The Mann Lake HD540 has a pump that has a simple design and is fitted with a replaceable bellow. It is quite unique in every sense when compared to other smoker in the market. Most users of this smoker are well pleased with it and they say they could never ask for anything more. I particularly got carried away by the rubber bellows since I prefer them over leather. It also has a larger chamber that helps ensure the fuel lasts for a long time with no need to keep adding more between refills.
Check Price
A Final Word
To ensure you go about your business efficiently and without any burns or stings from the bees, choose from one the above best bee smokers.