If you purchase an independently reviewed item through our site, we earn an affiliate commission. Read our affiliate disclosure.
Humans have mastered the art of taming bees, and one of the ways in which we have done so is by using smoke. Smoke is widely used when working with bees because of the lulling effect it has on the little critters. It disrupts their natural defensive instinct so they won't sting you, thus makes it easy to work on the beehive. It can also help get rid some notorious hive pests such as the common varroa mite. That's why the bee smoker is such an important beekeeping equipment.
Any serious beekeeper understands the tremendous benefits associated with the bee smoker and cannot afford to survive without one. The tool has a rich history and has undergone various modifications and you can now get one that is near perfect. There are various types of bee smokers out there and thus it is pretty easy to get the right one for your business or hobby.
Standard Features of Bee Smokers
It goes without saying that to get in order to get the most out of your tool, you have to get the best bee smoker. In summary buy a bee smoker that has these features:
Heat protection cage to avoid getting burnt on your hands.
Made of good quality and durable stainless steel material.
Comes with a mounting hook so that you can hang it when it is not in use. It will also ensure it cools down safely after use.
Easy to use since at times you might have to use it one-handed. It should also be easy to pump.
The simplistic design of the smoker may invoke the perception that it is a no-brainer to use. However, any smoker, whether homemade or commercially designed, tend to be a bit tricky. The beekeeper has to instinctively know how much smoke to puff in. Too much smoke can be harmful to the bees, and too little ineffective. Striking a balance between what is too much and too little is therefore a great challenge to most beekeepers, especially for beginners. Another challenge associated with the bee smoker is the fact that it may go out when most needed, if you do not use the best bee smoker fuels.
With that said, let's get started with checking out our picks for the best bee smokers.
In Depth Overview of the Best Bee Smokers
10. Honestbee Domed Top Bee Smoker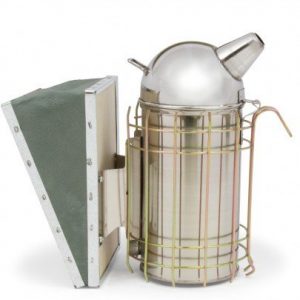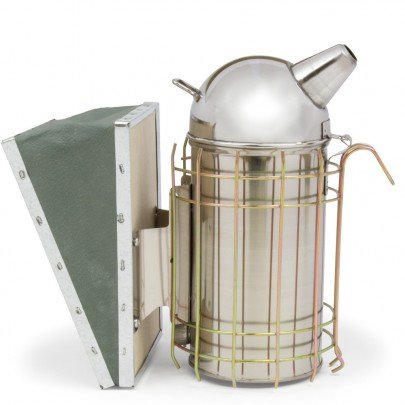 To start the list of the best bee smokers on the market at present is this bee smoker from Honestbee. The smoker boasts a wide array of desired features making it one of the most sought-after units. The European style bee smoker is made of stainless steel and has sturdy gray leather bellows. It is also fitted with a heavy heat shield cage that prevents heat burns and keeps the user cool while working on the hives. The bee smoker even has a handy hook that helps keep it safe and within reach when not in use.
The Honestbee Domed Top Bee Smoker has a huge capacity. It is 11 inches high and has a barrel height and diameter of 7 and 4 inches respectively. This is ideal for accomplishing most jobs without the need to refuel the smoker. It must be mentioned that this package comes as part of a beekeeping starter kit. Included also in the kit is bee brush that has a sturdy wooden handle and soft bristles that help push aside the bees without harming them. Available also with the package is a 10 inch standard beehive tool for lifting the frames from the hive. Given all the benefits that come with this bee smoker, it is a sure quality for money. This is a must have for every beekeeper.
Check Price
9. HLPB Stainless Steel Bee Smoker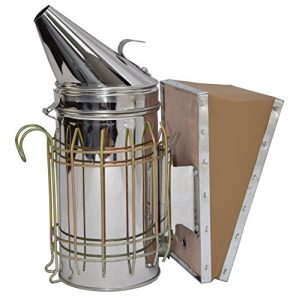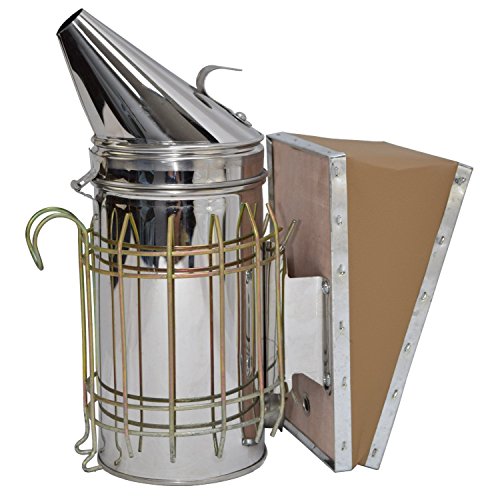 Are you looking for an excellent quality bee smoker designed for superior airflow and heat protection? Well, the HLPB New Stainless Steel Bee Smoker is precisely what you are looking for. The sturdy unit has been designed not only to deliver but to last as well. Its stainless steel construction prevents the unit from rusting and wear and tear. The unit is also heat resistant making it comfortable to work with.
The HLPB bee smoker has a heat shield that helps secure the user from heat burns when working on the beehives. It is also fitted with a mounting hook and a safe hook which makes it convenient and safe to use the unit. You can simply hang it nearby or next to the hive box when not in use. It also has top-notch vinyl bellows and a removable base plate that allows free circulation of air. In addition to these, it has a hook on the top which prevents accidental burns when the beekeeper is opening and closing the smoker. You can also use the bellows as scent cover for deer hunting. This unit's overall design ensures the bees are subjected to a slow-burning and cool smoke that calms the bees without harming them. It is ideal for all skills levels whether you are a beginner or a pro beekeeper.
Check Price
8. Hoont Commercial Grade Bee Smoker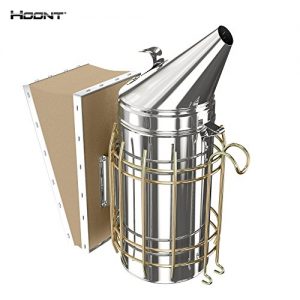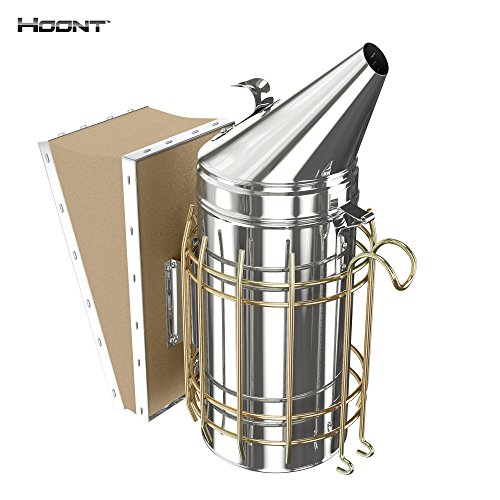 Another excellent bee smoker to consider is the Hoont Commercial Grade Bee Smoker. The unit has been designed with excellent features, all geared towards making beekeeping hassle-free. It is made with a heavy duty stainless steel material that adds to its durability. It is also fitted with a heat shield for keeping the hands cool when you are working on the beehive and helps protect you from getting burned. The smoker also has a superior airflow bellow that guarantees an ideal flow of smoke into the hive to calm the bees and ensure you undertake your task smoothly. The unit gives an excellent smoke output and that is why it is preferred by most beekeepers.
The 11.3 x 8.2 x 5.3 inches bee smoker weighs 1.8 pounds which is quite light per say. If you do not like carrying around heavy items when doing your work then this should be a good choice for you. Its metal hook allows you to hang the smoker on the box edge or nearby when you are busy working on other things on the hive. The unit is also easy to light thanks to its heavy duty oxygen tray. It is also quite affordable. You cannot go wrong with this quality bee smoker.
Check Price
7. CO-Z Stainless Steel Bee Smoker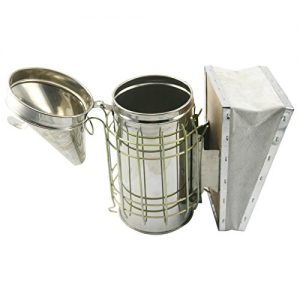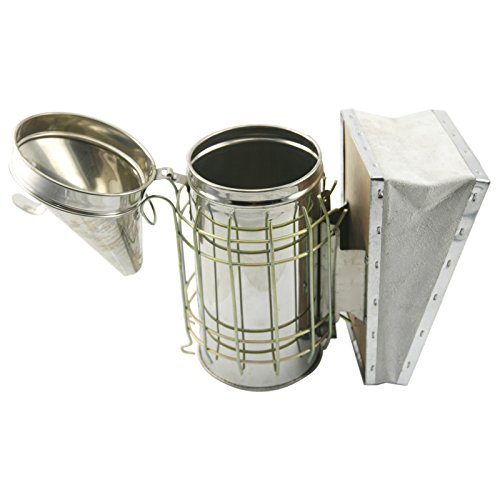 Weighing barely 1.9 pounds and with a dimension of 12 x 9 x 5 inches, this bee smoker has been designed to make honey harvesting or beehive inspection a breeze. It comes with a heat shield which protects the beekeeper from getting burned. The heat shield also keeps the hands cool. Other features that make the kit desirable include: a sturdy stainless steel construction, perforated and removable plate base that provides maximum airflow, and a hook for mounting the smoker when not in use. This is one of those units that are guaranteed to last. When it comes to price, this bee smoker is very affordable.
If you are looking for an easy to use, carry and store bee smoker, then the CO-Z Stainless Steel Bee Smoker is a great choice. What I love most about this bee smoker is the fact that it is durable and lightweight. When I need to use both hands, I simply hang it in a convenient place using the mounting hook. It is the best for calming bees when you want to perform routine checks, harvest the honey or merge bee colonies. It does the job well and they I highly recommend it.
Check Price
6. Honey Keeper Beehive Smoker with Heat Shield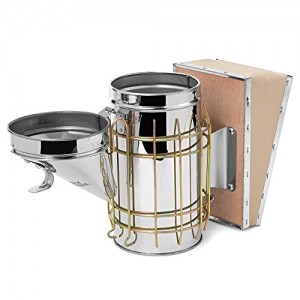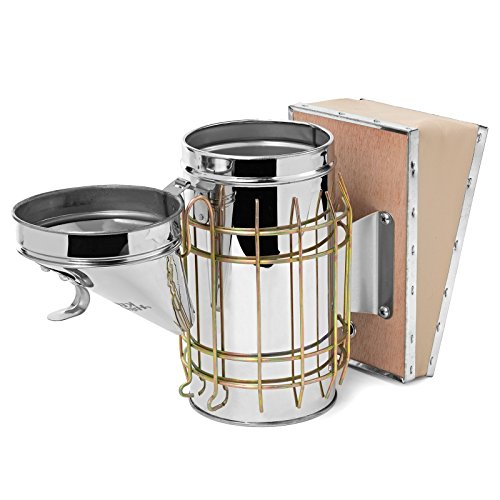 Honey Keeper is one of those brands that resonate with most beekeepers. It is known for its wide array of excellent quality beekeeping equipment and accessories. The Honey Keeper Beehive Smoker with Heat Shield is no exception when it comes to top quality. It is a highly rated bee smoker boasting a plethora of amazing features. To begin with, it is made of stainless steel material which is durable and resistant to rust and abrasion. It also has a heat shield that ensures you are well secured from heat burns when working on your beehives. Apart from these, it has a mounting hook that allows you to hang the smoker when you are not using it.
Other features that make this unit a must-have for every beekeeper include: a heat aerator for providing better airflow and long lasting smoke, top-notch bellows that guarantee consistent airflow, and its lightweight that make it easy to carry around. The unit weighs 1.6 pounds only and has a dimension of 11 x 8 x 5 inches. It is a smoker definitely worth every penny.
Check Price
5. Agralogix Bee Smoker with Oxygenator Fuel Tank Insert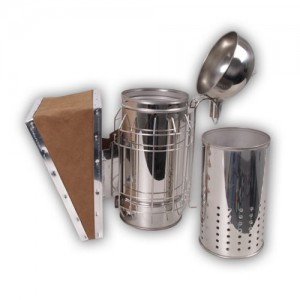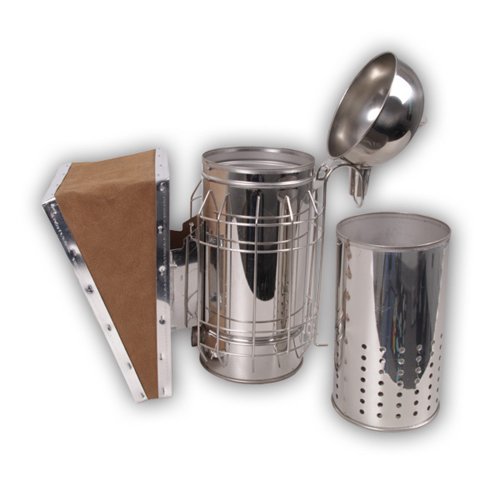 This is a top smoker from a reputed brand. It is an ideal smoker that produces a lot of smoke with less effort and with use of little fuel. It has an attractive design featuring a stainless steel finish that has been built to last.
The Agralogix Stainless Steel Bee Smoker comes at an excellent price, though when compared to other products it is smaller in capacity. It is easy to refill and works efficiently. It is also easy to use and hence an excellent choice for the starter who still has a lot to learn. I love its unique design and when compared to previous designs, this one works best. The only drawback associated with it is that it is a little bit smaller in capacity when compared to other smokers. Otherwise, it is an excellent choice for any beekeeper.
Check Price
4. Aspectek Beehive Smoker with Heat Protection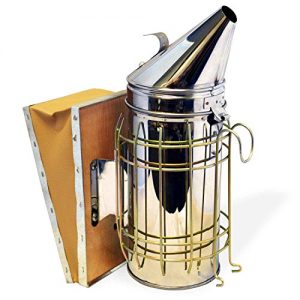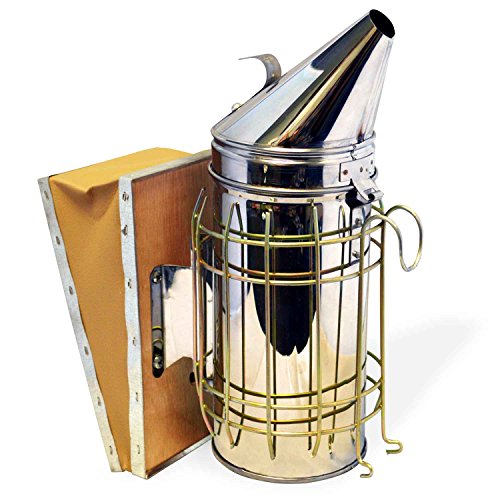 The Aspectek Beehive Smoker is one of those smokers that will intrigue you at first sight. It is a user-friendly smoker that suits the beginner or professional. It is quite unique in design and when compared to other smokers and this one comes with a scent cover as a bonus. You can also use it for deer hunting if you like.
This smoker is easy to work with and is economical to use too. It burns for a long period with no unnecessary fill ups in between smoking. It is an efficient smoker that will never disappoint even in cases when you have a bee emergency. The smoker quickly lights up and keeps burning until you are done with your work. However, one setback associated with this smoker is that it has sharp edges and therefore if you are not careful enough you might get injured.
Check Price
3. VIVO BEE-V001 Beehive Smoker with Heat Shield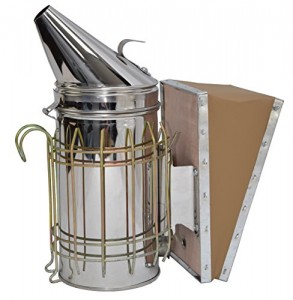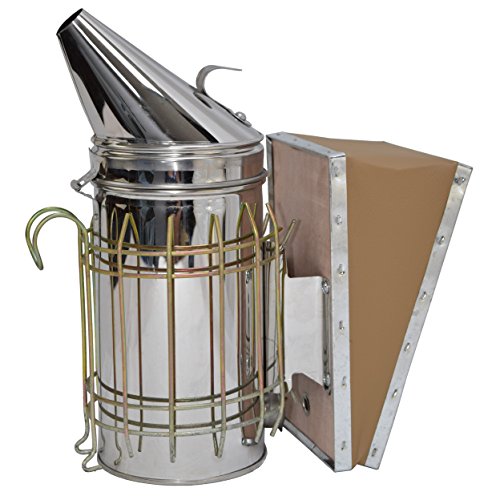 The Vivo BEE-V001 Beehive Stainless Steel Smoker with Heat Shield is an excellent quality smoker at an attractive price. It is well-designed with all the necessary components rightly put in place. The smoker has a hook for hanging it when in use and produces nice, thick smoke for a long period. It is also quite a breeze to pump this smoker.
This smoker is also fitted with a heat cage which will protect you from injuries and ensure the bees are kept at bay. You should however be careful with its bottom since it tends to get hot. You should ensure you keep it on a safe surface once you are done with it. It is  great quality for money and I recommend it to anyone irrespective of whether you are the hobbyist or a professional beekeeper. It's definitely a steal for the price.
Check Price
2. Goodland Bee Supply Beehive Smoker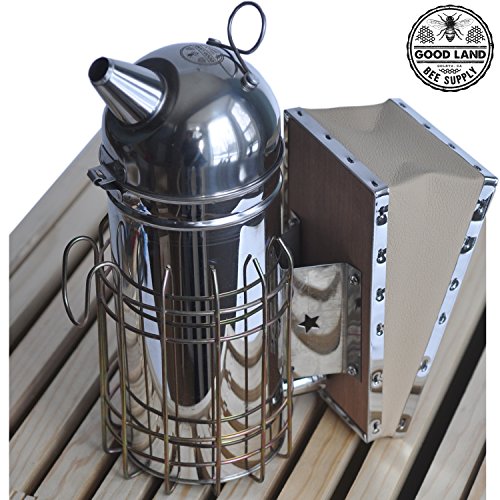 Goodland Bee Supply is another reputed manufacturer of beekeeping equipment and tools. It has built a good reputation with most beekeepers due to their exceptional quality products. Its bee hive smoker captured my attention when I saw it for the first time. It is an easy-to-clean smoker that is ideal for all beekeepers. It comes at an affordable price, therefore, for those on a tight budget or the beekeeping enthusiast this smoker will suit you best.
When compared to other bee smokers, this one is quite large and thus it lasts longer since it can hold more fuel. Its pump is also easy to use making it easy for you to undertake your business. It fires up easily and as expected and will go beyond your normal hours of inspection. Furthermore, it is easy to clean and it does not have any screws or protruding nails inside. It has an attractive design and is safe to use.
Check Price
1. Mann Lake HD540 Stainless Steel Smoker with Guard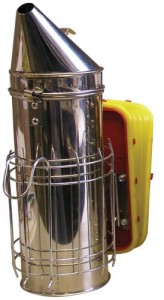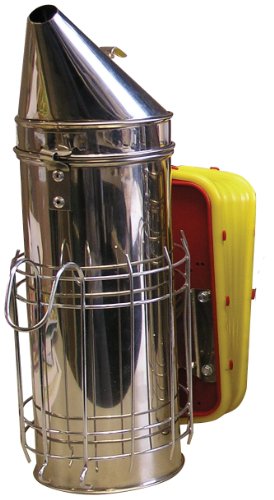 This bee hive smoker from Mann Lake has been designed specifically for those who prefer rubber pumps over the ordinary leather pumps. It is one of those smokers that captured my attention when I first laid my eyes on it. It is quite easy to light and the smoker stays burning for a long time ensuring you get sufficient smoke for an extended period of time.
The Mann Lake HD540 has a pump that has a simple design and is fitted with a replaceable bellow. It is quite unique in every sense when compared to other smoker in the market. Most users of this smoker are well pleased with it and they say they could never ask for anything more. I particularly got carried away by the rubber bellows since I prefer them over leather. It also has a larger chamber that helps ensure the fuel lasts for a long time with no need to keep adding more between refills.
Check Price
Bee Smoker Fuels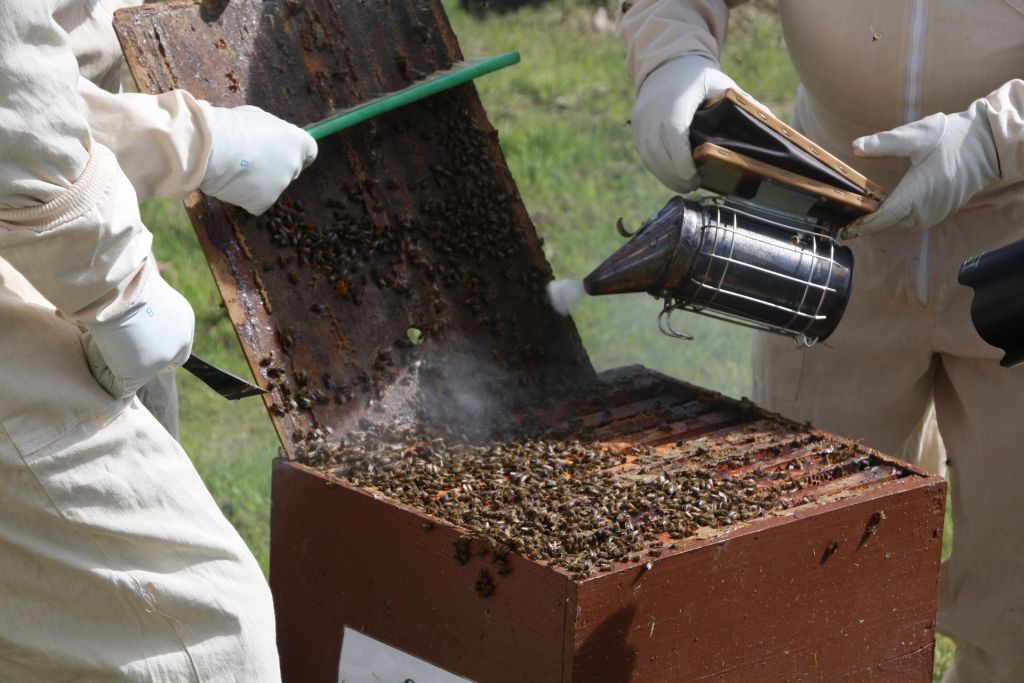 You have so many options to choose from when it comes to bee smoker fuel. You may be inclined to settle for any kind of fuel, but the best type would be fuel that remains lit and burns slowly while producing a cool white smoke. Natural materials are ideally the best for working on bees since they give the desired quality of smoke. The best bee smoker fuels are meant to make your work easy. Many types of fuel will produce smoke but only a few generate a cool, nice and mellow smoke. Those that produce a hot smoke will burn the bees and that is why you have to choose the best bee smoker fuel for the job. In fact, some materials generate harmful chemicals when burnt and these should be strictly avoided.
Bee smoker fuel is available in two types: the commercially produced and the natural smoker fuel. You can purchase the commercial smoker fuel from a beekeeping catalog or over the internet on sites such as Amazon or eBay. If you choose to go the natural route, then you really need to look out for fuel that can produce bee-friendly smoke and not fire. It should also be a material that can burn slowly, cleanly and at a low temperature. You would not settle for anything that leaves sooth on the honey or beehive, would you? Additionally, along with choosing the right bee smoker fuel, it's essential to also choose the best bee smoker tool for the job.
Some of the materials to avoid when choosing smoking fuel include:
Sawdust – burns hot and will generate embers that will slip into the hive and burn the bees.
Petroleum products and synthetic materials – these produce a dark irritating smoke when burnt.
Ideal Features of the Best Bee Smoker Fuels
When not really sure about what to consider when choosing your bee smoker fuel consider these features:
Natural products or fiber – these are friendly to bees. Anything man made should be avoided.
Anything that smolders but never flames up should be considered. A fuel that burns too hot will consume the bees and therefore should be avoided.
It should be easy to light and keep smoking without going out easily.
Is free from chemicals and harmful substances that can kill the bees.
Easy to get whenever you run short of what you have.
Pocket friendly since you will regularly require bee smoker fuel.
With that said, let's check out the best bee smoker fuel available right now.
Best Bee Smoker Fuels
10. 100% Cotton Knitted Bee Smoker Fuel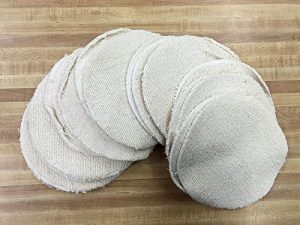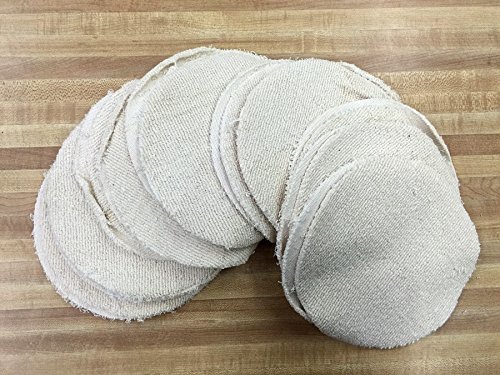 The fuel circles are knitted from cotton that is solely grown in the US. It is a 100 percent knit cotton textile that easily lights and never flames up. This smoker also smolders slowly and gives a desirable smoke. That is precisely why it is preferred by many. It comes in uniformly cut circles that are 8 inches each.
Features and Benefits
Product dimension is 12 x 8 x 5 inches and weighs 2 pounds each.
Smokes well and smolders slowly.
It is easy to light up.
Comes with uniform 8 inch circles.
Made of 100 percent knit cotton textile.
Made using US grown cotton.
Check Price
9. 100% Hardwood Bee Smoker Fuel Pellets, 2lb bag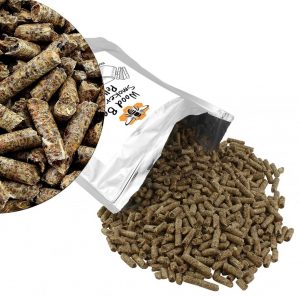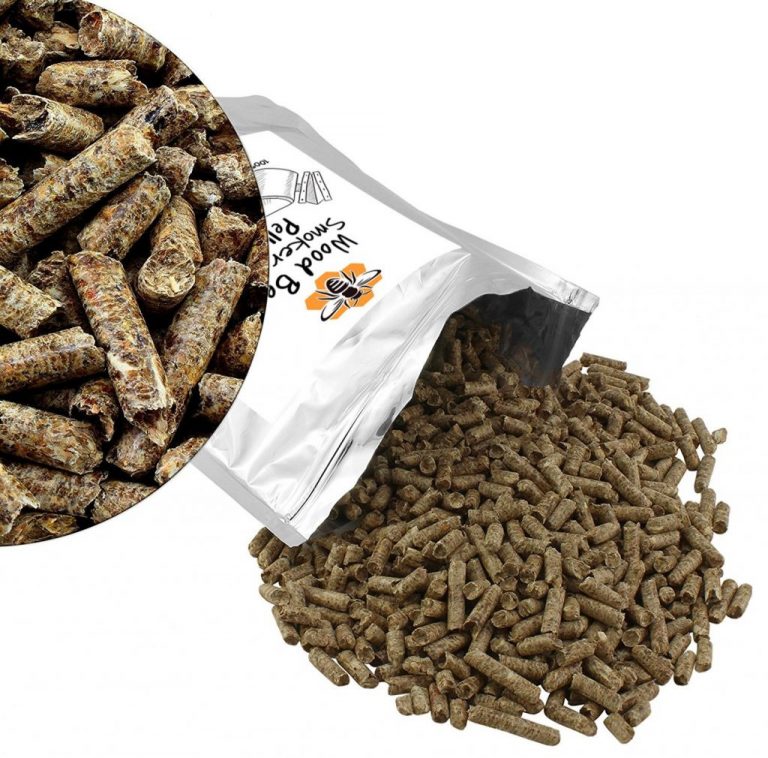 Next on our list of the best bee smoker fuel is this fuel pellets from a top manufacturer – Cornucopia Brands. The wood burns slowly and for an extended period. The wood pellets are generally hard to light but once lit, will stay lit for a good while. This is unlike other options that flames up easily and go off fast. This product is made of 100 percent quality hardwood which gives a clean smoke that is ideal for calming the bees without harming them.
Features and Benefits
The wood pellets give clean smoke that smolders slowly and for long.
It is hard to light up but takes a longer time to go off.
Made of 100% hardwood.
Free from filler content.
Delivered in a resalable zipper bag.
The clean smoke produced by these pellets is good for the bees.
Check Price
8.  100% Cotton Yarn Bee Smoker Fuel

There is a great advantage associated with cotton smoker fuel unlike others. Cotton not only lights up easily but it also smolders slowly and gives a clean smoke. The bee smoker fuel  is manufactured by LuRay Textiles Inc. This fuel is made of 100% cotton thread which burns slowly and is easy to pull apart. The threads are delivered already cut and are ready to measure and use. The source of the cotton is North Carolina.
Features and Benefits
Made from 100% cotton yarn.
Surprisingly affordable and excellent quality.
Easily lights up and does not require torch.
Smokes well and smolders slowly.
It is easy to pull apart and comes ready to measure and light.
It is ideal for most smoking jobs and can easily be measured even for small jobs.
US made product.
Check Price
7. 100% Cotton Cotton Cut-Offs Bee Smoker Fuel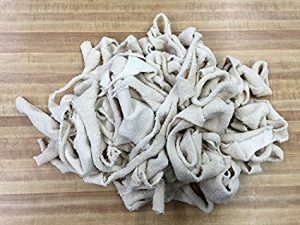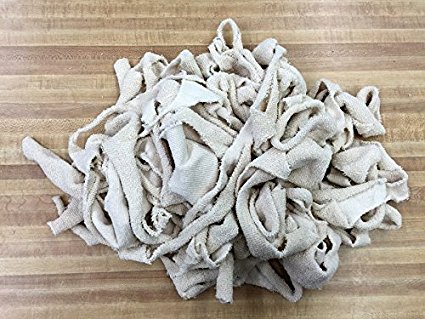 This is another excellent choice of bee smoker fuel from manufacturer LuRay Textiles, Inc. It offers an affordable and quality option for the beekeeper. These 100% cotton cut-offs are slow burning and will never go off easily. The product is designed from the cut-offs or remnants of the 8 inch smoker circles we listed at number 10 on our list. These are ideally a cheaper option that works just like the 8 inch smoker circles. Of its greatest benefits is that it never flames up or goes off once it is lit. It simply smolders and generates smoke as required.
Features and Benefits
Burns for a long period.
Generates a friendly smoke for the bees.
100% natural cotton yarn is an excellent bee smoker fuel.
An affordable option.
Never flames up but smolders and generates desirable smoke.
Check Price
6. Mann Lake HD554 KwikStart Smoker Pellet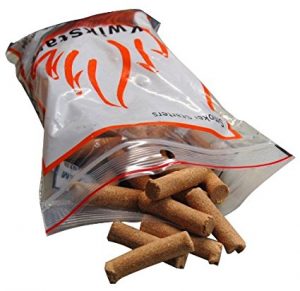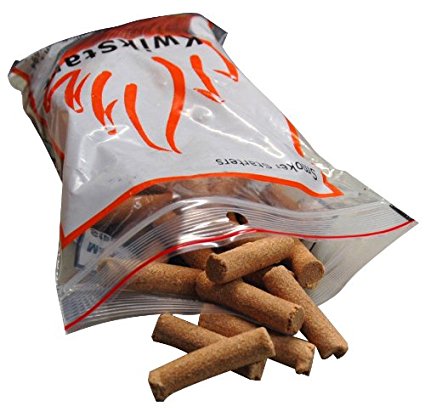 Enjoy stress free hive inspection and honey harvesting by using these smoker pellets from Mann Lake. They are easy to light up and smolders well. You can use the pellets alone on one or two hives and also as starter for other smoker fuel. The fuel generates a calming smoke that can never harm the bees. The quantity supplied also lasts a number of uses.
Features and Benefits
Acts as a standalone bee smoker fuel and also a starter fuel for other bee smoker fuels.
Generates a calming and clean smoke.
Makes it easy to start your smoker.
May not last long but it does generate a lot of smoke.
Reasonably priced when compared to other smoker fuel.
Small and convenient to carry along.
Excellent as smoker starter but requires backup to last longer.
Check Price
5. BeeCastle Bee Hive Smoker Pellets, 54 Pcs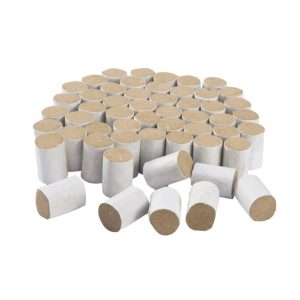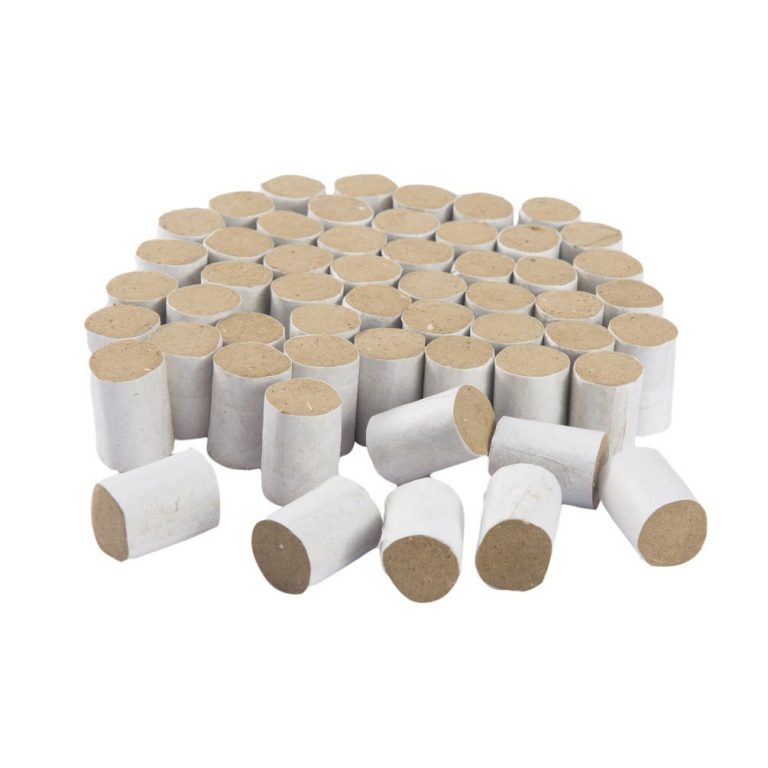 If you have been searching for a longer lasting beehive smoker fuel then your search ends here. This bee smoker fuel from Beecastle burns for an average of 20 minutes and consists of 100% Chinese herb. It calms down the bees and also cleans the beehive. The fuel is free from any filler material and delivers a cleaner smoke unlike softwood. It comes in a bag of 54 pcs that will certainly last even for the non-frugal user.
Features and Benefits
Burns for up to 20 minutes.
It is composed of 100% Chinese herb that not only cleans up the hive but also helps repel unwanted insects and pests.
The package is made up of 54 pieces per bag.
Well made and durable.
Clams down the bees within a short time.
Lights up easy with the spark of a flame.
Ideal for hive checking and works well as a starter for any other smoker fuel.
Friendly to the bees.
Check Price
4. Gooday Chinese Medicinal Herb Bee Smoker Fuel, 54 Pcs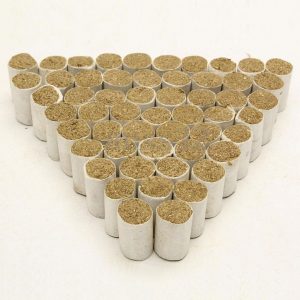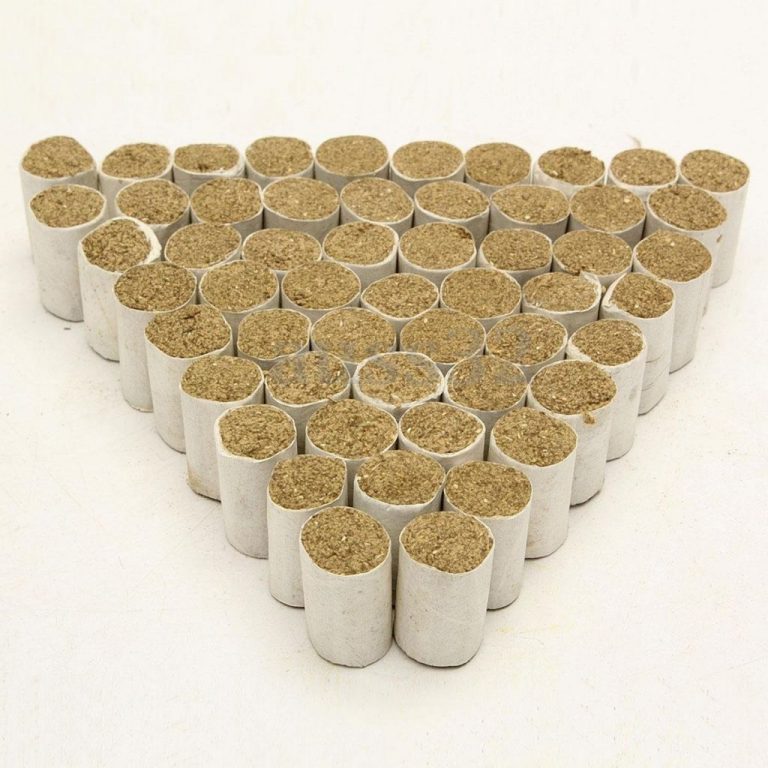 Enjoy more benefits with beehive smoking beehive calming the bees. This honey bee smoking fuel is composed of Chinese medicinal herbs that give additional benefits. It kills beehive borers and stubborn bacteria and cleans up the bees by smothering the body mites that affect them. It also repels insects when used on a daily basis. This fuel improves the overall health of your beehive.
Features and Benefits
Composed of Chinese medicinal herbs.
Burns viruses and bacteria.
Burns for an extended period, ideally 12 to 16 minutes.
Kills beehive bores, repels insects, and cleans the bees by eliminating body mites in bees.
Comes with 54 pieces of bee-specific smoke bombs.
Ideal for beehive maintenance and sterilization.
Check Price
3. Western Bee Supplies Wood Pellets Bee Smoker Fuel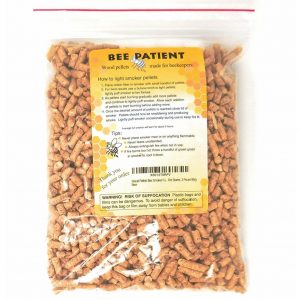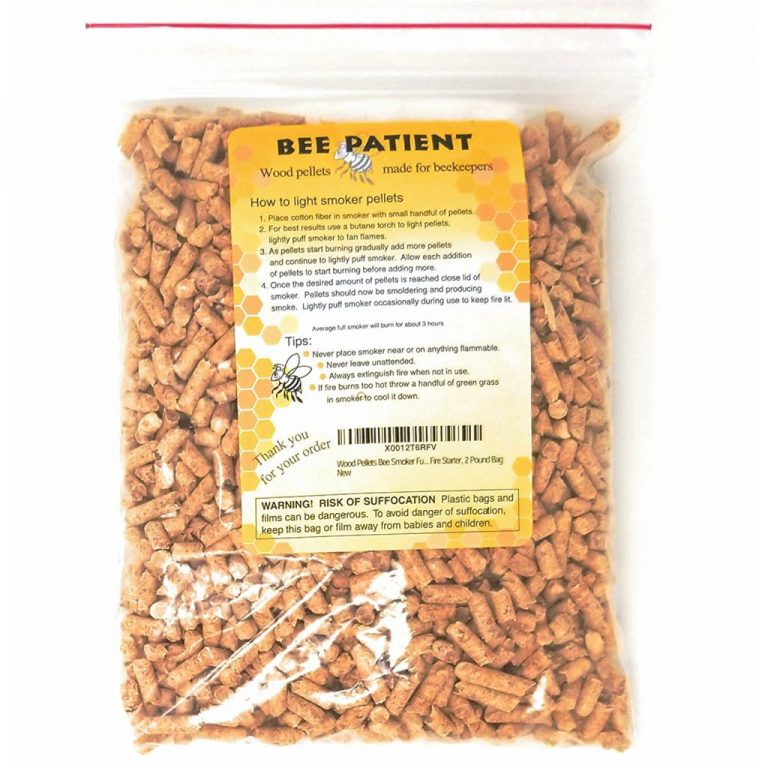 This is a top choice for most beekeepers. It is a quick and easy to light smoker fuel for beekeeping. It is delivered in a 2 pound bag that is easy to carry alongside your beekeeper travel kit. The wood pellets are excellent smoker fuel that light up easily and smolders for a long time. It also produces a clean smoke that never harms the bees.
Features and Benefits
The two pound compressed wood pellets are delivered with extra 5 smoker fire starters.
Easy to light up and it produces a longer lasting smoke.
Light enough to carry along in the beekeeper travel kit.
The wood pellets burn clean and never harm the bees.
Easily calms the bees to facilitate honey harvesting or beehive inspection.
Check Price
2. Mid West Bee Supply Bee Smoker Fuel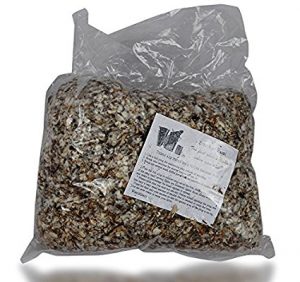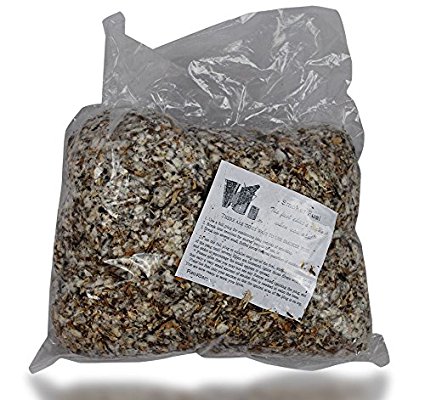 This is ideally one of the best bee smoker fuel in the market. It is made of 100% cotton fibers and does an excellent job when it comes to calming the bees. It generates a constant smoke that is clean. This calms down the bees and never harms them so as to allow the beekeeper to work on the hive. The fuel lights easily and will smolder continuously for a long period of time.
Features and Benefits
Easily lights and burns continuously for a long time.
Made of 100% cotton fibers.
Meets the needs of small scale beekeeper as well as for the commercial scale beekeeper.
Quality for money.
Check Price
1. Premium Pine Needle Mulch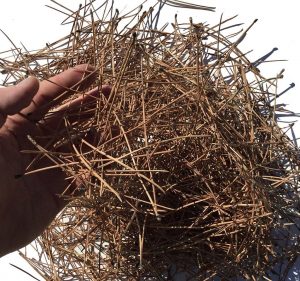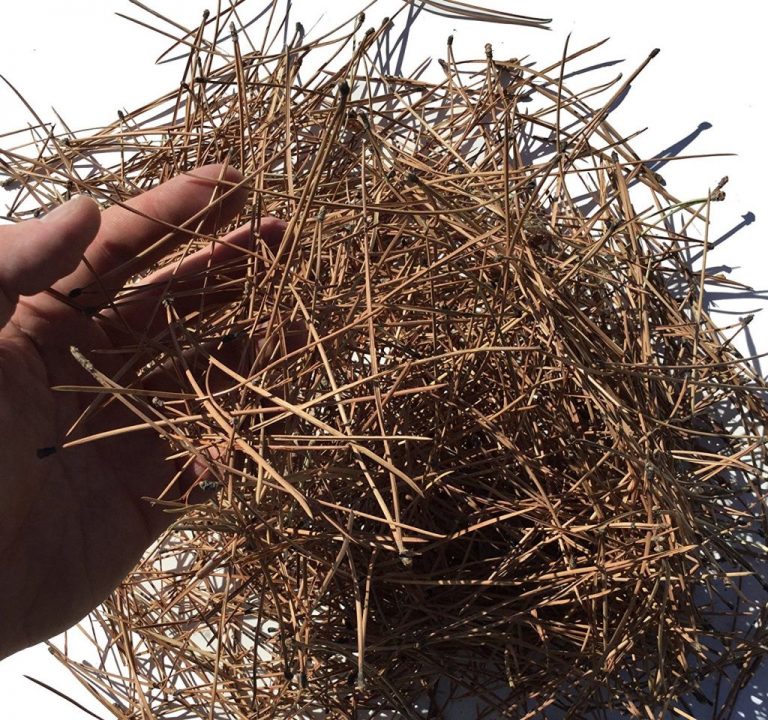 Pine needles make one of the best bee smoker fuel. The 100 percent natural smoker fuel generates a friendly smoke that can never harm the bees but simply calms them down. This fuel is ideal for professional beekeepers and it is easy to use and delivers a steady and constant smoke. This is an excellent product for beehive inspection as well as honey harvesting.
Features and Benefits
Made up of 100% dried, natural pine needles.
It is the best for professional beekeepers.
Easy to carry along with your beekeeping tool kit.
It is easy to use. Produces a steady and reliable smoke.
Never harms the bees. The smoke is clean and calming.
Produces a lot of smoke.
Ideal choice for those in areas where they do not have pine.
Check Price
Why the Bee Smoker Works
There are many theories put forth to describe how the bee smoker works with regard to calming the bees. The two concepts that have become widely accepted are described below:
Pheromones theory
Pheromones are the hormones used for communication by the bees. The alarm pheromone is usually sparked whenever there is an invasion on the beehive. It is also emitted whenever a bee is injured or startled. This signals the colony to initiate an aggressive attack on the invader. This will take a few minutes and entire colony will be gathered for an attack. The smoke is effective since it masks this scent even if you kill a bee or two while working on the hive. The bees will not be able to send out the signal and hence an aggressive attack will never be initiated.
Fire drill theory
The use of smoke on the hive initiates a kind of a fire drill to the bees. Once the bees get the idea that there is a fire breakout their immediate action would be to immediately embark in a honey consumption spree. They immediately consume as much honey as each can hence resulting in full bellies. They will then be prepared to flee their home and search for a new home if deemed necessary. All this hustle disrupts the bees and when full, they are harmless. You can therefore work on the hive without fear of being stung by an aggressive bee colony.
It is for these reasons that the bee smoker is found to be effective when harvesting honey or conducting routine inspection on the hive. On top of this, some smoker fuel helps curb some beehive pests such as the varroa mites.
Lighting a Bee Smoker and Keeping it lit
The bee smoker has a simple design and early versions of the smoker were the simplest. The smoker has evolved over the years and the current one comes with bellows attached on top and is used for directing the smoke. The smoker's simplistic design and way of functioning makes it so easy to light and operate.
You start the fire in the can then pump oxygen through the fire using its bellows which will also push the smoke through its outlet or spout. The main part to be concerned about is how the air flows into the can through the bellows. If the smoker material is packed down too far in place, it blocks airflow and makes it difficult for the smoker to be kept burning.
The bee smoker lighting follows ideally three steps. The beekeeper starts the smoker, kindles it and keeps it lit using smoker fuel. Each of these steps requires its type of fuel. The starter fuel is a kind of smoker fuel that sparks easily and stays lit for long enough for the kindling to catch fire. Some of the smoker fuel that make excellent starter fuel includes: pine cone, sheet of newspaper, and roll of cardboard. Starter fuel is lit then tossed into the can before laying the kindling on its top. Some beekeepers may not use starter fuel but choose to light the kindling directly. However, this tends to be difficult, especially for beginners.
Kindling fuel should be small and thin pieces that can light easily. For instance, pine needles, wood shavings, hamster bedding, dry shredded leaves, straw, and others. You should however avoid any synthetic fabric from used clothing since it melts rather than burn and will generate harmful smoke. The smoker fuel refers to any fuel that smolders slowly and long, and this could be larger kindling fuel or any desirable smoker fuel that lasts long. Small twigs, wood chips, large pine needles, cotton knitted smoking circles, hardwood fuel pellets, and many others are ideal fuel.
How to Light and keep the smoker lit:
Take the starter fuel and light with a lighter or match stick.
Place it at the bottom of the smoker. You can use the hive tool to push the burning starter fuel into place.
Pump the bellows a few times to insure the starter fuel maintains a flame.
Add some kindling fuel to the smoker until the burner is ¾ full.
Squeeze the bellows to help keep the kindling burning.
With the kindling glowing, add the right smoker fuel and keep squeezing the bellows until a cool white smoke is generated.
Close the top of the smoker and use the smoker on the hive.
How to Smoke a Beehive
The smoker should be used on occasional hive inspection or honey harvesting. Remember it does not really make a difference if you use more smoke on the hive. More does not mean calmer bees. Apply a few puffs of smoke on the beehive then allow at least 20 to 30 seconds before working on the hive. The smoke should be applied from the sides or behind the hive. Do not approach the hive from front.
When undertaking full box inspection on hives, when some of the frames are exposed, apply a few puffs of smoke then give the bees some time to move to the untouched frames. This will ensure you do not injure the bees in the process.
A few brief squeezes in the smoker bellows are usually sufficient to calm the bees. Avoid too much smoke on the hive since this can choke and kill the bees. Always allow the bees some time, say 20 seconds, after smoking before you work on the hive. Remember also never to smoke all sides of the hive. Approach the hive from one of the sides only. If smoked from all sides, the bees will have nowhere to go.
If you are working on docile bees, then it is tempting to work on the hive without using a smoker. Nonetheless, the smoker helps safely drive away the bees from the frames and corners you are working on. It therefore goes without saying that the bee smoker is needed for hive inspection and honey harvesting.
Tips for Using a Bee Smoker
The way you handle smoker will determine your effectiveness in calming your bees. These are helpful tips when using a smoker:
Know the difference between starter, kindling and smoking fuel. Use the starter fuel to light up the smoker then add the kindle fuel before finally adding the smoking fuel.
Lighting begins at the bottom of the bee smoker and then the fuel is piled up on top of it as the flame increases.
Always start out with an empty and clean smoker.
Bellows are your friend when lighting and keeping the smoker lit. Squeeze in sufficient amount of air whenever you are lighting and adding more fuel. The occasional puff from the bellows will keep the smoker burning.
Never pack too much or too little fuel within the smoker. Too much will put off the fire and too little will burn too fast and waste the fuel. Put in the right amount of fuel. You should also monitor the smoker from time to time to ensure enough fuel is left.
The bee smoker gets very hot. Therefore, hold it by the bellows or by its little hook in the front.
Never place the smoker on top or near anything that melt or prone to scorching.
Ensure the smoker is well maintained at all times and store it in cool dry and secure place.
Alternatives to the Traditional Bee Smoker
Most of us are familiar with the traditional bee smoker and have never given a thought about any other alternative to this. Some of the alternatives to the smoker include"
Liquid sprays – this is normally referred to as spritz spray and is made up of sugar mixture in addition to additives such as Honey-B-Healthy. Sugar syrup coats the bees and forces them to furiously clean themselves. As they do this the beekeeper will be conducting the inspection or honey harvesting. This is effective in calming the bees but its biggest challenge is that it gets stuck on the bees. This may affect movement and flight also. Another challenge associated with liquid sprays is that it affects the developing larvae and can invite robber bees. It is also not practical during the cold season since it can freeze the bees.
Liquid Bee Smoke – this is made from concentrated liquid and safe and fit for humans to consume. This has been in use for a long time as a substitute for traditional smokers. It is particularly a viable option for those who operate in fire ban areas or those who prefer a portable alternative.
Others – other options include CO2 and N2.
What to do with the Bee Smoker when Finished
Ever wondered how to handle your bee smoker after your work is completed? Well, most beekeepers simply look for a safe area away from dry grass and dispose the hot smoker fuel. This seems to work well but it is not the proper way of handling the smoker after smoking. The recommended way to handle the smoker is to simply place a paper on top of the canister then close the lid. This will block incoming air and suffocate the fire within. The fuel will remain in excellent condition too and will be good for use on your next smoking work. In fact, it will light up faster next time.
Bee Smoker Maintenance
A well maintained bee smoker guarantees an excellent, clean supply of smoke. Every bee smoker should be kept in good condition for them to operate properly. Here are some of the ways to maintain your bee smoker:
The interior part of the bee smoker should be cleaned using a screwdriver or a hive tool. Scrape around the lid so that it opens up and closes easily. Clean the smoke outlet also.
Remove soot and carbon from the can so as to make it easy to remove the grate.
Remove the grate using a screwdriver and remove the soot or carbon using a hive tool. You should also clean the holes using the corner of the hive tool or a screwdriver. Debris and soot may also be collected in the can beneath the grate. Use a hive tool or screwdriver to remove this.
Gently remove the bellows from the smoker and clean the tube. You should also check out the bellows for air leakage using your finger. Squeeze the bellows and pass your finger over the surface of the bellows. Any small leaks can be fixed temporarily using a tape but large air leak requires a replacement of the bellows.
Put back everything that was removed for maintenance and your smoker will be as good as new.
A Final Word
Bee stings hurt, and can even be fatal if you're allergic to them. To ensure you go about your business efficiently and without any burns or stings from the bees, choose from one the above best bee smokers. The bee smoker not only pacifies the bees but it also gives the beekeeper confidence when working on the hive. A relaxed beekeeper will also do a good job with less reactionary movement. It also helps minimize bee loss that usually occur when bees get crushed while removing and replacing frames. Calm bees are easy to move and manipulate. You should however take good care of your bee smoker so as to boost its efficiency and extent its life.
Smokers need fuel and the best bee smoker fuels discussed above make an excellent choice for both the small and large scale beekeeper. They have not been created equal and therefore you have to choose an option that meets your needs. Go for the bee smoker fuel that does not harm the bees and is made of natural materials. It should also be easy to light and generate smoke for a long period of time.
Do you own any of the bee smokers on this list? Which smoker(s) do you think should be added to this list? Leave a comment below and let us know.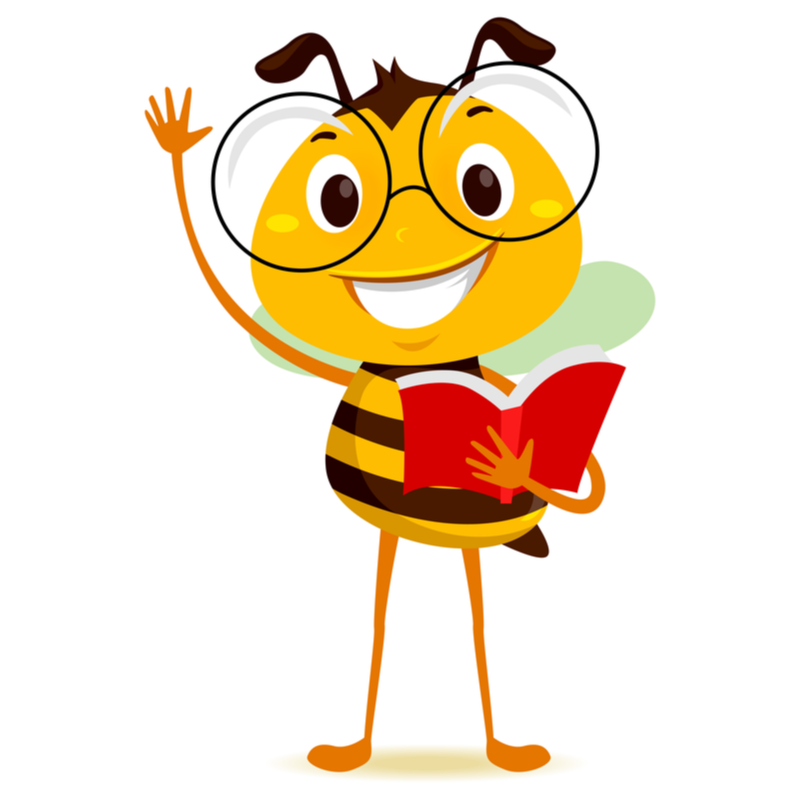 GET YOUR FREE EBOOKS BEFORE YOU GO!
As our gift to you, we're offering you our very own eBook bundle on getting started in beekeeping. Just enter your email and we'll send them to you.
No thanks, I don't want the free ebooks.