If you purchase an independently reviewed item through our site, we earn an affiliate commission. Read our affiliate disclosure.
There are some tools and equipment without which it becomes near impossible to succeed in beekeeping, especially when it comes to extracting honey. The honey extractor is essential if you are producing a substantial amount of honey and you want to maximize your profits and minimize costs. By owning an extractor you will be able to increase the speed and the yield from your enterprise. A good quality honey extractor such as the Hardin Professional 3 Frame Manual Honey Extractor will make a huge difference in your honey-making business, whether you do it as a hobby or for commercial purposes. It is one of those extractors that will grow with your business.
Benefits of a Honey Extractor
Constant honey supply is the most enjoyable benefit. You will be able to enjoy the many health and beauty benefits of the honey – energy booster, allergy relief, antibacterial properties, substitute for sugar, and many others.
Extract your honey anytime and anywhere. Since you have your own honey extractor you do not need to borrow from others but rather use it whenever you want.
Increase in honey production since you do not damage the honeycombs when you use the extractor.
Quick and easy extraction of honey unlike using other methods of honey extraction.
The Honey Extraction Process
Honey is ready for harvesting once the bees have filled the combs with honey and fully capped them. The honey extractor will help you collect this honey in a safe manner so as to avoid destroying the structure of the combs. This will ultimately make it possible to reuse the honeycombs.
Within the honey extractor is a frame basket that is used for holding the combs. The honeycombs are then spun through a centrifugal force forcing the honey out of the combs. This leaves the wax and comb intact to be returned to the hive.
Honey extraction will not be possible without a number of tools and accessories:
The extractor – for extracting the honey.
Hot knife – used for slicing off wax cappings from the honeycombs.
Strainer – to filter collected honey.
Jar or bucket – for collection and storage of the honey.
Measuring cup – for transfer of honey into smaller containers.
Getting the Frames Ready for Extraction
This is the easiest and most exciting stage in honey harvesting. The fully capped honeycombs are removed from the hive the previous day and stored for extraction. These should be kept in an area where the bees cannot access.
The extraction site should be indoors so as to keep bees out of sight. You can do this ideally in your garage. The location should be a place that can easily be cleaned. Outdoor sites can suffice but it is not the best location since it will attract bees and might even cause some of them to drown in the honey.
The extractor should then be placed in an area where it can easily be operated. Place a bucket underneath the honey gate or valve. You might also use a strainer on top of the bucket. This will help filter the collected honey.
Uncap the honeycombs using the hot knife. If you have a cold knife then you have to warm it in-between when uncapping. The electric uncapping knife helps you uncap without the need to keep warming the knife. Remember the knife gets hot very quickly and may inflict serious burns on your if you do not handle it cautiously. Uncap both sides of the honeycombs so as to expose the liquid honey. This step should never be conducted in a hurry. Cut the combs shallow enough, preferably 1-centimeter deep maximum.
Spinning and Collection
The combs are placed inside the baskets once the capping has been removed. The spinning process will then begin depending on whether you have a manually operated unit or an electric one.
The spinning process might cause the extractor to be unstable, especially when at faster speeds. In this case, you might seek support from someone to hold it for you. Faster speeds translate to more honey extracted. You can monitor the process through the clear lids that cover the extractor. Once completed, extract the honey from other honeycombs as well.
The collected honey will be directed from the conical drum walls into the spigot or honey gate. This might take some time to show but once it starts you will collect and filter the honey for 1 or 2 hours. The collecting bucket can then be transferred and the collected honey stored in jars. Ensure you leave a bowl underneath the extractor so as to collect any honey residues that might still flow out of the unit.
The empty frames should then be taken back to the hive where the bees will begin to repair and refill them once more. This makes it so much easy for the bees to prepare and store more honey. The extractor does not destroy the honeycombs allowing the bees to reuse them and direct energy to other hive assignments. This translates to greater hive productivity.
The honey extractor should then be cleaned in addition to the tools used during the honey extraction process. Since honey is water soluble and anti-bacterial, use hot water to clean the extractor and other tools. The wax that remains after cutting should be placed near the hive where the bees will collect honey residues. You can then take store the wax later use.
About the Hardin Professional 3 Frame Manual Honey Extractor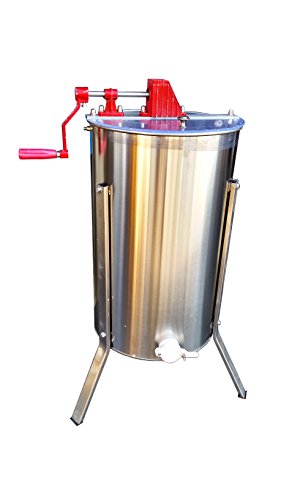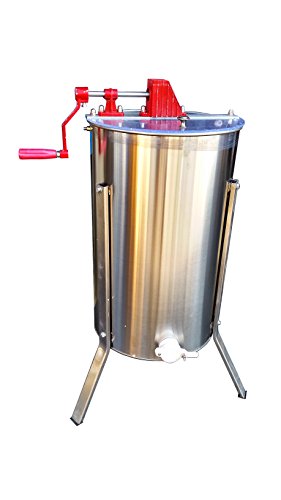 There are many kinds of extractors to choose from in the market but Hardin honey extractors resonate with most of us due to their sturdy and dependable designs. The Hardin Professional 3 Frame Manual Honey Extractor in particular is ideal for all levels of experience, whether a starter or a professional. One general rule that I normally use when purchasing any honey extractor is the size of the operation. You need to understand your standing now and your projections for the future. If you intend to scale up in the near future then you need an extractor that will grow with you. The main advantage of honey extractors is that they tend to maintain their value over time. Therefore, if you quit beekeeping then you will have no problem selling them.
The Hardin Professional 3 Frame Manual Honey Extractor has all the features you would demand from a honey extractor. Its mechanics work well and it comes at an affordable price. It has a stainless steel canister, metal gears construction, and sealed bearings. It is a bit heavier though when compared to other extractors. Hardin offers a lifetime warranty.
Features
Made with a sturdy 16 gauge stainless steel tank.
A clear Plexiglas top that allows the user to view the progress of the honey extraction process.
Comes with a steel gear construction that has sealed bearings.
Build with optional legs or stands.
It measures 15 x 45 x 24 inches and weighs approximately 22.1 pounds.
Check Price and Availability of the Hardin Professional Honey Extractor
Pros and Cons
The construction and overall design of the Hardin 3-frame manual honey extractor are impressive. However, it also has its setbacks just like any other product.
Pros
Its mechanics are easy to operate and work well.
It has a crank handle and 3 legs that are easily attachable.
Straightforward to assemble and disassemble.
Great quality for money.
Durable unit.
Food-safe construction.
Provides enough space to place a bucket underneath the extractor.
Lifetime warranty offered by Hardin.
Cons
Its honey gate is too low.
Not high enough to put a bucket underneath.
You have to tear it apart so as to tighten the bolts on its top before use.
Further Thoughts
I am well pleased with the extractor and I applaud its stainless steel design and construction. Shipping from Amazon was delivered on time and the mechanics of the extractor worked extremely well. I was pleased with how the 3 legs and the crank tank handle are so easily attachable. It took me around 2 hours to completely spin out honey from 8 frames of honeycombs. Overall, it is a good quality extractor and worth its price.
One of the major setbacks that I didn't like is that the legs are not high enough to allow a bucket to be placed underneath the extractor. Additionally, I did find it a bit heavier when compared to other extractors, though I suppose this can be attributed to its sturdy stainless steel construction.
Overall, this is an excellent quality honey extractor that's bound to last you. It has all the features you'd expect from an extractor and it's definitely worth its price. I particularly loved its easy-to-operate mechanics and the stainless steel construction. You will assemble and disassemble it with ease since it is easy and straightforward to operate.
Conclusion
When buying a honey extractor you need to consider the size of your operation, the possibility of future expansion, whether you want a manual or powered extractor, and your budget. The type of material is also very essential when buying an extractor. The traditional galvanized metal extractors are no longer in use these days since they have been discontinued. The Hardin Professional 3 Frame Manual Honey Extractor never disappoints when it comes to effectively spinning a number of frames. It is easy to operate and sturdy in construction. This is one of those extractors that are ideal for a first-time purchase.
If you are a beginning beekeeper or beekeeping hobbyist who would like to start small and then scale up later on, then this extractor will serve you well. I would recommend this product to anyone who needs a well-constructed and sturdy honey extractor.
Have you ever used the Hardin Professional 3 Frame Manual Honey Extractor? Leave a comment below and let us know what your experience was like.
Check Price
Check Price (Australia)