If you purchase an independently reviewed item through our site, we earn an affiliate commission. Read our affiliate disclosure.
Quick Overview
The VIVO BEE-V004E Electric 4 Frame Honey Extractor is great for its robust construction and user-friendly design, making it a top pick for beekeepers at any level. Its ability to hold multiple frame sizes and the clear lid for monitoring the extraction process are standout features that enhance the honey harvesting experience.
There are many types of honey extractors for beekeepers to choose from in the market today. If your beekeeping business has reached the level where you are now able to produce a number of bottles of honey, then it is the ideal time to get a reliable honey extractor. The extractor will not only speed up the process but will also boost your yields per season since it ensures that the combs are not damaged. The VIVO Bee V004E Electric 4 Frame Stainless Steel Honey Extractor has been designed to meet the needs of even the most demanding beekeeper. It is an electric extractor that will bring tremendous benefits to your enterprise.
What is a Honey Extractor?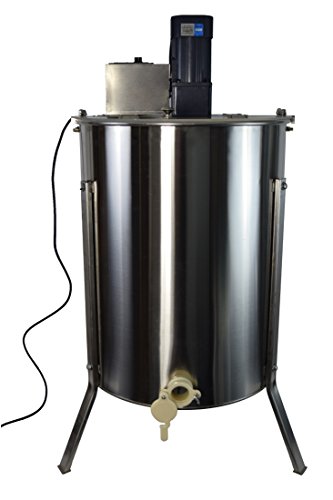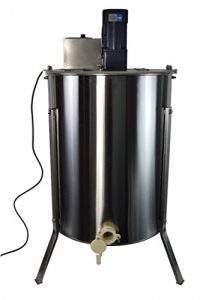 This is simply a mechanized device that has been designed for extracting honey from bee combs with no or minimal damage to the combs. It works through the use of centrifugal force. Within the extractor is a cylindrical drum that holds the frame basket. The frames are spun and honey is extracted from the combs. Once done, you can take out the combs and wax and return them to the bees for use.
You can buy a manual or electric extractor depending on your budget and size of operation. The electric honey extractor uses electricity to spin the frames so as to extract the honey from the combs. It comes with an electric motor which is linked to the electric current supply. The combs are spun at certain speeds so as to prevent the possibility of damage to the honeycombs. This type of extractor is ideal for commercial purposes or highly demanding beekeepers. Click here for more information on honey extractors.
Benefits of Electric Honey Extractors
The electric honey extractor spins the combs faster and extracts large amounts of honey within a shorter period of time.
They are easier to operate. All you have to do is turn on the motor and the spinning begins automatically. No need for any manual labor on your part.
Much faster unlike manual honey extractors.
Ideal for large honey producers especially those who engage in commercial honey extraction.
About the VIVO BEE-V004E Electric 4 Frame Honey Extractor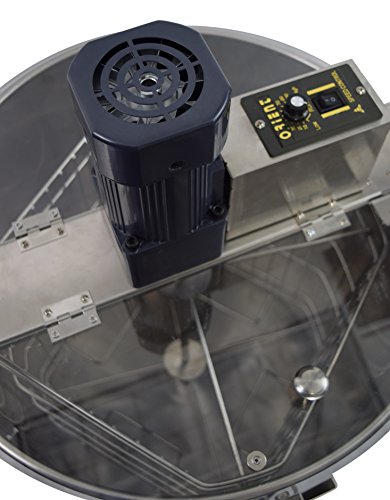 This electric honey extractor from VIVO is ideal for all levels of beekeeping. It has been built with a solid 304 stainless steel body. This newer unit is more advanced when compared to its predecessor, boasting better features and fixing some problems.
The drum height is 23.75 inches and its diameter is 18.5 inches. The mounted legs result in a drum height of 41.5 inches which creates an excellent space to fit a 5-gallon bucket. Also key to note is the 15.75-inch distance between the honey and the floor. This allows shallow, medium, and deep frames to fit in. Its quiet motor has a power of 120V and can run on standard 110v AC power. It also features an in-built cooling fan and a safety feature that has been built into the lid.
Features
Cone-shaped bottom for efficient honey drainage through its 2-inch honey gate.
The inside basket can fit 8 small or medium frames. For large-size frames, it can accommodate 4 of them at once.
Has a double-sided top lid that is made of clear plastic to facilitate easy viewing of the honey extraction process. It also has a magnet for holding the lid open.
It has a quiet 120V motor with an in-built cooling fan.
Drum dimensions: 33 inches in height and 19 inches in diameter.
Made of 304 stainless steel and measures 36 x 20 x 20 inches. Its weight is about 45 pounds and its shipping weight is 48 pounds.
It has a safety feature built into the lid. This shuts off when the lid is opened and turns on automatically when the lid is closed.
Pros and Cons
Pros
Easy to assemble and disassemble the entire extractor when cleaning and maintenance.
Quite spacious. Can even fit large-size frames. Its inner basket can accommodate 8 small or medium frames as well as 4 large size honey frames. These can all fit in at once.
Excellent construction. Sturdy and good quality.
The space beneath the honey gate is spacious enough to fit a 5-gallon bucket. This makes it easy to collect the honey without improvising the honey extractor's bottom when collecting the honey.
Has a clear lid for monitoring progress.
The cooling fan keeps check on temperature levels within the honey extractor so as to prevent the unit from overheating.
Boasts a sophisticated design. The automatic shut on-and-off makes it one of the most desired honey extractors.
It has an excellent capacity to meet the needs of various skill levels. It will grow with the business for beginners and yet meet the needs of highly demanding professionals.
Excellent price. Half of what you expect to get with similar designs.
Good quality product and great value for the money.
Cons
No provision for securing 8 large frames.
At 45 pounds, can be a bit of a hassle to handle and carry it around.
Further Thoughts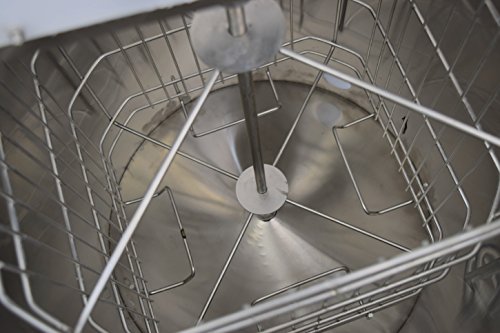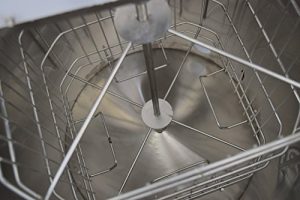 This honey extractor has won the hearts of many given the many accolades it has received from various buyers. The VIVO BEE V004E electric honey extractor is a highly-rated unit. As a savvy buyer of beekeeping equipment, this is one of the honey extraction equipment I can recommend to anyone especially those whose hands are not capable of holding a manual extractor for long. The design and construction of this extractor is impressive. I was particularly intrigued by its electric drive. It is superb and the motor is quiet. The clear plastic on the lid allows you to monitor the honey extraction.
For those thinking whether to get a manual or electric extractor, just note this, if the hobby becomes too much work, then it's time for an electric extractor. Yes, electric honey extractors are more expensive than manual ones, but you should consider them an investment, as they will help you yield dividends in the long run.
The VIVO BEE-V004E is suited for the beekeeper with plenty of hives – around a dozen or more. What's more, this extractor is affordable and is within reach of any beekeeper. If you are particularly new to beekeeping and would love to get your first extractor then look no further. This extractor is much better than you can anticipate. The unit is a heavy-duty product and it is easy and hassle-free to set up. The VIVO BEE-V004E electric honey extractor works well as echoed by other users. The improved unit has been redesigned to make it better than the initial model. For instance, the legs are no longer short and now the unit can accommodate a 5-gallon pail underneath.
This extractor has its cons as well. One of its drawbacks is the fact that it does not have a provision for holding the 8 medium frames inside the basket. But overall, this unit has impressed users. I am satisfied with the quality and price of this electric honey extractor.
Conclusion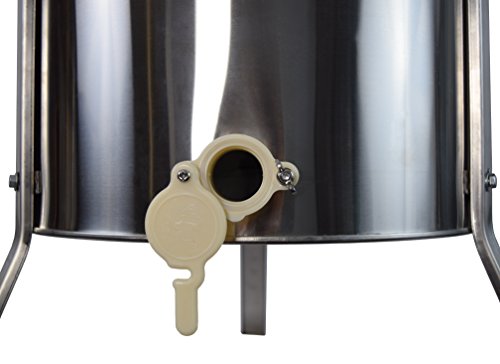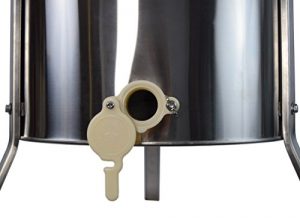 This is a new model that has been designed to overcome the drawbacks of the previous model. The unit now allows you to place a 5-gallon bucket underneath when collecting the honey from the honey gate. The 240V unit is highly efficient and with its capacity to hold 8 small or medium frames, you can complete your task within the shortest time. If you are spinning large frames then you can place 4 frames at once and then spin. The clear lid also allows you to monitor the extraction process.
If you are looking for an automatic honey extractor that will allow you to do other tasks as it spins the honeycombs, then look no further. The VIVO BEE-V004E Electric 4 Frame Stainless Steel Honey Extractor has been designed to meet the needs of all skill levels. Irrespective of whether you just started or you are a commercial honey producer, this product will meet all your needs. It has been built with a strong and sturdy stainless steel body that ensures its durability. It is a quality product that I would recommend to anyone.
Have you ever used the VIVO BEE-V004E Electric 4 Frame Honey Extractor? Leave a comment below and let us know what your experience was like.
Check Price on Amazon
Check Price on eBay