If you purchase an independently reviewed item through our site, we earn an affiliate commission. Read our affiliate disclosure.
Honey bees have played a major role as a source of livelihood to many for centuries. In the US, most beekeepers keep their bees in artificial hives and engage in beekeeping as a hobby. Looking from the outside in, it may look quite dangerous to even think of being a beekeeper. Fortunately, once armed with the proper knowledge, it's not a hobby that's hard to get into. In fact, beekeeping can even become more than just a hobby; it can become a full time business especially if you are passionate about bees.
To kick-start your beekeeping venture on full gear, you need to know what is required for the enterprise. Some equipment and tools are essential in beekeeping. The hive kit, feeders, queen excluder, hive tool, and many others are all important but some are needed later when the bees begin producing honey. For instance, the smoker and honey extractor are needed when harvesting and extracting honey. The VIVO BEE-V002 Honey Extractor is one such essential equipment. There are a plethora of honey extractors to choose from, and it's important to invest in one that will best meet your expected need. The VIVO BEE-V002 is small scale honey extractor geared towards beginners with a few hives.
About the VIVO BEE-V002 Honey Extractor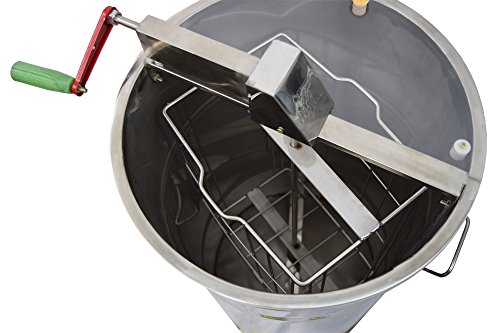 VIVO is one of those brands that resonate with most beekeepers when it comes to beekeeping tools and equipment. They have built a good reputation with most buyers since they design excellent quality products. The VIVO BEE-V002 Large 2 Frame Stainless Steel Honey Extractor in particular has captured the attention of many. It is a solidly built honey extractor designed specifically for the savvy buyer. All its inner and outer features have been designed to meet the needs of all skill sets, whether a beginner or professional.
The VIVO BEE-V002 Honey Extractor is made of stainless steel adding greatly to its durability. It features 2 clear lids, a 29 inch tall drum with 15 inch diameter, conical shaped bottom, and a stopper-fitted honey gate. Furthermore, it has a raised bottom bearing.
Features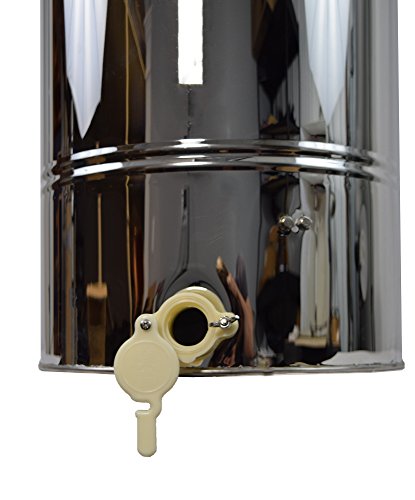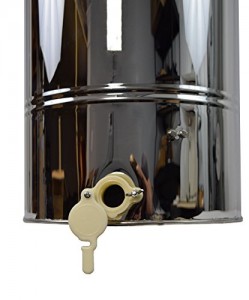 It is made out of stainless steel durable stainless steel construction.
It is ideal for shallow, medium, as well as deep frames.
Its drum is 29 inches in height and 15 inches in diameter.
There are 2 clear Plexiglass lids for monitoring progress.
It has 2 handles for easy carrying.
The conical bottom guarantees maximum honey collection.
The honey gate fitted with a stopper prevents honey wastage.
It has an excellent and well polished design. Its metal gears have been enclosed so as to prevent contact with the honey.
It has a raised bottom bearing. This helps keep the extractor away from the extracted honey.
Weighs approximately 20 pounds and has a shipping weight of 27.2 pounds. It has a dimension of 34 x 17 x 17 inches.
Covered by a warranty.
Check Price and Availability of the VIVO BEE-V002 Honey Extractor
Pros and Cons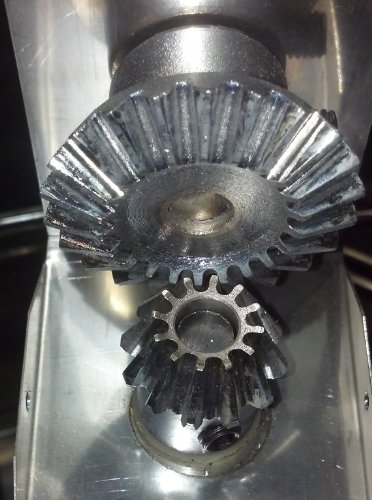 Pros
Durable thanks to its stainless steel construction.
Maximum honey extraction with no wastages thanks to its conical bottom and a stopper at the honey gate.
Easy to assemble out of the box. Instructions are very clear.
Light and easy to carry around, especially thanks to its 2 handles.
With the clear lids you can monitor ongoing progress.
Enclosed gears will not contaminate the honey extracted.
Cons
The extractor has no legs so you cannot fit a bucket underneath. You'd have to put it on a raised surface such as a table to drain the honey into a bucket.
Challenge to clean for those with big arms.
More expensive than some other 2 frame extractors on the market.
Further Thoughts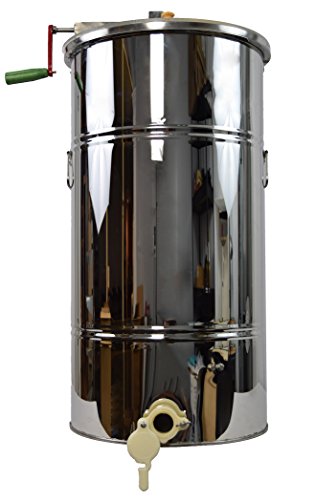 The VIVO BEE-V002 2 Frame Honey Extractor is another knockout product from one of the best beekeeping suppliers around. I highly recommend it to those new to the beekeeping hobby. Being able to spin up to 2 frames at once, makes it suitable for your needs until you really decide to expand your operations.
What I particular love about this extractor is the fact that is built to last and it has the capability of spinning shallow, medium, and deep frames. I also find the clear lids useful since I can monitor the honey extraction process.
I was quite impressed by how fast it took to arrive. It was well-packaged and its stainless steel exterior was clad in a protective film. It was also easy to assemble the extractor and I was able to spin to several deep frames at first go without any issues. The extractor is well oiled too. There are no squeaks or noises when spinning and its bearings are fitted well. I found that it also holds a substantial amount of honey before it is ready to be emptied.
Conclusion
If you are looking for a solidly built and durable honey extractor, then the VIVO BEE-V002 Large 2 Frame Stainless Steel Honey Extractor is an option worth your consideration. It is made of stainless steel and is capable of spinning shallow, medium, and deep frames. It is a perfect for the beginner and even the professional who has a few amount of hives.
Have you ever used the VIVO BEE-V002 2 Frame Honey Extractor? Leave a comment below and let us know what your experience was like.
Check Price