If you purchase an independently reviewed item through our site, we earn an affiliate commission. Read our affiliate disclosure.
Protective wear for beekeepers is very important. Without protective wear, beekeepers would suffer from painful bee stings. The Oz Armour Ventilated Air Mesh Beekeeping Suit is made with beekeepers' safety in mind. It keeps you safe from bee stings and allows you to carry out activities around bees with confidence.
About the Oz Armour Ventilated Air Mesh Beekeeping Suit
Materials
This ventilated beekeeping suit is made of a fabric that allows air to freely flow through it. It cools you down very well even in hot weather. The heavy duty fabric is durable too. This beekeeping suit from Oz Armour is machine washable without the fabric suffering any damage.
Veils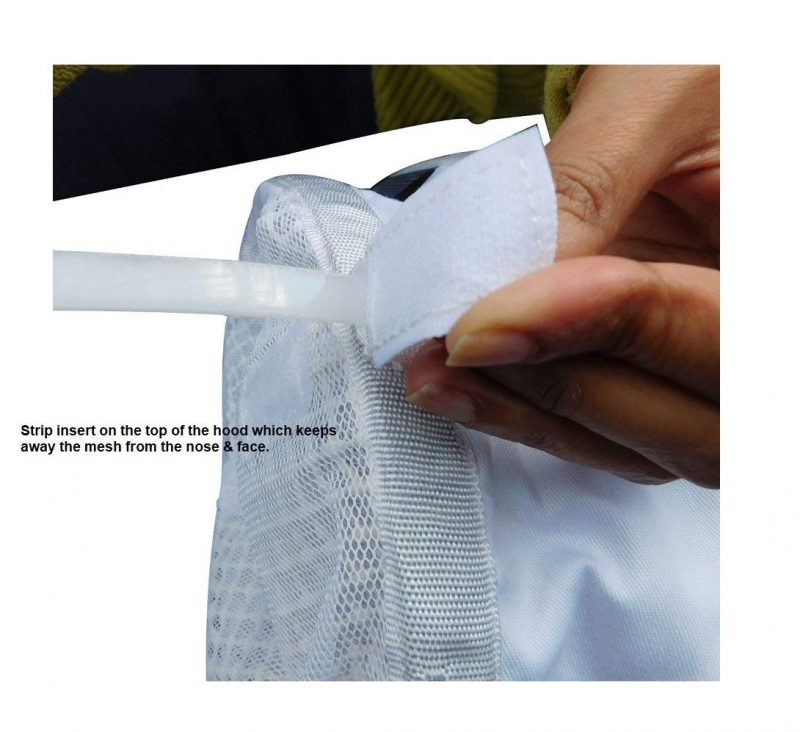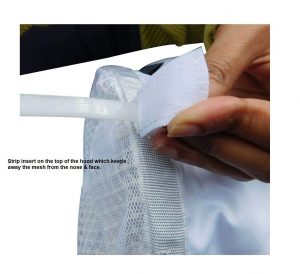 The Oz Armour Ventilated Air Mesh Beekeeping Suit offers a choice of a fencing veil or a round veil with brim hat. You are free to choose the one that you are most comfortable with and attach it to the beekeeping suit. Each veil has a hard plastic insert in it that keeps it good distance from your face. This greatly reduces the chances of bee stings reaching your face while in the suit. The veils have inbuilt protection from the sun too. This eliminates the need to wear hats and caps under the veil. The mesh used on the veils is Italian made. It allows excellent visibility out of the mesh and is extra strong.
Gloves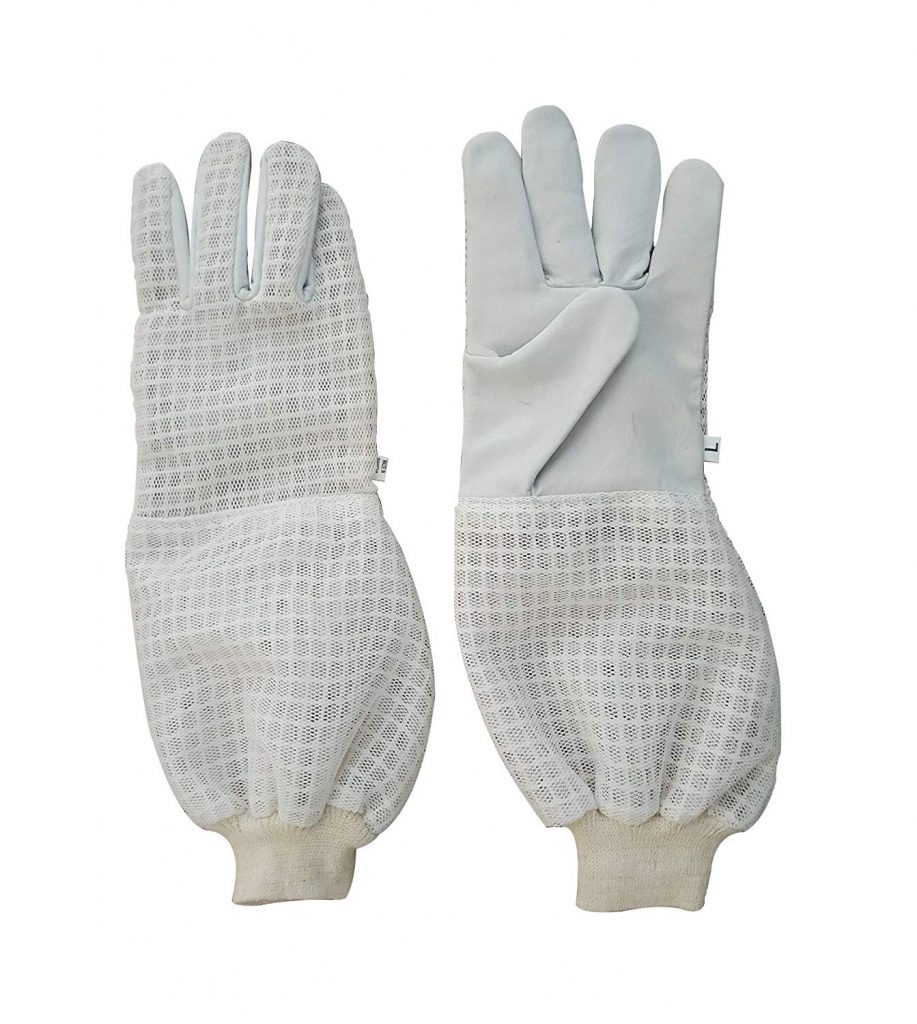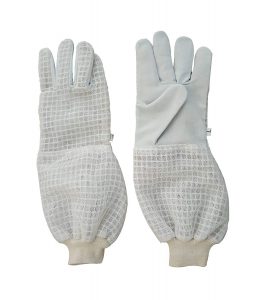 Most full beekeeping suits do not come with gloves, so we're happy that the Oz Armour Ventilated Air Mesh Beekeeping Suit comes with ventilated cow-hide gloves. These gloves are durable and protect your hands just as well as the rest of the suit. The elastics in the gloves allow for a snug fit so that no bee can sneak through and enter the suit.
Zippers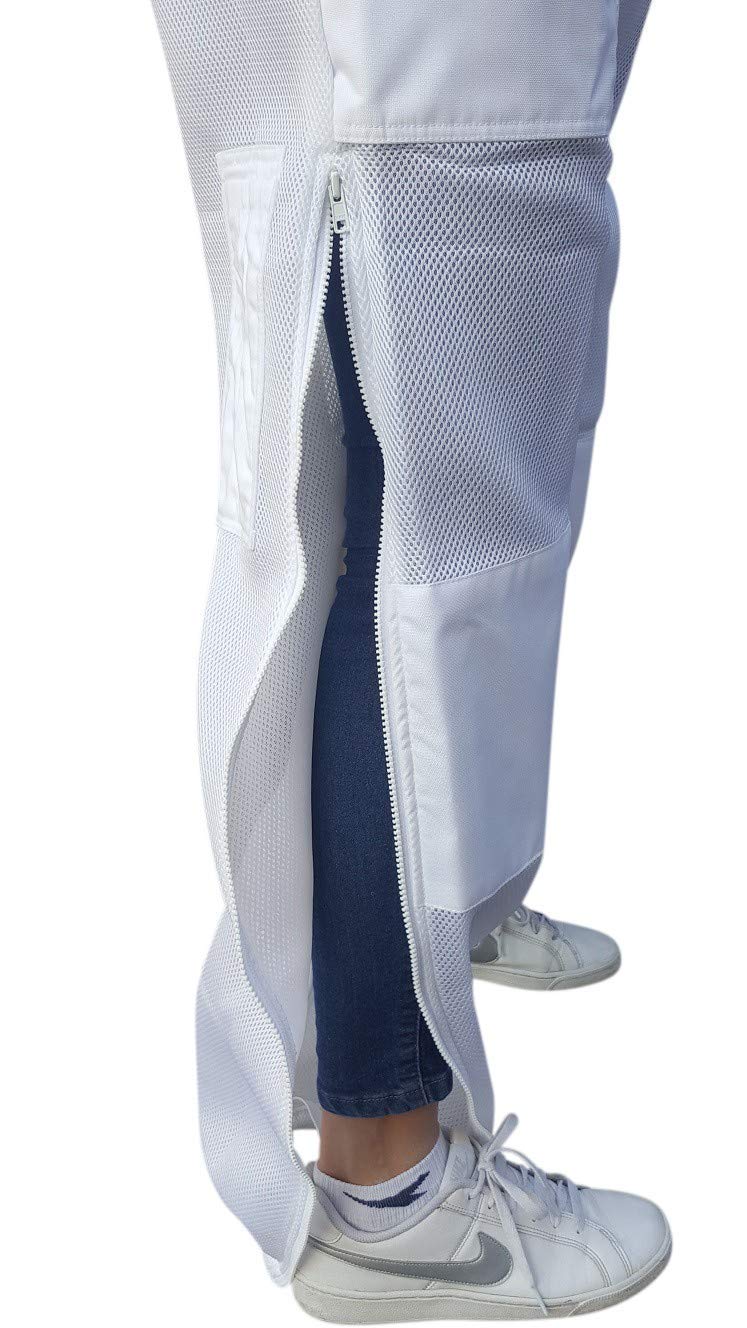 Sealing up the Oz Armour Ventilated Air Mesh Beekeeping Suit is done using zippers. There is a zipper running down the front of the suit which allows easy donning and removal. The zippers used are strong YKK zippers. Each zip has two sliders for your comfort and convenience. The sides of the beekeeping suit also have zippers. They make robing-up a smooth experience. A zip is also used on the upper region of the suit to attach the veil.
Pockets
On the pockets of this beekeeping suit are Velcro flaps. They seal up the pockets well and ensure your tools placed inside do not fall out. On each arm of the suit are hive tool pockets. This beekeeping suit has 4 pockets. There are enough for all the tools and gadgets you may want to bring with you on a visit to your apiary. Different types of padding are found on the beekeeping suit. It includes a layer of foam used as a spacer mesh on the ventilation windows of this suit.
Elastics
Once you have on the Oz Armour Ventilated Air Mesh Beekeeping Suit, it stays on with no hassles. The wrists and ankles of the beekeeping suit are elasticized. They seal up well to prevent bees crawling under the suit and reaching your skin. The elastic also works well with the additional protective gear that you need such as boots and gloves for your hands. Beekeepers are also treated to a key clip loop on the suit and a pen holder channel.
Sizes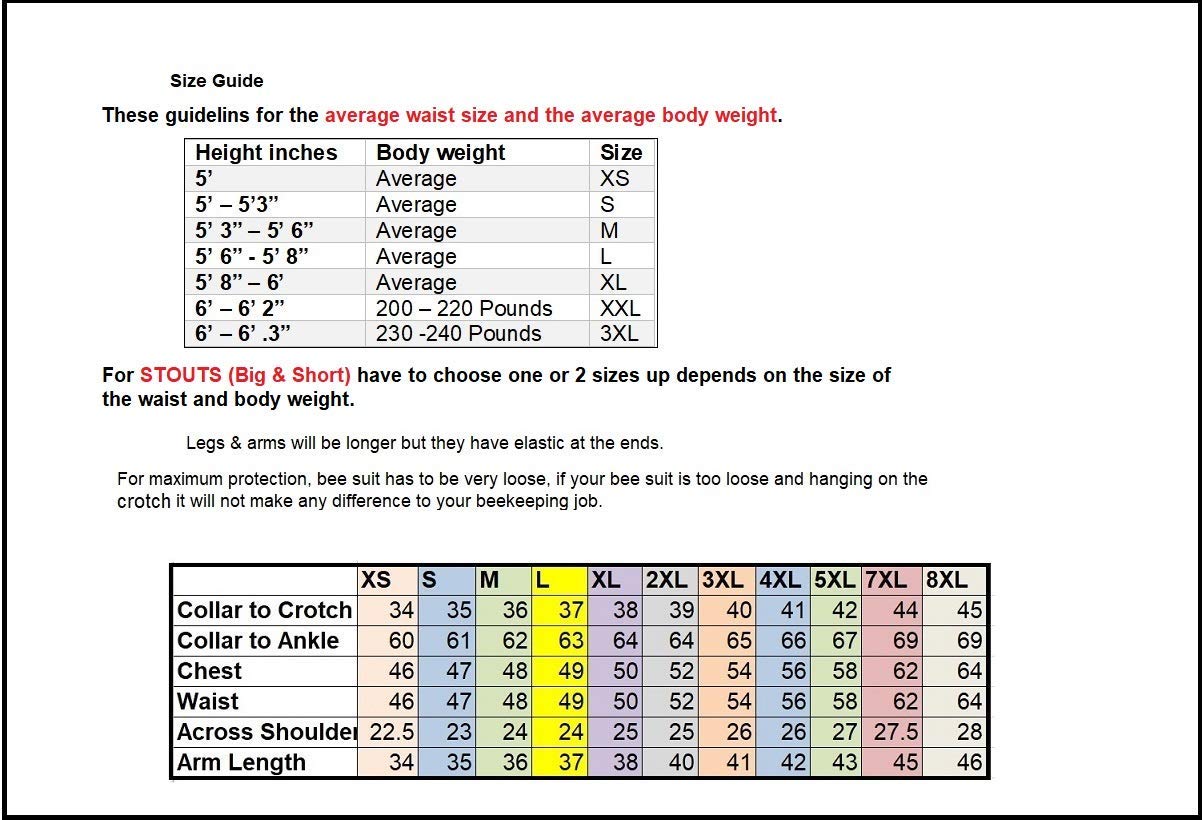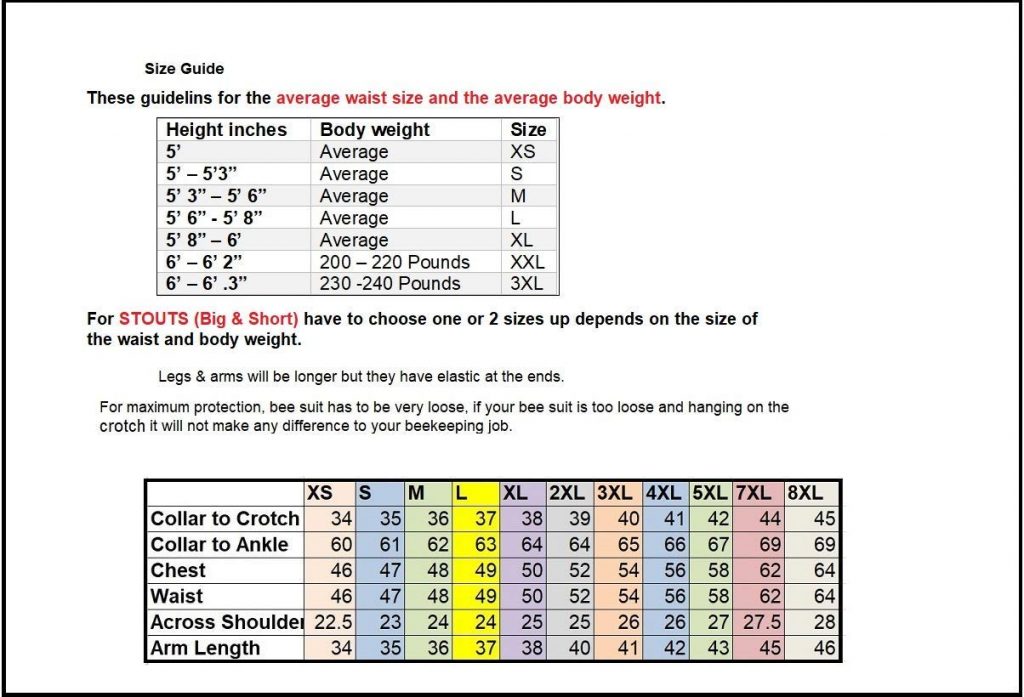 Oz Armour has availed this beekeeping suit in a number of generous sizes. At the time of this review, the suit is available in: Small, Medium, Large, X-Large, XXX-Large, 4X-Large, 5X-Large, 7X-Large and 8X-Large. It is tradition that beekeepers go for a beekeeping suit that is one size larger than their everyday clothes. Oz Armour has a nice and easy to use size chart that helps you to know which size to choose. Beekeepers that may purchase a sit that is too large or smaller than them are free to contact Oz Armour and request an exchange. Oz Armour readily ships to you the replacement suit of the right size if you erroneously purchase an ill-fitting suit.
Check Price, Sizes and Availability of the Oz Armour Ventilated Air Mesh Beekeeping Suit
Pros and Cons
Pros
The beekeeping suit comes with two options for the veil covering the head. You have the option of choosing your preference
The suit is well designed strong and durable. It keeps bee stings form reaching your skin and injuring you.
This suit is sold in a nice white color. It reflects heat away and is not harsh on bees. Dark colors on beekeeping suits tend to aggravate bees and make them want to sting you.
This beekeeping suit has toe and thumb holds to keep the legs and sleeves of the suit in place at all times.
This full body beekeeping suit comes with gloves.
Cons
This beekeeping suit may not work well for beekeepers in cold climates. It is also not very suitable for use in cold weather. You need to wear some warm clothing under the suit if you are working with it in cold weather or living in a cold climate region.
Further Thoughts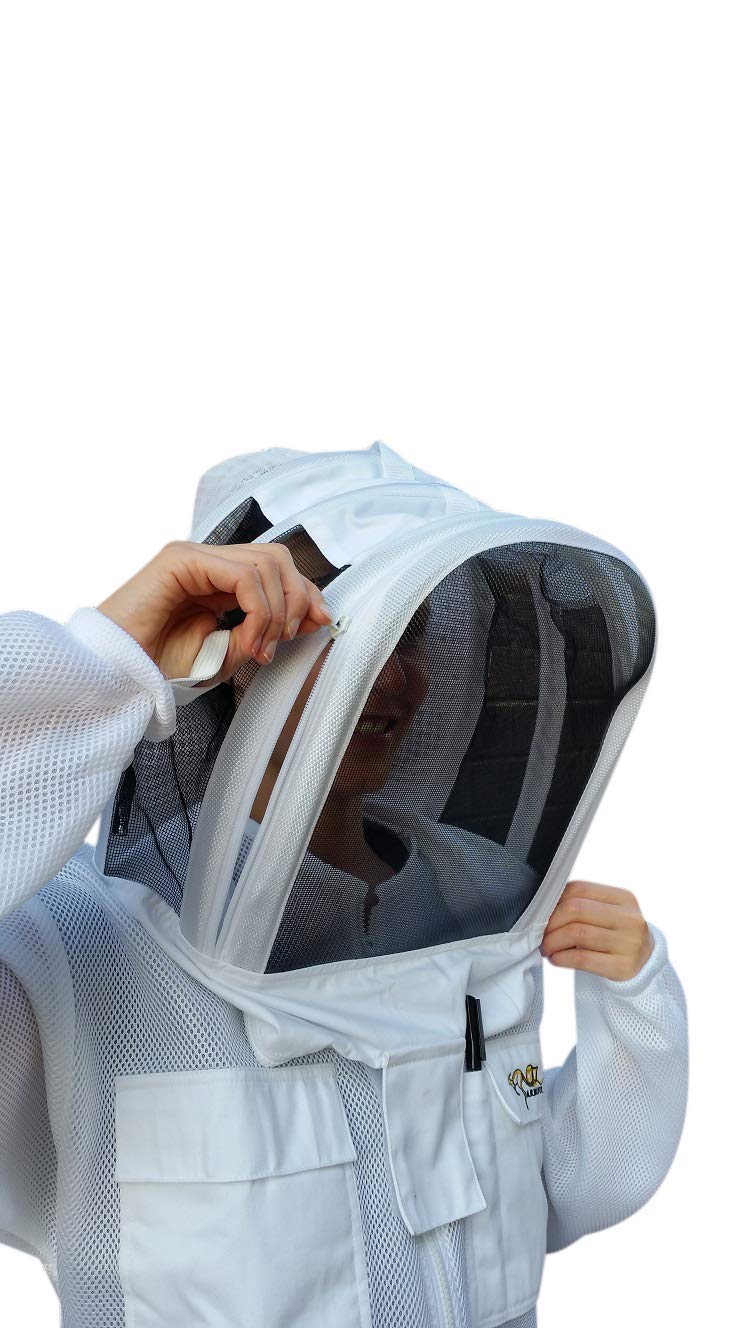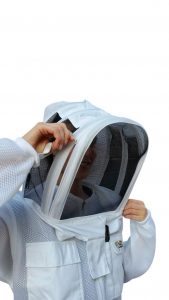 Oz Armour is focused on the safety of beekeepers. Design and functionality considerations are seen very well on the Oz Armour Ventilated Air Mesh Beekeeping Suit. Oz Armour has a dedicated quality control team. It ensures that every beekeeping suit from Oz has met high quality standards. Research and development is important in the making of the beekeeping suit. The suit is a single solution for beekeepers that are in warm climates where you easily heat up inside beekeeping suits.
Conclusion
The Oz Armour Ventilated Air Mesh Beekeeping Suit is lightweight and confers beekeepers with protection from stings while keeping them cool. This suit is suitable for use in apiaries round the world. It can be used by both beginner beekeepers and the more experienced beekeepers with ease. This ventilated beekeeping suit gives beekeepers a great experience while around bees. They do not have to worry about getting stung and can focus on quickly getting through hive inspections, honey harvesting and other apiary maintenance activities that they need to carry out.
Do you own the Oz Armour Ventilated Air Mesh Beekeeping Suit? Leave a comment below and let us know what you think of it.
Check Price
Check Price (Australia)