Thanks for visiting our website. For us to continue writing great content, we rely on our display ads. Please consider disabling your ad-blocker or whitelisting our website before proceeding.
If you purchase an independently reviewed item through our site, we earn an affiliate commission. Read our affiliate disclosure.
Full body beekeeping suits such as the Honey Keeper Professional Full Body Beekeeping Suit are the oldest way of keeping bee stings away from beekeepers. Beekeeping suits offer you full body protection unlike beekeeping smocks and jackets. This beekeeping jacket is made and sold by Honey Keeper. The company promises that the suit will keep you from being stung. Read on to see what we thought of it.
About the Honey Keeper Professional Full Body Beekeeping Suit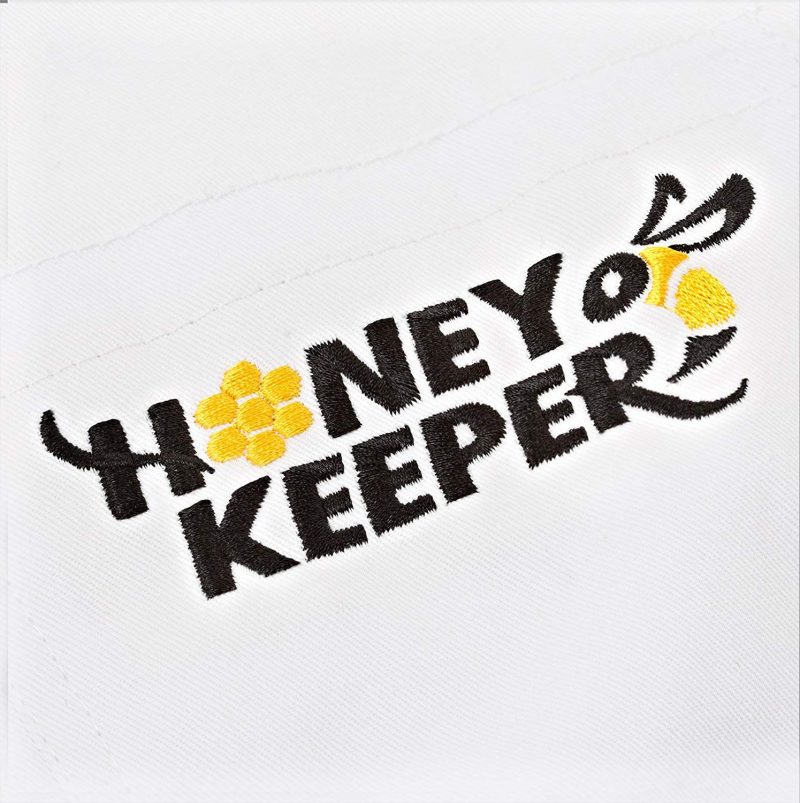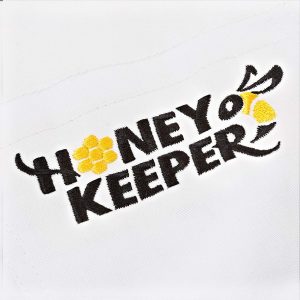 A Honey Keeper logo adorns the front of this suit. It is embroidered onto the front left breast area. This suit shows attention to detail in its design and manufacturing. It is double stitched to ensure durability and reliability of the suit. Additionally, the fabric used on the suit is long lasting. It is thick enough to keep out bee stings while not being excessively weighty. The suit weighs 2.45 pounds (1.11 kg) on average.
Materials
The Honey Keeper Professional Full Body Beekeeping Suit is made using premium cotton of white color. It is durable and very lightweight. The cotton blend used is breathable; it allows air in through the fabric and keeps you quite cool within the suit. This cotton beekeeping suit does not have ventilation panels on it. Instead, the suit relies on airflow through the veil to keep your head cooled.
Veil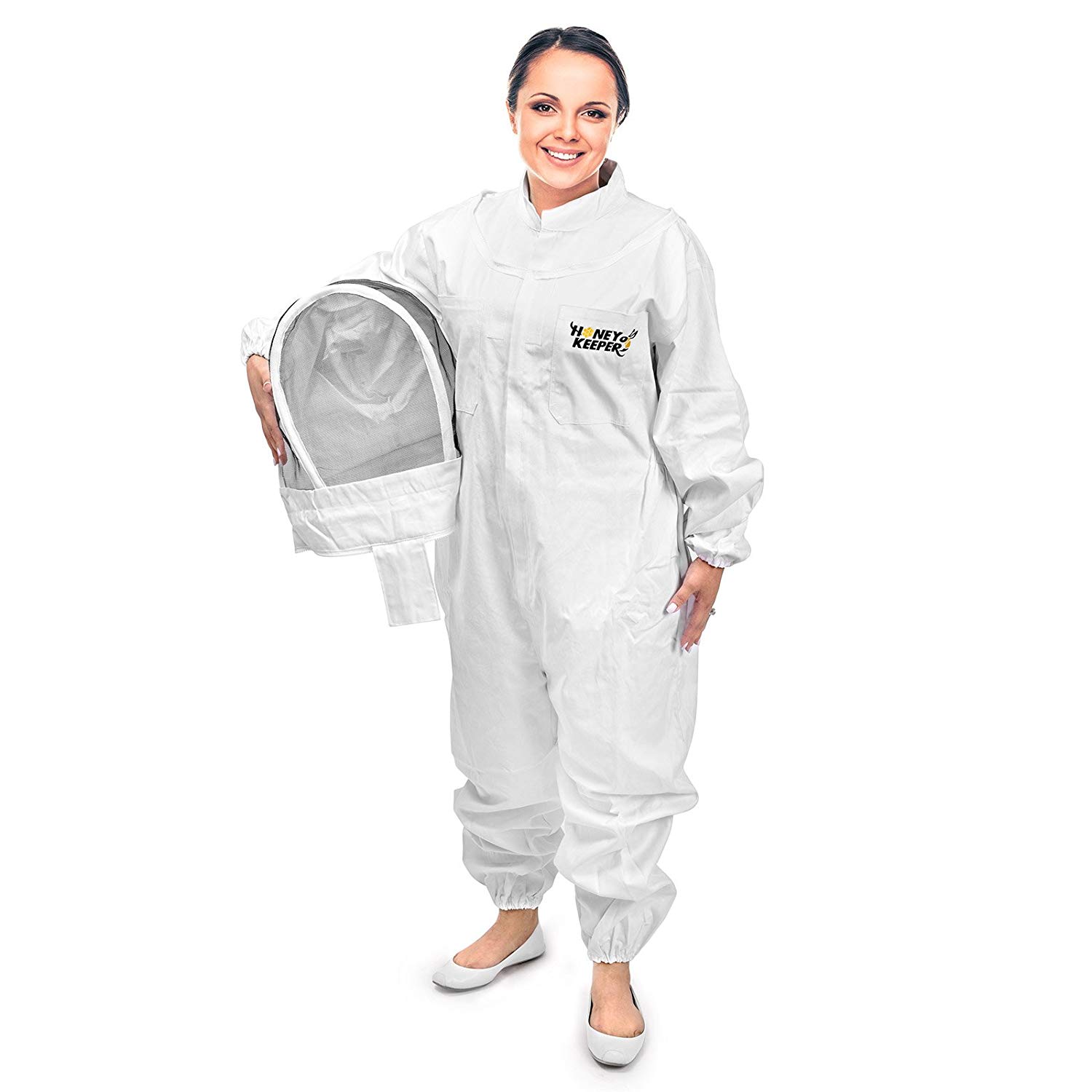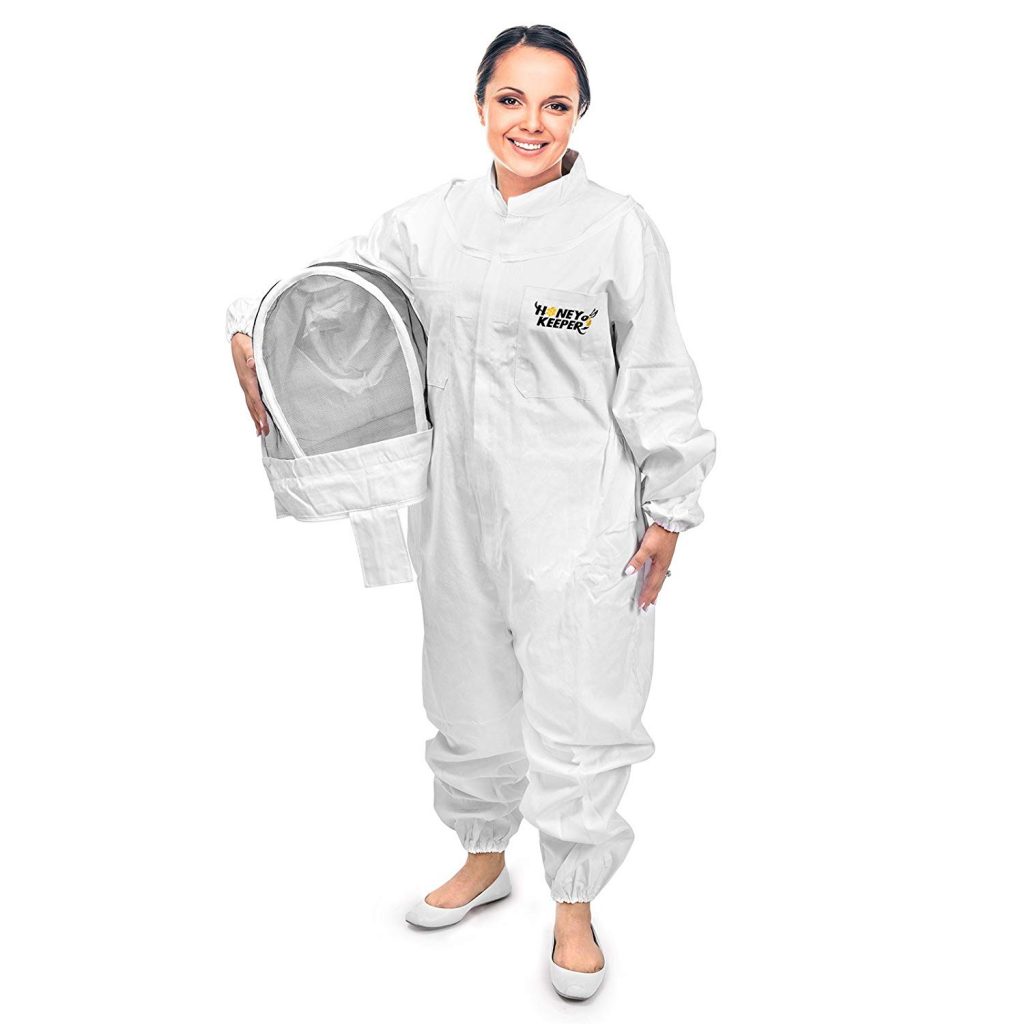 A fencing veil is used on the the Honey Keeper Professional Full Body Beekeeping Suit. It is made using a mesh at the front in a fencing design. The veil is covered at the back with the same cotton material used on the rest of the suit. Wires run in the hood to make it self-supporting. It is able to maintain its shape at all times. The hood of the beekeeping suit comes off completely for storage and transport. It folds flat to take up minimal space when you are not wearing the suit. The design of the mesh on the hood allows great vision out the front and sides.
Pockets
Three convenient pockets are found on the Honey Keeper Professional Full Body Beekeeping Suit. Two are on the front, and one in the back. These allow you to bring all the tools you need on your visit to your bees.
Sizes
This beekeeping suit from Honey Keeper is a good bet for amateur beekeepers. It looks good on both men and women too. The suit runs a little smaller than the standard US T-Shirt sizes. There are 3 sizes to choose from when buying your Honey Keeper Professional Full Body Cotton Beekeeping Suit. The sizes are Large, X-Large and 2X-Large. Honey Keeper recommends that ladies buy a size larger than your usual clothes size. Men should go for two sizes larger. For beginners, this is an excellent suit.
Check Price, Size and Availability of the Honey Keeper Professional Full Body Beekeeping Suit
Pros and Cons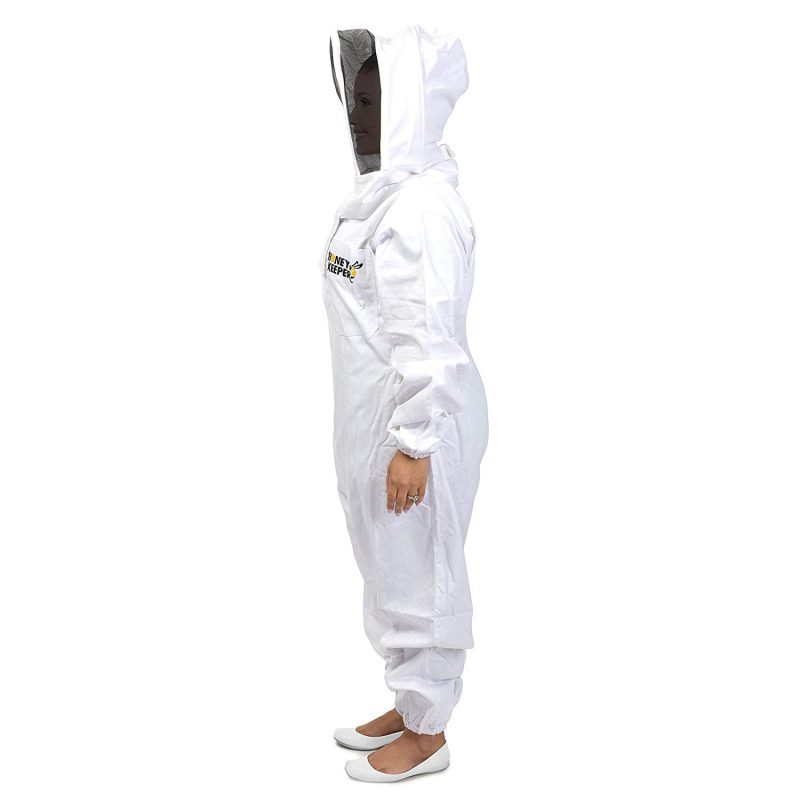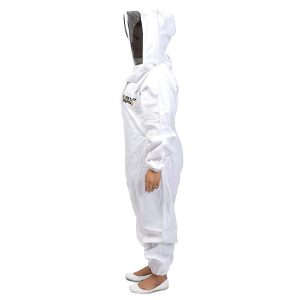 Pros
The suit is thick enough to keep out bee stings. The fabric is also bee friendly. It does not tangle up the legs of bees. Bees that land on the suit are able to fly off once they realize they cannot sting you through the suit.
A self supporting fencing veil allows you excellent vision in a wide angle and keeps bees from reaching your face with their stings.
The suit seals up well. Zippers and a Velcro patch work well together to close up any gaps that may be exploited by bees.
Cons
This suit is not very efficient at cooling. The absence of ventilation panels on this suit makes it a tad less effective at cooling. In the hot weather of summer, this suit may heat up quite considerably and cause you discomfort.
Honey Keeper has not included a protective carrying case for this beekeeping protective suit. The suit may get damaged during storage and transit.
There are no thumb holds on the beekeeping suit. Sleeves of the suit may ride up and leave your arms exposed to bee stings.
The suit tends to shrink when washed. It also seems to not fit men very well.
Lack of elastic around the waist area of the beekeeping suit makes it loose fitting. The crotch tends to hang low on the suit and reduces the fashion sense of the beekeeping suit.
Despite being a full body suit, it does not come with gloves. You'll have to purchase them separately.
Further Thoughts
Be sure to purchase a pair of beekeeping gloves from a reliable seller. Inferior gloves may let stings through to your hand. Footwear too should be the best that keeps bee stings from reaching your feet. Beekeeping boots or some other heavy duty footwear is best to use alongside the Honey Keeper Professional Full Body Beekeeping Suit. The suit may tuck into socks or go over your footwear. Get footwear that meshes well with the beekeeping suit and does not leave your foot exposed.
The Honey Keeper Professional Full Body Cotton Beekeeping Suit is good protective wear for apiarists. Elastic at the ankles and wrists keep the beekeeping suit closed at all times. The suit allows you full range of motion. Heavy duty zippers on the suit allow you to fully detach the hood and open up the front of the suit. While the suit itself is machine washable, the hood must be hand washed.
Conclusion
Honey Keeper prides itself in high quality and well thought out products. It has a number of products for beekeepers including beehives, extractors and smokers. The beekeeping supplier has made a good attempt at beekeepers' safety with the Honey Keeper Professional Full Body Beekeeping Suit, though it is not perfect. The suit can be purchased online or from your local beekeeping supplies retailer. For the price it is sold at, it is a good bargain.
Honey Keeper's customer service is a point of honor for the company. Representatives and assistants of the company insist that you reach out to them when you encounter challenges with any Honey Keeper products. They are at hand to assist you out with any queries you may have about the Honey Keeper Professional Full Body Beekeeping Suit.
Do you own the Honey Keeper Professional Full Body Beekeeping Suit? Leave a comment below and let us know what you think of it.
Check Price