If you purchase an independently reviewed item through our site, we earn an affiliate commission. Read our affiliate disclosure.
Harvesting honey is an activity every beekeeper has to do (I mean, it's largely the whole point of the activity). As such, honey extractors are an important piece of equipment when the honey is ready to be harvested. The Honey Keeper Pro DE3400 Electric 4 Frame Honey Extractor is a large extractor that takes up to a maximum of 8 frames at a time. This is a centrifuge extractor and it has an electric motor to handle rotation for you.
About the Honey Keeper Pro DE3400 4 Frame Honey Extractor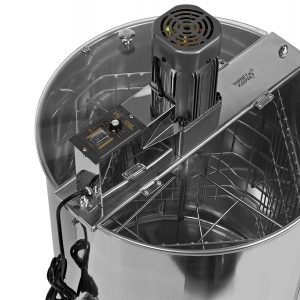 Honey Keeper is a renowned beekeeping supplier. The company has a wide range of reputable products for both pro and beginner beekeepers. These include beekeeping suits, beehive boxes and bee smokers.
The Honey Keeper Pro DE3400 Electric Honey Extractor is made of stainless steel. At the top is the 120 volt electric motor that gets its juice from a 5-foot long US standard power cord. There are two clear plastic lids, each covering half of the extractor's top which are held firmly in place by screws. Beside the electric motor sits the control panel which has a variable speed motor and an on/off switch. The variable speed motor is great since it reduces instances of destroyed honeycombs.
Getting honey from the extractor is done via a honey gate at the bottom of the tank. The gate is made of plastic and seals up well with no leaks. There are clear plastic lids which allow you to see the level of extracted honey so that you can monitor your progress. The extractor has stainless steel legs that elevate it 12-inches off the ground to allow a bucket underneath it for when you're ready to drain the honey.
Pros and Cons
Pros
Assembly of the extractor is easy for both beginners and professional beekeepers. It comes with an instructions manual that guides you very well.
The electric motor has both on and off switches. It also has variable speeds of rotation. The power cord is grounded too.
The extractor can take 8 shallow or medium sized beehive frames. It holds 4 large sized frames.
Ample space is found in the extractor. It is 22 inches wide and 48 inches high.
Cons
The electric motor on this extractor may fail to work. It also requires you to start at high speed before being brought down to the slower rotation speeds.
Some edges of the extractor may be sharp. Extra care should be taken not to get harmed while cleaning the extractor. Honey Keeper should consider better fabrication, welding and smoothing out of sharp edges and corners.
This honey extractor is not usable in an environment where there is no electricity. While it very well suits backyard beekeepers, those whose apiaries are located far from home may have too much work carrying frames full of honey from their beehives to the extractor and back again.
Check Price and Availability of the Honey Keeper Pro DE3400 Electric Honey Extractor
Further Thoughts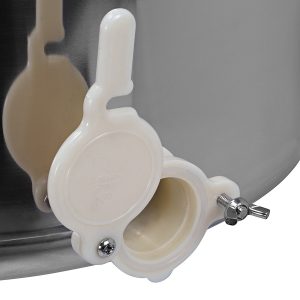 Working with the Honey Keeper Pro DE3400 Electric Honey Extractor is quite effortless. After simple assembly, beekeepers of any skill level can be ready to start working with the honey extractor. This extractor is a great buy for beekeepers with a large apiary. Being electrically powered makes honey harvesting a quick activity that does not tire you out.
The clear plastic lids for viewing allow to note once the honey frames are emptied of honey. It also lets you see how much extracted honey there is in the drum. The honey gate used on this extractor closes up well, so you do not have to worry about spills that waste honey. The honey extractor is sturdy and suits both beginner and pro beekeepers. It sits well on its legs and is stable even while in use. For additional stability and strength, the legs of the honey extractor can be bolted to the floor.
To get the best out of the Honey Keeper Pro DE3400 Electric Honey Extractor, follow the 50 – 100 – 50 rule. This is extraction of 50% of the honey in a frame on one side and then turning the frame to extract 100% honey from the other side. You then return the frame to its original position in the basket and extract the remaining 50% honey. This ensures that the combs do not break under the weight of the honey they contain.
Maintenance
Maintenance and storage are not a big issue with the Honey Keeper Pro DE3400 Electric Honey Extractor. Once you finish honey extraction, make sure to clean the honey extractor and store it well in a dry place. Cleaning can be easily done with soap liquid soap and a warm rag. Do not allow honey to stay long in the extractor and ferment. It is also important for beekeepers to be very hygienic in their handling of honey since it is a food for human consumption. The materials used in making the extractor are food grade and safe.
Some beekeepers may choose to take the honey extractor apart for cleaning and storage. While that's not a problem, it should not be done too frequently. Parts may get misplaced and make the extractor unusable. Failure of the electric motor on the extractor is often due to it being taken apart often. You should also not use the extractor for other purposes other than honey extraction.
Shipping Information
The Honey Keeper Pro DE3400 Electric Honey Extractor measures 35 x 22.2 x 20 inches and weighs 42.5 pounds. The extractor comes with a warranty from Honey Keeper the manufacturer. During purchase, you may choose packaging that conceals the contents of the package. Better packaging also reduces the likelihood of the extractor getting damaged during shipping.
Margin of Error
With Honey Keeper producing many of these honey extractors, some errors may arise in the fabrication process. These are easily remedies by contacting Honey Keeper or the seller you bought the extractor from. Honey Keeper has excellent customer service. The company readily ships replacements for damaged parts.
Conclusion
The Honey Keeper Pro DE3400 Electric Honey Extractor is built solidly and durably. It works well without breaking down for long periods of time. Though as with all equipment, routine maintenance is of course required. The extractor does not tire you out unlike hand-cranked honey extractors.
Overall, using the extractor is a smooth experience that provides great value for money. Honey Keeper went out of their way to include some great features in this extractor to make it one of the best there is available.
Have you ever used the Honey Keeper Pro DE3400 Electric Honey Extractor? Leave a comment below and let us know what your experience was like.
Check Price