If you purchase an independently reviewed item through our site, we earn an affiliate commission. Read our affiliate disclosure.
The Bee Smart 800 Ventilated Beekeeping Suit is carefully designed to keep bees away from beekeepers. It boasts three layer mesh ventilation to keep you cool under the suit. It features a removable round veil. Let's check it out and see if it's worth considering.
About the Bee Smart 800 Ventilated Beekeeping Suit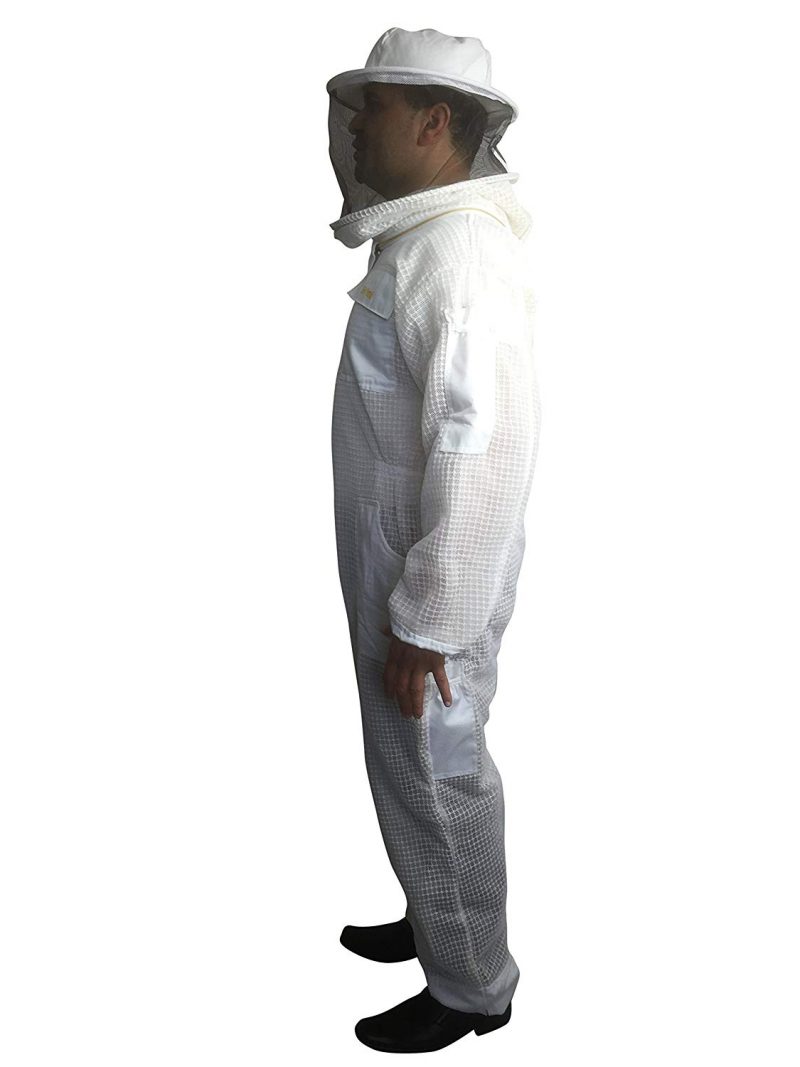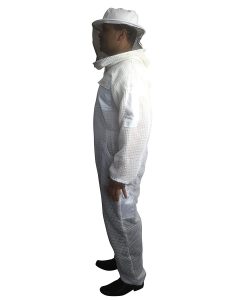 This suit is suitable for both male and female beekeepers. It has a unisex design that gives both genders superior comfort and excellent protection from bee stings. Both amateur and professional beekeepers stand to benefit a lot from this suit. It is also reasonably priced to give you outstanding value for your investment. This suit is easy to work with in all types of weather. In hot weather, the suit is ventilated and thus keeps you cool. In cold weather, you can easily wear the protective suit over warmer everyday clothes.
The Veil
Protection for the face and head is a factor that beekeepers cannot ignore in choosing beekeeping suits. Even with a good suit, if the head is not well protected, you will suffer painful stings. Additionally, the protection used for the head must not be too thick as to induce opaqueness. Beekeepers want to be able to easily see what they are doing at the beehive. Cover for the face is also best if it is wide to allow an adequate field of vision both vertically and horizontally.
The Bee Smart ventilated beekeeping suit meets these head and face protection demands from beekeepers very well. It comes with a round hat veil that protects you from bee stings and gives you excellent view out of the veil. The veil also confers you with all round ventilation for the head and face.
You also have enough room under that veil to even wear your eyeglasses. Female beekeepers should not be worried about tightness in the veil. It has enough room for your hair even if it is made in the flamboyant hairstyles you love.
Ventilation
Ventilation in the Bee Smart 800 beekeeping suit is achieved by having the suit mainly made of mesh netting. There are 3 layers of the netting to ensure no bee stings can reach the wearer. The fabric used to make the net is friendly to bees and does not tangle up their legs. This means that bees may land on the suit, but cannot reach you with their stings even if they try. Once they note that it is futile trying to sting you, they easily fly away.
Sizes
This beekeepers' protective suit is made in a range of 6 sizes. They are Medium, Large and Extra Large, XX-Large, XXX-Large and XXXX-Large. One of these sizes is sure to fit the average beekeeper. Bee Smart has the presence of mind to avail a sizing chart online. Use the sizing chart to determine the best size for you.
Pockets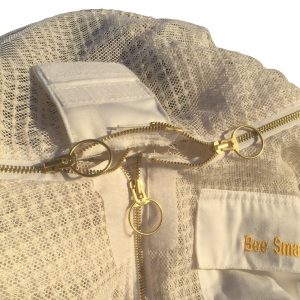 The number of tools that a beekeeper can bring to the beehive on a visit is important. You can of course supplement your beekeeping suit's carrying capacity with a tool belt, but that is not very desirable. The Bee Smart ventilated beekeeping suit has three pockets in the front to carry your beekeeping tools. One pocket is on the right breast while two others are on the hips. If these are not enough for you, the suit has elastic around the wait which allows for easy use of a tool belt.
Zippers
Once donned by the beekeeper, the suit comes together easily and seals you in using zips. The zips are made with strong durable metal. They last for long and do not present problems such as derailing. Big round rings are installed on the zips for opening and closing operations. They are easy to hook and hold even when you are wearing protective gloves on your hands.
Thumb and Foot Holds
Projecting from the wrists are thumb holds for the suit. These keep the sleeves of the suit in place during the entire period you will be wearing it. The thumb holds work well with gloves and other protection for your hands that you may want to use. In the lower end of the suit at the ankles, foot holds are present to generally do the same good job as of thumb holds. They can go over or under thick beekeeping socks and do not interfere with the footwear you choose for your beehive visit.
Check Price, Size and Availability of the Bee Smart 800 Ventilated Beekeeping Suit
Pros and Cons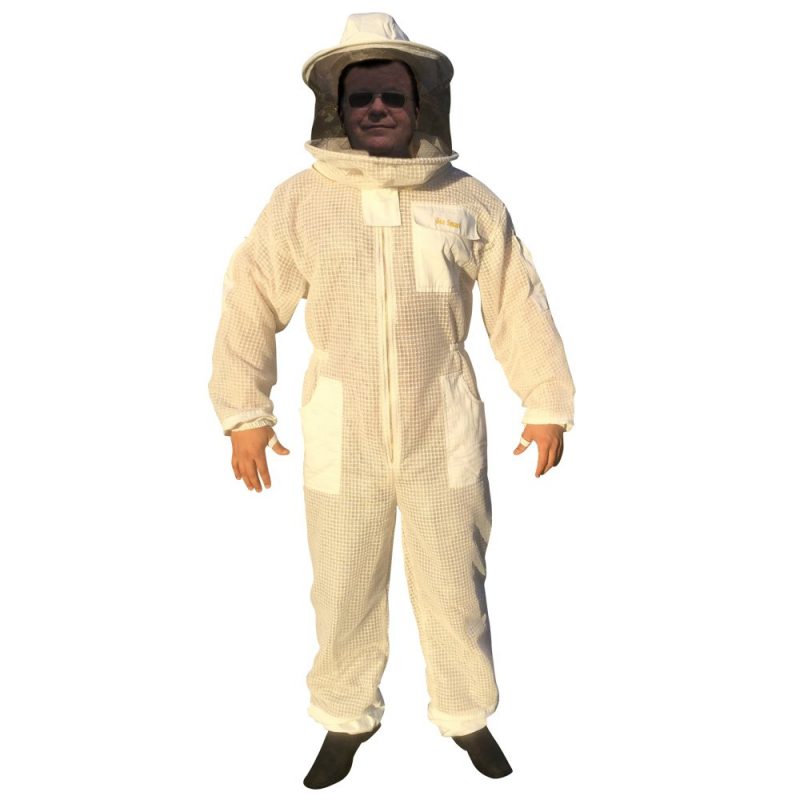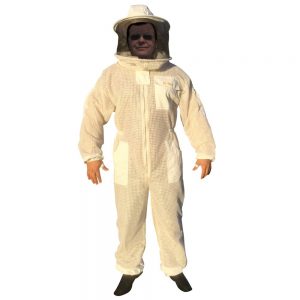 Pros
The suit is very light in weight, yet confers adequate protection from bee stings. It does not weigh you down even when you are wearing something under the beekeeping suit.
The suit works in both hot and cold weather. It allows cooling during hot weather and you can wear warm clothing under it if you will be working in cold weather.
This suit is friendly to bees. It does not tangle up their legs in the fabric so they can fly away easily – once they realize they cannot reach you with their stings.
The ventilated suit has excellent all round protection including for the head and face. It also allows awesome vision out of the front veil.
Cons
This suit has a slightly small number of pockets for beekeepers' tools. An additional front pocket would be great.
Bees may crawl under the suit if the zippers are closed tightly.
Does not come with gloves.
Further Thoughts
A point of weakness on beekeeping suits is the area where the zips end. Bees may find the opening and crawl under if it is large enough. To remove the possibility of this happening, the Bee Smart 800 Ventilated Beekeeping Suit has Velcro patches to cover the ends of zips. The covers do a nice job of keeping the bees out from this possible weak point.
Conclusion
Working in the Bee Smart 800 Ventilated Beekeeping Suit is easy and allows work progresses smoothly. The suit manages to stay out of your way when handling equipment. It features an elastic waist that reduces bagginess. There are also elastic strips in the wrist and ankle areas of the suit. These give the suit a tight fit and reduce cumbersomeness.
Do you own the Bee Smart 800 Ventilated Beekeeping Suit? Leave a comment below and let us know what you think of it.
Check Price
Check Price (Australia)