If you purchase an independently reviewed item through our site, we earn an affiliate commission. Read our affiliate disclosure.
Before you engage in any business it is always wise to understand what is required for its success. The same applies to beekeeping. Honey harvesting tools are available from various suppliers but you can also make use of homemade alternatives. Once you are ready to harvest honey from the bee hive, it is important to have the right tool for the job. After you have removed the frames from the supers, you can use a honey uncapping knife to prepare the honey in the combs for extraction. That's where the VIVO BEE-V003D Honey Extractor comes in. It is a large honey extractor that comes with some outstanding features. It is designed to meet the needs of the seasonal as well as professional beekeeper. This unit is not only functional by all measure but it is built to last.
VIVO Beekeeping
VIVO is a US-based corporation that is widely known for its diverse array of products. It works hand-in-hand with other global suppliers in designing and distributing high quality products at affordable prices. It supplies items such as appliances, cables, bags, sports and outdoor equipment, beekeeping supplies, projector screens, monitor stands and mounts, and many others.
How to Choose the Right Honey Extractor?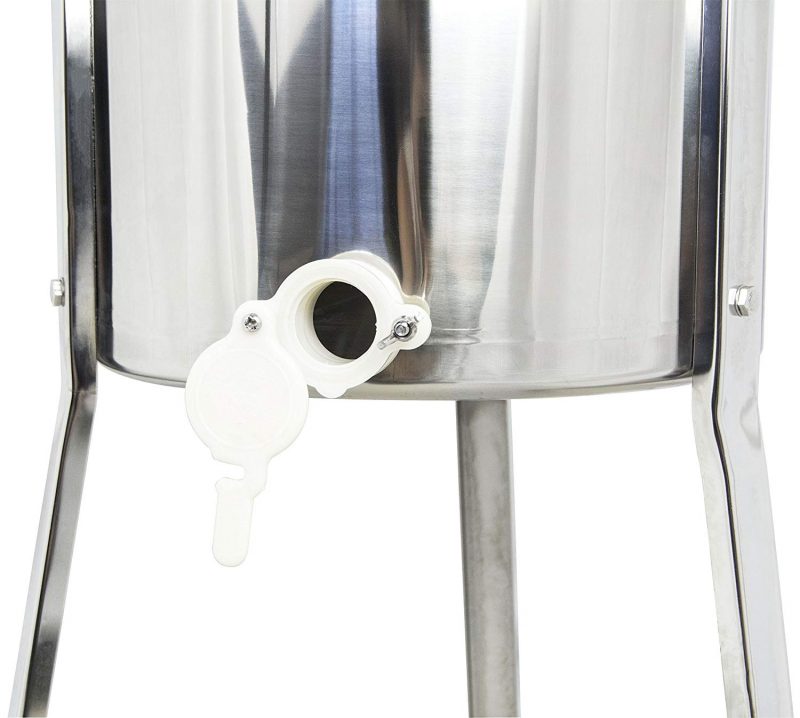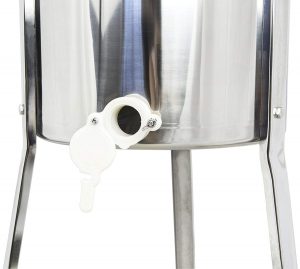 This is a question that most beginning beekeepers ask and there is no definitive answer to that, but it all depends on a number of things. As a general rule, choose a unit that will give you the most value with respect to a number of factors:
Size of your beekeeping enterprise.
Average honey harvest per season.
Meets required food-health standards.
Will fit the available extracting room space.
Is in line with your physical capability. You should be able to handle and move it around.
Price of course. It should be within your budget.
There are also a number of things that should be considered when choosing your extractor. Is the unit made of stainless steel or is it made of plastic? This matters as well since different materials have their pros and cons. You also have to choose between a manufactured or homemade unit. Or alternatively decide to make your own honey extractor. A ready-made honey extractor may be more expensive compared to one that is assembled at home. If you can make one then it will save some money.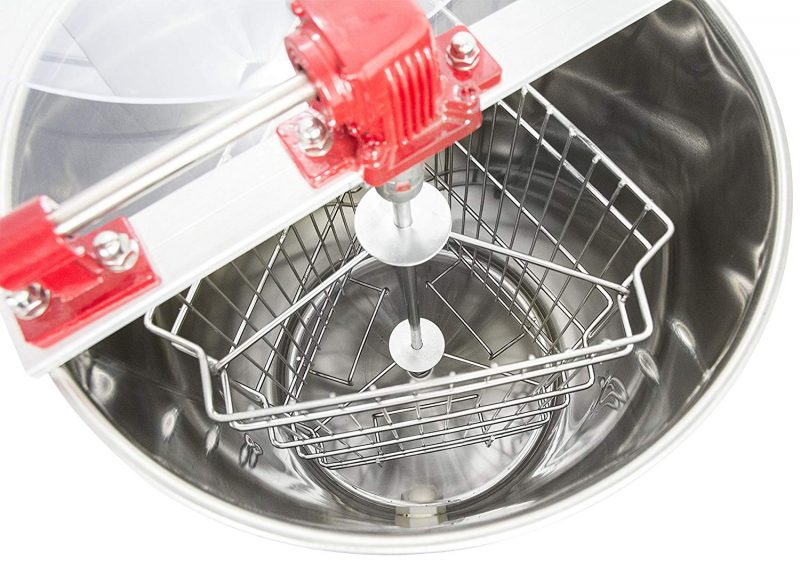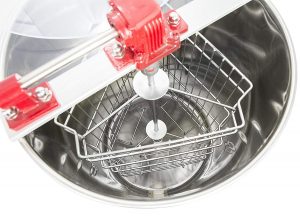 Honey extractors are also available as vertical axis, tangential/radial, or horizontal axis. All these refer to the way the honey frames are arranged and spun within the drum. The extractor can also be hand crank or electric spun. With an electric unit you will be able to spin more frames within the shortest time. Hand crank units can suffice as well though it relies on your physical capability to accomplish the task. This is an excellent choice for those who do not want to rely on electricity to get things done. It can also come in handy as a backup unit.
You can choose to buy your own honey extractor or alternatively rent one. Most local beekeepers are willing to lend you one at a price whenever you need it. You can also rent one from local beekeeping clubs. Another factor to consider is whether to go for a mobile or a permanently mounted honey extractor. The capacity of the extractor is a huge consideration. Extractors are available from as little as 2-frame to up to 240 frames.
The smallest and the cheapest units seem to appeal to majority of beekeepers. However, it is prudent to consider the value you get before making a purchase. For instance, when you choose a 2-frame unit over a 4-frame unit, it means it will take longer to harvest the honey though cleaning will be faster. As for the bigger units, harvesting is faster but it takes longer to clean the unit. Storage space may also be a factor to consider since bigger units take up plenty of storage space. Remember, you only need use the honey extractor 2 or 3 times a year and therefore it may make no sense for it to occupy plenty of space when not in use.
Check Price and Availability of the VIVO BEE-V003D Honey Extractor
About the VIVO BEE-V003D Honey Extractor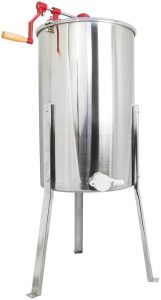 The VIVO BEE-V003D is a manual honey extractor that is great for all beekeeping levels and has the following features:
It has two clear lids that prevent debris from mixing with the honey. They are also transparent so as to allow easy viewing.
It has a turn crank made of solid metal and has a smooth handle that can easily be tuned.
It offers sufficient space for a 5 gallon container to fit underneath it. The distance between the honey gate and the floor is approximately 15.25 inches.
It is made with durable bevel gears that offer a smooth and quiet spin.
Its exterior overall design is elegant and unique. The stainless steel boasts a beautiful mirrored finish on the outer side.
The honey extractor is quite large and has been designed to accommodate shallow, medium, and deep frames.
It is made using high quality 304 stainless steel basket and drum, making it quite durable.
It has a conical-shaped bottom inside. This directs honey to the 2-inch outlet that has the honey gate or the stopper.
The drum height is 24 inches and diameter of 15 inches.
Pros and Cons
Pros
Designed with high quality materials, making it quite durable.
Easy to control and tune, thanks to its hand crank that has a smooth handle.
Quite large and can accommodate any frame size, from shallow to deep and in-between.
Comes with two clear lids that allow easy viewing.
It delivers a smooth and quiet spin thus creates minimal noise.
It is easy to assemble.
Provides space wide enough to allow a 5 gallon container to fit underneath the unit.
Conical shaped bottom helps direct all the honey collected to the honey gate. This helps minimize honey residues on drum walls.
Quality for the money.
Cons
Lack of warning in the manual about the ball bearing in the extractor's lower shaft hub. If you lose it while cleaning, you will create room for fine metal to get into the honey without your knowledge.
Further Thoughts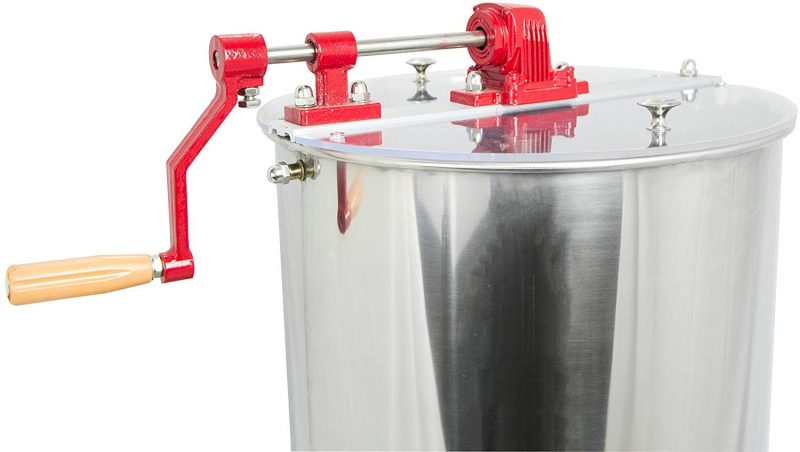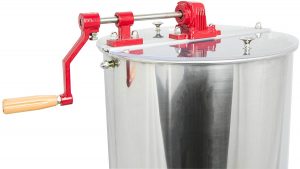 The VIVO BEE-V003D Honey Extractor is a well-made unit. It comes at an affordable price and will suit well both the beginner and the professional. It is easy to assemble, clean or even use. If you are fed up with borrowing an extractor, then this unit will serve you well. It comes with its own legs and once set it creates a space wide enough to accommodate a 5 gallon container below the unit. The conical shaped bottom makes it easy for the harvested honey to flow through the honey gate. The fact the unit has clear lids also makes it easy for the user to monitor the honey extraction. The cage that holds the frames is very sturdy as well and this is impressive. It runs strong and smoothly throughout the spinning process. It is a highly recommended unit.
Conclusion
You should have the right equipment for beekeeping and the honey extractor is a must have for any beekeeper. The VIVO BEE-V003D Honey Extractor is strikingly large and has been designed to meet all your needs, making honey harvesting a breeze. This being an electric unit means it is highly efficient. It will suit even the most demanding user not to mention the hobbyist with a few hives to harvest. For the price, this honey extractor is definitely worth every penny. Despite its shortfalls, it's one of the best honey extractors out there, backed by a trusted supplier.
Have you ever used the VIVO BEE-V003D Honey Extractor? Leave a comment below and let us know what your experience was like.
Check Price