If you purchase an independently reviewed item through our site, we earn an affiliate commission. Read our affiliate disclosure.
The VIVO BEE-V105 Professional Beekeeping Smock is protective wear for beekeepers. VIVO is a reputable beekeeping company with a good number of products for beekeepers. These products range from beehives, honey extractors to protective wear such as the BEE-V105 beekeeping smock.
VIVO claims to turn innovative ideas into solutions that are affordable. The company aims to make a difference in people's lives –especially those of beekeepers. The VIVO BEE-V105 Beekeeping Smock promises protection from bee stings. To its benefit, it is indeed able to achieve this.
About the VIVO BEE-V105 Professional Beekeeping Smock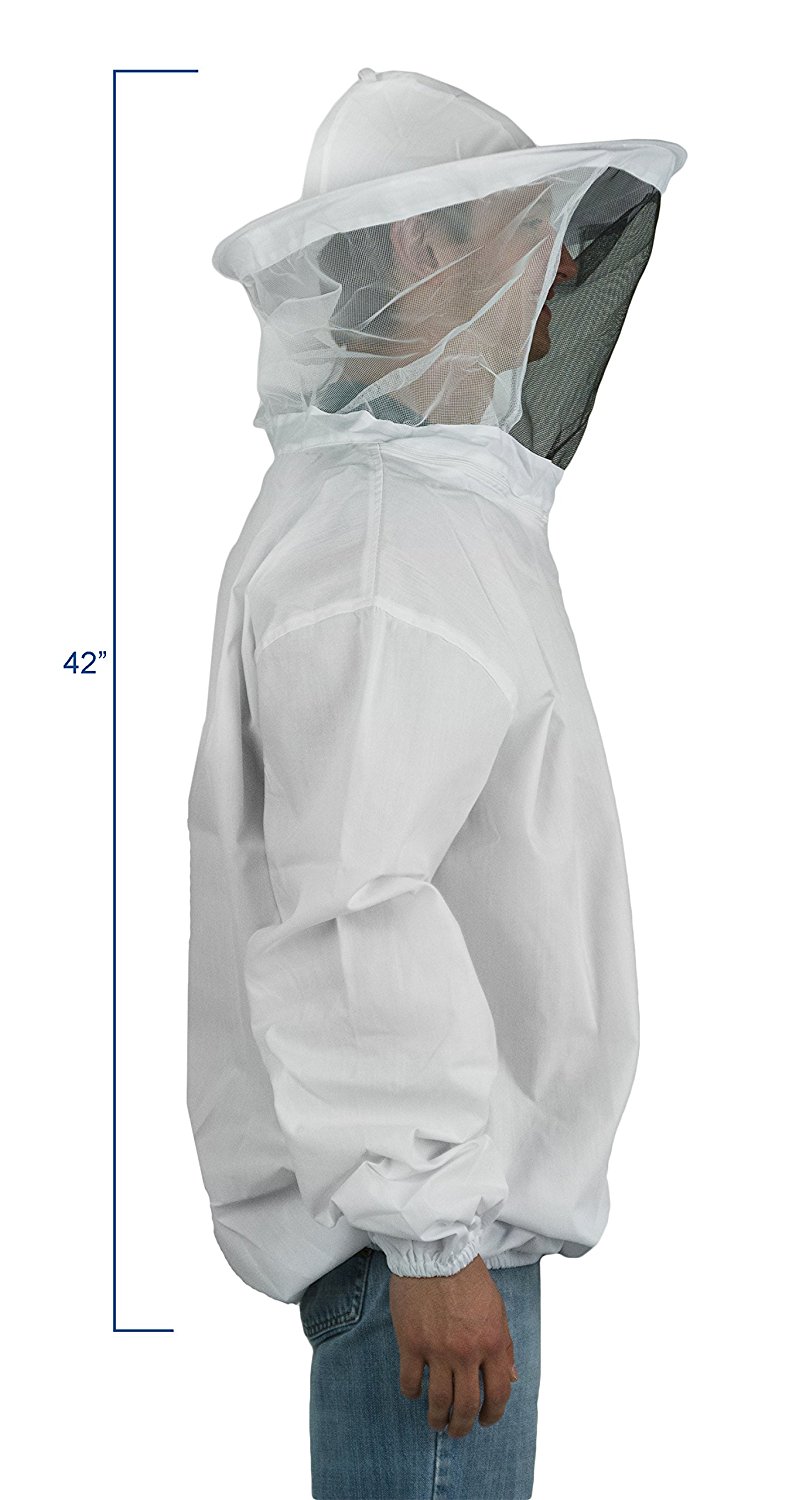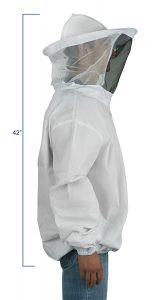 With advances in fashion taste, beekeepers are moving away from the traditional beekeeping suit. Beekeeping smocks and jackets are fast gaining some ground. This is because the beekeeping suit can be cumbersome sometimes. A nicely made beekeeping smock gives you the same protection from bee stings as a suit. Additionally, the beekeeping smock is lighter and allows you more maneuverability.
VIVO seems to have figured out how to get the beekeeping smock right. A lot of thought is seen in the design of the VIVO BEE-V105 Professional Beekeeping Smock. It is also very functional and effective against bee stings. The material used in making the smock is durable and friendly to bees. It is a lightweight fabric that creates a protective barrier between you and bees. The fabric used does not tangle up bees' legs. Bees that land on the smock are able to fly off once they realize they cannot sting you. The material allows air to pass through it to keep you cool. Both the smock and hood are washable by hand. It is not recommended to machine wash the VIVO BEE-V105 Beekeeping Smock.
Veil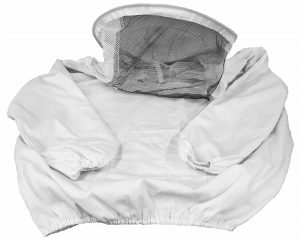 Protection for your head and face against bee stings is an important aspect of every beekeeping safety wear. This VIVO BEE-V105 Professional Beekeeping Smock has a round veil that fits onto your head like a sunhat. The mesh used on the front of the veil allows you clear vision while keeping bee stings out. Towards the rear of the head, the mesh changes to a translucent white. It allows for all-round ventilation of your head and face. There is ample space between the mesh at the front of the hood and your face. Beekeepers who wear spectacles do not have to take off their prescription eyeglasses while they have this smock on.
The hood is attached to the smock with a zip. The zip allows for partial removal of the hood when you are not using the smock. This makes it easy to clean the smock as well. This is the only zip found on the VIVO BEE-V105 Beekeeping Smock. The zip used is strong and durable. Make sure to zip up the hood before you venture near a beehive.
Pocket
Tools and life accessories must accompany you on your beehive visits. A mobile phone and a hive tool are perhaps the most common companions. To allow such items with you all the time, VIVO have put a single pocket at the front of the VIVO BEE-V105 Professional Beekeeping Smock. The pocket is a 7-inch sized pocket for extra storage space.
Sizes
There are 2 sizes of the VIVO BEE-V105 Beekeeping Smock available for purchase. You have the options of a Large size and an X-Large size. These two sizes fit a majority of beekeepers. Additionally, the smock has a drawstring at the waist area to secure it in place. Even if the smock is a size or two larger than you, it will still stay in place. Specific measurements of the two sizes are available online.
Check Price, Size and Availability of the VIVO BEE-V105 Professional Beekeeping Smock
Pros and Cons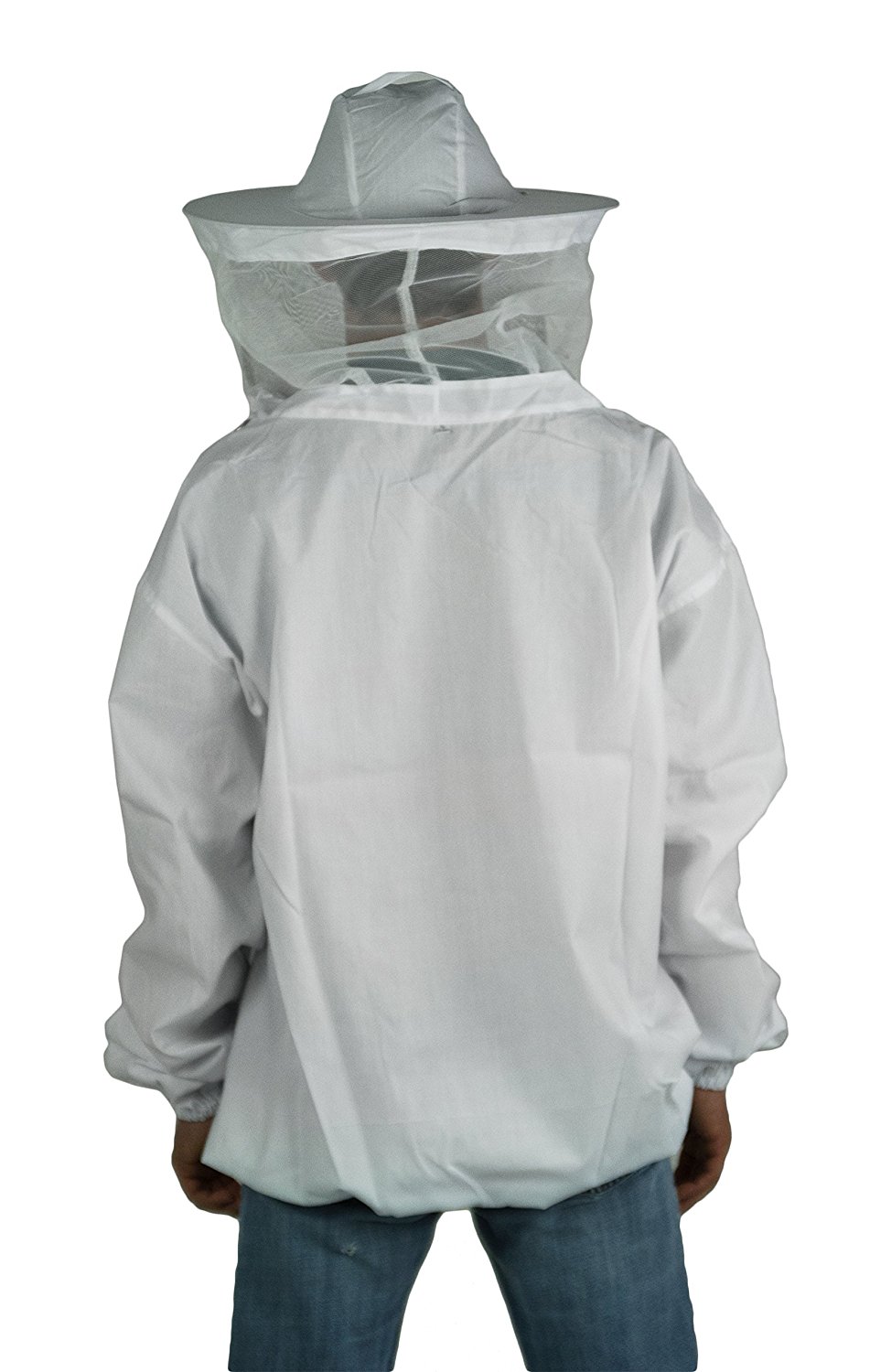 Pros
The smock is friendly to bees. It is in a white color that does not overly aggravate bees.
You get good protection from while not feeling bogged down.
The beekeeping smock uses breathable fabric. This keeps you cool while in the suit, even while the suit is not ventilated.
Cons
There is only one pocket. This may not be adequate for all your pocket needs.
The risk of being stung is a little higher with a smock than with a beekeeping suit. The beekeeping smock must be fastened well at the waist if you are to be better protected.
Beekeepers buying this beekeeping smock must invest in protective clothing for their lower body. If this is not done, you might suffer bee stings.
No carrying case. The smock may get damaged during transportation and storage.
The smock does not come with gloves to cover your hands. These must be bought separately.
Further Thoughts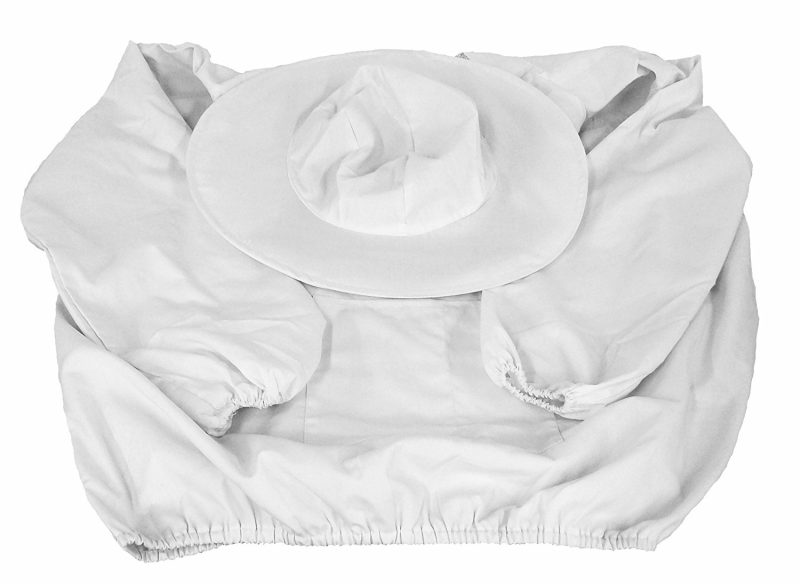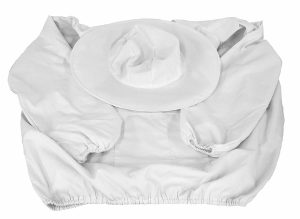 Both amateur and pro beekeepers are suited to use the VIVO BEE-V105 Professional Beekeeping Smock. It is easy to use and maintain. Especially suited are backyard beekeepers whose apiaries are close by. If you need to pack up your stuff into a vehicle for a visit to your apiary, you may have hard time with this beekeeping smock since it does not have a carrying case.
This smock features elasticized wrists and waist. These secure the smock into place and make sure that bees do not have crawl space in these two important areas. The smock does not have thumb holds. They would be a great feature is VIVO incorporates them in future production a newer model.
Conclusion
The VIVO BEE-V105 Professional Beekeeping Smock is a great purchase for beekeepers with backyard apiaries. The smock gives you ample protection from bee stings. It is also easy to work with since you have excellent vision out of the mesh used at the front of the veil. The smock is simple protective clothing for beekeepers.
Do you own the VIVO BEE-V105 Professional Beekeeping Smock? Leave a comment below and let us know what you think of it.
Check Price
Check Price (Australia)