If you purchase an independently reviewed item through our site, we earn an affiliate commission. Read our affiliate disclosure.
The Natural Apiary Zephyros Beekeeping Jacket is a well designed protection against bee stings. Even with a mild tempered bee colony, an overzealous worker bee might happen to land on your jacket one day during a hive inspection. With this beekeeping jacket, you are protected while you are around your bees.
This beekeeping jacket by Natural Apiary is a respected and sought after signature in the beekeeping industry. It is known for its protective abilities while keeping you cool while wearing the jacket. These jackets are designed in the USA and the UK. They use protective layers to give you two things: protection and ventilation.
The collar of this beekeeping jacket is also treasure of health and ergonomics. For those who pay a little extra attention to the health of their bones, this beekeeping jacket is reinforced and thickened. It gives your neck protection and support within the veil.
About the Natural Apiary Zephyros Protect Beekeeping Jacket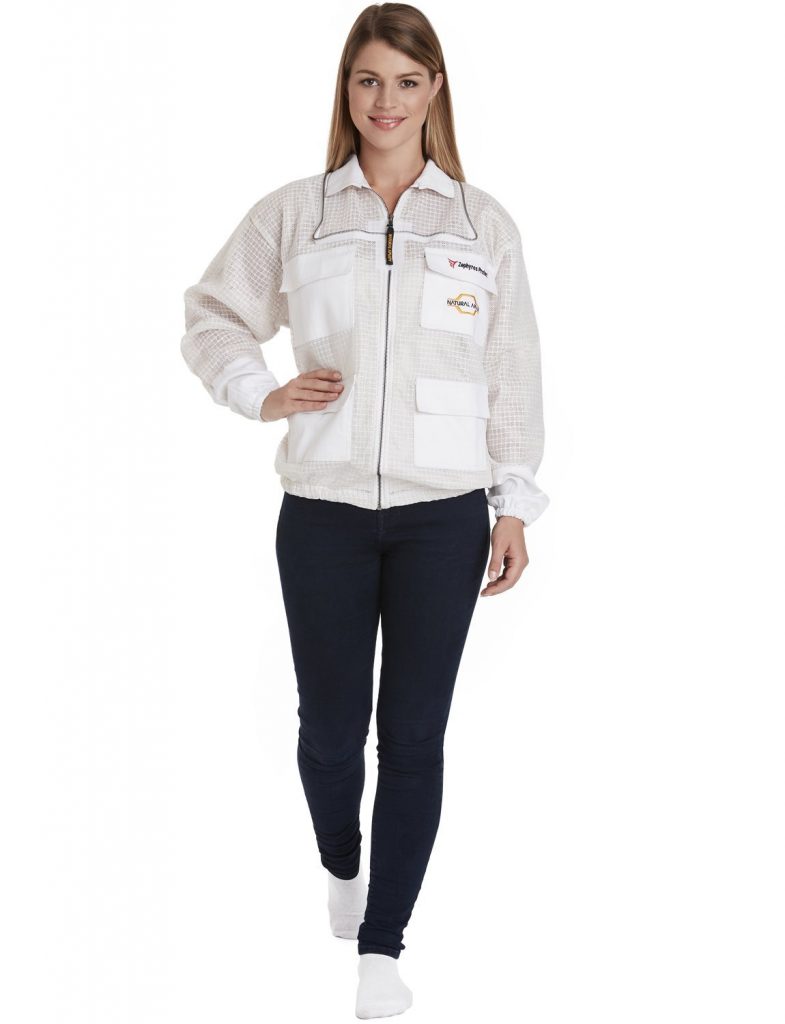 You feel nice and enjoy the time you spend in the jacket.
This protective jacket for beekeepers is nice fitting and comes in a number of sizes. The wide range allows you to get your fit easily. The seven choices available range from Small to 3X-Large.
The zippers on the jacket are YKKs. These are zippers known for their strength and endurance.
Layered meshes provide excellent protection from bees. You have a 4-5 millimeters barrier to a bee's sting. The sting can only go a max of 3 millimeters from the bee.
The fencing veil gives you better vertical views while you are working in the protective jacket.
Design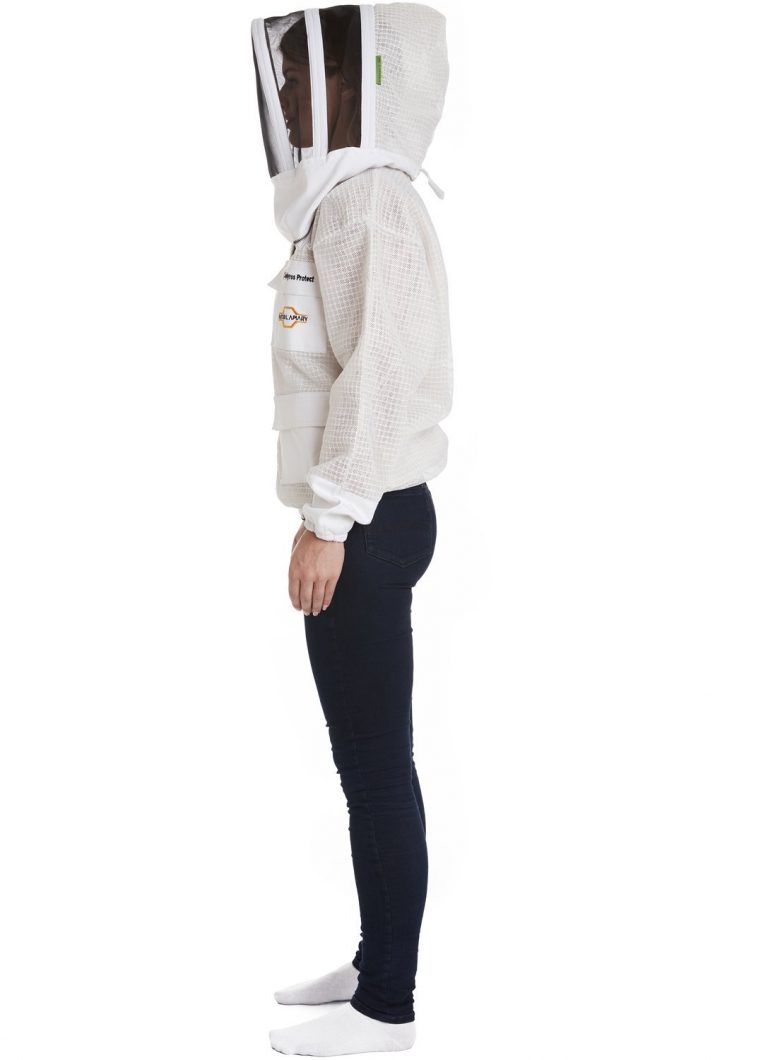 A fencing veil reduces bulkiness and the constricting feel you might experience while in a beekeeping jacket. Use of the fencing veil on this jacket makes you have better situational awareness too. The veil of this Natural Apiary protective jacket for beekeepers sits well away from your face to give you unmatched comfort.
A sense of fashion is seen in the Natural Apiary Zephyros Protect beekeeping jacket. It employs a modern cut and modern sizing. The jacket is trendy and stylish beekeeping equipment that you are proud of wearing.
Materials
Honeybee colonies must be handled carefully. Disturbances and hive intrusions that you make while working on your hives are stressful for them. The Natural Apiary Zephyros beekeeping jacket reduces the stress your honey bees encounter.
Even in the comfort you enjoy in this beekeeping jacket, the welfare of your bees is taken into account.
The amount of polyester used on the jacket is just enough to prevent the legs of bees getting entangled in fibers.
Cotton in the protective jacket makes it remain aerated. The jacket allows for a flow of air through the jacket. Even in the hotness of summer, you feel fresh and cool in this protective beekeeping jacket. The blend of cotton, polyester and natural rubber used in this Natural apiary protective jacket for beekeepers makes the whole jacket a very natural terrain for bees.
Pockets
The Natural Apiary Zephyros Protect beekeeping jacket has large patch pockets. These are great for your tools and stuff that you want to bring along to your hive inspection or honey harvesting trip. A beekeeper is as good as his tools and equipment. The Natural Apiary protective beekeeping jacket is designed for the visit to your honey bees. It allows you to carry your tools, and your smartphone along for a selfie.
The jacket works well with any tool belt that you own.
Has pockets large enough for your hive tool.
The top pockets of the jacket are secured using Velcro. This increases the ease with which you access whatever you have in the upper pockets of your jacket.
Check Price, Size and Availability of the Natural Apiary Zephyros Protect Beekeeping Jacket
Wearing the Jacket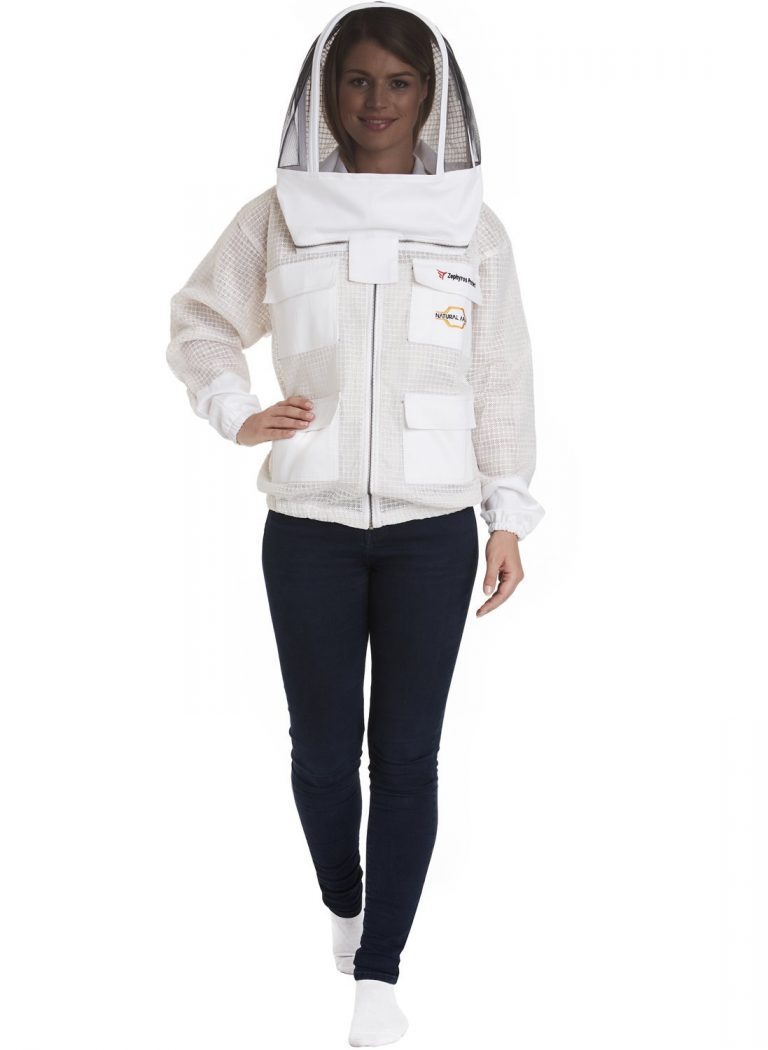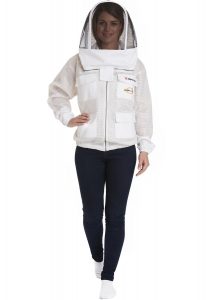 It is good to note that a jacket covers only the top part of the human body. The Natural Apiary Zephyros Protect beekeeping jacket is no exception. You will need to have a few lower-body clothes made of strong material. Any strong pair of jeans trousers you have will do just fine. Thick jeans for your lower body protection works well with this beekeeping jacket.
For the upper body, a heavy shirt or cotton t-shirt will work. Do not wear too much clothing on your upper body while wearing the Natural Apiary Zephyros Protect beekeeping jacket. Wearing too many clothes under the jacket will make you hot and uncomfortable. This jacket is great for working with your honey bees in all types of weather.
Arms and sleeves are an important consideration when you are buying a bee keeping jacket. Bees can get into tiny spaces such as on the wrists. Beekeeping jackets have a lot of space to seal. No bees should be able to get underneath the protective jacket. This beekeeping jacket utilizes elastic bands to seal off the wrists and waist. The wrists get further reinforcement to protect them from wear and aging.
Conclusion
Beekeeping is a joyful and rewarding activity with the Natural Apiary Zephyros Protect Beekeeping Jacket with fencing veil. The jacket is a great addition to your beekeeping tools and equipment. The carrying case that comes included upon your purchase of the protective jacket is a good idea. It makes it easy to carry your jacket around. The carrying case is itself made of lightweight material and features a logo on the sides.
The Natural Apiary Zephyros Protect Beekeeping Jacket is a great choice for your hive inspection, maintenance and honey harvesting days. The protective jacket is great for both new entrants into beekeeping and professionals too. Enjoy the sweet rewards of your honeybee colonies and the investment you have put in them with the help of this beekeeping jacket.
Do you own the Natural Apiary Zephyros Protect Beekeeping Jacket? Leave a comment below and let us know what you think of it.
Check Price on Natural Apiary
Check Price on Amazon