If you purchase an independently reviewed item through our site, we earn an affiliate commission. Read our affiliate disclosure.
Quick Overview
The Natural Apiary Max Protect Beekeeping Suit does well to protect you from bee stings, but wearing it is not a very pleasant experience.
No one wants to experience the pain of bee stings. Preventing stings from reaching the skin is important for every beekeeper. Various types of clothing are used for protection when working around bees. Beekeeping suits are the oldest protective clothing for beekeepers, providing coverage from the feet to the head. A veil that allows vision is used at the top of the beekeeping suit to keep the head and neck protected too. Natural Apiary is one manufacturer of beekeeping suits. The company manufactures and sells the Natural Apiary Max Protect beekeeping suit as a solution for beekeepers to be safe from defensive honeybees. In this review, we'll dive in and see if this suit is worth your money.
About the Natural Apiary Max Protect Beekeeping Suit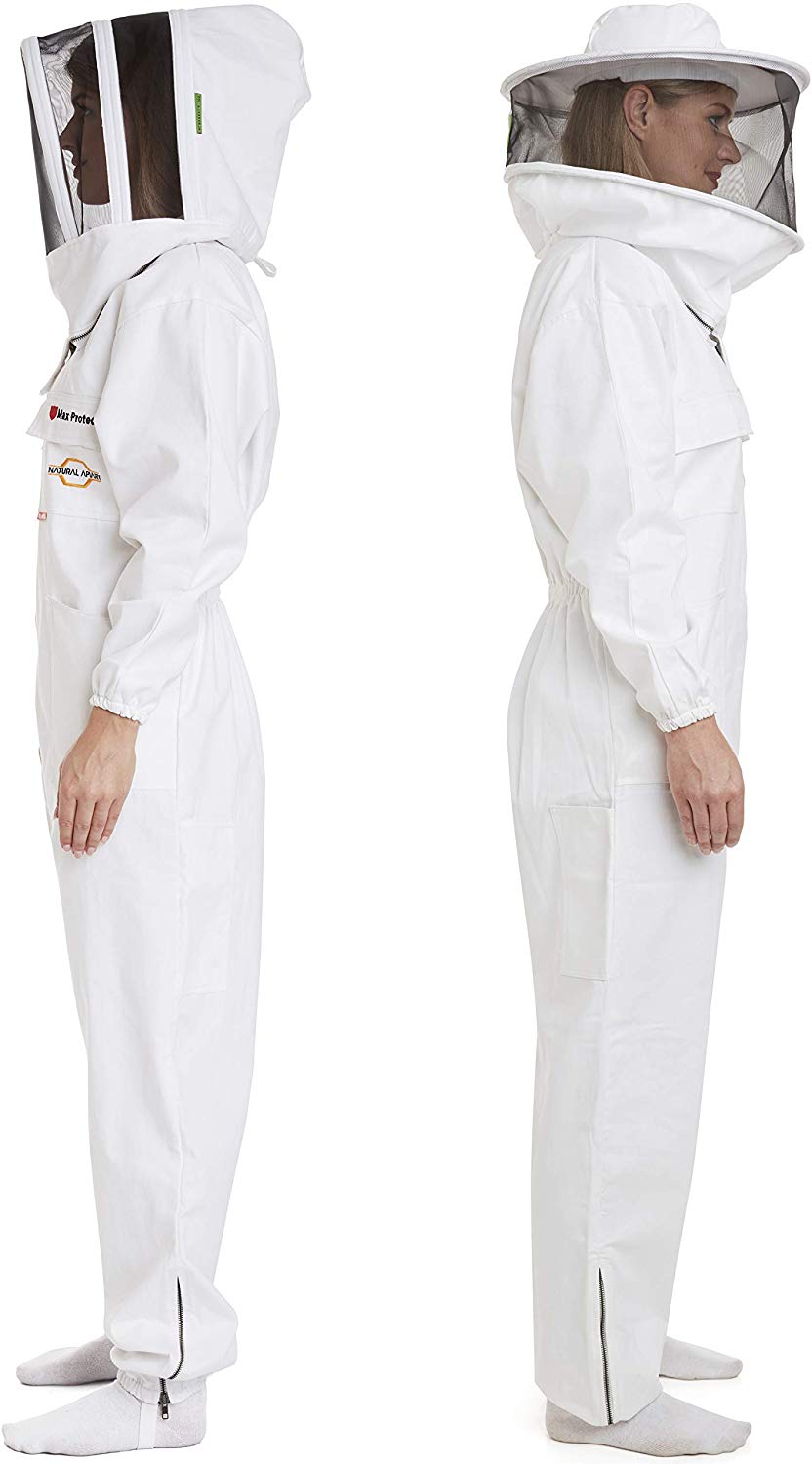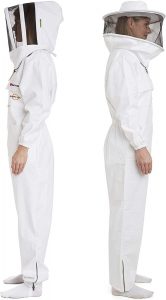 The Natural Apiary Max Protect beekeeping suit is made of cotton. It is lighter than poly-cotton suits and thicker to keep bee stings from reaching you. The cotton cloth used is strong and durable. This suit is well stitched with enough allowance at the seams. It lasts long and gives you great protection from bee stings. The suit is available in more than one size. You have the options of X-Small, Small, Medium, Large, X-large, 2X-Large and 3X-Large to choose from. This makes the suit appropriate for use by anyone, from children being introduced to beekeeping, to adults going into beekeeping for various reasons. There are also four color options: white, pink, camouflage and khaki.
The Veil
Two types of veils are sold with this beekeeping suit. They are a fencing veil and a round veil. This is a result of extensive research done by Natural Apiary that found out beekeepers mostly use these two types of beekeeping veils. Furthermore, a zipper running around the shoulder region of the suit provides secure attachment for the veil you choose to use with this beekeeping suit.
Also noteworthy, is that the chances of the mesh on the face veil catching fire are reduced, as Natural Apiary uses a patented technology to make the mesh and suit to lower its flammability.
Design
The Natural Apiary Max Protect beekeeping suit has elastic added to the wrist and ankle areas. These keep the suit tightly sealed and in place throughout the entire period of time you are wearing it. The suit opens down the front using a long metallic YKK zipper. YKK zippers are stronger than plastic and brass zippers. Additional zippers are found on the ankles to help you put on the suit and take it off with greater ease. Velcro patches are used on some areas of this beekeeping suit to cover the ends of zips and secure them against being used by bees as entry points into the suit. Some pockets of the suit also have Velcro covers.
Carrying Case
Consideration for the cleaning needs and storage for this beekeeping suit has made Natural Apiary include a carrying case in every purchase. Putting the suit into the carrying case requires you to remove the veil. Both the suit and veil go into the carrying case without much of a fuss. During cleaning too, you should separate the veil from the beekeeping suit for best results. This suit is washable by machine or by hand.
Check Price and Availability of the Natural Apiary Max Protect Beekeeping Suit
Pros and Cons
Pros
This suit does a great job of protecting you from honeybee stings. It allows you to go through your activities with full confidence that bees will not get to you. You can wear the suit to any visit to the beehive since it allows you to work without restricting you.
There are many sizes of this suit available for your selection. Natural Apiary also has a sizing chart and instructions on how to get the size that best fits you. A choice of color is also available on this beekeeping suit unlike other suits.
Natural Apiary uses excellent technologies that allow view out of the veil, Velcro to seal up important places, thumb holds and footholds to keep the suit in place. These considerations for comfort and safety make this suit great for both beginner and experienced beekeepers.
Cons
This beekeeping suit is not ventilated. While Natural Apiary claims that the breathable cotton fabric used to make this suit allows some cooling, the reality is different. In warm weather, carrying out activities that require lifting of heavy objects is still likely to get you uncomfortably hot in this suit.
Wearing the suit feels like you are wearing coveralls. Use of the suit with no pockets on the sleeves and without elastic round the waist is also not very smooth.
Legs of honeybees get easily tangled in the fabric of this beekeeping suit. Even when they do not sting you, untangling them is not easy; you end up killing the bee or moving it away from its beehive once it is tangled up on the suit.
The color options are good for the preferences of individual beekeepers. However, the camouflage color option on this beekeeping suit is excessive. It is dark and likely to aggravate honeybees. The resources spend developing the camouflage designs and coloring option would have been better spent elsewhere on the beekeeping suit.
With a tool belt, the cotton-only fabric used on this suit gets chafed and weakened over a short period of use. The suit is therefore not suitable for use with a tool belt such as many beekeepers use. Abrasive contact with various surfaces, tools and equipment used in beekeeping also damages the cotton fabric.
The suit does not come with gloves and these would have to be purchased separately.
Conclusion
Despite all the good points about this beekeeping suit, it's still lacking in some areas. Natural Apiary seems to have taken a basic beekeeping suit design and slapped a few improvements on it to come up with this suit. While it does well to protect you from bee stings, it is not a beekeeping suit that can be recommended to be used in your day-to-day apiary visits. The Natural Apiary Max Protect beekeeping suit is a suit that both beginner and experienced beekeepers can buy as a spare. At best, it works as a stand-in for your main beekeeping suit and for use by visitors to your apiaries.
Have you ever used the Natural Apiary Max Protect beekeeping suit? Leave a comment below and let us know what you thought of it.
Check Price on Natural Apiary
Check Price on Amazon