Thanks for visiting our website. For us to continue writing great content, we rely on our display ads. Please consider disabling your ad-blocker or whitelisting our website before proceeding.
If you purchase an independently reviewed item through our site, we earn an affiliate commission. Read our affiliate disclosure.
The Mann Lake CV365 Waterproof Weathertek Pollinator Jacket with Veil features good quality material and construction. It is weatherproofed to allow you work on your apiary even in rainy weather. This alone makes it stand out among the plethora of beekeeping protective gear available.
About the Mann Lake CV365 Waterproof Weathertek Pollinator Jacket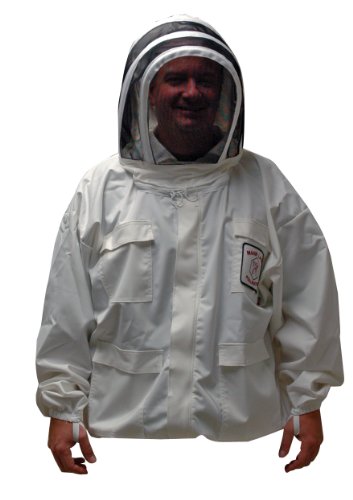 A beekeeping jacket is a great replacement for a beekeeping suit. A jacket is less bulky compared to a full-length suit. The Mann Lake CV365 Jacket is fashionable and gives good protection against bee stings. The jacket has four pockets at the front for all you want to bring on your hive visit.
Design and Materials
Thumb holds on the sleeves of the Mann Lake CV365 Waterproof Weathertek Jacket give it a secure fit. You can easily wear beekeeping gloves even with the thumb hold in place. The thumb hold is comfortable and you barely notice it. This is a great assurance that your cover from bee stings will remain intact during your entire beehives visit.
Elastic is found on the wrists and waist of the jacket. It gives the jacket a secure hold to seal up these areas where bees might crawl through. The strips of elastic on the jacket last long without stretching out and losing their tightness.
Excellent stitching is seen on all the seams of the jacket, including the pockets. Double stitching is seen on some areas of the jacket too. This makes the jacket long lasting and secure. Additionally, you do not have to worry about cleaning. Once you detach the veil, it is very easy to wash the jacket in a washing machine under slow spins. The veil too is easy to clean once it is detached. The seams seem to hold up well against the forces exerted on them during cleaning.
Waterproof
The Mann Lake CV365 Waterproof Weathertek  Jacket features nylon faced material and a barrier made of urethane. This gives it its waterproof qualities, thus the 'Weathertek' in the name. Water landing on the material used in making this jacket falls right off. The jacket keeps you dry and warm within.
Veil
The Mann Lake CV365 Jacket is fitted with a fencing veil for protection of your head and face. The veil is self supporting and easily collapsible for storage. Mesh sections on the veil go round your head to give ventilation to your face and head. This jacket is easy to use for both professional bee keepers and those just starting out in beekeeping.
Colors
Mann Lake has availed the jacket in a white color. It is great for working around bees since white color is less annoying to bees than dark colors. The color scheme used makes it very attractive. A Mann Lake logo is emblazoned on the front of the jacket to give you assurance that it is authentic from Mann Lake. The veil has a pleasant black and white color scheme.
Zippers
The veil is detachable via a zipper. The zips used on the jacket are strong plastic zippers. They are colored white to match with the color of the jacket. The zips open easily to let you in and out of the suit. A central zipper runs down the front of the jacket to open it up and close it. It is also made of durable plastic material. The zips are ringed to make it easy to operate them with gloves on your hands.
Check Price, Size and Availability of the Mann Lake CV365 Waterproof Weathertek Jacket
Pros and Cons
Pros
The jacket gives ample protection from bee stings while being fashionable and very functional.
You are warm and dry in the jacket during wet weather.
Zips on the jacket are durable and seal up well. They leave no spaces for bees to sting you through.
The veil on the jacket is detachable for storage and transport.
Cons
Plastic zippers used on the jacket may fail faster than metal zippers seen in other beekeeping jackets.
This jacket is not suitable for warm weather. Since it is not ventilated, you warm up considerably in the jacket.
The jacket does not come with a carrying case. You will have to think of how to store and transport your jacket. Keeping it in the open may expose the jacket to harm.
Further Thoughts
The Mann Lake CV365 Waterproof Weathertek Jacket is a great spare for beekeepers. It comes in handy when the weather turns against you at a time you are working with bees. The jacket works well with both men and women. It is comfortable to wear as protection while around bees.
Additionally, a specific storage point might be the best way to make sure the jacket stays in pristine condition. If you so wish, you may have a carrying case made of strong protective material tailored for you locally.
Conclusion
The Mann Lake CV365 Waterproof Weathertek Pollinator Jacket is a functional beekeeping product. It is clearly designed to keep you dry in wet weather. The jacket fits well and affords you the protection you want from being stung. It is a nice spare jacket to have in case you encounter wet weather in your activities around bees.
You may buy the jacket from online retailers or at retailers such as Amazon. Please note that guarantees that you may get on this jacket are provided by the seller. They may not be backed by the maker of the jacket itself.
Do you own the Mann Lake CV365 Waterproof Weathertek Pollinator Jacket? Leave a comment below and let us know what you think of it.
Check Price