If you purchase an independently reviewed item through our site, we earn an affiliate commission. Read our affiliate disclosure.
There are many different beekeeping suits available, but not that many can be said to be waterproof. The Mann Lake CV275 Waterproof Weathertek Bee Suit has waterproofing as one of its main features. But is it actually, and to what extent? In this review, we'll set out to explore the claim of the manufacturers and also to determine if this bee suit gets a buy or don't buy rating. Let's check it out.
About the Mann Lake CV275 Waterproof Weathertek Bee Suit
The Mann Lake CV275 Waterproof Weathertek Bee Suit comes with a fencing veil and is made of a nylon-faced material with a urethane barrier. The nylon is further treated with a Teflon film, which is used as a non-stick coating that helps prevent water absorption. This gives the bee suit its waterproof properties, allowing it to double as a nifty raincoat as water will roll right off. Indeed, the bee suit will keep your body dry for as long as you are wearing it, however the same cannot be said about your face. The veil is not waterproof as you can imagine, since you still need to breathe while you have it on, Even so, you can keep your head down and away from the direction of the rain.
This Mann Lake CV275 is actually quite comfortable. Though not touted to be ventilated, it is cool inside of the bee suit and you can wear it even when it's hot out. The suit also does well at its primary job, which is to protect you from bee stings. It's a full-body suit, covering you from head to toe, though unfortunately, it doesn't come with gloves.
The Mann Lake CV275 bee suit is available only in XX-Large, which is unfortunate for the smaller among us. The suit has a heavy-duty zipper at the ankles, four pockets, elastic wrists, and thumb holds to ensure that the suit fits snugly and does not chafe at your skin. It comes in white color. It weighs 1.8 pounds (0.68 kg) and measures 15 x 13.5 x 3 inches.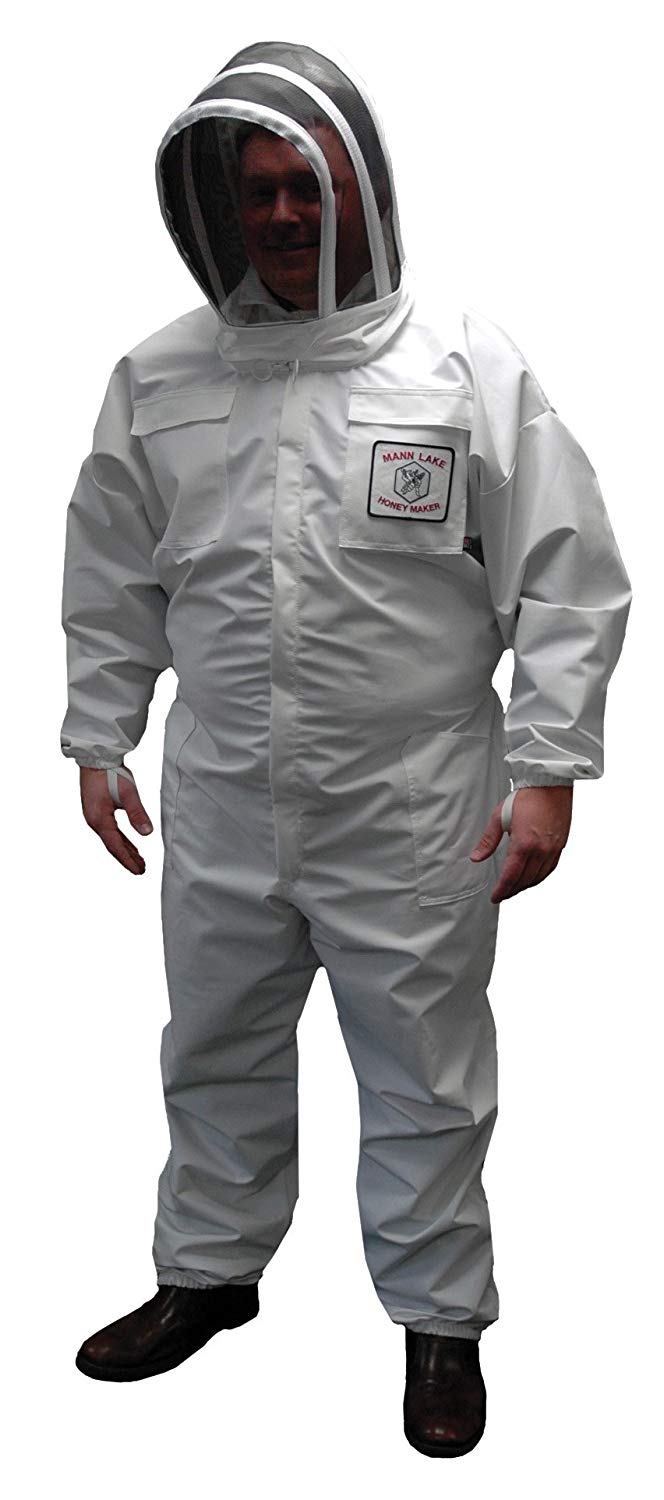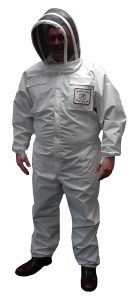 Pros and Cons
Pros
The suit is water resistant.
It is easy to put on and take off.
The suit is durable and comfortable, even in hot weather.
Does well to protect most parts of your body.
Provides great value for your money.
Cons
The suit does not come with gloves to protect your hands.
Check Price and Availability of the Mann Lake CV275 Bee Suit
Further Thoughts
If you're in the market for a bee suit, and if you live in a particularly rainy area, then the Mann Lake CV275 bee suit is well worth your consideration. It does well to protect you from both the weather and the sting of bees. Just be sure to get a pair of gloves.
This bee suit is great for those who are just getting started in beekeeping and those who are still apprehensive and scared of bees. Even rain can not stop you from loading bees into your bee hive on a rainy day.
What makes the Mann Lake CV275 Bee Suit right for you?
Mann Lake provides support both before and after purchase to help you maximize your bee suit and get the best out of it. It is easy to don and remove without assistance, and it comes with a veil as well to keep your face protected
This bee suit is quality and durable. It comes from a reputed manufacturer and one of the best suppliers of beekeeping equipment. You are sure to get value for your money. The suit is waterproof, comfortable, and keeps the bee stings out. It is an absolute delight to be able to load bees without fear of stings or even getting wet. Every part of your body (except your hands) is completely covered and protected by this bee suit.
Conclusion
The Mann Lake CV275 bee suit is well worth your money. If you are in the market for such a suit and are of the right size, then it's a definite buy. It's not every day you can find a bee suit that is light, easy to move about in, durable, and water resistant. The suit is readily available in stores near you and there is doorstep delivery as well, both on the company's website and on Amazon.
What are your thoughts on this review? Leave a comment below and let us know.
Check Price
Check Price (Australia)