Thanks for visiting our website. For us to continue writing great content, we rely on our display ads. Please consider disabling your ad-blocker or whitelisting our website before proceeding.
If you purchase an independently reviewed item through our site, we earn an affiliate commission. Read our affiliate disclosure.
The Humble Bee 431 ventilated beekeeping suit is well thought to provide great protection from bee stings. It stretches from the feet to the head of the wearer, though unfortunately it comes without gloves. This beekeeping suit comes with a fencing veil to protect your head and face. The veil allows for excellent front and peripheral vision while wearing the suit. Removing the veil is possible for when you want to clean it or to store away the beekeeping suit.
About Humble Bee
This ventilated beekeeping suit is made and sold by Humble Bee. The company has been around for more than 5 years now (at the time of this review) since it was founded in 2014 by two beekeepers. Humble Bee has been doing their part in honey bee conservation by helping beekeepers establish new apiaries. They are a great source of high quality beekeeping supplies for both beginner and experienced beekeepers.
With the this ventilated beekeeping suit, Humble Bee promises to keep you protected from bee stings while not suffering any temperature-related discomfort while wearing the suit.
Humble Bee claims to test all its products on company apiaries before selling the products. The company is so sure of its products that it has a 2-year warranty on all the products including on this beekeeping suit being reviewed. The warranty on this beekeeping suit will get a full refund if the quality of the suit is not to your liking.
About Humble Bee 431 Ventilated Beekeeping Suit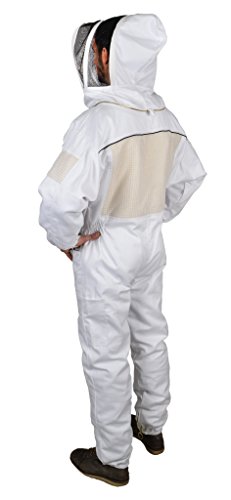 The Humble Bee 431 ventilated beekeeping suit is made using high quality fabrics and parts that are quite durable. It features heavy duty metal zippers for closing it up, along with cushioned kneepads and double stitched pockets for your phone and tools. A mix of cotton and synthetic material is used in making this beekeeping suit.
Design
On most areas of the suit, the material is 280 gsm cloth. It is light and does not tangle up bees' legs. Bees also have a hard time getting a grip on the material. Without a foothold on the suit, they cannot easily sting you even if they wanted to. The breathable ventilation panels are made using a lighter 220 gsm cloth. It allows air to circulate into the beekeeping suit to keep you cool when working in hot weather. The suit has five ventilation panels in total, with two of the panels at the front.
An elastic waist is used on this beekeeping suit. It ensures a comfortable fit while wearing it. Elastic is also found on the wrists and ankles. It keeps the extremities of the suit from slipping up your arms and legs. Thumb and footholds add to the ability of the suit to stay securely in place. This beekeeping suit is made in a unisex design that makes it fashionable and good looking on both male and female beekeepers wearing it.
The heavy duty metal zippers on this suit work well without jamming even when subjected to some rough treatment. The zippers prevent bees from getting into the entry points into the beekeeping suit. Even with gloves on your hands, you can easily operate the zippers. These zippers are found on the ankles, down the front of the suit, and around the neck of the suit. Zips at the ankles and down the front of the suit help with easy putting on and taking off. The zipper around the neck is for the attachment and detachment of the beekeeping suit's veil.
Sizes
There are several sizes of this ventilated beekeeping suit available to beekeepers that would like to use it in their beekeeping operations. You have the choices of 3 small sizes and 3 large sizes. They are XX-Small, S-Small, Small, Large, X-Large and XX-Large. These allow the beekeeping suit to be worn by anyone from children to adults of large body sizes. It is advisable that you go for a suit that is one size larger than your usual clothes. It allows for wearing of some light clothing under the suit, and any errors you might have made in sizing for the beekeeping suit.
Cleaning
Cleanliness in beekeeping is very important. It ensures that all beekeeping products are of high quality and safe for use. The Humble Bee 431 ventilated beekeeping suit is an easy-to-wash suit. You can clean it by washing it in a machine or wash it by hand. It does not hurt your hands. Additionally, the material used to make the beekeeping suit does not get dirty easily.
Check Price and Availability of the Humble Bee 431 Beekeeping Suit
Pros and Cons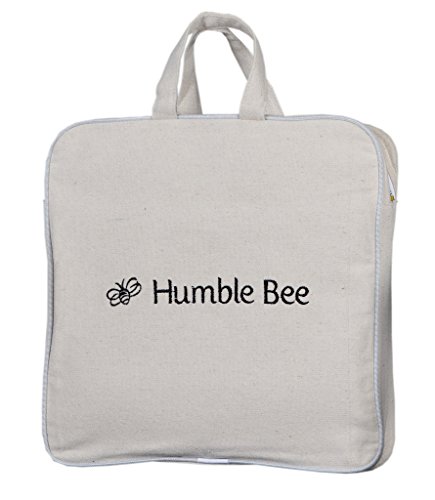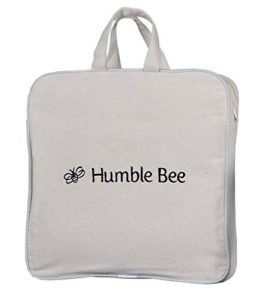 Pros
The cushioned kneepads on the legs of the increase the comfort of the beekeeper wearing this suit. You are confident when bending a knee during beehive inspections and other activities around the beehive. The pads do a great job at preventing soreness of your knees.
Light cloth is used to make this beekeeping suit. It does not weigh you down and add a lot to the weight you are carrying on you. The blend of natural and synthetic materials used ensures less weight of the suit and ability to stop bee stings.
The beekeeping suit is usable in warm weather. The ventilation flaps on the suit help with keeping you cool in the suit. In cold weather, you can wear some additional clothing under the suit to prevent excess cooling.
Cons
This ventilated beekeeping suit is fitted with a fencing style veil. It does give you great vision out of the veil but comes with some loss of protection for the back of the head and neck. The veil can also come too close to the face in some instances and allow an occasional bee sting through.
In cold weather, this beekeeping suit might leave you feeling too cold. Its ventilation feature would require you to wear heavy clothing under the suit to retain your body heat.
Does not come with gloves.
Conclusion
The Humble Bee 431 ventilated beekeeping suit is a great choice for beekeepers despite its few shortcomings. The suit protects you from bee stings and is easy on the bees themselves. Bees are less aggressive towards light colored animals and objects. The suit is a good choice for both beginner and experienced beekeepers. It can also be used with children that are in beekeeping. The Humble Bee 431 ventilated beekeeping suit also comes with a deluxe canvas case for its storage and transportation needs.
Do you own the Humble Bee 431 ventilated beekeeping suit? Leave a comment below and let us know what you think of it.
Check Price
Check Price (Australia)