If you purchase an independently reviewed item through our site, we earn an affiliate commission. Read our affiliate disclosure.
Goodland Bee Supply is a prolific supplier of beekeeping equipment and parts. It specializes in beehive kits, parts and their accessories. Their products are designed to give beekeepers high quality. A high level of professionalism is seen in most of their products including the Goodland Bee Supply GL-2B2SK Double Deep Box Kit. The company aims to enable efficiency and better productivity for beekeepers through its products. The company claims to only sell the best premium products to beekeepers. A combination of years of experience and feedback from its customers allows Goodland Bee Supply products to serve both professionals and amateurs equally well.
About the Goodland Bee Supply GL-2B2SK Double Deep Box Kit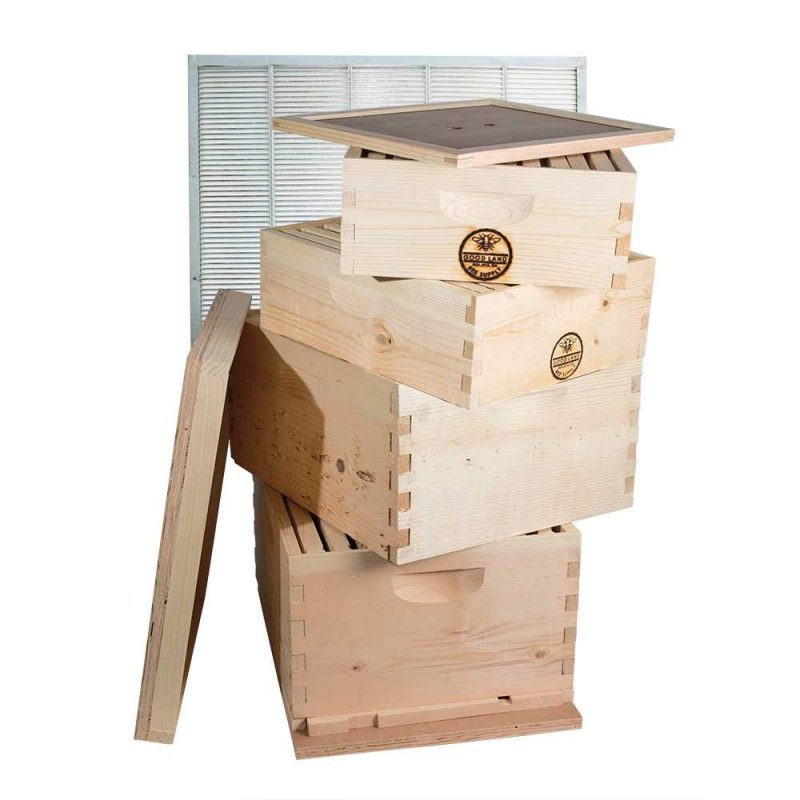 The Goodland Bee Supply GL-2B2SK Double Deep Box Kit is a self assembly kit that comes together into a complete Langstroth beehive. It contains the major features of a Langstroth hive design that works well for both beginners and professionals. With this kit, beekeepers get a full suite of features that are worth your consideration.
Goodland Bee Supply has included two deep boxes and two super boxes in this beehive kit. These are ample space for any beekeeper. Two deeps allow a large colony of bees to thrive. They are easily able to fill the two supers with honey once they are settled in the hive. The colony easily retains a healthy population of productive bees for a long time. Larger colonies are able to survive harsh weather better. It is why beekeepers sometimes opt for two deep boxes. The supers in the kit are of medium size. They give you a good yield of honey.
The kit includes frames, foundations, inner cover and a queen excluder. A top and a bottom are also included in the kit. These all come together to give you a ready to go beehive.
The entrance for the bees to the beehive that is formed by beehive kit is at the bottom. It features an entrance reducer. This is a big relief for beekeepers who are concerned about hive safety. The entrance reducer allows only thee bees to go in. Entrance reduction is an excellent way to enable hive security. It keeps out animals and larger insects that wreck havoc in a beehive. Entrance reduction also allows for application of treatments into the hive. You may apply an apivar to the wooden entrance reducer to protect your hive from varroa mites.
Check Price and Availability of the Goodland Bee Supply GL-2B2SK Double Deep Box Kit
Pros and Cons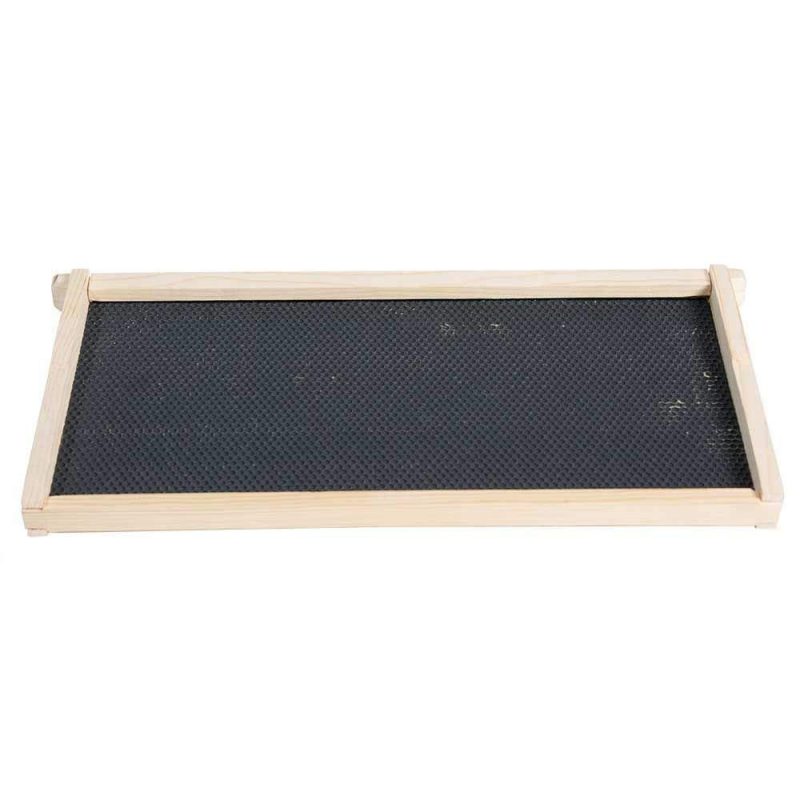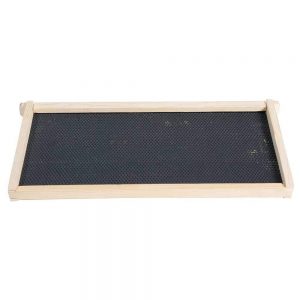 Pros
The joints of the beehive kit are tight. They hold the beehive together securely.
A queen excluder made of metal comes with the bee hive kit.
The beehive kit can be reinforced. Beekeepers who also have simple woodwork skills can add reinforcements and other pet options easily.
Pairing brood boxes with a pair of super boxes makes a great combination for space and honey yield with Langstroth beehives.
This kit is a complete beehive, ready to be colonized and start making you some honey.
Cons
Using the beehive kit requires you to address weatherproofing. This is because there is not much water and weatherproofing seen on the kit.
Assembly of the hive may prove tough for amateurs at first, especially since no instructions are included.
Further Thoughts
The Goodland Bee Supply GL-2B2SK Double Deep Box Kit fits together into a nice sturdy beehive even without reinforcement. However, for beekeepers who want to add some additional strength to the beehive, screws or brad nails come in handy. Unfortunately, Goodland Bee Supply has somehow managed to not include a manual and tools required along with the kit.
Bees usually cover weak areas in the beehive with propolis. You may use some on your beehive or wait for the swarm that settles into beehive kit to it by itself. You may paint the beehive kit to give it an additional layer of water and weather proofing. This should only be done if necessary. Be sure to use paint that will not make the hive unsuitable for bees. The paint job may obscure the Goodland Bee Supply logo on the sides of the beehive.
Conclusion
This beehive kit is shipped unassembled. Goodland Bee Supply does this to do away with the likelihood of damage during shipping. A few extra tools are required to bring it all together.
Goodland Bee Supply is no doubt proud of its record in the beekeeping industry. It claims excellent customer service borne out of years of experience. They are at hand to assist you with any challenges you may encounter with your GL-2B2SK Double Deep Box Beehive Kit. The kit is durable but not built to be taken apart frequently. If you do that and damage the kit, you might not be eligible to get replacements.
The Goodland Bee Supply GL-2B2SK Double Deep Box Kit is a safe bet for your first hive. It also works well for more experienced pros with its two supers. A third super may be added later if you so please. This solidly constructed beehive kit is good for those starting out and those who are expanding their apiary. It adds a touch of professionalism to your apiary. It also serves you for the years you will be a beekeeper thanks to is solid construction.
Do you own the Goodland Bee Supply GL-2B2SK Double Deep Box Kit? Leave a comment below and let us know what you think of it.
Check Price