If you purchase an independently reviewed item through our site, we earn an affiliate commission. Read our affiliate disclosure.
We all love the sweetness of fresh natural honey. It not only tickles the taste buds but it has a wide array of health benefits associated to it. However there is one main hindering factor that stands between us and the honey – the bees! These small creatures pack a sting so painful as their primary form of defense. But worry no more. The Eco-Keeper Premium Beekeeping Vented Jacket with Veil is there to protect you from those nasty bee stings. Whether you are just checking on your hive or tacking the frames for extraction, your body and face will be well protected.
About the Eco-Keeper Premium Beekeeping Vented Jacket
Perfect blend of fabrics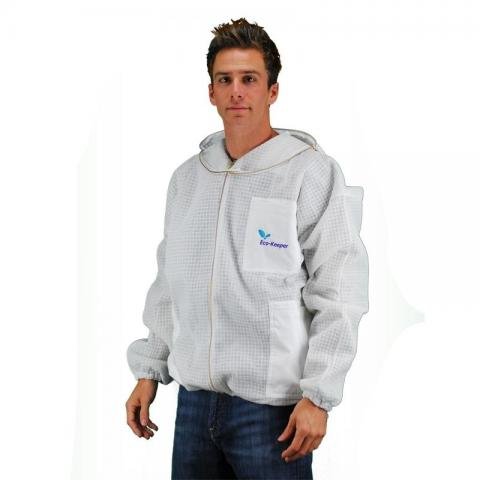 There are two main fabrics that are used to make the Eco-Keeper Premium Beekeeping Vented Jacket: 60% cotton and 40% polyester. The blending of these two fabrics makes this a very superior jacket. Cotton is a heavy material. It is ideal for dealing with certain climates but can be uncomfortable in hot climates. Mixing it with polyester gives you a better ventilation system. With better aeration you can do your beekeeping duties even in the summer without literary breaking a sweet.
Superior protection from bee stings
The Eco-Keeper Premium Beekeeping Vented Jacket with Bee Veil is mainly made of cotton. The heavy material is quite handy in protecting your skin from the painful bee stings. However, this jacket does not only rely on cotton. For safety is paramount, this jacket has an extra rubber material that acts as a protective barrier against bee stings. As if that is not enough, this rubber waffle like material is carefully sandwiched between two mesh-like materials. The chances of you getting stung in this jacket are rare thanks to this thick layer.
The bee veil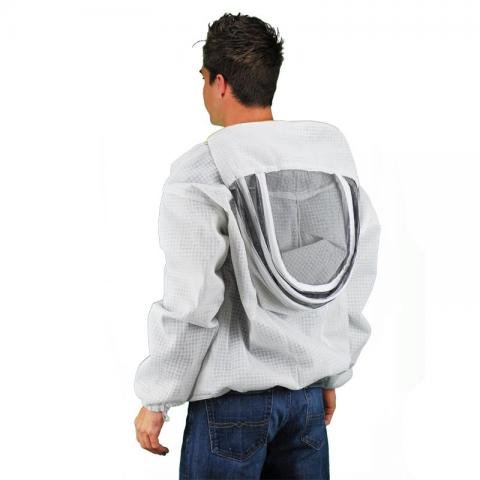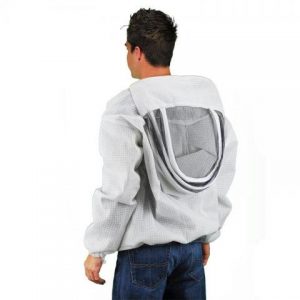 As the name suggests, the Eco-Keeper Premium Beekeeping Vented Jacket with Bee Veil comes with a high quality veil. The easy to collapse veil incorporates a fencing mask design. This design makes this veil self-supporting. It does not obstruct your vision even if you bend over to check your hive. You can also freely turn your head inside it. It is also another safety feature. The mesh around the bee veil does not allow bees or their stings to penetrate. The veil is attached to the jacket using a two way zip. This is makes it convenient to attach and detach when need be, for example during cleaning. Cleaning the mesh is quite easy and can be done by hand using some soapy water and a cloth.
The zippers and the elastic
Safety for the humans is the most major concern when designing a beekeeping jacket. The Eco-Keeper Premium Beekeeping Vented Jacket with Bee Veil is fitted with zippers for this purpose. The zip up system from bottom to top is not only for ease of wearing. It is a safety measure against bee stings. There are no gaps like in standard jacket buttons for bees to get in. The zip attaching the bee veil to the jacket also limits the bees and their stings. Around the waist and arms of this beekeeping jacket, there is an elastic. This elastic makes sure the jacket hugs you tightly around these places. In do so, no bee can get under the jacket to sting you.
Check Price, Size and Availability of the Eco-Keeper Premium Beekeeping Vented Jacket
Ease of use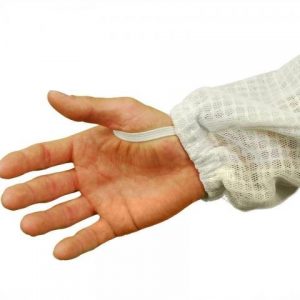 Whether you are a professional and experienced beekeeper or just starting out, the Eco-Keeper Premium Beekeeping Vented Jacket with Bee Veil is one definitely worth considering. The jacket is quite easy to put on or off. Cleaning is equally easy with the detachable bee veil. This veil can also be bought separately if lost or torn. There are no features that need much explanation, you just buy and wear for use.
Variety of sizes
People are of different builds and body sizes. The Eco-Keeper Premium Beekeeping Vented Jacket with Bee Veil is designed with this ideology in mind. There are a variety of different sizes that cater for the different body sizes. The Small size has a length of about 28 inches same as the width of the waist. The chest measures 48 inches with the arms measuring 26 inches. This size is built for a person roughly 160 pounds. There are other sizes namely: Medium, Large, Extra-Large. There is even size 4XL that can fit a person weighing more than 280 pounds.
Quite affordable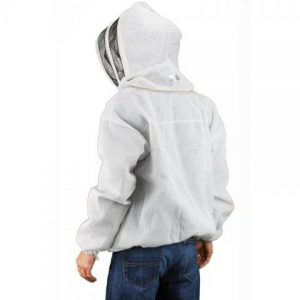 This exquisitely tailored beekeeping jacket offers all these great features at pocket friendly prices. Other competing companies just offer a fraction of this at a very high cost. This jacket and veil combo not only guarantees safety from bees but also for your pockets. Prices however vary depending on the retailer. Other factors like size and region may also affect the cost of your jacket.
Extra features
This Eco-Keeper Premium Beekeeping Vented Jacket with Bee Veil comes with a variety of other nifty features to aid you in your bee keeping endeavor. This jacket has:
Pockets on each side where you can carry your beekeeping tools.
There are some elastic cuffs that go around the thumbs when you wear the jacket.
It is unisex and suitable for both male or female.
Drawbacks
There are however some minor disadvantages to this beekeeping jacket. There are no gloves or trousers to accompany it. You must buy beekeeping gloves and trousers separately. Another minor factor is the sizing done by the company is not completely accurate. You may have to physically try the jacket on for size, which is difficult if you're purchasing online.
Conclusion
You can purchase the Eco-Keeper Premium Beekeeping Vented Jacket with Bee Veil from the comfort of your house. It is available in a variety of online stores. It can also be easily acquired at any leading retail or wholesale shop near you. The Eco-Keeper Company provides some warranties and has representatives available for questions and comments. Be sure to compare prices and other offers available to get the best deal. Stay safe and look good your bee keeping activities with this premium product.
Check Price