If you purchase an independently reviewed item through our site, we earn an affiliate commission. Read our affiliate disclosure.
Quick Overview
The Apimaye Insulated Nucleus Beehive with 7 Frame is an excellent kit for queen rearing.
Beekeeping supply companies offer beekeepers a variety of beehives for their apiaries. The Apimaye Insulated Nucleus Beehive is made to give beekeepers a long lasting beehive that works well. It takes into account developments in beekeeping and is built in the popular Langstroth design of beehive. This design gives you a high yield of honey and is great for a thriving colony of bees. This Apimaye Insulated Nucleus Beehive also features a number of other features that make it a great beehive for both beginners and professional beekeepers.
About the Apimaye Insulated Nucleus Beehive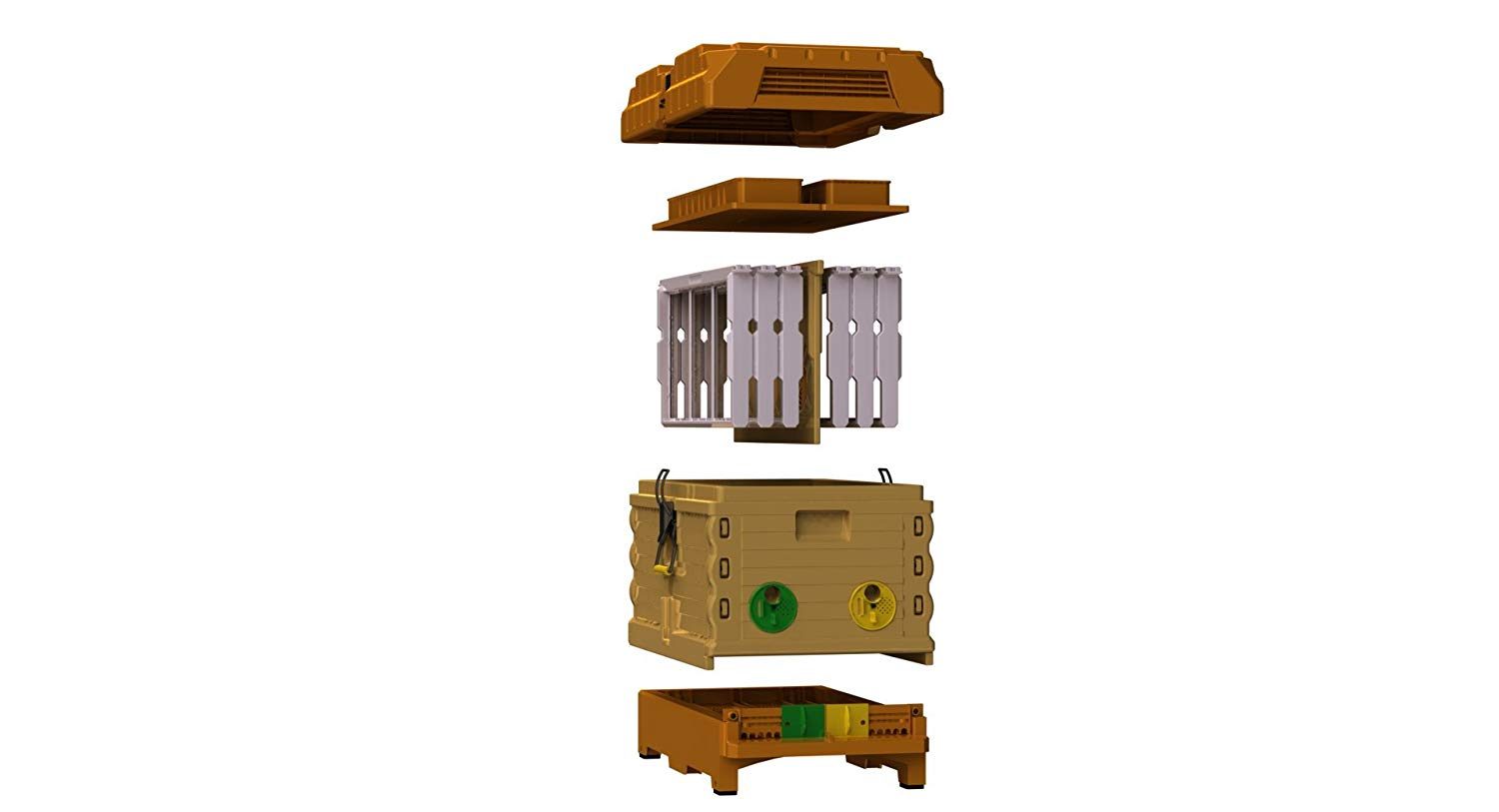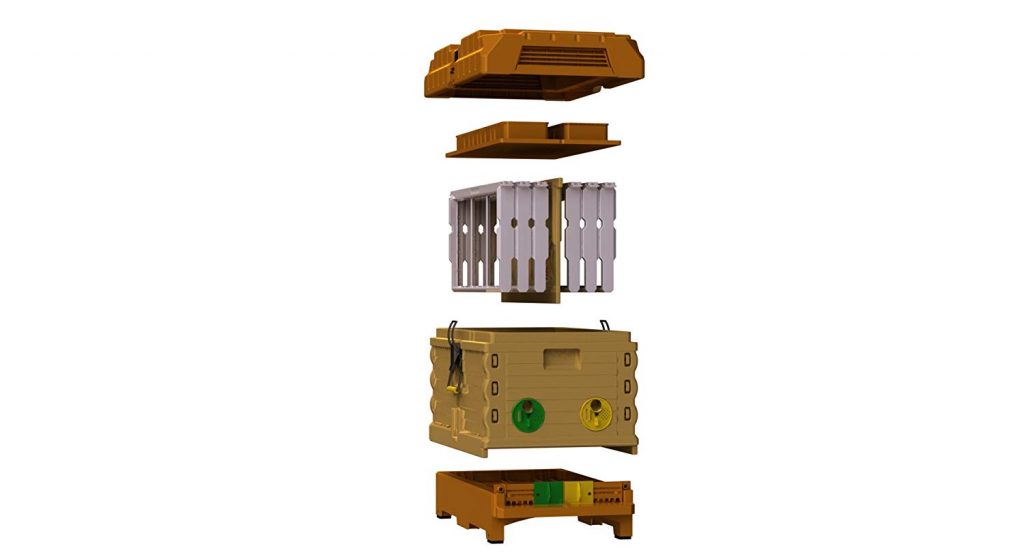 The Apimaye Insulated Nucleus Beehive is a kit that assembles into a 7 frame Langstroth beehive. It comes in distinct sections. These are a thermo hive top cover, an inner cover type feeder, an ergonomic nuc body and an ergonomic integrated pest management (IPM) bottom board. The beehive has 7 plastic handy frames that are usable only with wax foundation. Bees generally take to the frames easily and quickly, despite not being made of wood.
Queen Rearing
The Apimaye Insulated Nucleus Beehive is suitable for queen rearing as it can be split into two hives. You can either have a single 7-frame hive or two 3-frame hives separated by a division board. Beekeepers looking to split hives for sales of bees are especially suited by this Apimaye beehive.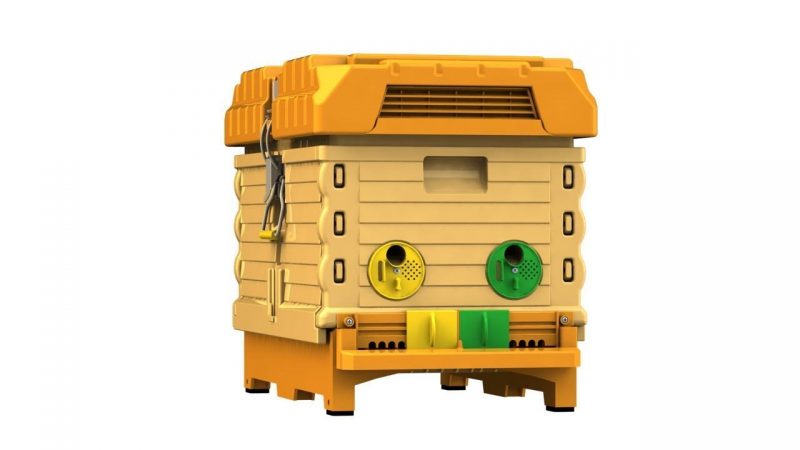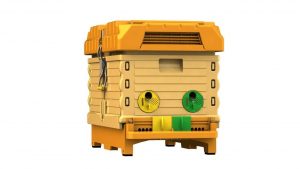 Insulated
Beekeepers may get concerned about the survival of their bee colonies in winter. This is because the cold of winter can sometime lead to a large death rate of bees and less brooding. The Apimaye Insulated Nucleus Beehive reduces the effects of the cold on your colony of bees as it is insulated to keep the bees inside it warm. The beehive is designed to insulate against cold weather while keeping out moisture buildup. Being warmer in the beehive makes bees eat less honey in winter. This gives beekeepers using this beehive higher honey yields since they leave less honey for bees. Nonetheless, you should not deprive your bees of an adequate supply of honey during the cold season.
Other Features
In addition, standard features are included in the Apimaye Insulated Nucleus Beehive. These include a screened bottom board and a split hive entrance. Bottom boards that are screened are an excellent way of fighting varroa mites that infest beehives once in a while. A split entrance with entrance reducers is a great feature that adds to the hive security in the beehive. A uniting/division board and two top feeders are also featured on this Apimaye nuc beehive. The two top feeders work well for the right and left sides of a hive when you have split them.
Check Price and Availability of the Apimaye Insulated Nucleus Beehive

Pros and Cons
Pros
The beehive is easy to work with for both beginners and professional beekeepers. It is easy to assemble and it does not painting once it is fully put together.
The beehive is easy to inspect, harvest honey and move around. It additionally has integrated pest control in its screened bottom board that helps with varroa mite control.
You may add more insulated Apimaye super boxes to the beehive to increase the space available.
Cons
The beehive does not have a wooden body. Some beekeepers may want wood for their beehives due to personal preference.
A variety of colors are used on the beehive. The mix and match of different colors tends to make the beehive a little unattractive. Though, this is a personal preference.
Further Thoughts
The Apimaye Insulated Nucleus Beehive works very well as a breeder hive. Commercial beekeepers that have stock of queen bees they care much about are especially suited by this Apimaye beehive. Apimaye has thought of nearly most of what a beekeeper would want in a nice sturdy breeder hive.
Apimaye has won some awards for their outstanding beehives. They were the 1st place winner in the Beehive Innovation awards. The Apimaye Nuc series of beehives also come in standard 10-frame beehives with a smaller width. Several layout options are offered in Nuc series. The Apimaye Nuc hive kits come in two variations: ERGONUC and WOODENUC (which features a wooden body instead of plastic). They are both great beehives for building a nuclei colony.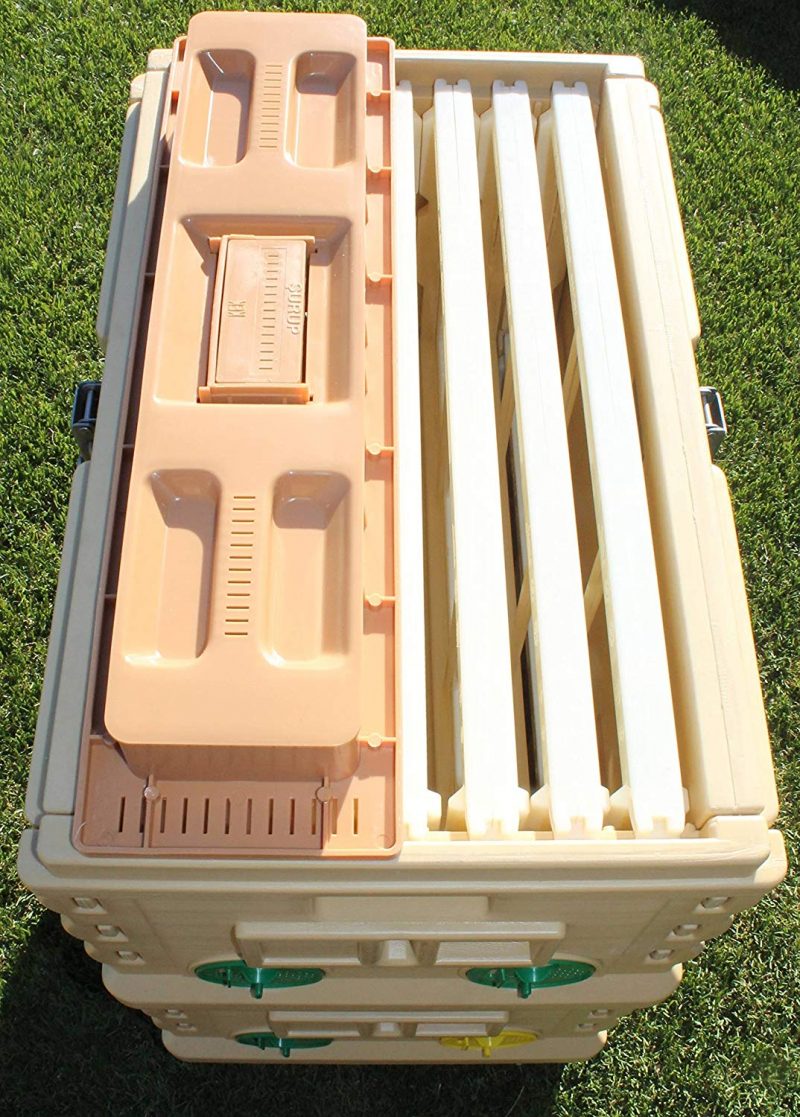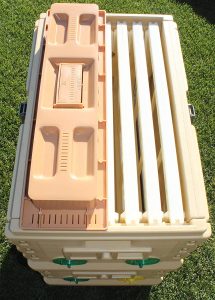 The Apimaye Insulated 7 Frame Nucleus Beehive allows bees to control the humidity and temperature of the beehive. This is seen in all insulated Nuc hives in the series. Some Apimaye beehives in the Nuc series have a wooden body.
The Apimaye Insulated Nucleus Beehive weighs approximately 28 pounds. It is 23 x 18.3 x 15 inches. It can work with auto flow frames but they are not ideal for use of the beehive cover. Modifications for the it to work as a auto flow hive may reduce the effectiveness of its insulation. Additionally, such changes affect the warranty you get from Apimaye.
Conclusion
Apimaye is a prolific maker of beekeeping supplies. They have a number of products for beekeepers in the market and bring with them many years of experience. The Apimaye Insulated Nucleus Beehive shows intricate thought to design and functionality. It solves a problem that beekeepers encounter plenty times in beekeeping. In insulating the beehive, Apimaye additionally weatherproofs it. This is a nice bonus to beekeepers using this Apimaye Insulated Nucleus Beehive. Beekeepers in cold regions should consider this beehive as a solution to their problem.
Do you own the Apimaye Insulated Nucleus Beehive? Leave a comment below and let us know what you think of it.
Check Price