If you purchase an independently reviewed item through our site, we earn an affiliate commission. Read our affiliate disclosure.
Of all the honey extractors worth considering in the market, the VIVO BEE-V004B (along with it's electric counterpart, the BEE-V004E), is among the top ranked by beekeepers. It is a stainless steel material unit that is built to deliver and last. The food safe material ensures the extracted honey is free from contamination and also protects the container from rust or any potential abrasion.
VIVO offers honey extractors in various models and designs; 2 frame, 3 frame and 4 frame extractors. These are further categorized into either manual or electric units. The 4 frame extractor is ideally a great option for all skill levels since it can spin a bigger number of honey combs at a go. The electric operated unit works great and all its interior and exterior components are designed with the final user in mind. It has all you may desire of a modern extractor.
Choosing a Honey Extractor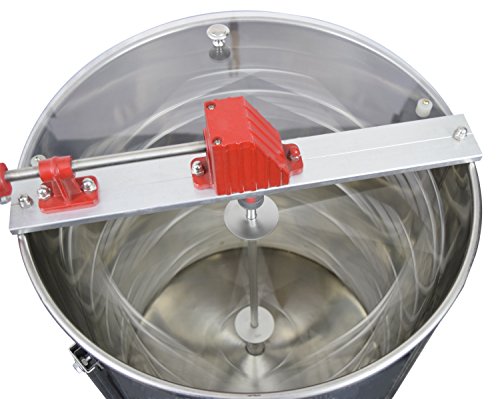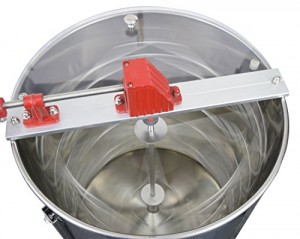 There is a lot that must be taken into consideration before making a purchase of the extractor. Different manufacturers may offer different models, sizes, shapes, and extractor capacity. However, they all serve same purpose and hence the need to evaluate a unit based on its functionality and efficiency. Top on the list of what to consider is whether the unit is manually or electric powered. The electric powered ones do not use electricity to operate and will be useless if electric power is not available. However, the electric unit is more efficient and will spin more honey combs within a shorter time unlike the manually operated unit. Most professional beekeepers go for electric nits since they are more reliable and efficient. They may also have a manual one on the side to act as back-up. As for the manual units, they work without electric power.
You should also check out the extractor's design. Ideally extractors have a drum, lid, gears, and stand or legs. A good one should have a desired combination of these. There should be a proper balance in dimensions of the drum, legs, and overall height. The stand of the legs should also be convenient for the user. One that can allow mounting on table or can be attached to the floor will make an excellent choice. Some designs will also allow a 5 gallon container to fit underneath the unit which proves to be beneficial to the user. The shape of the drum also proves to matter when considering an extractor. Most brands offer units that have a conical-shaped bottom. This is preferred since it ensures little honey stick to the drum walls and directs all the extracted honey to the drum outlet.
Most extractors are made of stainless steel and this seems to be the standard. The material itself is rust-proof and rarely suffers as a result of abrasion. It is also safe for foodstuff and will last longer. It therefore goes without saying that the material make of the honey extractor also matters a great deal. Furthermore, the brand in question should also be considered. This saves a lot of trouble in the long run since a good one sells itself. Client feedback also seems to favor brands that have a good reputation. You may also consider the extractor capacity since it varies. You can choose a 2, 4 or 8 frame extractors if you like.
About the VIVO BEE-V004B 4 to 8 Frame Honey Extractor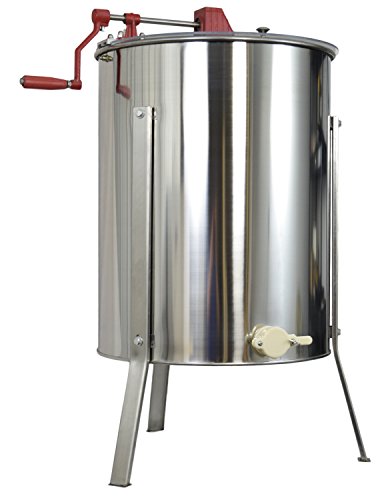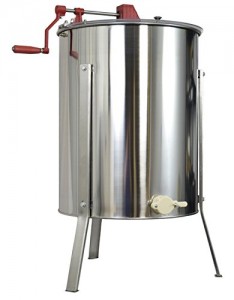 The honey extractor from VIVO is a manually operated unit built of stainless steel material. The unit is highly durable and efficient. Some of its features and benefits include:
It can hold up to 4 deep, 8 medium or 8 shallow frames at once.
It is made of stainless steel material which is food safe and longer lasting. The exterior is well polished and attractive.
It features metallic gears.
It is fitted with a Plexiglass lid that makes it easy for the user to monitor the honey extraction process. They are two side top lids that also help keep dirt and debris from contaminating the honey.
The honey gate distance to the floor measures 15.25 inches which allows a 5 gallon container to fit perfectly underneath it when collecting the honey.
The interior bottom of the drum has a conical shape that helps drain the collected honey directly into the bottom of the extractor where it is directed into the outlet. The honey outlet has a diameter of 2 inches. There is also a stopper or honey gate for regulating collected honey.
The total drum height is 41.5 inches.
The extractor drum is 23.75 inches in height and has a diameter of 18.5 inches.
It weighs 27.2 pounds.
Check Price and Availability of the VIVO BEE-V004B Honey Extractor
Pros and Cons
Pros
The unit is durable thanks to the stainless steel construction.
It is affordable.
Easy to assemble and clean.
Offers sufficient space to allow a 5 gallon container to collect honey underneath it.
Has 2 clear plexiglass lids that allow the user to monitor the extraction process. It also helps prevent the honey from contaminators and dirt.
Has good capacity to hold shallow, medium, and deep frames.
It is electric operated which means it is more efficient and meets the needs of large beekeeping operations.
Lightweight hence easy to carry around.
Economical unit.
It has a conical drum bottom to minimize the amount of honey that stick on drum walls.
Cons
Installation instructions not included.
Further Thoughts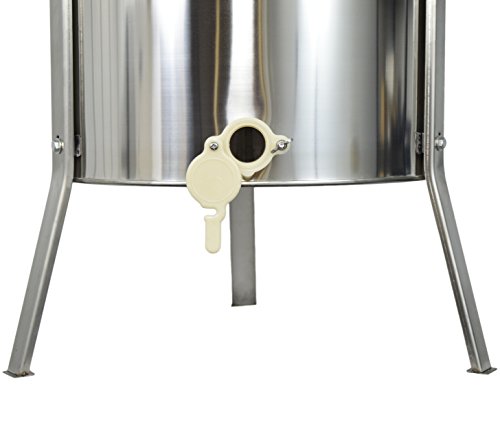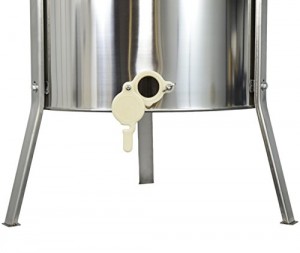 One of the things I love about VIVO is their impressive customer service. The manufacturer has been around for a while and its name has become a household name. The 4 to 8-frame unit has nothing short of best features to offer. Its exterior is well-polished and appealing from start. The interior is also well-designed to maximize honey extraction and minimize wastages. Available ere functional gears too that spins the combs efficiently. This unit is not only efficient but it is also built to last.
Conclusion
The VIVO BEE-V004B 4 to 8 Frame Honey Extractor is a unit that has taken the market by storm. Buyers have nothing but praise about the unit. It is built to deliver and indeed it delivers. The USA made unit is electric operated and comes with all you need for a professional grade extractor. I would never hesitate in suggesting the unit to a friend.
Have you ever used the VIVO BEE-V004B 4 to 8 Frame Honey Extractor? Leave a comment below and let us know what your experience was like.
Check Price
Check Price (Australia)