If you purchase an independently reviewed item through our site, we earn an affiliate commission. Read our affiliate disclosure.
There are many beekeeping apps available on the market, but it may take some time before you find the ideal apiary management software. Well, look no further, in this article, we'll provide you with just that. Beekeeping has been around for many centuries, and throughout its history, methods of maintaining bee colonies and hives have progressed, and technology has played a big part in its evolution. Though many beekeepers still use traditional approaches as taught in books, no one can deny the fact that modernization has contributed a lot to the continuance of beekeeping.
Doing things the traditional way is not bad at all. There are many beekeeping principles that are not easy to let go of. The only reason to that is because they still work. And if it isn't broke, well, no need to fix it. However, mixing things up like combining traditional approaches with modern-day techniques can also give excellent results, maybe even better. That's why many beekeepers take advantage of many innovations in beekeeping to improve the industry.
This article tells of an innovation that has been helping beekeepers around the world – beekeeping apps or apiary management software. They can be useful guides as you build a colony from the ground up, or they can help you track your progress. Many of them are free, perfect for trying out, while some will just require a couple of dollars to download. To help you out, this article lists the best beekeeping apps available for download right now. Let's check them out.
1. BeeKeepPal – Your Personal Apiary Management Software
Technology in beekeeping is helping both hobbyist and commercial beekeepers run their operations better. BeeKeepPal is an apiary management software that is applicable to beehives of any type. It is also great for use by both beginner and experienced beekeepers. The software boasts simplicity and putting unmatched power in the hands of beekeepers. BeeKeepPal is made with love by the team here at BeeKeepClub. Our core focus here at BeeKeepClub, has been providing the necessary information to allow those who are interested in beekeeping, to get started. BeeKeepPal extends this purpose, by allowing users to manage every facet of their beekeeping operation.
BeeKeepPal is delivered to you in the Software as a Service (SAAS) model. You access it via the internet. Beekeepers using the apiary management software are not required to install the software onto any hardware. All you need is a browser and an internet connection. This frees you to handle other beekeeping activities. BeeKeepPal allows you to record your beehive inspections digitally, among other advantages of using the software. Data collected by the software is used to give you insights that ease beekeeping and make your operation efficient. The team behind BeeKeepPal has made this software both intuitive and simple to use by beekeepers.
Get Started with BeeKeepPal
Benefits of Using BeeKeepPal
Major insights you get and benefits of using BeeKeepPal are data driven recommendations and protection against pests. The software allows you to keep track of the beekeeping activities you carry out among other aspects of your beekeeping operation such as honeybee colony growth and beehive yields. With BeeKeepPal, you are given recommendations such as when to split beehives, replace a failing queen bee, feed honeybees and harvest honey among others. Additionally, the software recommends beehive pest management activities such as Varroa mite control. This allows you to take pre-emptive action so your honeybee colonies do not get overwhelmed by the pests. It makes your pest control cheaper and effective.
Main Features of BeeKeepPal
1. Managing Apiaries
Give a name to your apiary and start managing it. Enter information about the apiary including the number of beehives you have in each apiary, and its location. This feature is great for beekeepers with apiaries located in different places.
2. Managing Beehives
This is about entering information and managing it for each individual beehive. It takes all the important information such as inspections, production and beehive component management among others.
3. Recording Beehive Inspections
Every time you carry out a beehive inspection, you record it in the software. BeeKeepPal then uses this information to generate and give you reports and recommendations at beehive and apiary levels. Fill in as much information as you can during each beehive inspection.
4. Scheduling Tasks
BeeKeepPal helps you plan your beekeeping activities using its task scheduler service. Email reminders when the tasks are near due are great so you prepare well for the activities and carry them out on time.
5. Recoding Production Data
Comparing how each beehive performs by year is one of the points of pride for BeeKeepPal. Production data you enter into the app also tells you how different beehives are performing. You can then adjust management of beehives to get the best yields in honey, propolis, beeswax and royal jelly.
6. Recording Financials
Every beekeeper wants to run a profitable beekeeping operation. BeeKeepPal helps you determine whether your operation is headed the right direction. Using the financial information you input into the app, you easily tell how much profit you are making each year in your beekeeping. The application takes in both revenue and expenses to determine profitability of each beehive, apiary and your beekeeping operation in general.
Access and Use
Accessing BeeKeepPal is easy and done via the internet. The website allows you to create an account under which data about your apiary is stored. This data is segmented by each individual beehive. It allows you to get insights and recommendations per beehive. During account creation, you will be expected to input various types of basic information including a display name and a verifiable email address. You also set a password to secure your account. Once registered, be sure to add the BeeKeepPal website to your bookmarks.
Once you have created an account, the next step in using this software is adding your apiary and beehives. You have the options of adding 1 apiary and up to 2 beehives in the free Hobbyist Plan. The Pro Beekeeper Plan of this software gives you many unlimited options. They include adding an unlimited number of apiaries, beehives and inspections. You choose whether to be charged monthly or yearly with the Pro Beekeeper Plan.
Having chosen a subscription plan and added your apiary and beehives, you are set to head out into the field. Record your inspections and more onto the software. You also start receiving insights, recommendations and reminders from the software.
Pricing
Choose from three (3) subscription plans to access the various features of BeeKeepPal. The plans are well thought out. They fully cater to the various needs and abilities of novice and established beekeepers. The plans are;
Hobbyist – This plan allows you access to the major features of the application. It however comes with some limitations. The plan is great for hobbyists and those testing BeeKeepPal for a short period of time.
Yearly – The Yearly Plan is a good value plan for beekeepers using this software. It gives you unlimited access to all features of the application. You save 20% on the subscription cost if paid yearly.
Monthly – Using the Monthly Plan on BeeKeepPal is a little more costly than the Yearly Plan. This plan is however good or beekeepers that may not be able to mobilize the funds all at once. The plan allows you unlimited access to all features and benefits of BeeKeepPal as the Yearly Plan, including premium support services.
Customer Portal
This is where you control your account basic information and see its history. Details and information accessible through the customer portal include your billing history, addresses, subscriptions and account details. You can also access Support Services through the customer portal. Its dashboard is simple to use, so you will have great time managing your account through the customer portal.
Support
BeeKeepPal has a dedicated support desk. This is a well-trained and informed team of assistants ready to get you out of any problems you might be facing with the software. The support desk is always at hand to answer your queries and attend to you. Challenges you face are quickly resolved by BeeKeepPal's support desk so you keep enjoying the many benefits of the beekeeping management software application.
Beehive Inspection Forecast
Poorly timed beehive inspections can lead to great loss in beekeeping. The weather is a major determinant of the final success or failure of a beehive inspection. BeeKeepPal provides you with a tool to check whether it is suitable to carry out a beehive inspection. The tool is easy to use and takes into consideration the weather conditions before giving you a recommendation. You also have capability to set some minimum and maximum parameters for the forecast tool to improve its accuracy.
Request a Feature
While most needs of beekeepers are addressed by the current features of BeeKeepPal, the application's creators also acknowledge that they are not perfect. They have thus provided you with a means of reaching them and suggesting a feature you would want to have on the application. Use this feature to help make BeeKeepPal better for you and for fellow beekeepers too. Click here to request a feature.
Get Started with BeeKeepPal
2. BeeKeepPal CheckInspect – Check the Weather for Your Next Beehive Inspection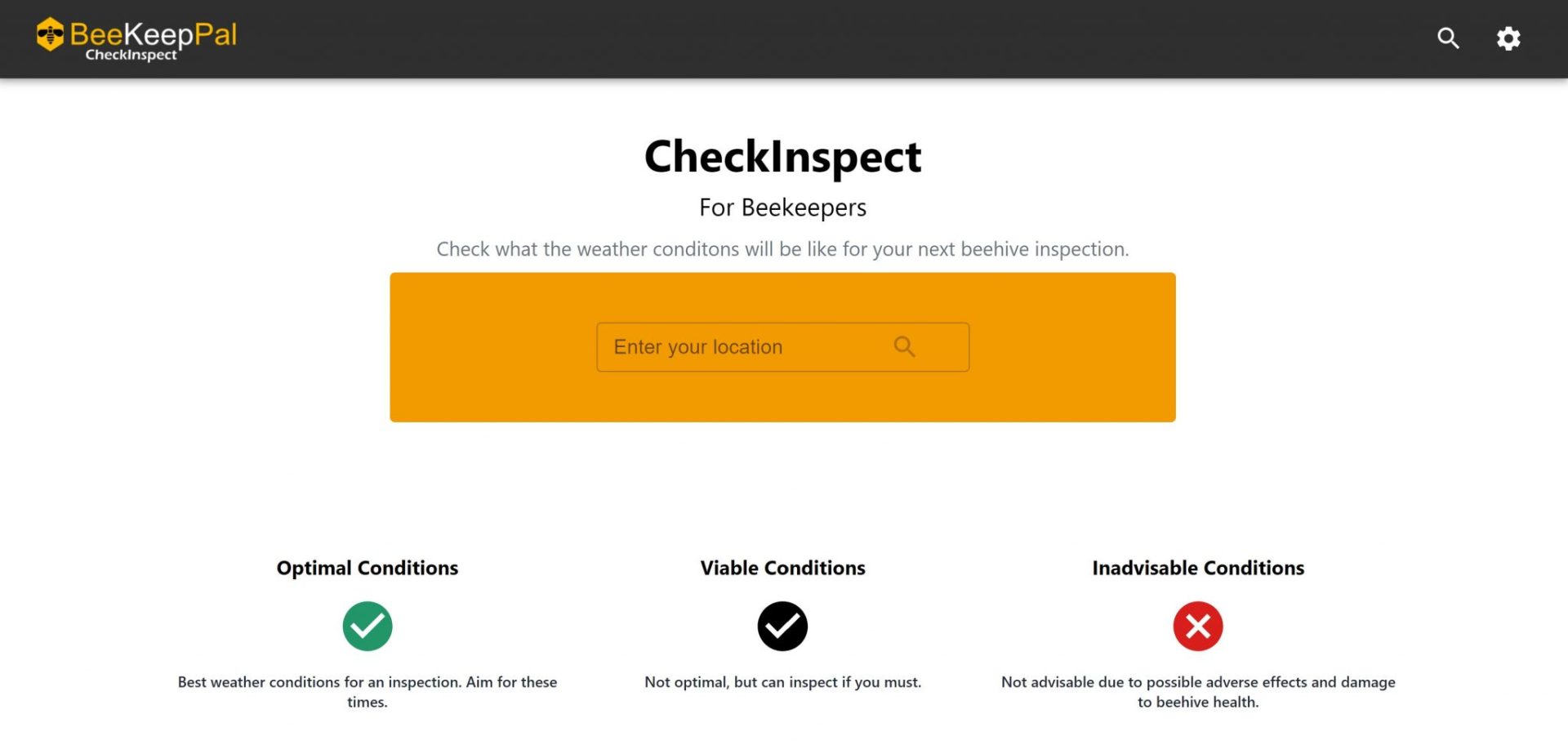 Use the CheckInspect tool to determine the weather suitability of carrying out a beehive inspection. It developed to help beekeepers find out if the weather is alright to go on a beehive inspection. You can also use the tool to find out suitability of carrying out other beehive and apiary management activities that involve opening up the beehive. It evaluates weather conditions and guides you on whether to go on an inspection or not. This tool is part of the BeeKeepPal apiary management software package.
CheckInspect is easy to use. It has an intuitive interface that presents no difficulties navigating. You get reliable results with every check you run on the tool. CheckInspect prides itself in giving you comprehensive guidance. Weather conditions analyzed by the tool include sunshine, rainfall, cloud cover, snowfall, wind speed, humidity and temperature.
Presenting results is in a clear display that details some of the reasons behind the given advice.
This tool promises beekeepers of all experience levels accurate predictions and delivers well on its promise.
Hobbyist and commercial beekeepers have a lot to gain using this tool. They are also sure to avoid many losses that would otherwise arise from poorly timed beehive inspections.
Get Started with CheckInspect
Using the CheckInspect Beehive Inspection Forecast Tool
Beekeepers should use the CheckInspect tool at least once before heading out to carry out beehive inspection. It is a free tool, so what reason do you have for not using it? For best results using the tool, follow these steps:
Open the CheckInspect homepage from BeeKeepPal or visit inspect.beekeeppal.com.
On the top right hand corner, click on the magnifying glass icon. Optionally, go to the body of the page and click on the area with 'Enter your location' placeholder text. Once you have selected the correct suggested location option in the search text field, click on the adjacent magnifying glass icon.
The page displays animated bars as it fetches information, analyses it and prepares results.
Displaying results happens on the page as soon as compiling is over. You get information, forecasts and recommendations for 7 days. Read the results and decide when you will carry out your beehive inspection.
Tips for Best CheckInspect Results and Use
Using data from various sources, the tool suggests the final name of your location among other optional locations if any are present.
Click on the suggested location that best matches the name of your geographical location. Use names that narrow down to your closest town, city or major physical features and notable locations.
If you do not get an accurate location suggestion in the search field, go for the name of your wider geographical location.
After getting the results of your search, go for the detailed information about any day by clicking on the yellow-background 'View Day' button.
In the results page, you get an average for the entire day. Click on the yellow-background 'View Day' button for detailed results about each day. The detailed view of results for each day in three (3) hour intervals is important to read and use in making your final decision.
Avoid adverse effects and causing damage to beehive health by avoiding carrying out any beehive inspections when you get the result of Inadvisable conditions from your CheckInspect search.
Results Given and Interpretations
CheckInspect gives you results in 4 distinct columns. These results are an aggregate average of whether it is advisable or not to carry out a beehive inspection on respective days. Detailed results may reveal a few hours during which you may inspect a beehive, even when the average result indicates that conditions are not optimal for a beehive inspection.
A title stating the location for which the forecast results have been compiled is displayed at the heading section of the results page. Under the heading are 4 columns and 7 rows of information. Each row represents information for a single day of the week. The columns are:
An icon showing the general weather conditions of the day
Recommendation on whether it is safe or not to go inspecting beehives
The day, date, weather overview and temperature range for the day
Options for detailed information for the day.
Results given range from Optimal, Viable, and Not Advisable. You also get explanations of cold, wind, rain, cloud cover and open skies influencing the given recommendation. Cloudy conditions, rainy conditions and snowing may be presented as respective variants that are more descriptive, e.g. moderate rain, light snow and few clouds among others. They help you understand the results and recommendation given by CheckInspect in more depth.
Detailed CheckInspect Results
Details about each day are available to you. Click on the down-facing arrow icon to get more details about viable hours per location, rain, snow, temperature range, wind speed and humidity readings. You should also click on the yellow 'View Day' button on the results of respective days of the week. This takes you to a detailed CheckInspect page with 7 columns and 8 rows of information showing forecasts, weather conditions and beehive inspection recommendations in intervals of three (3) hours).
Presentation and Interface
Upon accessing CheckInspect, you are greeted by a friendly interface. The interface has only the essentials that you need to work with the tool. From top to bottom, you encounter a header in black color, a body in white background color and a footer strip in black color. Most text on the interface is black in color. Various icons and images used to convey information on the interface of this tool have colors depending on what they are used to convey. Color coding is used to very great effect and to make understanding of resulting recommendations easy for everyone.
Header Right Hand Corner
In your right hand corner, there is a search and settings section. These are represented by a magnifying glass and gear wheel icon respectively. Clicking on the magnifying glass icon opens an input field. In the input field, enter the name of the geographical location of your apiary.
Clicking on the gear wheel icon brings up a floating interface where you choose imperial or metric units for your results. You are also able to see the optimal weather conditions that are used by CheckInspect. The values of weather conditions that give you the less preferred 'Viable' result are also displayed here. Values you get to see and input are minimum and maximum temperature, maximum rainfall, and maximum wind speed. They apply for both the Optimal and Viable ranges used in analysis.
This pop-up floating interface causes blacking out of the rest of the interface so there is little risk of straying from it.
At its lower end are two buttons: one for resetting values to their defaults, and the other for closing the floating interface. If you do not want to save input that you have entered into the interface, click on the Reset button, or click on any part outside the visible floating interface to dismiss the interface.
Use this interface, especially to change your units from Imperial to Metric and back after running a search on the CheckInspect tool.
CheckInspect Homepage
Below the top bar (header) of this tool is the name CheckInspect. There is also text further detailing a little bit about the tool. Under this text is a second search bar in a yellow field. It works in the same way as the search bar in the header section of CheckInspect's header.
Under the second search field is a key to help you understand forecasts and recommendations given by CheckInspect. It includes the icons for Optimal conditions, Viable conditions and Inadvisable conditions. These are a correct check mark in a green circular background for Optimal conditions, a correct check mark in a black circular background, and a wrong 'X' check mark in a red circular background for Inadvisable conditions.
Optimal conditions are where there are best weather conditions for a beehive inspection. Beekeepers should aim for these times for their inspections.
Viable conditions are when conditions are not optimal, but you can carry out a beehive inspection without too much risk – if you must.
Inadvisable conditions are when you have adverse weather conditions that are sure to cause you losses and problems with honeybee colonies if you go opening up a beehive.
CheckInspect Features
1. Logo and Branding
CheckInspect features the BeeKeepPal logo on its interface. It also has CheckInspect branding on the presented interface. These assure you that you are using a professionally developed beekeeping tool from the BeeKeepClub. They also help with navigation to the CheckInspect homepage.
2. Search Field
You get two (2) search fields on the CheckInspect tool interface. One is located in the header section. The other is in the body section of the tool's interface. This second search field is outlined in a yellow background so you cannot miss it. Search fields allow you to input the location of your apiary so you can then run a search for its weather conditions and get recommendations from CheckInspect.
3. Settings Icon and Interface
Use this feature of CheckInspect to tool results to units you prefer. The settings also allow you to see default values and input your custom values used to determine suitability of weather conditions for beehive inspections. You can choose between having results displayed in Imperial units or Metric units. Changes you have made are applied on the search you have already run. They can also be reset to their defaults using a button provided on the Settings interface.
4. Results Key
Reading results on CheckInspect is easy. You are provided with a key to easily understand results. This key includes the icons applied on Optimal, Viable and Inadvisable weather conditions results.
5. Results Interface
CheckInspect displays its results on a unique interface with indication of recommendations, weather conditions and explanations for some of the decisions arrived at. Various icons are also used for clear skies, cloudy conditions and snow among others. Reading the results from the interface is easy. You get the results, forecasts and recommendations for 7 days on the interface.
6. Navigation
Moving through the CheckInspect interfaces is provided for and made easy using various navigational features. On the various pages, you have the option of going to the CheckInspect homepage, and to BeeKeepPal homepage.
On the upper left corner, the BeeKeepPal CheckInspect logo is features. Clicking on it takes you to the CheckInspect homepage.
On the bottom (footer) of the CheckInspect page, is a link anchored in the text 'Back to main site'. Clicking on any part of that phrase send you to the BeeKeepPal homepage.
Get Started with CheckInspect
3. BeeKeepQuiz – A Fun Quiz Game for Bee Lovers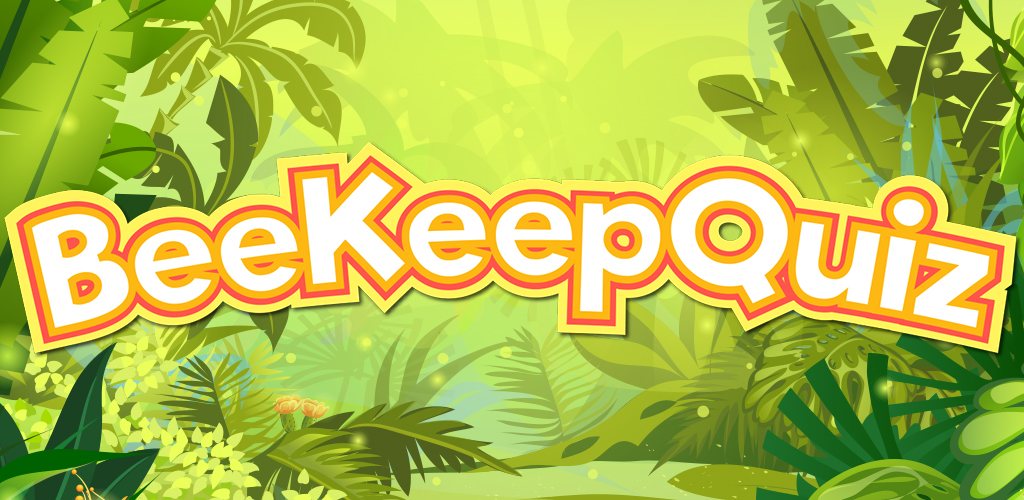 Having fun while learning beekeeping has never been easier than with BeeKeepQuiz, a beekeeping quiz game made by bee lovers, for bee lovers. The game was made by us here at BeeKeepClub. The idea to venture into making a game is a great development for us here at BeeKeepClub. Indeed, our website has been in the forefront of bringing beekeepers together and helping them with beekeeping guides of various types. BeeKeepQuiz trivia game is designed to be an easily playable game for anyone. Beekeeping skills or knowledge are not required for you to play the game.
Gameplay
In BeeKeepQuiz, you are asked random questions about bees, beekeeping and anything related. You're bound to learn something new with every quiz you take. After a quiz, you are graded. You can improve on some quizzes while performing worse on others. The factors taken into account in your grading are easy to understand and varied. They include the number of questions you answered correctly, skipped and those you got wrong.
Technicalities aside, the BeeKeepQuiz interface is awesome. It features a tropical rainforest background. Against the background, questions are displayed on wooden planks. During gameplay, intuitive sounds inform you of the state of affairs after every answer you give. If you are headed for a great score or an F grade, you will know it well in advance. BeeKeepQuiz has two modes for you to throw yourself at. In both modes, you are graded. The two available modes in BeeKeepQuiz are:
Endurance mode
In this mode, you are started off with a few minutes of time to take on a quiz. The time allocated counts down to zero! Every right answer you get earns you 5 more seconds of quiz time. For every wrong or skipped answer, you lose 5 seconds of quiz time.
Time Trial mode
Here, you aim to answer as many questions as you can in the given time. Correct answers do not earn you more time. Scoring is based on how many answers you get right.
Upgrades
There are various upgrades you can buy in this buzzing trivia game. You can buy the upgrades using coins earned in the game. Better scores give you more coins. If you ever run out of coins, you can exchange a few dollars for so many coins you won't even know what to do with them!
The Time Freeze upgrade stops time for a whooping 45 seconds. So try and answer as much questions as you can during this time.
The Life Saver upgrade gives you an extra 90 seconds if time runs out on you.
The Time Plus upgrade lets you start the game with 90 extra seconds.
If you have purchased an upgrade in the game, it is automatically applied when it is relevant. For example, when you have a Life Saver upgrade, it will be applied instead of ending the quiz.
The Time Freeze upgrade is however only triggered by you. It allows you to keep answering questions for a better score while having stopped the countdown timer.
Installation
To play BeeKeepQuiz, you only need to install the game on your phone. It's currently available only for Android but we're working on an iOS version to be released soon. On the Google Play Store, BeeKeepQuiz is about 30 MB in size. It downloads quickly and does not take up too much space on your phone. It is also worth mentioning that this game uses very little space to keep a simple record of your best scores and other relevant data. The game exerts no stress on your phone processor or eat up inconsiderately large chunks of your RAM.
The Takeaway
Both experienced and beginner beekeepers should have this beekeeping trivia game. BeeKeepQuiz is great for learning new stuff and reminding yourself about the older stuff you might have forgotten. Bees are seeing unhealthy declines in population round the world. Researchers have found that thousands of honeybee colonies are lost every year. Efforts to ensure that these important insects are in sufficiently large numbers are doing a lot of good things. BeeKeepQuiz helps you appreciate bees and the important functions they have carried out for millions of years on earth.
BeeKeepQuiz will grow with time. We promise upgrades with more quizzes and features, so be sure to stay tuned. The more you play the game, the better you'll get at beekeeping. Your score will also improve as you learn more about beekeeping and bees by taking the quizzes. Oh and, be sure to share your high scores to your friends on social media.
Have fun bee lovers!
Download for Android
iOS Coming Soon!
Conclusion
So, here you have our list of the best beekeeping apps available right now. It doesn't matter if you are new to this field or if you're a veteran beekeeper. There's an ideal beekeeping app just for you. These apps are designed to suit the needs of every beekeeper type. These apps are great tools to aid the hardworking beekeepers around the world. Get yourself one and enjoy the happiness brought by your buzzing little neighbors.
BeeKeepPal is one of the best beekeeping apps and your personal apiary management software. Give it a try today at www.beekeeppal.com.