If you purchase an independently reviewed item through our site, we earn an affiliate commission. Read our affiliate disclosure.
Review Overview
The Vita Apiguard for Varroa Mite Control is a natural, thymol-based treatment that offers beekeepers a high-efficiency option for combating mite infestations. It's praised for its ease of use and safety for both bees and beekeepers, with no known harmful effects. The treatment involves a two-tray system applied over a four to six-week period, ideally during post-honey flow in summer. While it's effective at temperatures above 59°F, it requires careful timing and cannot be used with honey supers on. Some beekeepers may find the need to switch from screened to solid bottom boards during treatment a minor inconvenience. Overall, Vita Apiguard is a reliable and sustainable choice for mite control, with a reported up to 95% efficiency rate and no known resistance from Varroa mites.
The Vita Apiguard for Varroa Mite Control is a natural, easy to use treatment for Varroa mites with high efficiency. It keeps your beehive free of Varroa mites, chalkbrood and tracheal mites. The pack is ideal for beekeepers with apiaries of more than one hive but not exceeding five. Beekeepers using the pack are advised to carry out treatments twice with a two week time gap between treatments. The active ingredient in the Vita Apiguard for Varroa mite control is Thymol, which is derived from the thyme plant.
About the Vita Apiguard for Varroa Mite Control
This Varroa mite control solution improves hive hygiene. Apiguard is ideal for use within your integrated pest control program. It is easy to use for both amateur and professional beekeepers. Treatments using the Vita Apiguard for Varroa mite control are done when there is no honey flow. The post-flow period in summer is best for Apiguard application. Two trays of the Apiguard are enough for average-sized bee colonies in an interval of 14 days. Apiguard has no known harmful effects on bee colonies or users.
The Vita Apiguard comes in a sealed box of trays. The trays are used in pairs per hive. The trays slowly release Thymol into the hive upon contact with bees, and then the bees spread the Apiguard into the hive. There is no withdrawal time required after you use Apiguard in your honey bee hives.
Apiguard comes with easy-to-read instructions on the side of the box. It is made with easy-to-open seams on the paper box. If you do not use up all the trays in the pack, you may store it in a cool place below 850 F (29.40 C) but do not freeze it.
How to use the Vita Apiguard for Varroa Mite Control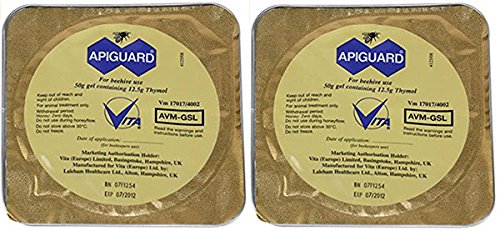 Place opened trays facing upwards on the top of brood frames. You may center the tray over the bee colony you have. When the tray is nearly empty, replace it with a second tray. If there is some product remaining in the tray, you may leave it on site for a few more days until it is empty but do not exceed 14 days.
Once the first Apiguard tray is empty, replace it with a second tray and leave it in place for up to 14 days.
After the first Apiguard treatment, allow 14 days to lapse before placing another tray in a beehive. This allows bees to clean out some of the residual Apiguard that is still in the hive. It ensures that the second Apiguard treatment will not cause dangerously high levels of Thymol in your beehives.
The total time for treatment in beehives with Apiguard should be 4-6 weeks.
The best time of day to apply Apiguard is in the evening or late afternoons. At this time, there are few bees going in or out of the hive.
The ideal operating temperature for Apiguard is above 590 F (150 C). It is also effective at lower temperatures but the gel evaporates at a slower rate. Using the gel below the stipulated temperature will allow you to leave the treatment trays in place for longer.
Pros and Cons
Pros
Apiguard is slowly released. It allows the right concentration of mite killer to spread through the hive. It comes in handy aluminum trays that are ready to use.
Beekeepers with small or few colonies have an adequate mite control treatment.
There are no harmful effects of the Vita Apiguard on bees. Both the brood and adult bees in your beehive are safe with Apiguard use to control mites.
Apiguard has a very low residue profile and shows very low toxicity to honey bees.
Cons
You cannot use Apiguard with honey supers. This is why it is recommended that you apply treatment before or after honey flow periods.
Beekeepers have to visit their hives to remove spent Apiguard trays.
Thymol vapor is heavier than air. With a screened bottom board, you may not achieve the concentration of Thymol that is required to rid your hive of mites. Beekeepers using screened bottom boards in their hive have to switch to solid bottom boards – at least for the period of treatment using Apiguard.
Further Thoughts
Bees view the Apiguard mite control trays as something they need to clean out of the beehive. While doing this, they get into contact with the Apiguard and spread it throughout the hive. The speed at which your Apiguard gel disappears from the tray is relative to the size of your colony and ambient temperatures. High temperatures cause faster gel vaporization and bees prioritize its removal above other beehive activities.
A Word of Caution
Beekeepers with weaker colonies that need feeding should not use Apiguard together with feed. Bees may see urgency in feeding and not interact with the Apiguard at all. Additionally, using Apiguard in high temperatures causes a high concentration of Thymol to be realized into the hive which may cause the queen bee to not lay eggs for some time. A small or young honey bee colony needs all the growth it can get. You should thus be a little cautious about using Apiguard a small struggling colony of bees. However, if there is heavy infestation of mites in your beehive, it is best to address the mites and worry about colony strength later.
Conclusion
The Vita Apiguard for Mite Control gives beekeepers up to 95% efficiency rate in cleaning mites from beehives. The Varroa mite treatment can be obtained both online and in beekeeping supplies stores. Varroa mites have so far not demonstrated resistance or tolerance to Thymol. This makes this mite control method a suitable treatment that you can use to control mites in your beehives for a long time.
Have you used the Vita Apiguard for Varroa Mite Control in your beehives? Leave a comment below and let us know what you think of it.
Check Price