If you purchase an independently reviewed item through our site, we earn an affiliate commission. Read our affiliate disclosure.
When you think of a beekeeping suit, two things come to mind: your safety and comfort. There are many beekeeping suits out there, so you have plenty options to choose from. This means you have serious work to do when making a choice. But it is comprehensible that one would prefer several design options when making a choice. Natural Apiary seems to have capitalized on this when designing this ventilated beekeeping suit. It features a 3 layer ventilated material and comes in five color options; Forest, Khaki, White, Pink, and Sand. It is also available in various sizes, starting from 2XS to 3XL. In this article, we'll be taking a more detailed look at the Natural Apiary Zephyros Beekeeping Suit, to see if it's worth your investment.
About the Natural Apiary Zephyros Beekeeping Suit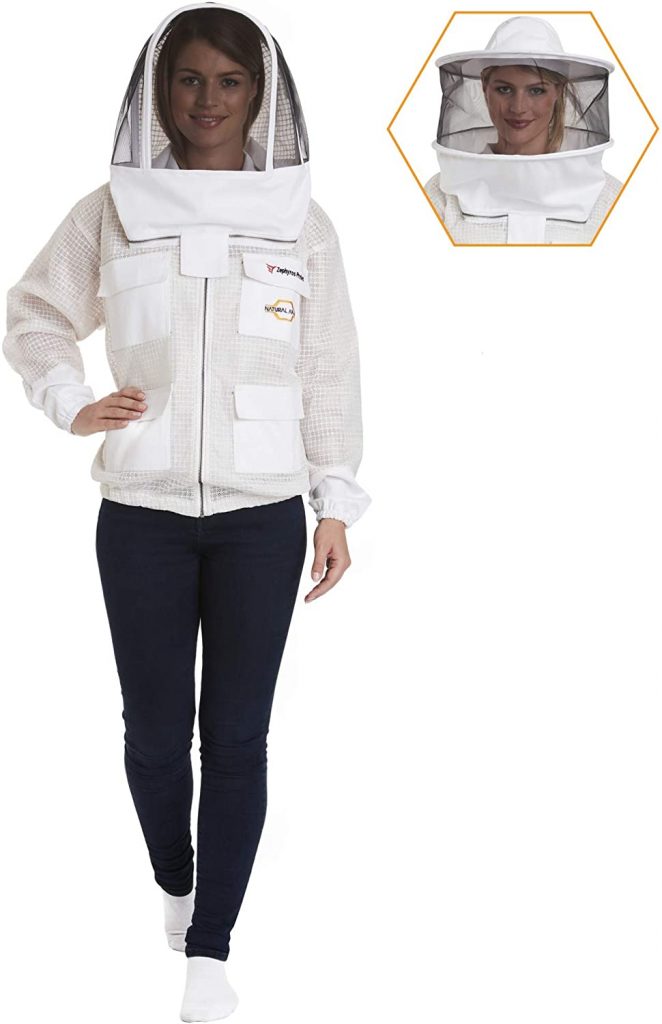 The Natural Apiary Zephyros Beekeeping Suit is made in a 3-layer ventilated material, and is one for all ages. It comes with 2 veils options: round and fencing. Its mesh fabric makes it comfortable to wear in all weather conditions. During the cold season, you can add some extra inner clothes such as jeans and a sweater, and when it's hot outside, you can have it on with just a t-shirt and shorts. Its expansive design makes it possible to have these extra clothes on when necessary.
Features
This is a 3 layer-ventilated beekeeping suit.
The suit comes in five colors to choose from, that is, white, pink, khaki, forest, and sand.
It is made of meshed fabric that aims to keep you cool and protected from bee stingers.
The 3 combined layers of fabric make up a thickness of about 5mm. This provides an impenetrable gap that will not permit bee stings to come through. A stinger is about 2 to 3mm.
This is a ventilated suit that allows an easy flow of air in and out of the suit making it comfortable for hot weather. It will work well in dry and hot regions.
Various sizes are available for your choosing, starting from 2XS, XS, M, L, S, 2XL, XL, and 3XL. This means that there are sizes available for both young children and fully grown adults.
It has a round veil and fence for better view and safety. Two non-flammable veils are provided: one fence and another round. This is made to meet varying tastes and preferences. They are made of fine mesh with tiny holes that prevent tiny insects from getting in. The mesh is also anti-glare so as to prevent the glittering glow from the sun. The veils also stand upright and will not come close to your face.
It has sturdy zippers and comes with well-positioned pockets. The zippers are YKK gunmetal zippers that are so much stronger when compared to plastic or brass. These are available from the veil all the way to the feet area. It helps withstand any horizontal or vertical movement without worry of failing. The suit will never open when least expected or when too much pressure is exerted.
It is designed with varying hole sizes in its 3 layers for a reason.
Comes with elasticated wrists and ankles.
It has thump and foot loops.
It is fitted with Velcro seals along the zipper lines. Front zippers have also been designed in a manner that overlaps, this way even the most stubborn bee cannot pass through.
Check Price and Availability of the Natural Apiary Zephyros Beekeeping Suit
Pros
It is comfortable even when the temperature is hot.
Bee stingers cannot penetrate this beekeeping suit.
The 3-layer mesh fabric with different hole sizes makes it impermeable to stings, increases aeration and makes it durable.
You have five color options to choose from.
It comes in all sizes. You can buy a suit for your kids and any other person in the family.
The suit is accommodating, meaning, you can wear additional inner clothes when cold and minimize these when hot.
It has an expansive veil providing a wider viewing area to avoid any obstruction when you are working on your hive.
The suit comes with high-quality zippers that fit well for certain protection and will last longer.
Well-positioned pockets make it possible for the user to carry along essential items. It is also easy to access these items.
The suit comes with a key fob for securing car, or house keys.
It is safe to wear even when the suit is wet.
You can bend and move comfortably when you have the suit. It is roomy and is made with high quality zippers and cuts. This is needed since plenty of your work involves heavy lifting and serious movements.
The suit is easy to wear and remove. It is also easily foldable for transportation or storage.
For additional safety, its ankles and wrists are elasticated.
Thumb and foot loops make it so much easier for the beekeeper to put on boots and gloves.
The non-inflammable veils are desirable to avoid accidental fire from smoker or lighter. You also have two options to choose from: a round and fence design.
The veil mesh is excellent for keeping off tiny insects. It is also anti-glare to deflect the glaring sunlight.
It is high quality. Remember all the suits are hand crafted.
The hood is detachable and the suits and jackets hand washable.
Cons
The metal zippers on the hood are hard to zip and may get stuck.
Further Insights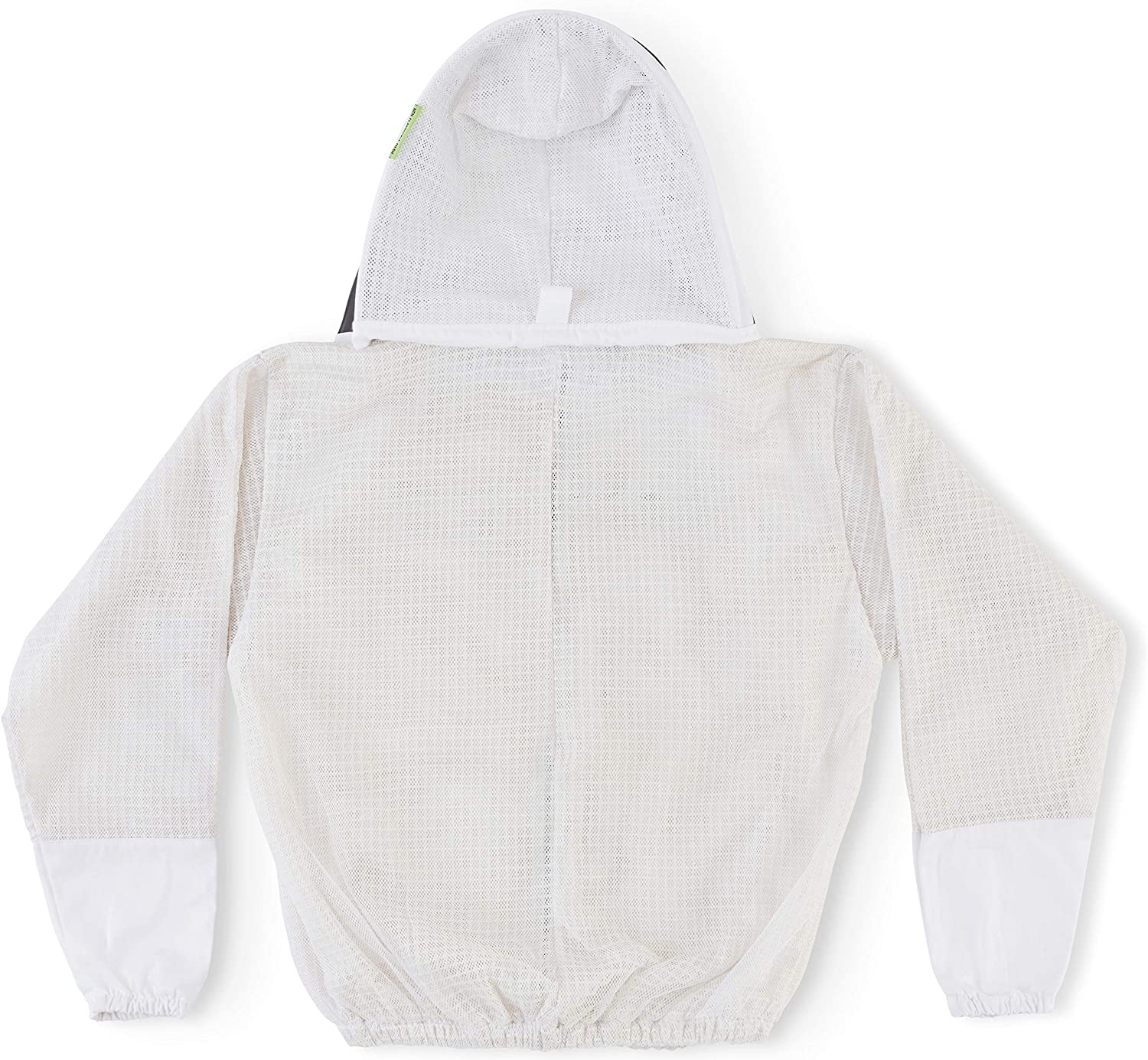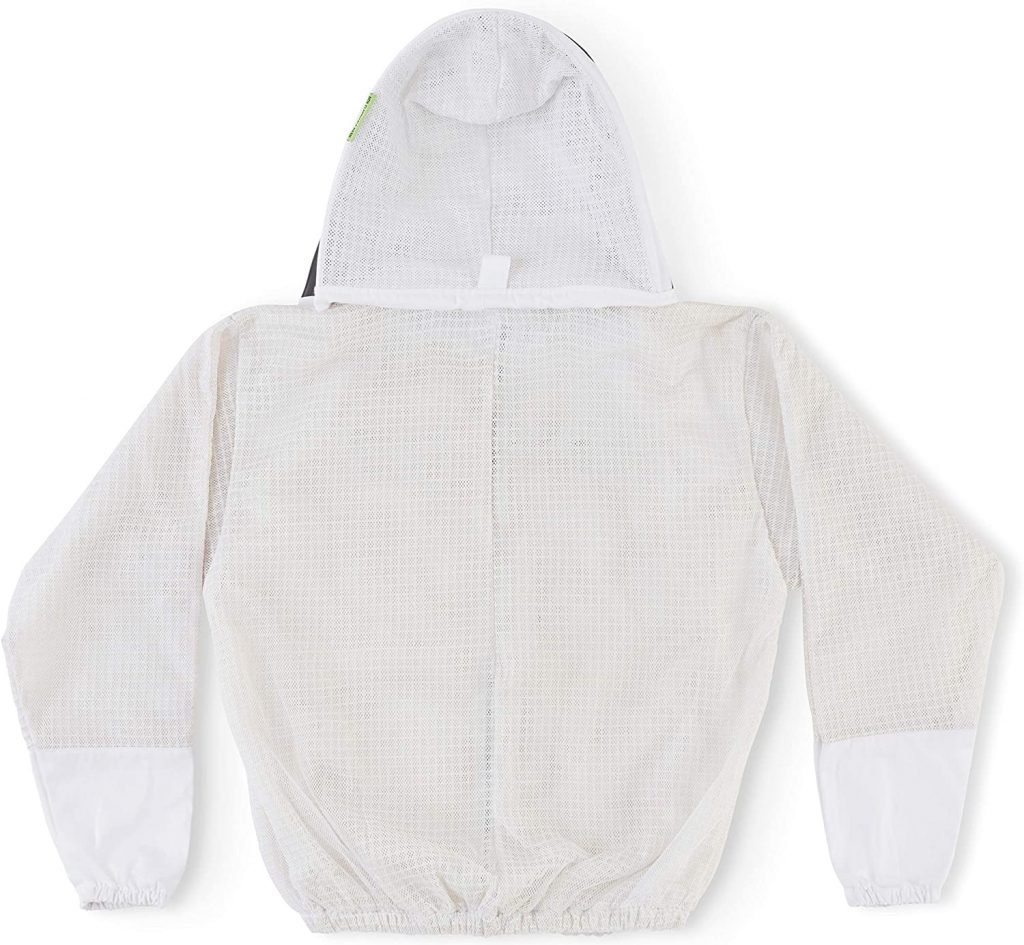 The Natural Apiary Zephyros Beekeeping Suit is easy to work in. It comes with plenty of pockets and extra conveniences such as the key fob. It is accommodating when you need to wear extra clothes and yet safe enough when you wear a few clothes inside. This is a high quality beekeeping suit, handmade and sturdy. The color and size options and not to mention the protection it provides, makes it a well recommended purchase.
Conclusion
The ventilated beekeeping suit from Natural Apiary will come in handy when you are conducting routine hive checks or harvesting honey. It is a great-fitting suit that will work well if you choose a loose one depending on your size. This will provide room for extra clothing when necessary. It will also allow you to move around easily when lifting brood or super boxes. It is also good to have a loose fit so as to keep stingers away from your skin. The comfortable suit has small holes in its first layer of fabric that helps prevent bee stings from coming through. A second layer has bigger holes for good aeration followed by a third mesh that is durable making the suit hardy and longer lasting.
What are your thoughts on the Natural Apiary Zephyros Beekeeping Suit? Leave a comment below and let us know.
Check Price on Natural Apiary
Check Price on Amazon