If you purchase an independently reviewed item through our site, we earn an affiliate commission. Read our affiliate disclosure.
Humble Bee was founded by Michal and Ahmed in 2014. The company is proud to only sell products that have been personally tested by Michal and Ahmed themselves. Encouraging beekeeping and helping newcomers start their apiaries is a central principle of Humble Bee. The beekeeping supplies company has products that meet safety and quality standards in beekeeping. Humble Bee promises a 2-year warranty on all their products. The company also has an initiative to help save bees in form of a charity fund.
About the Humble Bee 532 Ventilated Beekeeping Smock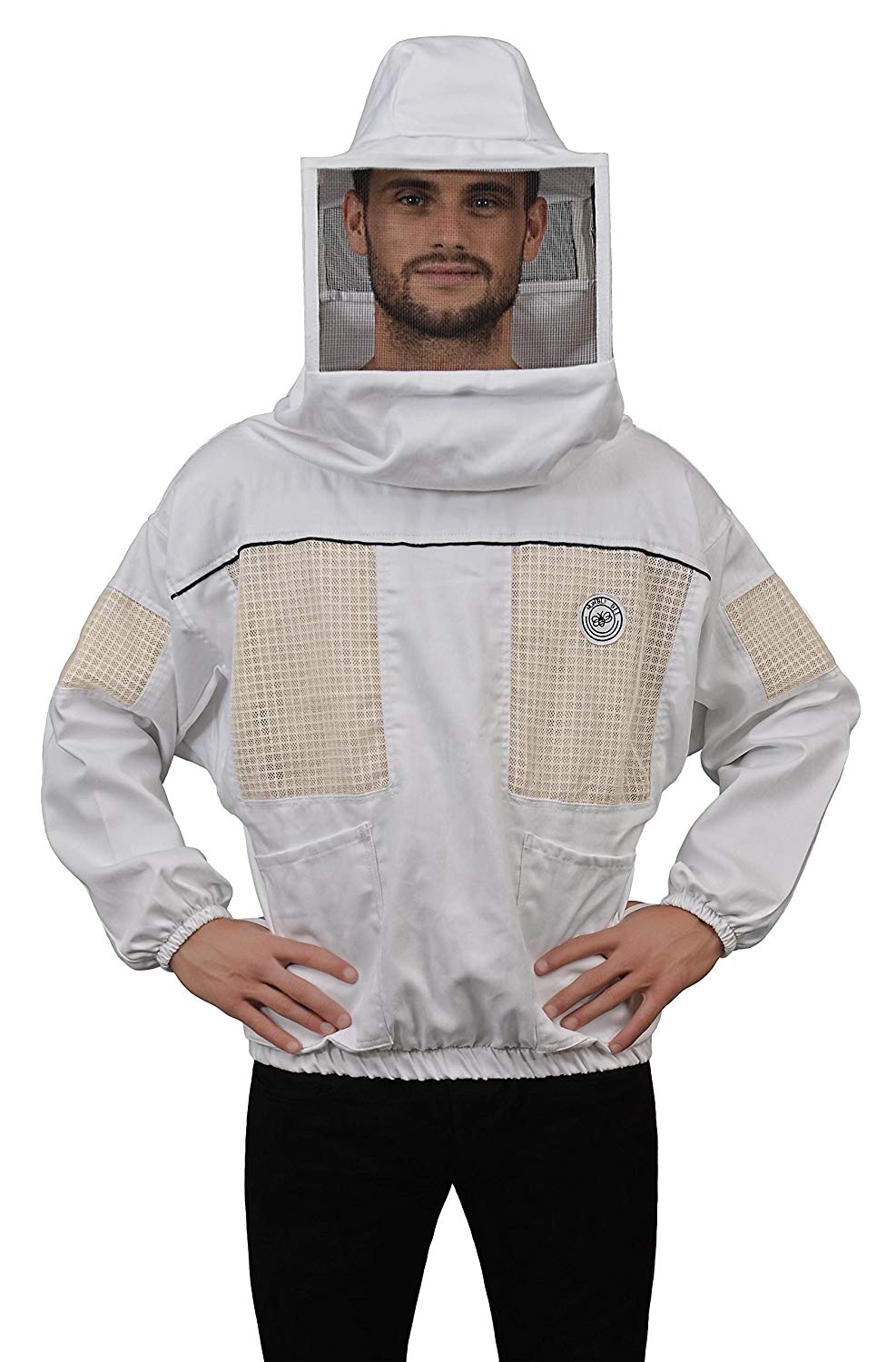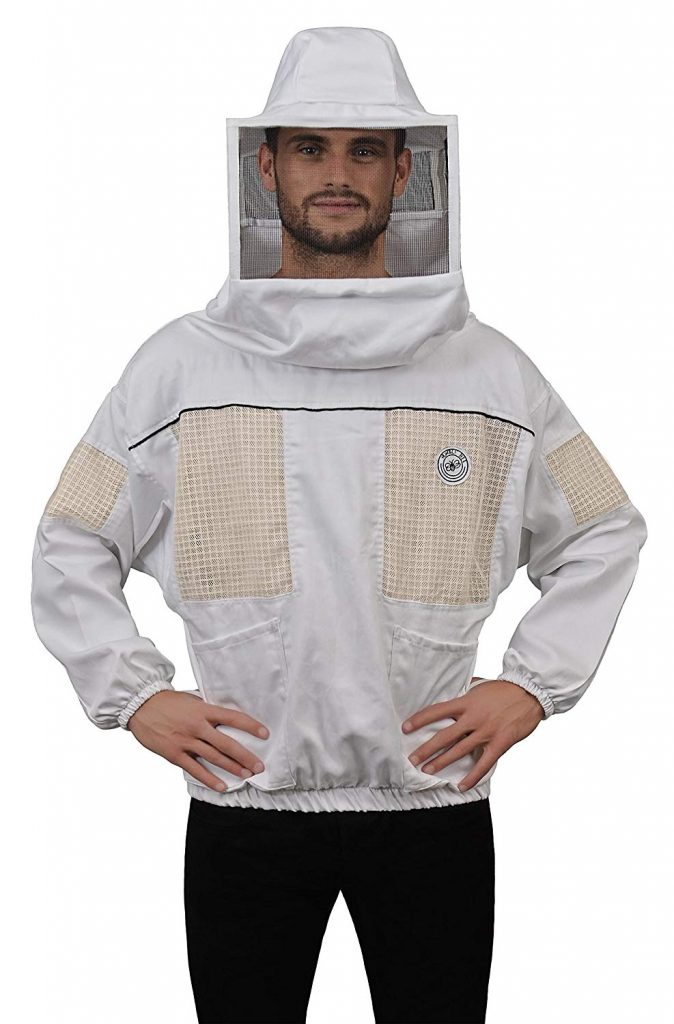 The Humble Bee 532 Ventilated Beekeeping Smock with Square Veil is a medium weight and made of synthetic fiber. It utilizes a blend of 50% cotton and 50% synthetic material. It is ventilated with panels to keep you cool when working in hot weather. The 280 gsm material is also ultra-breathable. The synthetic blend used in the smock gives outstanding protection from bee stings even when used alone in the ventilation panels. At the ventilation panels, the purely synthetic cloth used is at 220 gsm.
Beekeeping smocks are a fashion sense that is catching up on the traditional coverall-inspired beekeeping suit. Smocks cover your upper body only. They are tailored in the style of a jacket that you put on. The smock has elastic on the wrist and waist areas. These make it a comfortable fit and seal up the areas very well.
Design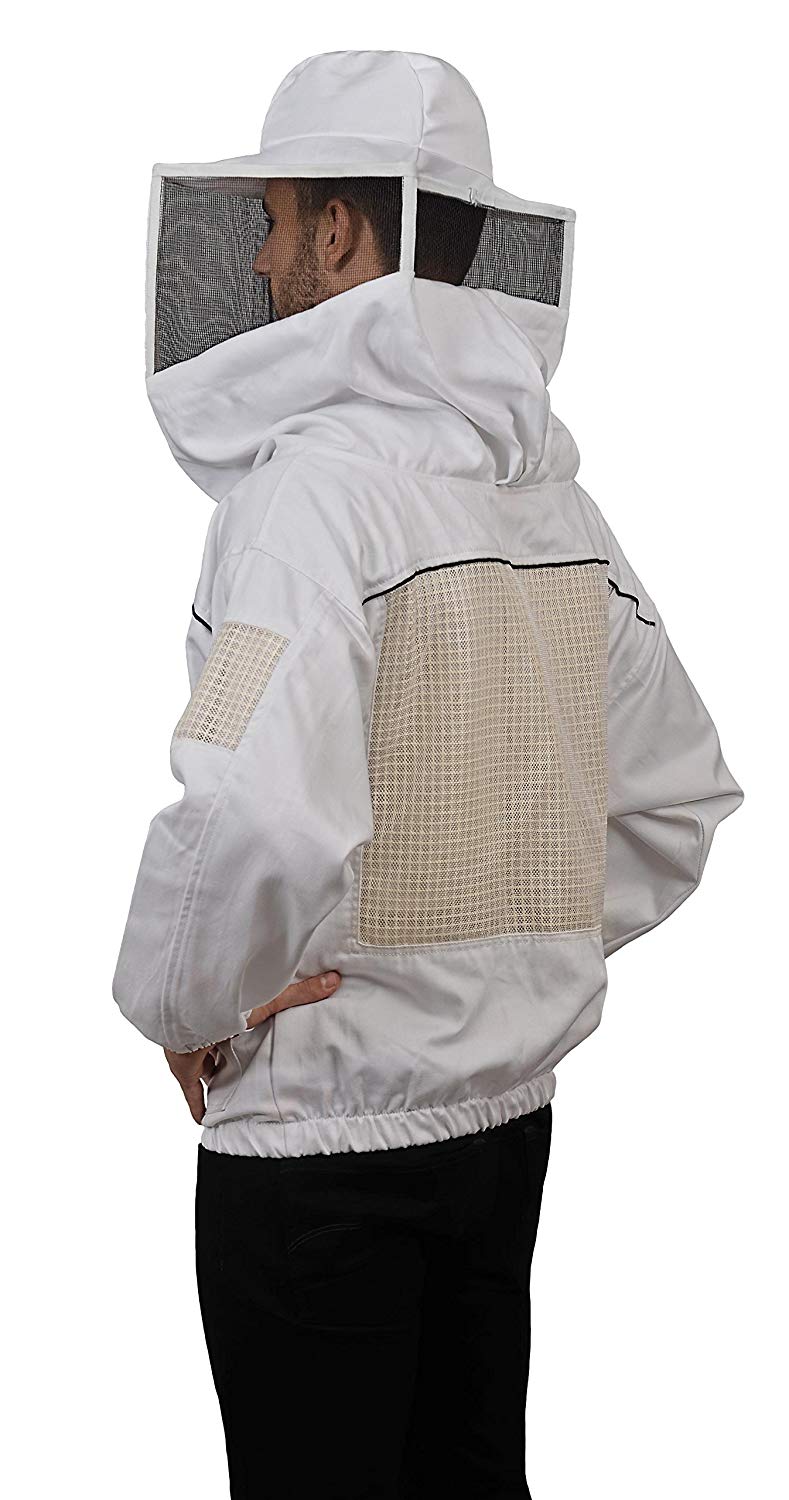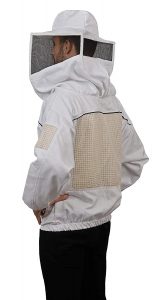 A beekeeping smock gives great protection from bee stings while reducing bulkiness and cumbersomeness. The Humble Bee 532 Ventilated Beekeeping Smock employs double stitching in its design. It ensures the smock lasts for a long with excellent integrity. All seams of the smock feature double stitching. Pockets too are double-stitched and placed strategically for easy reach.
To keep the sleeves from your beekeeping smock from riding up and exposing your arms to bees, it has a thumb hold that hooks into your thumb. Beekeeping gloves for your hands are easy to wear even with the thumb hold in place.
Further fashion sense is seen in the detailing of the smock. A black decal line runs across the chest and upper back to make the smock appealing to look at. The black detailing works well with a Humble Bee logo emblazoned on the left breast area of the smock.
Sizes
The Humble Bee 532 Ventilated Beekeeping Smock is available in a very wide range of sizes. The smock is tailored with height and upper body bulk in mind. The smock is unisex and the sizes work well on both males and females. The available sizes are XX-Small, X-Small, Small, Medium, Large, X-Large, XX-large, and XXX-large. Any beekeeper will easily fit into one of the eight available sizes of this beekeeping smock.
Carrying Case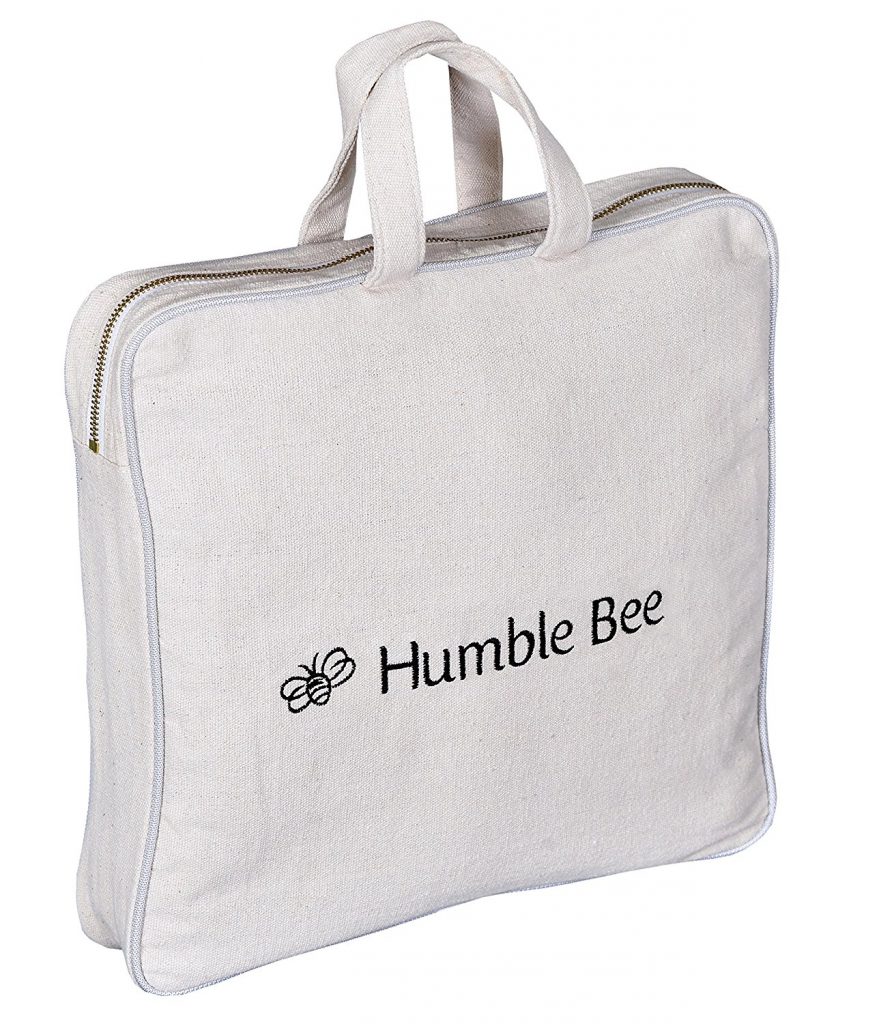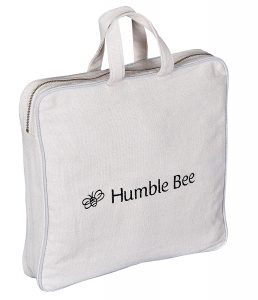 Stowing away the Humble Bee 532 Beekeeping Smock is a walk in the park. It comes with a nice white deluxe canvas carrying case. Once you are done with your bees and are a safe distance away, you are free to take off the smock and fold it up into the carrying case. The carrying case goes well into your car or another transport mode. It is also easily carried back to the house as it has handles.
The carrying case that comes with the beekeeping smock is made of heavy-duty canvas material to ensure it lasts just as long. It is clearly built to exaction and features excellent stitching just as found on the smock. A Humble Bee logo and brand name adorn one side of the carrying case. The case opens and closes by means of a durable YKK metal zipper.
Check Price, Size and Availability of the Humble Bee 532 Beekeeping Smock
Pros and Cons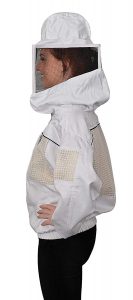 Pros
A wide square veil makes the beekeeping smock easily wearable with prescription glasses. Your concerns about your mob of long hair are well taken care of. Any long hair will fit in under that veil.
Ventilation is very well taken care of. The veil is all-around ventilated. It features small mesh panels in the rear to achieve this. Ventilation panels are found on the front, back, and shoulder areas of the smock.
The veil has a comfortably tight grip on the head shaped like a cap. It does not fall off while you are attending to your beehives.
This smock is available in a number of different sizes. Get the size that fits you well to enjoy the full benefits of the smock. One size larger than your daily clothing should work. It allows you to wear something under the smock without getting too hot.
Cons
The smock gives you two pockets only. Other beekeeping protective wear gives a higher number of pockets. However, it is understandable that the smock has less space it can dedicate to pockets. The chest area and a large section of the back are taken up by ventilation panels. Additionally, there is not much sense in having pockets on the shoulders.
The veil goes for the top of your head to get a grip. This is not very friendly to some hair-dos. People with long hair or elaborate hairstyles that change frequently find the veil having a loose grip sometimes. At other times, it will not fit at all.
Conclusion
While the Humble Bee 532 Ventilated Beekeeping Smock is fashionable, functional, and effective, your lower body is not covered. Have heavy protective clothing for your lower body and feet. Boots and heavy jeans are the safest bet against bee stings on your legs. Other fabrics you may choose for lower body protection should also work fine.
Do you own the Humble Bee 532 Ventilated Beekeeping Smock? Leave a comment below and let us know what you think of it.
Check Price