Thanks for visiting our website. For us to continue writing great content, we rely on our display ads. Please consider disabling your ad-blocker or whitelisting our website before proceeding.
If you purchase an independently reviewed item through our site, we earn an affiliate commission. Read our affiliate disclosure.
Since it was founded in 2014, Humble Bee encourages beekeeping and helps new beekeepers start their own apiaries. This guiding principle of the beekeeping supplies firm sees Humble Bee produce high quality products that meet beekeeping safety standards. A 2 year warranty is given on all Humble Bee products. They are tested in the apiaries of the founders – Michal and Achmed. Humble Bee takes action to save bees through a charity fund.
About the Humble Bee 332 Ventilated Beekeeping Jacket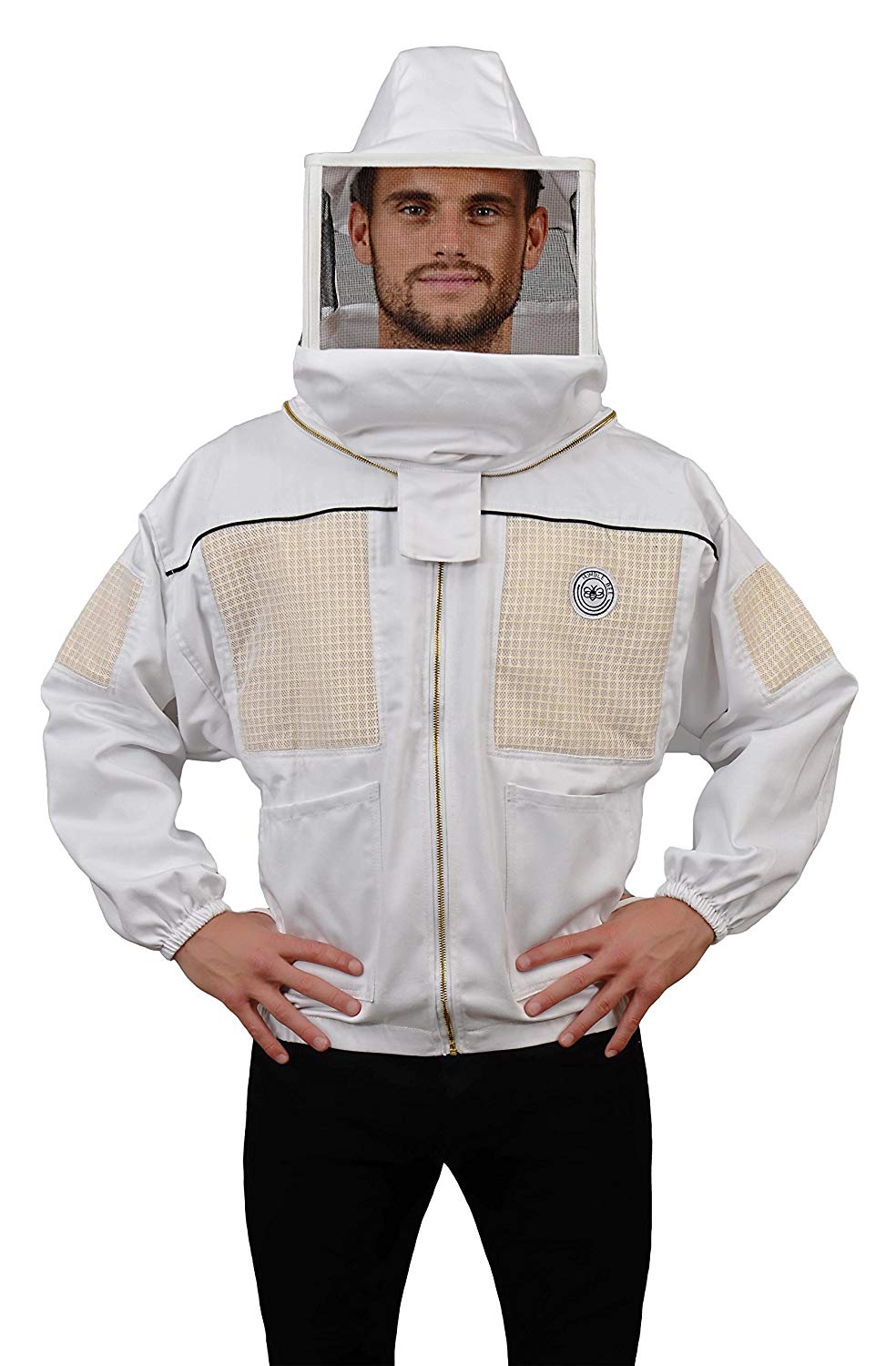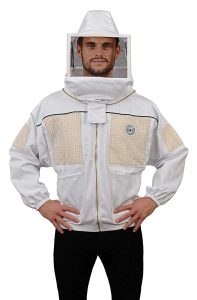 In making the Humble Bee 332 Ventilated Beekeeping Jacket with Square Veil, Humble Bee has used a trusted blend of cotton and synthetic fiber material. The two are mixed at a ratio of 1:1. The resulting material is tough and gives beekeepers excellent protection from bee stings. It should be noted that this material is a common cloth blend found on Humble Bee protective wear for beekeepers.
The material used is breathable. Additionally, the Humble Bee 332 beekeeping jacket has ventilation panels to keep you constantly cool in hot weather. Ventilation panels are on the chest, shoulders and back. The veil too allows you excellent viewing out of the veil. It also allows for ventilation of your face and head. The mesh on the veil goes round the head including the back. It gives air maximum space to enter and cool you down.
The Humble Bee 332 Ventilated Beekeeping Jacket gives you all the protection you need for your face from nasty bee stings. The veil utilizes a full-face mesh for your unobstructed view. The whole veil assembly grips the top of your head like a cap. It then spreads out into a square that holds the meshes making up the veil. This design keeps the veil well away from your skin. It has enough clearance to allow wearing of eyeglasses. Hair too will not have a hard time getting into the veil with you.
The jacket features heavy duty zippers made of brass metal. There are two zips on the jacket, one down the front and another for veil attachment. The veil on this beekeeping jacket is square, foldable and removable. This makes it easy for cleaning and storage.
Pros and Cons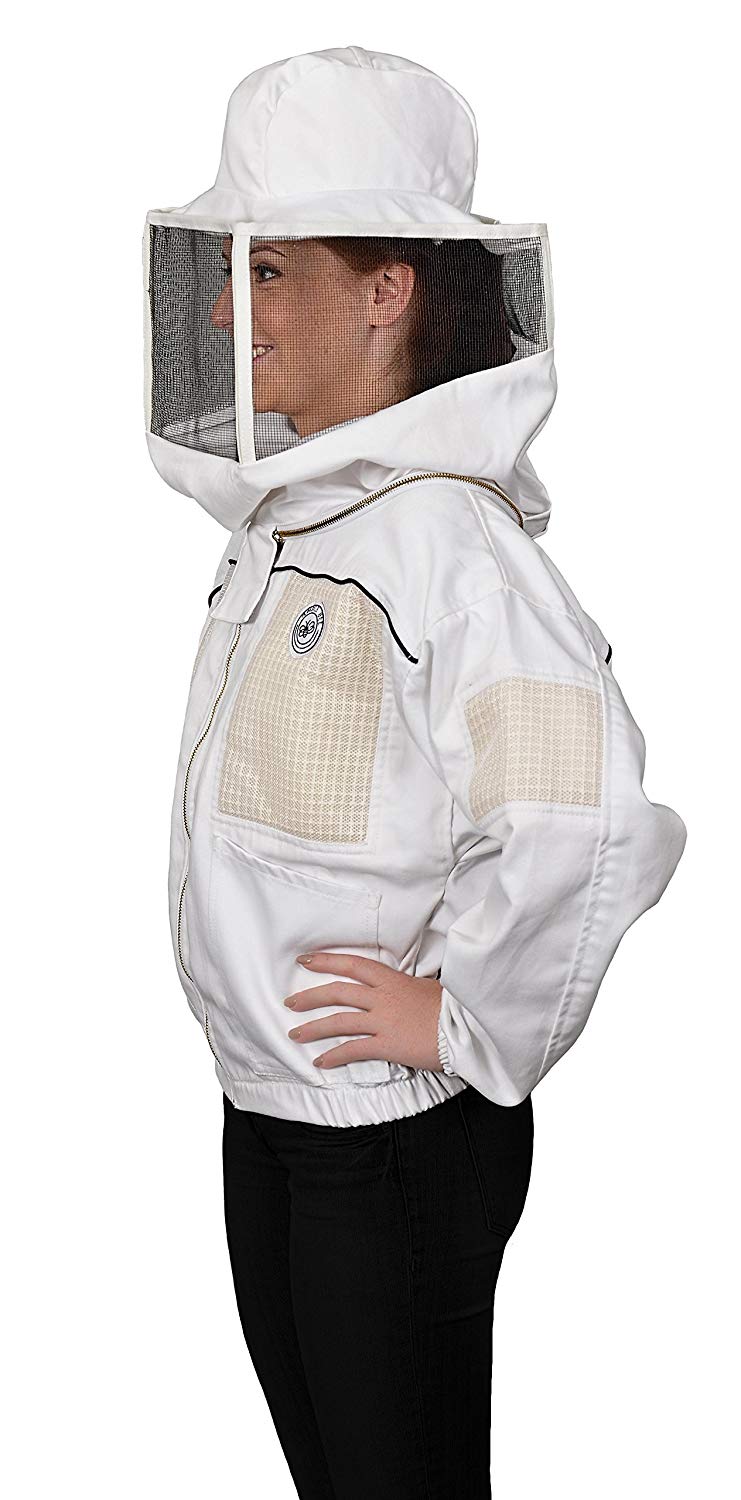 Pros
There is enough ventilation on this jacket to keep you cool while wearing it, even with some other clothing under it such as a shirt and light pullover. The total surface area is of a good ratio to the total surface area of the jacket.
A deluxe carrying case comes with the jacket. It is a superb accessory for the times you are moving the suit from one place to another.
The zipper attachment for the veil overlaps at the front. This ensures bees have no crawl space where the zippers meet.
The jacket is double stitched in all the seams. Pockets on the jacket too are double stitched.
The jacket gives you a tailored fit with its elastic wrists and waist. Thumb holds for the sleeves of the jacket keep everything nicely in place.
Both men and women can wear this beekeeping jacket with ease. It fits both sexes well and is designed with various body sizes taken into consideration.
Cons
Being only a jacket, it does not give you protection for your lower body. You will need additional protective wear for your lower body.
The ventilated jacket has only two pockets. If you need more pockets for your tools and equipment, you will have to improvise.
Children may not wear this beekeeping jacket and suit. It is designed for adults and the sizing is for adults only. Alteration of the jacket to fit children may lead to voiding the 2-year guarantee.
Check Price, Size and Availability of the Humble Bee 332 Ventilated Beekeeping Jacket
Further Thoughts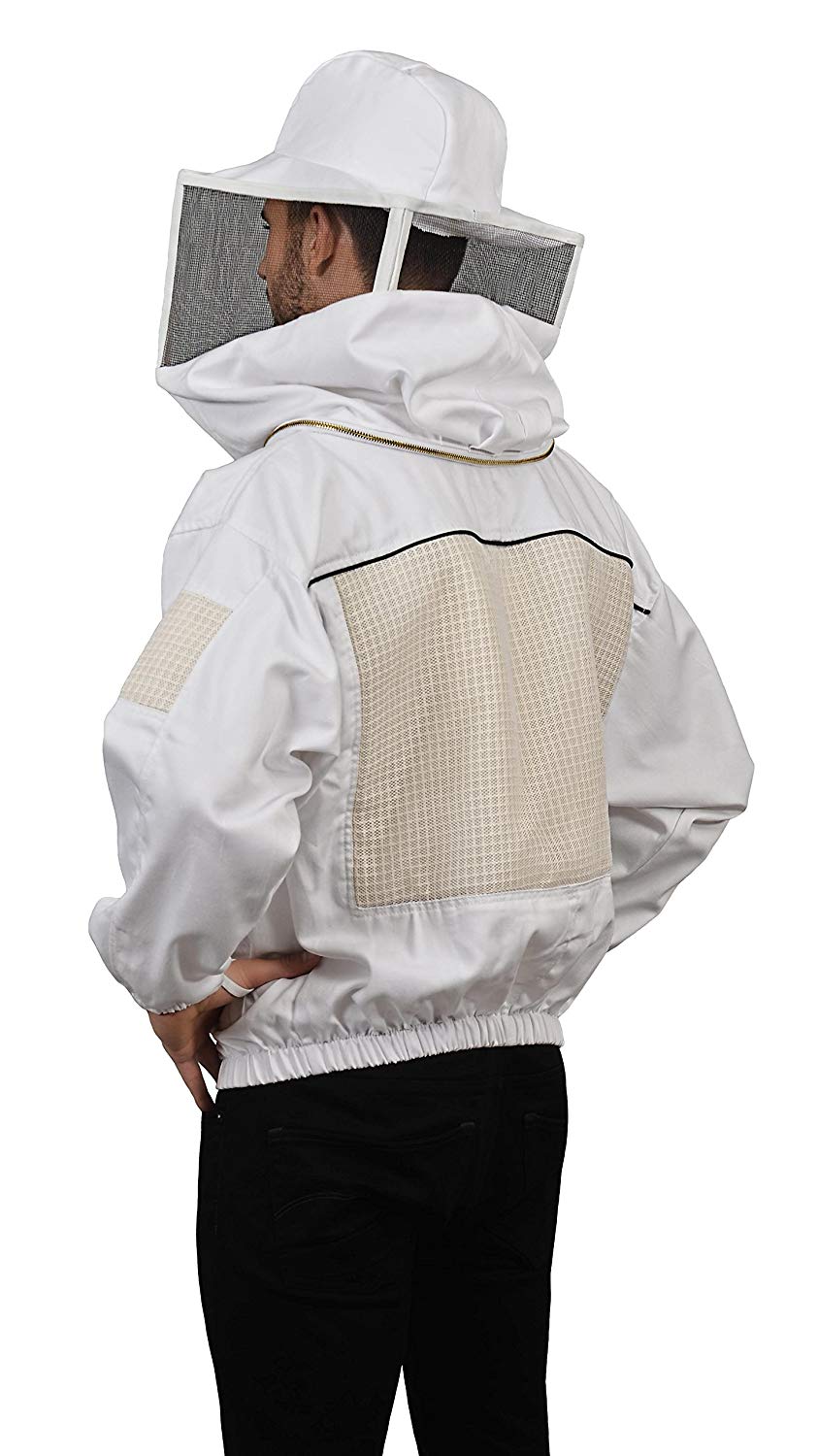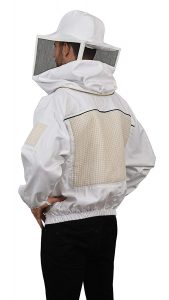 The Humble Bee 332 Ventilated Beekeeping Jacket comes in sizes ranging from XX-Small to XXX-Large. Indeed, there are a total of 8 sizes including Small, Medium and Large which fit a majority of beekeepers. Humble Bee provides a chart of the sizes and their measurements. The chart is easy to use and helps you find a perfectly fitting jacket.
The beekeeping jacket is a great alternative to the beekeeping suit. A jacket is fashionable, less bulky and not cumbersome. The zip on the beekeeping jacket with makes putting it on and taking off easy. The zips are durable and last long.
Conclusion
The Humble Bee 332 Ventilated Beekeeping Jacket is recommended for both professionals and amateurs. It is not difficult to use and maintain. While washing the jacket, take off the veil and wash the two separately. Additionally, the jacket and veil are  unisex. A carrying case comes with your purchase. The case is made of deluxe canvas to keep your jacket and veil away from harm during transport.
Your purchase of this quality Humble Bee jacket gives you an opportunity to make a difference. Through a Humble Bee charitable fund, the company donates 10% of its earnings to help local beekeepers around the world protect bees. Humble Bee believes in strengthening bee populations to make sure that the art of beekeeping is carried forward to future generations.
The Humble Bee 332 Ventilated Beekeeping Jacket is available for purchase from online retailers and the Humble Bee website too. You will need additional protective equipment for your lower body and hands.
Do you own the Humble Bee 332 Ventilated Beekeeping Jacket? Leave a comment below and let us know what you think of it.
Check Price