If you purchase an independently reviewed item through our site, we earn an affiliate commission. Read our affiliate disclosure.
Quick Overview
The Humble Bee 312 polycotton beekeeping jacket, though not offering full body protection, does a great job at protecting you from bee stings.
Humble Bee is a prolific manufacturer of beekeeping equipment. The company's products are generally popular due to their good quality and long life. For your protection from bee stings, the company offers you the Humble Bee 312 polycotton beekeeping jacket with a square veil. In this review, we'll let you know if this jacket is worth your consideration.
About the Humble Bee 312 Polycotton Beekeeping Jacket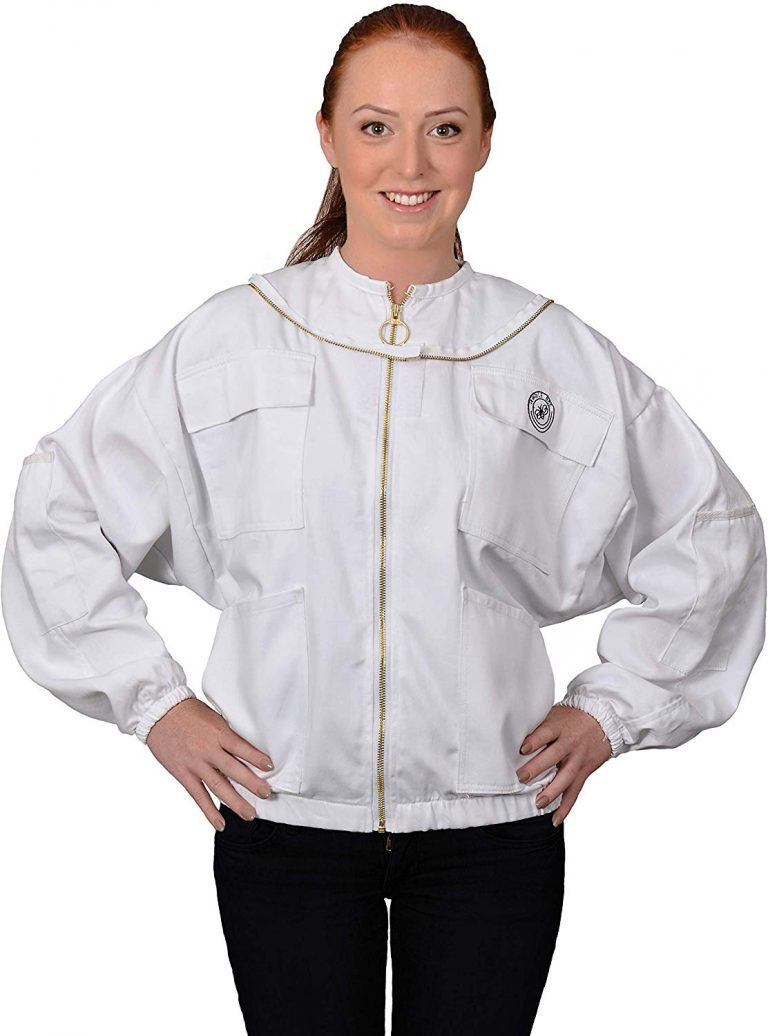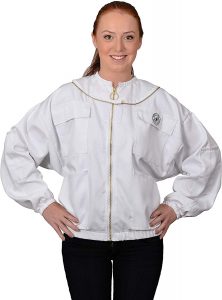 The Humble Bee 312 polycotton beekeeping jacket is made using a blend of cotton and polyester. This blend makes the jacket light yet effective in preventing bee stings from getting to you. Additionally, the material does not get dirty easily. Though not ventilated, it is breathable and keeps you cool when wearing the jacket.
Veil
The Humble Bee 312 polycotton beekeeping jacket comes with a square veil, which is great for its great peripheral vision and safety from bee stings. Square veils are also very great for the ventilation of your head and neck. What's more, the veil on this jacket is quite roomy, allowing your eyeglasses and hair enough space to comfortably fit inside with no discomfort on your part.
Things to note:
The veil has a hat-like top that sits at the top of your head and provides support for the veil. It helps a lot with keeping it in position when you bend or lean down.
A mesh around the veil ensures great aeration and cooling for your head.
The veil is attached to the beekeeping jacket using a heavy-duty metal zipper. It allows the veil to be easily removed for cleaning.
You can also use another veil of your preference on this beekeeping jacket using the zipper attachment.
Sizes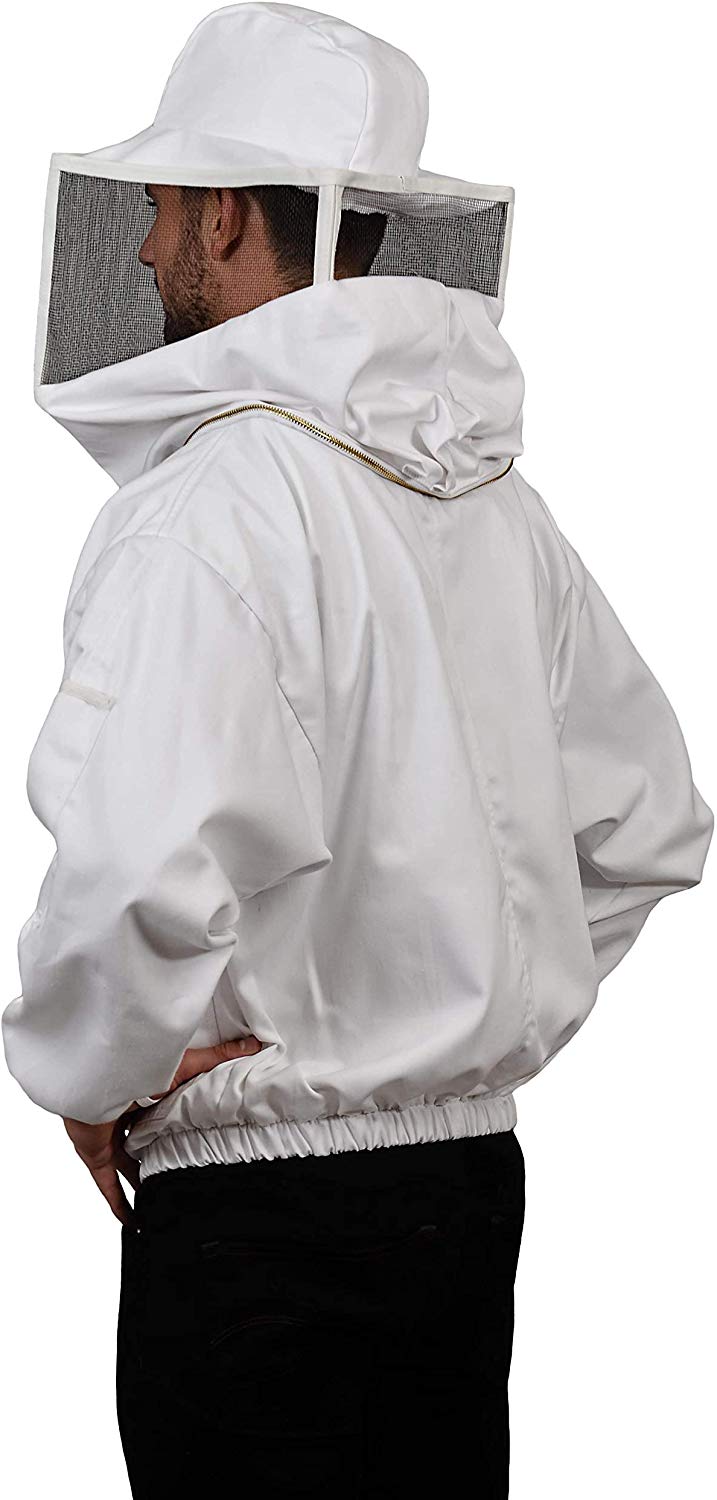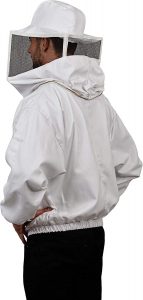 Since beekeepers come in all sizes, jackets too must come in all sizes. As such, the Humble Bee 312 polycotton beekeeping jacket gives you the choice of 7 sizes, ranging from XX-Small to XXX-Large to pick from. The jacket is tailored to fit you well with an elastic band around the waist. It also has elastic around the wrists to keep them sealed shut when worn. Thumb holds on the sleeves ensure that they do not ride up your arms in use. The thumb holds also help keep the sleeves of the jacket under your beekeeping gloves.
What's more, this beekeeping jacket comes in a unisex design, so it looks great on both the male and female beekeepers wearing it.
Carrying Case
On your purchase of the Humble Bee 312 polycotton beekeeping jacket, you get a free carrying case. The carrying case is made using strong fabric that is pretty durable. It closes up by means of a zipper.
Check Price and Availability of the Humble Bee 312 Polycotton Beekeeping Jacket
Pros and Cons
Pros
The veil used on this beekeeping jacket is a square one. It is made using a mesh through which you can see very clearly. The veil has more fabric towards the rear to keep your neck and the back of the head from being stung.
Wearing this jacket is easy and fast. It opens down the front by means of a metallic zipper. The zipper has a flap of cloth to cover it at the top and prevent bees from entering the jacket.
There are 6 pockets included in the Humble Bee 312 polycotton beekeeping jacket. These are enough for most of your needs. They allow you to carry your personal items and the tools needed for hive management with ease. The pockets are attached very firmly to the jacket. Two pockets on the upper front of the jacket have covering flaps while the other four are open. Two pockets are found on the lower front of the jacket, and two more on the sleeves of the beekeeping jacket.
This beekeeping jacket gives you excellent protection from bee stings while not weighing you down. The polycotton blend of fabrics used is light and breathable. It keeps you from getting too hot under the jacket.
Cons
Despite being breathable, this suit is not fully ventilated. It can get a little too warm sometimes. This is especially likely to happen when you are working in the sun. Apiary activities such as harvesting honey and hive inspections that require you to do some heavy lifting will get you too hot for your comfort.
You need to make additional investments in protection for your lower body even after you have spent capital buying this beekeeping jacket. The beekeeping jacket does not cover your legs and thighs. It only goes as far down as your waist.
Beginner beekeepers may not feel very confident wearing minimalist protection from bee stings. This suit requires the beekeeper to shed their fear of bee stings and be confident that they will not get stung.
Further Thoughts
This is a jacket only. It doesn't cover your legs nor does it come with gloves. As such, you should get adequate cover for your lower body. The jacket only keeps from being stung on the upper body down to the waist. It is great if you wear some jeans or other suitable clothing that will keep your legs from getting stung. Appropriate footwear completes your protective attire and ensures optimal safety.
You should also make sure to have your beekeeping gloves on at all times when you are near and around bees. They prevent stings on your hands. Various types of gloves are used based on the preference of beekeepers and the need for the dexterity of the fingers.
Conclusion
This beekeeping jacket is made with great craftsmanship and a nice design. It is well-stitched and the seams do not easily come apart. Indeed, it is quite durable. On the pockets, double-stitching is seen. It helps the pockets bear the weight of items placed in them without coming apart. The jacket has enough pockets for the needs of most beekeepers. This is a jacket that does the job it promises and keeps you safe from bee stings while being very comfortable.
The Humble Bee 312 polycotton beekeeping jacket is great for beginner beekeepers on a short visit to the apiary and doing just a few non-invasive hive management activities. Experienced beekeepers can use it as their main protection from bee stings even on long visits to the apiary. Humble Bee is so confident in the products that they make for beekeepers that they give you a 2-year warranty on every purchase of the Humble Bee 312 polycotton beekeeping jacket. So feel free to try it out.
Do you own the Humble bee 312 polycotton beekeeping jacket? Leave a comment below and let us know what you think of it.
Check Price
Check Price (Australia)