If you purchase an independently reviewed item through our site, we earn an affiliate commission. Read our affiliate disclosure.
Beehive types and hive configurations are aplenty. However, perhaps the most popular type with beekeepers across the globe is the Langstroth beehive. Standard hives and hive components are designed with the Langstroth hive in mind. This therefore means it becomes so much easier for the beekeeper to get replacements when need arises. Standardization also makes accessories affordable. Hive selection is thus crucial when starting out or expanding your beekeeping venture. And so, to help you make a more informed decision, in this article we'll be discussing the Hoover Hives Langstroth 8 Frame Wax Coated Bee Hive. Its standard design makes it so much easier for the beekeeper to replace or add frames and other accessories when required. It is built with top quality pine wood. Let's check it out.
About the Hoover Hives Langstroth 8 Frame Wax Coated Bee Hive
This is an 8 frame hive kit that is delivered fully packaged with all that is needed to provide a comfortable house for your bees. It has helped many beekeepers start and sustain a healthy and productive colony. It is ideally made of top quality pine wood and this includes the hive box and frames. If you are a beginner in need of a top notch hive, then this is perhaps an excellent kit to get started with. Available within the hive box are 8 super frames already cut, 16 deep frames pre-cut as well, and waxed foundations that have hexagonal shaped surfaces. Available also are: an entrance reducer, an inner cover, queen excluder, bottom board, and a telescopic top cover. It comes with pre-cut dovetail joints making assembly a breeze. Nails for assembly are also included.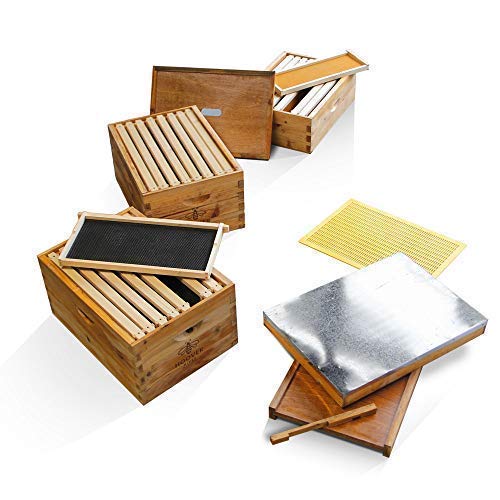 Features
Included are 16 brood frames made of pine and are wax coated. A frame with dimension of 9-9/16 x 19 inches.
8 top quality wax coated frames are also available. These are made of pine and have dimensions of 6-5/8 x 19 inches.
You also get 24 plastic foundations that are food grade and are coated with actual beeswax.
The unit also comes with a telescopic cover, a bottom board, inner cover, and a queen excluder.
All frames are pre-cut and perfectly fitting in place.
It has pre-cut dovetail joints that make it easy to assemble the hive. The nails are also provided. Therefore no need to buy these separately.
It is a standard Langstroth hive meaning it is compatible with standard hive accessories in the market.
Hive dimensions are 24 x 22 x 16 inches. It weighs 54 pounds.
Pros and Cons
Pros
It is affordable.
Comes with all that is needed for assembly except the hammer. No need to buy the nails separately.
Well-built, solid, and sturdy hive.
Easy to assemble. All parts fit perfectly and easily. Instructions for assembly are also included.
Has excellent workmanship.
The supers and deeps are of high quality and will not splinter.
The brood frames are wax coated to allure the bees. The super frames are also wax coated. This greatly minimizes chances for rejection.
The foundations are included and are also coated with actual beeswax.
The hive is well sheltered to protect the bees from the elements of nature such as hot sunlight and rains.
The high quality pine used to make the box and frames result in a well built and durable beehive.
Comes with plenty of deeps and supers.
Boasts an attractive overall look.
Excellent starter beehive.
Cons
No negative feature noted.
Check Price and Variability of the Hoover Hives Langstroth 8 Frame Wax Coated Bee Hive
Further Thoughts
The deep hive box is an important component of the beehive. It is a large size hive box that can hold up to 8 frames inside. This hive box is ideally the heart of the hive. It may be made of wood or plastic and will have the foundation at the middle. As for the foundation ,it is made of wax, waxed wire or the two combined. This acts as a guide to the bees when building their own wax. One other hive component worth mentioning is the queen excluder. This refers to the flat rack made of metal or plastic that has tiny holes just for the worker bees to get through. This is designed so that the queen does not get through to the honey super where it can lay eggs.
Honey supers are also essential for the survival of a bee colony. This holds the frames that store honey. Honey reserves make it possible for the bee colony to survive the hard seasons when nectar and pollen are scarce. The honey supers are categorized into shallow, deep or medium based on size. Other essential components of the hive include an entrance reducer, top and inner cover, and the bottom board.
The Hoover Hives Langstroth 8 Frame Wax Coated Bee Hive comes with all these important hive components. It is particularly fully packed with brood and super frames. I particular find the wax coating on the supers and foundations impressive. This hive box is one that can meet the needs of a starter and still help a professional expand his or her beekeeping business. It is compatible with all standard Langstroth hive components making an upgrade or replacement a breeze.
Conclusion
Have you been considering an easy way to begin keeping your own bees? Well, the Hoover Hives Langstroth 8 Frame Wax Coated Bee Hive comes with all you require to get started. The hive box is made of top quality pine wood that is sturdy and longer lasting. Bees seem to love pine as well and the wax coated frames and foundations attract the bees. The exterior and interior parts of the hive are designed with the needs of the bees in mind. A telescopic cover provides the much needed shelter and all inner components are made of high quality material. It comes highly recommended.
Do you own the Hoover Hives Langstroth 8 Frame Wax Coated Bee Hive? Leave a comment below and let us know what you think of it.