If you purchase an independently reviewed item through our site, we earn an affiliate commission. Read our affiliate disclosure.
The Flow Bee Suit is an assembly of various beekeeping protection essentials. The kit includes gloves and a hive tool as well. Flow is perhaps best known for their innovative auto flow beehives, which are are a great way of practicing beekeeping. They make honey harvesting very easy and convenient. This beekeeping suit is great, even for farmers who do not have Flow beehives.
About the Flow Bee Suit
The Flow Bee Suit is made of strong, organic cotton fabric. It is not too heavy and keeps bee stings from reaching your skin. The cotton fabric allows air to flow into the suit and ventilate it very well. You do not get hot while in the suit. Additionally, the cotton material is friendly to bees. It does not tangle their legs up and aggravate them. With this beekeeping suit, your hive visits are a cool experience that you enjoy.
The white color of the Flow bee suit makes it cool since it reflects light away. This color is also good for bees. It does not cause them stress. Your bees barely notice your intrusion into their space. While there are no other color options available for the suit, white works perfectly well.
Zips
Zips on the suit are found on the front, around the shoulder region for face veil attachment and on the legs of the suit. They are all strong YKK zips. They seal up the suit well once you are inside and give it tightness at the ankles. The zips at the ankles are short in length since they are only designed to ease wearing of the suit and removing it. YKK zips are known for their resilience and durability. They keep working for long with no hitches.
Elastic Bands
A comfortable fit without being too tight is every beekeeper's wish. The Flow beekeeping kit organic cotton beekeeping suit employs elastic to ensure tightness and a comfy fit without making the suit too constricting. There are elastic bands built into sections of the waist. The pair of elastic sections gives you nice tightness around the waist. This allows the suit to work very well with a tool belt or other equipment you may have on you during a hive visit.
Gloves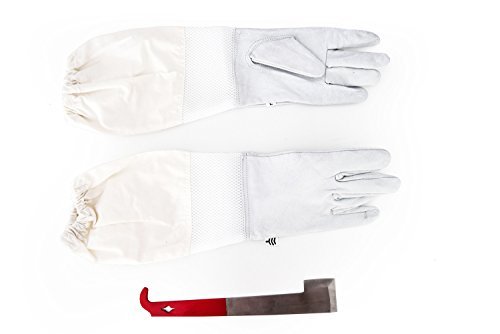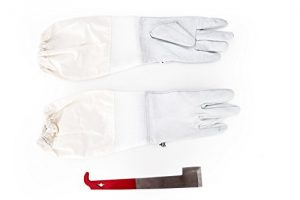 The gloves that come with the Flow Beekeeping Kit are also made by Flow. They are tough and not cumbersome. They allow you to retain good sense of touch for your hive operations. The gloves are made of goatskin and very ideal for beekeeping. They are long and nearly reach your elbow. Elastic on the open end of the gloves ensures that they are tight on your arm. It also allows the gloves to seal up well against the beekeeping suit. The gloves feature Flow labels on them for an assurance of quality and functionality.
Hive Tool
The kit contains a standard J hive tool that is a great bonus in addition to the excellent beekeeping suit. This makes the kit a wonderful bargain for beginners in beekeeping who may not have a hive tool and gloves. In place of buying these separately, you get them all in one amazing kit together with a high quality beekeeping suit.
Fencing Veil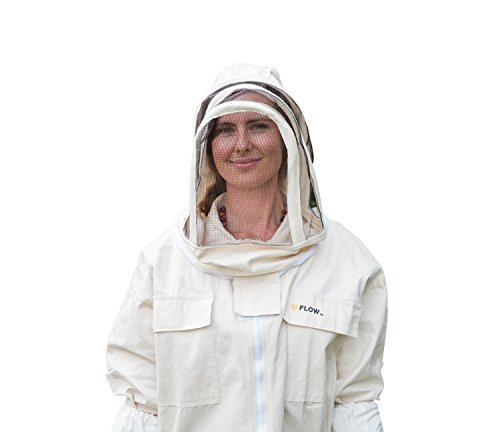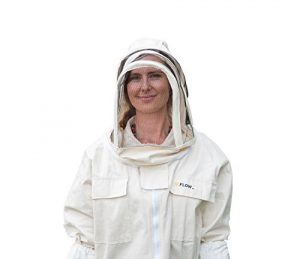 A fencing veil comes with the Flow Hive Bee Suit. Fencing veils allow good angles of sight and excellent facial aeration. They let in air to keep your face cool during your hive visit. A mesh at the front of the veil keeps the bees away from your face. Fencing veils allow excellent horizontal sight due to the mesh running a long way from the top of the veil assembly to the upper part of your chest. The mesh is well away from your face that it allows prescription eyewear comfortably under it.
For female beekeepers, long hair can be troublesome fitting inside your suit. The veil often bunches it up and messes with your hairdo. This Flow beekeeping suit accommodates your hair easily inside it and does not ruin your hairstyle. The suit works well with both long and short hair.
Check Price, Size and Availability of the Flow Bee Suit
Pros and Cons
Pros
This organic cotton suit is available in a number of sizes:
Well ventilated and keeps you cool during your hive visits.
Comes with gloves and a hive tool.
The suit is unbleached, and very light. It does not weigh you down.
Pockets on the suit are well placed and large enough to hold all what you may need to carry on a visit to your beehives. The pockets are conveniently placed and easy to reach.
Cons
The whole kit is sold as one unit. If you already have gloves or a hive tool, you may find you do not need the extras.
The two pockets are placed a little too low on the leg. A little bend downwards allows you to reach the pockets well, but they could be placed higher on the suit. To get around this shortcoming, make sure to pick a size that will fit you well.
Further Thoughts
Flow has made this beekeeping suit very comfortable to wear even with some other pieces of clothing underneath. In the heat of summer, air flow into the suit keeps you cool. You are able to carry out your hive activities without rushing to get out of an uncomfortable suit. Once you are done with your hive visit, the suit folds away nicely. It is easy to store and transport from one place to another. It weighs only 5.7 pounds (3.4 kg) together with the gloves, veil and hive tool.
Conclusion
The Flow Bee Suit and kit are recommended for any beekeeper looking for a set of reliable equipment. Beginners and professionals will be amazed by the value they get in return to buying the kit. For those with gloves and a hive tool already, the additional equipment makes for great spares that are great to have – just in case. The suit is available for purchase on various platforms including online.
Do you own the Flow Bee Suit? Leave a comment below and let us know what you think of it.
Check Price