If you purchase an independently reviewed item through our site, we earn an affiliate commission. Read our affiliate disclosure.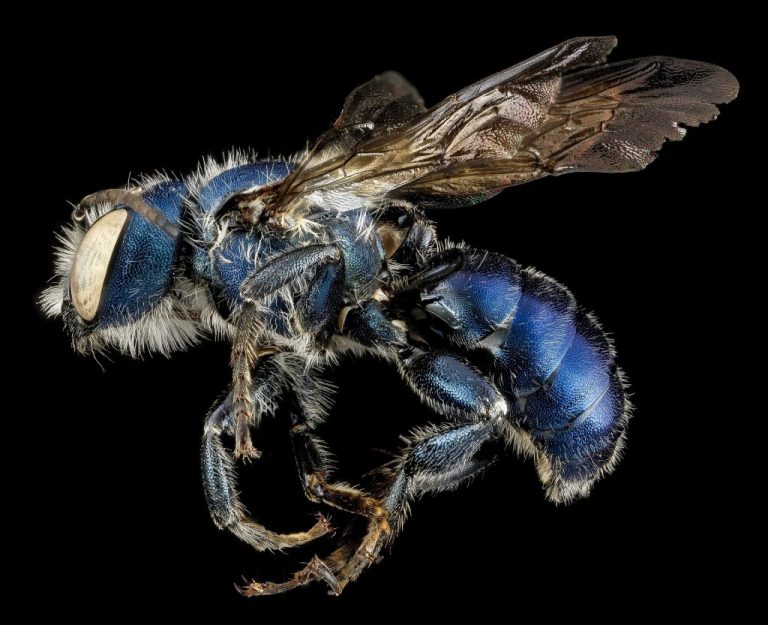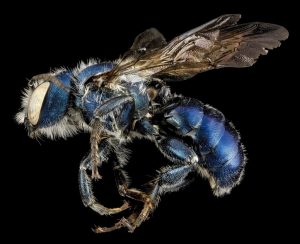 Mason bee houses are wooden, man-made structures where mason bees and other insects may reside.
About Mason Bees
Most of us are familiar with the honey bee but very few people have ever heard of the mason bee, one of the best pollinators in the planet. Mason bees, just like honey bees, have been human's companions for many years. Mason bees are tranquil and coexist peacefully with humans. These bees are an excellent choice for those who would like to increase the productivity of their garden. They also add an aesthetic value to your home.
Mason bees do not produce honey or wax. They are immune from Varroa and Acarine mites that attack honey bees. Mason bees are so called due to their preference in using mud to construct their nests. They may also use clay, chewed plant tissue or grit in making a nest. Mason bees are increasingly reared for their pollination abilities in the production of fruits and nuts.
The mason bee with its signature metallic blue or blue-black color is common in the United States. It is a type of native bee that is smaller in size when compared to the honey bee. There is also the red mason bee which more resembles the honeybee in terms of looks. In North America, mason bees number about 140 species and all live in solitary conditions, and are quite different when compared to the honey bee. A female mason bee only stings when trapped or squeezed whereas the male mason bee does not have a stinger at all. These bees pose little or no threat when kept in the home garden. They are easy to keep and with the best mason bee houses (also called nest houses), you can enjoy a great experience with these little critters.
Buying Mason Bees
Click here to purchase mason bees online and have them delivered to you.
In Depth Overview of the Best Mason Bee Houses
Since mason bees prefer to make their nests close to each other, choose an excellent mason bee house that allows for this. It is also important to dispose or thoroughly clean used artificial boxes after one or two seasons since mason bees do not reuse or recycle their houses. With that said, read on below to check out our top picks for the best mason bee houses (in no particular order).
10. Crown Bees Wild Bee Adventure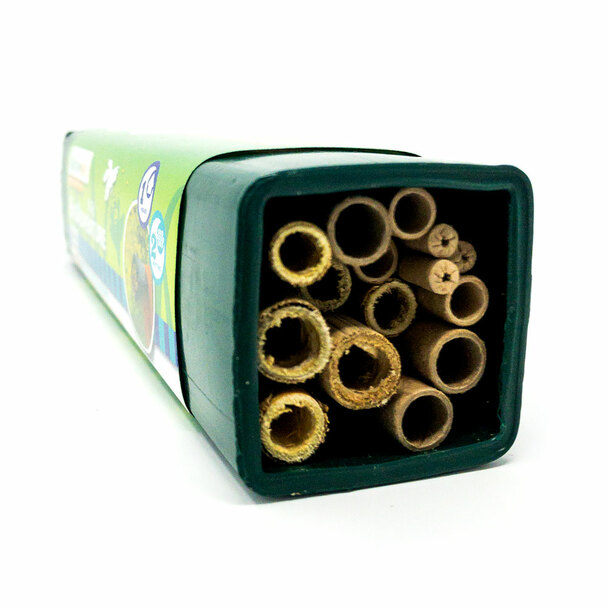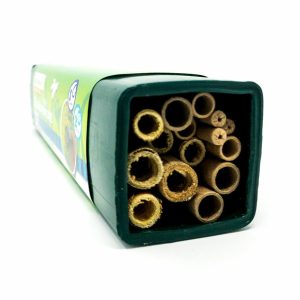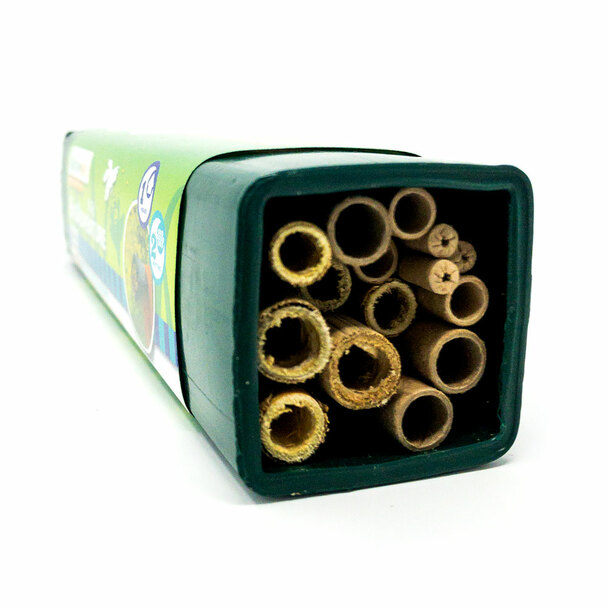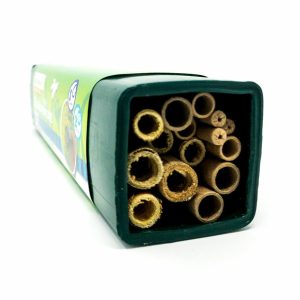 This is a small instant bee hotel for small gardens. Spring and Summer Wild Bee Adventure Garden measures 2 inches in height, 2 inches in width, and has a length of 8 inches. It comes with a variety of mason bee nesting materials. The materials are of different sizes, and an irregular pattern used in arranging them. This gives mason bees a variety of sizes to choose from and helps each bee find its tube easily. Spring and Summer wild bee adventure garden supports wild pollinators very well by providing them with a suitable habitat.
Crown Bees is a reliable provider of mason bee nesting solutions. In this wild bee adventure garden, the company includes tubes suitable for up to 5 different types of solitary bees. The reeds and tubes are easy to open for health checks and to extract mason bee cocoons.
Notable features of the mason bee house include:
A sufficiently wide variety of nesting hole sizes is provided in the tubes of this mason bee house. Additionally, the materials used to make the various nesting tubes are liked by mason bees. They, therefore, take to the bee house quickly and establish a sizeable population within a short time.
You receive well-written and detailed instructions with the bee house upon your purchase. An improper setup would make the house unattractive to mason bees and therefore not serving the purpose for which you purchased the house. Printing instructions and including them in the purchase package ensures you set up this mason bee house properly, and with ease so that it serves its purpose well.
Check Price
9. Crown Bees Spring and Summer Wild Bee Hotel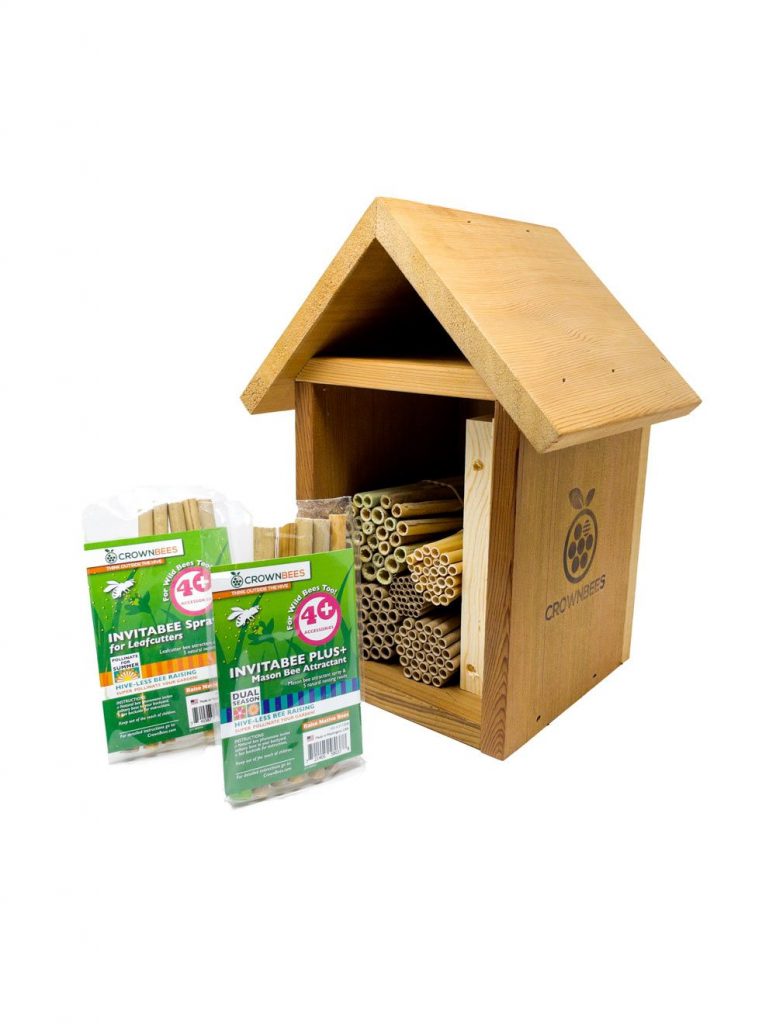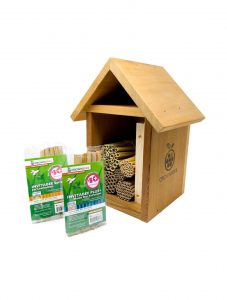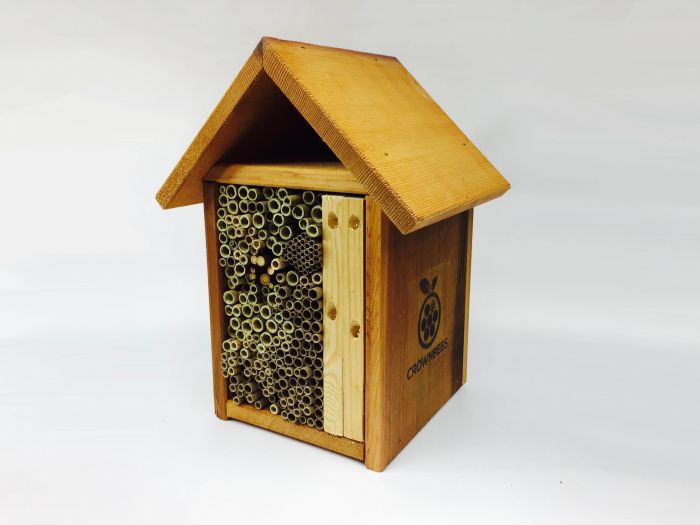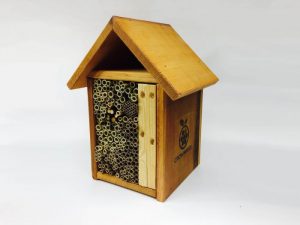 Use the Spring and Summer wild bee hotel to provide nesting habitat to local mason bees in your area. This mason bee house comes with nesting holes of more than one size. They give your mason bees the variety they deserve when choosing their nesting tubes. Nesting materials of more than one type are used in this mason bee house. It is able to provide nesting for more than one type of bee. Leafcutter bees can be kept in this mason bee house too.
This mason bee house is built in the tower bee house design. It measures 14 inches high and 10 inches wide. Its length is about 9 inches. The manufacturer sells the mason bee house with some InvitaBee pheromone attractants. They are useful for bringing in your first inhabitants of the mason bee house. In the final bee house setup, you have the options of using different diameter tubes in the nest.
Purchase of the bee house gives you 30 bee tubes of 4 mm diameter, 30 tubes of 6 mm diameter and 30 tubes of 8 mm diameter. Included too are 30 natural reeds. 2 solid wooden boards are also provided. A very clearly written and detailed instructions sheet is included in the package you receive. It is useful for setup of the mason bee hotel and its installation in your chosen location.
Check Price
8. Crown Bees Cabin Bee House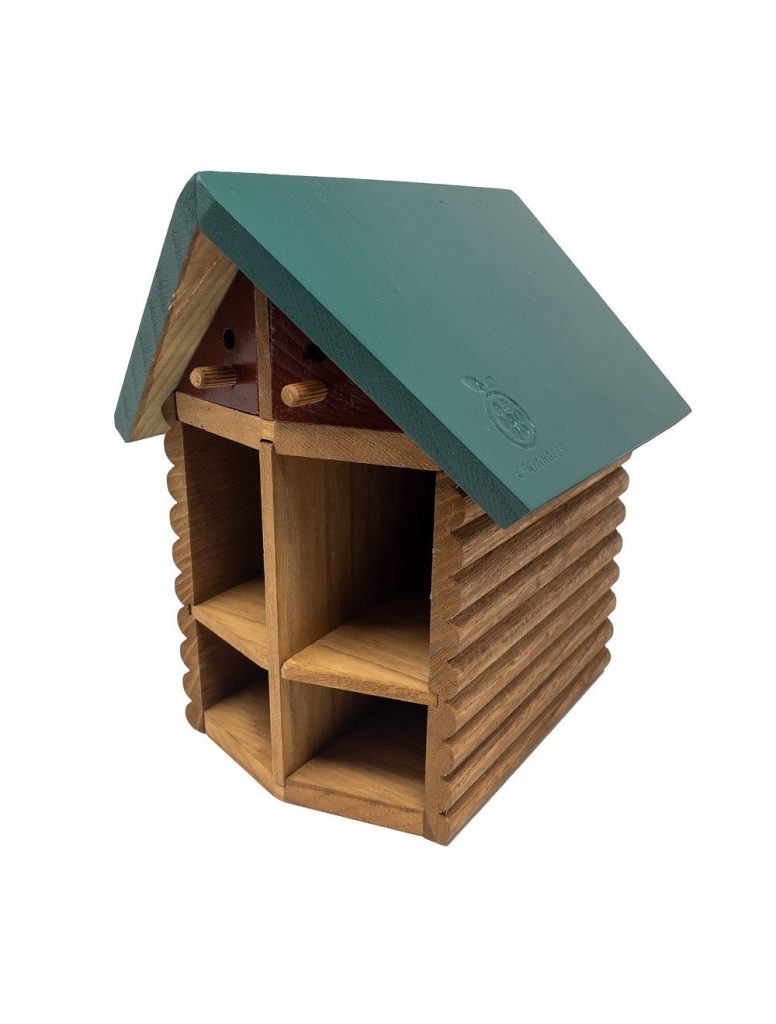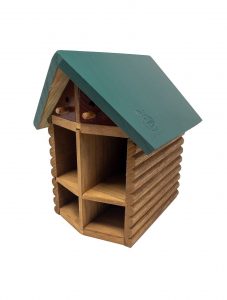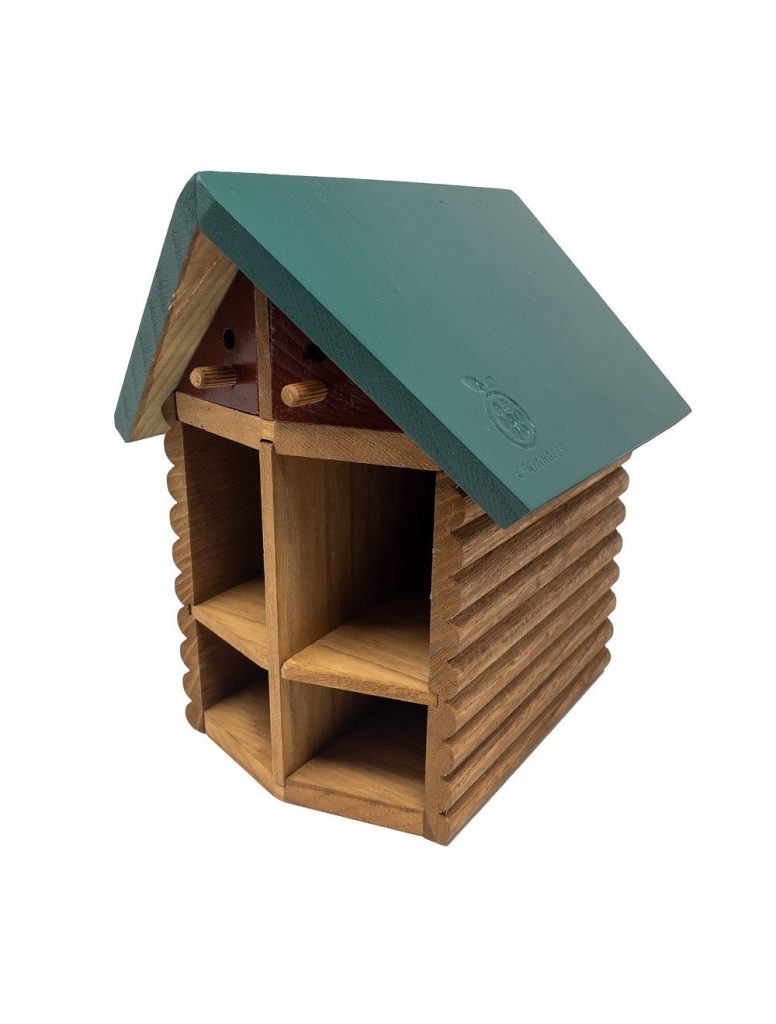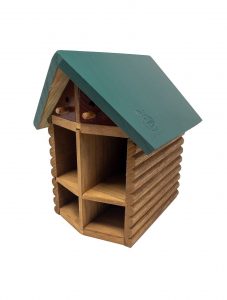 Cabin bee house is a brown and teal-colored mason bee house. It is built to resemble a cabin, thus its name. This bee house is made and sold by Crown Bees. Its sides, roof, and floor are made using wood from Paulownia trees. This makes the cabin bee house strong and light in weight. Its design features a gabled roof with a high apex and six compartments for various mason bee rearing purposes. Its sides are ridged on the outer surfaces. All inner surfaces of the house are smooth and flat.
Two bottom-most compartments are smaller than the middle compartments. They are square-like in cross-section. The middle compartments are bigger and rectangular in cross-section. The uppermost compartments of the house are rectangular in cross-section. They are directly below the garbled roof part of the bee house; thus their rectangular cross-section. A sloping roof on this bee house keeps your mason bees and their cocoons dry at all times. Even in heavy rain, no water will get into the main area of the mason bee house and wet it up.
Notable features of this cabin bee house are:
Twin-attic mason bee hatchery drawers at the uppermost top of the bee house. These are great for keeping your mason bees' cocoons safe until the mason bees are ready to emerge by themselves.
Each Crown Bees Cabin Bee House holds up to 130 mason bee tubes. Using large natural reeds in your mason beekeeping, this bee house can hold up to 100 reds. It can also be used with common solitary bee nesting wood trays.
Check Price
7. Crown Bees Tower Bee House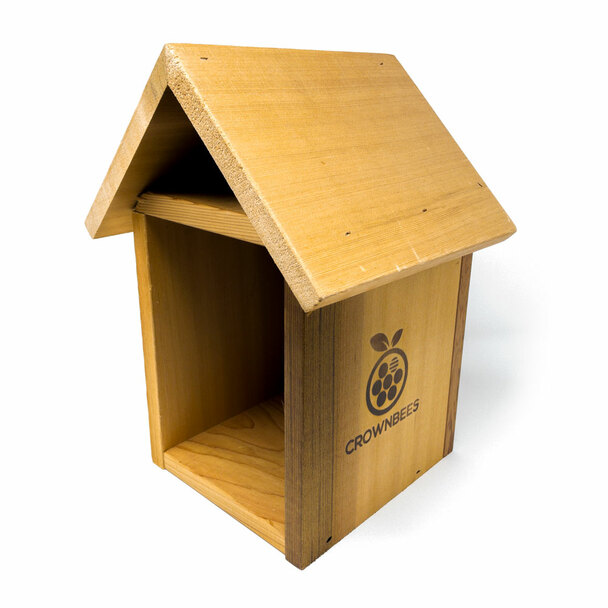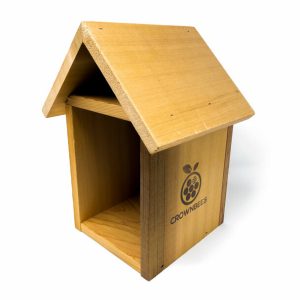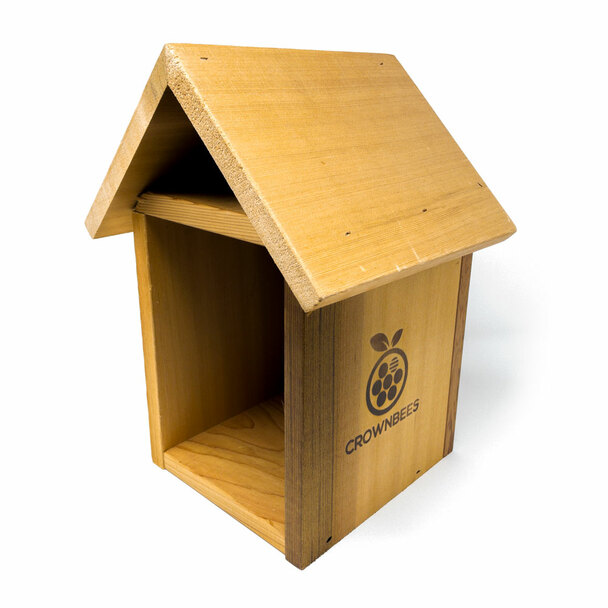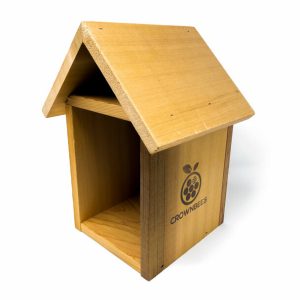 Mason bees will enjoy living in this Crown Bees Townhouse Bee House and give you great pollination services in your garden. The Townhouse Bee House is a wooden mason bee house with a stylish roof. It has two compartments for mason beekeeping. Each compartment is of its own size and dimensions. The differently sized compartments, stylish roof, and design of the bee house make it very beautiful and aesthetically pleasing. It is a great addition to your garden since it adds beauty to the garden while simultaneously being a habitat for mason bees.
Making this Town Bee House utilizes Northwest Cedarwood. The mason bee house is all built in the USA so you are sure of its great quality and excellent performance housing mason bees. The house comes with a cocoon release tray so your cocoons stay protected until mason bees are ready to emerge from the cocoons. Its roof keeps everything dry for the best mason bee population growth and maintenance.
Notable features of the house include:
This mason bee house is large. It accommodates up to 300 bee tubes of the 6-millimeters size. Townhouse Bee House can also be used with the popular solitary bee wood trays with ease. You get a space measuring 12 inches in height, 9 inches in width, and 9.5 inches in length with this mason bee house.
You are able to easily install this mason bee house using its keyhole slot. It can go onto a fence or a chosen wall without much difficulty. The mason bee house easily withstands even strong winds once installed in your selected location.
Check Price
6. Crown Bees Chalet Bee House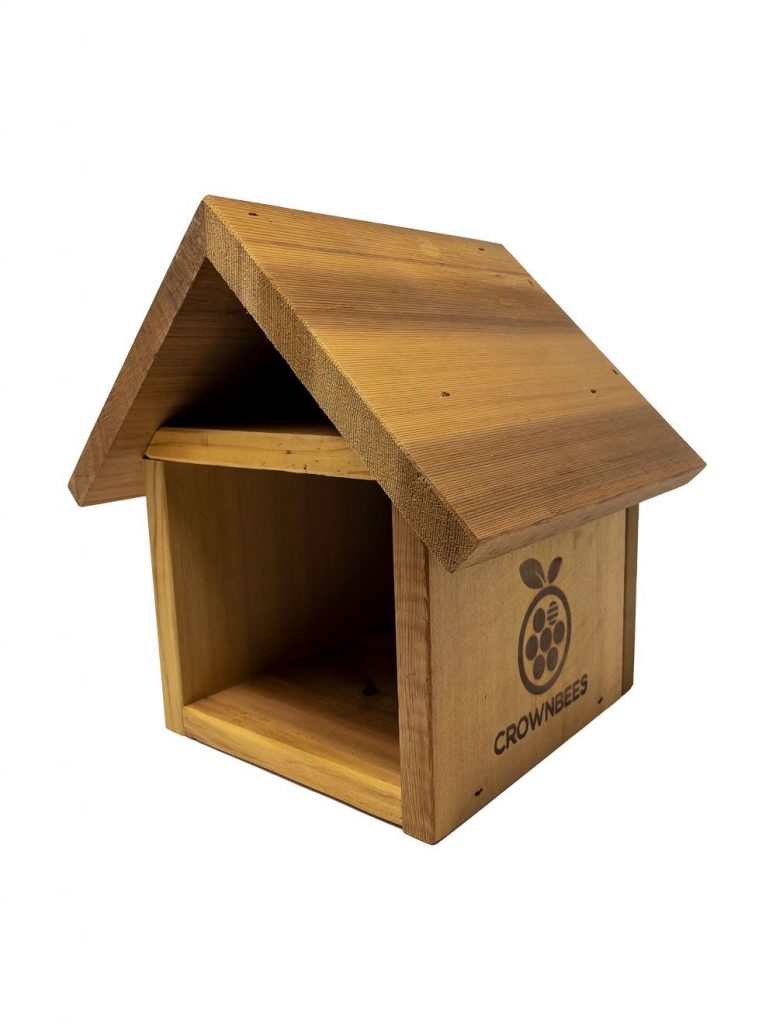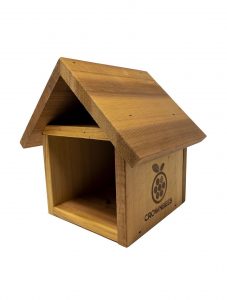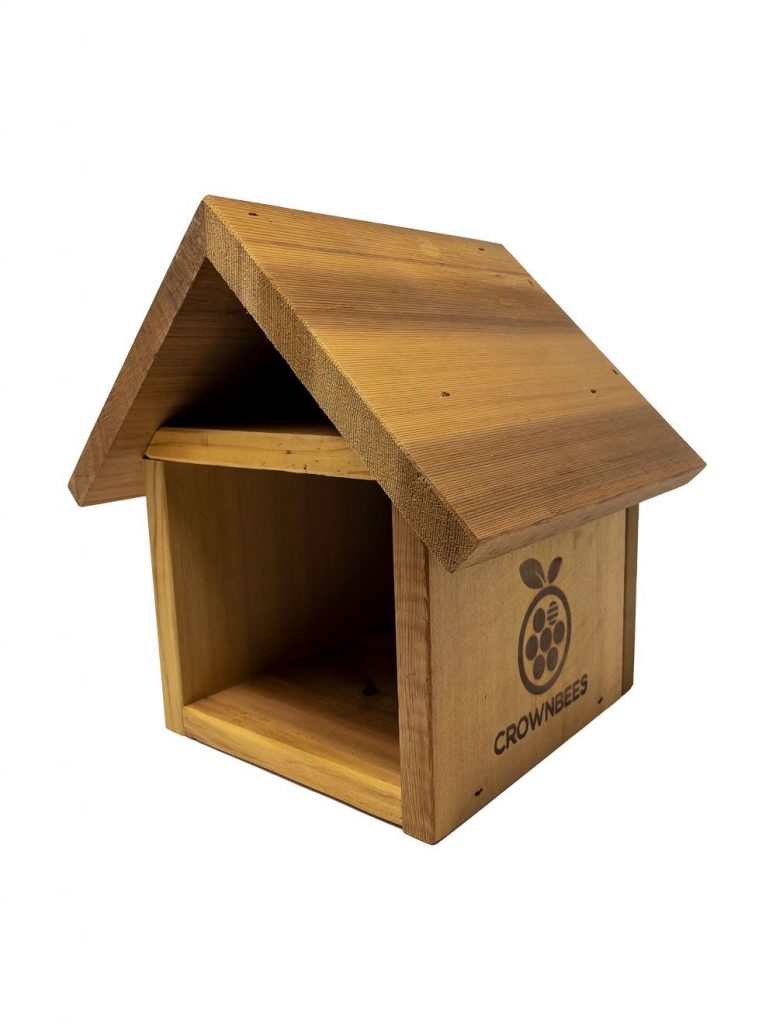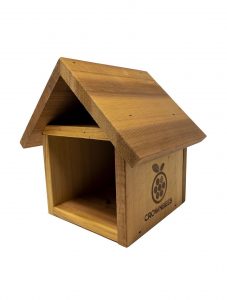 Crown Bees Chalet Bee House is a simple wooden mason bee house. It is simple, yet effective and even aesthetically pleasing. The bee house features a large main compartment and a smaller triangular compartment. Raise your mason bees and other solitary bees with this stylish and classic bee house in your garden. It is made in the USA using the best quality Northwest cedarwood. You are therefore sure of its great quality and effectiveness. Mason bees take quickly to cedarwood, so you will not have problems establishing a population of the bees in this house.
This mason bee house utilizes space very adequately. Chalet Bee House makes use of the triangular attic space under the roof by making it the cocoon release area. It protects the mason bee cocoons well until mason bees emerge from the cocoons. This mason bee house has a sloped gabled roof that keeps the whole bee house dry even with heavy rain.
Notable features of the bee house include:
The large space of the Chalet Bee House can hold up to 120 bee tubes. It also works well with the major solitary bee nesting wood trays. The bee house measures 10 inches in height, with a width of 10 inches and a length of 9 inches.
The construction of this bee house is great. The bee house is well brought together and feels solid. It withstands weather elements well without coming apart. This is a testament to Crown Bees' many years of research and experience making the best quality mason bee habitat products.
Check Price
5. Chalet Bee House & Nesting Material Combos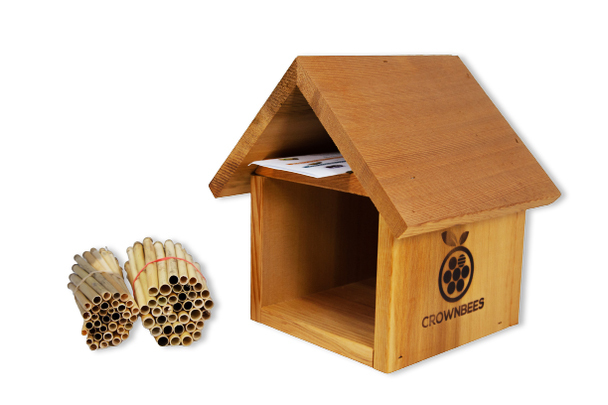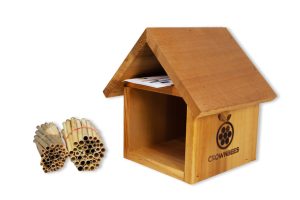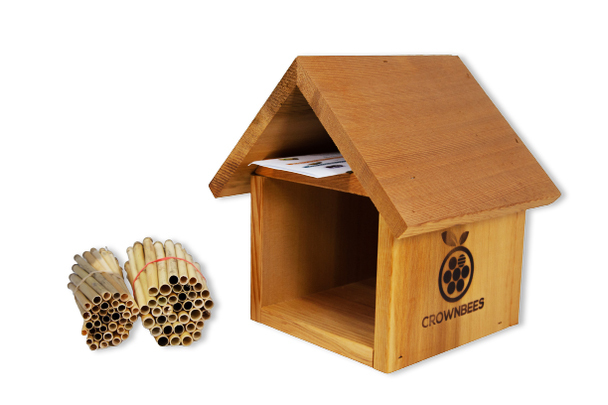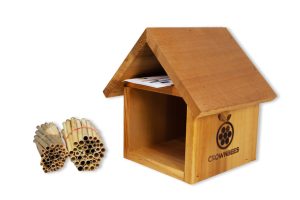 Get this powerful combination of Crown bees' summer chalet bee house and a 78-hole wood tray set for your mason bees. The bee house is easy to set up in your selected location. Its design and construction make it effective as a mason bee house and ensures it stays dry even in heavy rain. The 78-hole wood tray set goes into the main compartment of the summer chalet mason bee house with ease.
Crown Bees has done well in coming up with this combination of mason bee house and reusable wood tray. The 78-hole wood tray provided in this package is enough space for many mason bees. This makes the summer chalet and 78-hole wood tray set a reliable habitat for mason bees. It is great for when you are starting your mason beekeeping. Over time, find more tubes and add them to the house so you make use of space left unused after installing the 78-hole wood tray. The wood tray gives you 6-millimeter holes for your mason bees and other solitary bees you keep.
Notable features of this mason bee house set include:
Summer Chalet and 78-hole wood tray set are made using Northwest cedarwood in the USA. It is therefore reliable and mason bees easily take to the chalet. They establish a colony quickly in the Summer Chalet mason bee house.
The wood tray set included in this package is reusable. It comes apart easily for cleaning and cocoon collection. Once you have removed cocoons, putting the tray back together is easy, as well as reinstalling it in the Summer Chalet mason bee house.
Check Price
4. JCs Wildlife Small Poly Lumber Bee House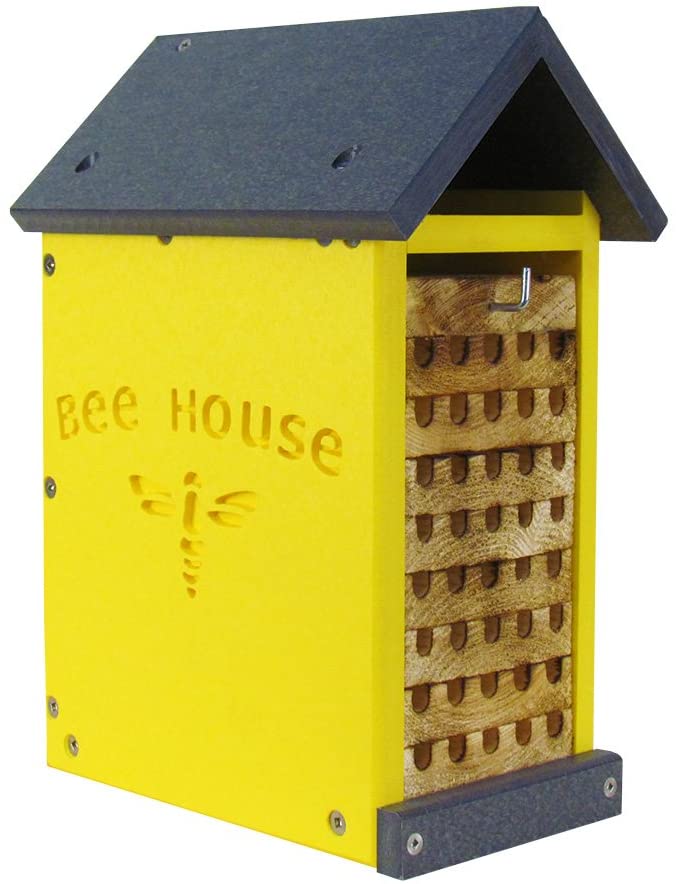 Beauty and functionality define the JCs Wildlife small poly lumber bee house. It comes in a mix of a bright yellow color on the side and a grayish blue roof. The grayish blue is also found on a bottom section of the mason bee house. On the sides of the bee house, an engraving showing a bee and the words "Bee House" are engraved. It is made in the design of a regular house with a garbled roof. The section that houses mason bees is rectangular in cross-section ,with the longer side of the rectangle making up the height of this bee house. A triangular space is left between the body of the bee house and the roofing section.
To make this bee house very functional, the manufacturer has used wood that is is friendly to mason bees. Sectioning of the wood has been done to give maximum space for the bees to make a nest in this bee house. The bee house is multi-tiered with 8 removable panels. The panels are made using charred pine wood that is very attractive and comfortable for mason bees. Furthermore, there is a locking block at the bottom to prevent the tiered panels from falling off. The block is easy to put on and remove; it attached to the bee house using screws.
This mason bee house is made using recycled poly-lumber in some of its parts. The material is durable and strong, so the bee house can take some minor rough handling. JCs Wildlife includes an instructions sheet with your purchase. You can therefore put it together and use it with ease. You do not need specialist tools to get the job done.
Check Price
3. Woodlink 28551 Cedar Mason Bee House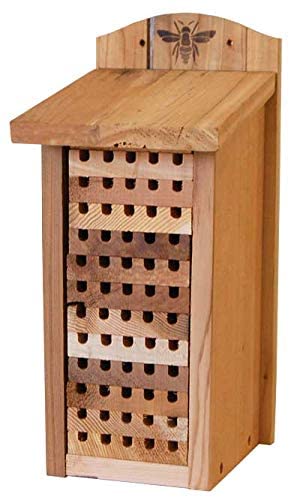 The Woodlink 28551 cedar mason bee house is a quality pollinators' house for gardeners and homeowners. It is large and fits many mason bees at a time. The mason bee house is made using wood on all sides. Panels making the sides and top of the bee house are thick enough to prevent water entering it. They may absorb some water but cannot let the water through to eggs, stored food or cocoons of mason bees. Woodlink has made this mason bee house in a simple rectangular shape with provision for hanging it on walls and under roof eaves. The bee house has a flat rear face to keep it flush against walls. The front features heavy duty trays that are easy to remove. You can therefore harvest mason bee cocoons from with ease.
Over on the front of the Woodlink 28551 mason bee house, is a sloping wood panel that drains water down and away from it. Five columns of nest tubes run down the front, with each column having 12 holes in it, totaling 60 tubes in total. There is enough space for a large number of mason bees in one nest.
This Woodlink mason bee house is made using heavy cedar wood. This is natural wood that attracts mason bees and is friendly to many types of bees. The wood is also charred, which adds to its attractiveness and suitability for the keeping of mason bees. The mason bee house also features hinges, for ease in opening up the house whenever you need to.
Check Price
2. JCs Wildlife Double-Wide Poly Lumber and Pine Mason Bee House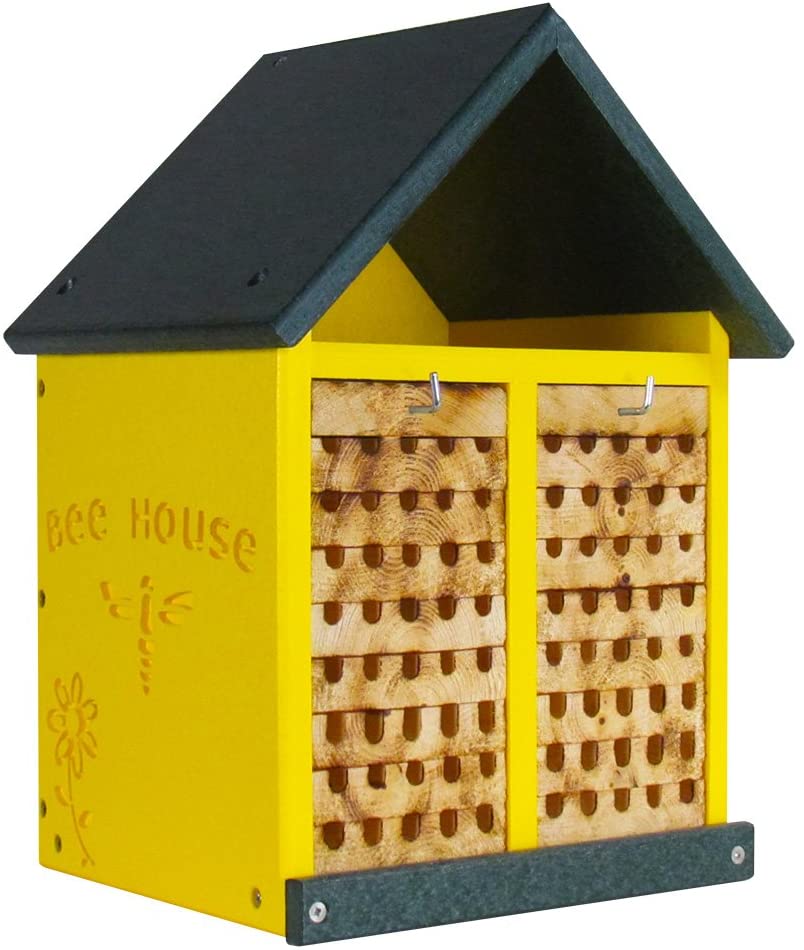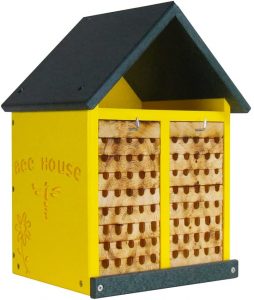 Mason beekeepers get quality craftsmanship and an eco-friendly solution in the JCs Wildlife double-wide mason bee house. It is yellow and bluish-grey in color and made using wood and poly-lumber. This bee house is made and sold by JCs Wildlife, a company which prides itself in making the bee house in the USA, supporting local businesses and providing employment. You are promised effectiveness, functionality and durability.
This mason bee house has a garbled roof with 2 sloping sides and a locking block. The garbled roof, sides and bottom panel are made using poly-lumber, which is waterproof. It keeps the inside of the mason bee house dry, even when weather conditions would want otherwise wet. The space between the body of this bee house and the roof, allows for insulation of the body from sunlight. Removable wood panels form the core of this bee house. There are 16 panels separated into 2 sets. The 16 panels provide enough space for many mason bees. In a few seasons, you can have mason bees filling the house and providing you with excellent pollination services.
The removable panels used to house mason bees are made of pine wood. They are charred to make them more alluring. Furthermore, JCs Wildlife avails to you a well written and detailed instructions manual upon purchase. The manual is useful for beekeepers that have not set up, assembled or used a mason bee house previously. It makes the mason bee house easy to use and suitable for both beginner and experienced beekeepers.
Check Price
1. Woodlink Western Cedar Mason Bee House with Replaceable Tubes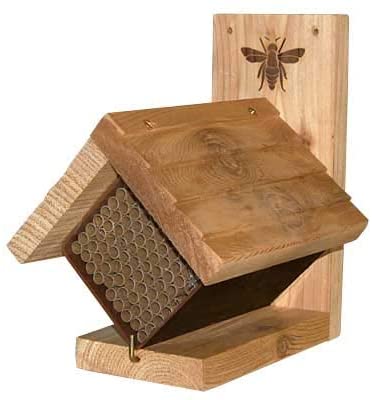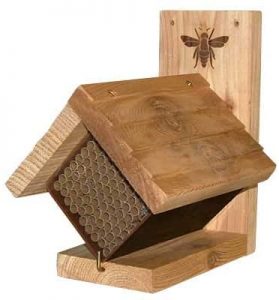 Mason beekeeping is useful for many gardeners and homeowners seeking reliable yet cost-effective pollination. Rearing mason bees to use on small patches of plants ensures your plants are well pollinated. You do not have to rely on pollinators such as wind, wild bees and honey bees that can be impacted by various factors and let you down. The Woodlink Western Cedar mason bee house with replaceable tubes is an exclusive habitat for mason bees alone. All the tubes used are of a size that mason bees like.
This mason bee house is a great choice for both beginner and experienced beekeepers aiming to install it under some roof or the eaves of their houses. It can also go under the roof of your garden shed. Once it is time to harvest cocoons from this mason bee house, opening it up and extracting the cocoons is easy.
The Woodlink Western Cedar mason bee house is made in the USA and shows excellent craftsmanship. It is put together using wood and screws as the only metallic parts. The tubes used are made of fiberboard material and are held in place using plastic sheets. This mix of materials makes the bee house strong, durable and very effective. The wood used is western red cedar that is very good for use with mason bees. It attracts mason bees and does not cause them problems during their stay.
The design of this mason bee house is simple yet functional. It entails a diamond-shaped bee house with a garbled roof mounted on a wooden base. The base goes under the bee house, and also over the rear face of the bee house. The panel of the mounting board supports the weight of the entire bee house. It also makes it easy to attach it to a wall.
Check Price
The Basics of Mason Beekeeping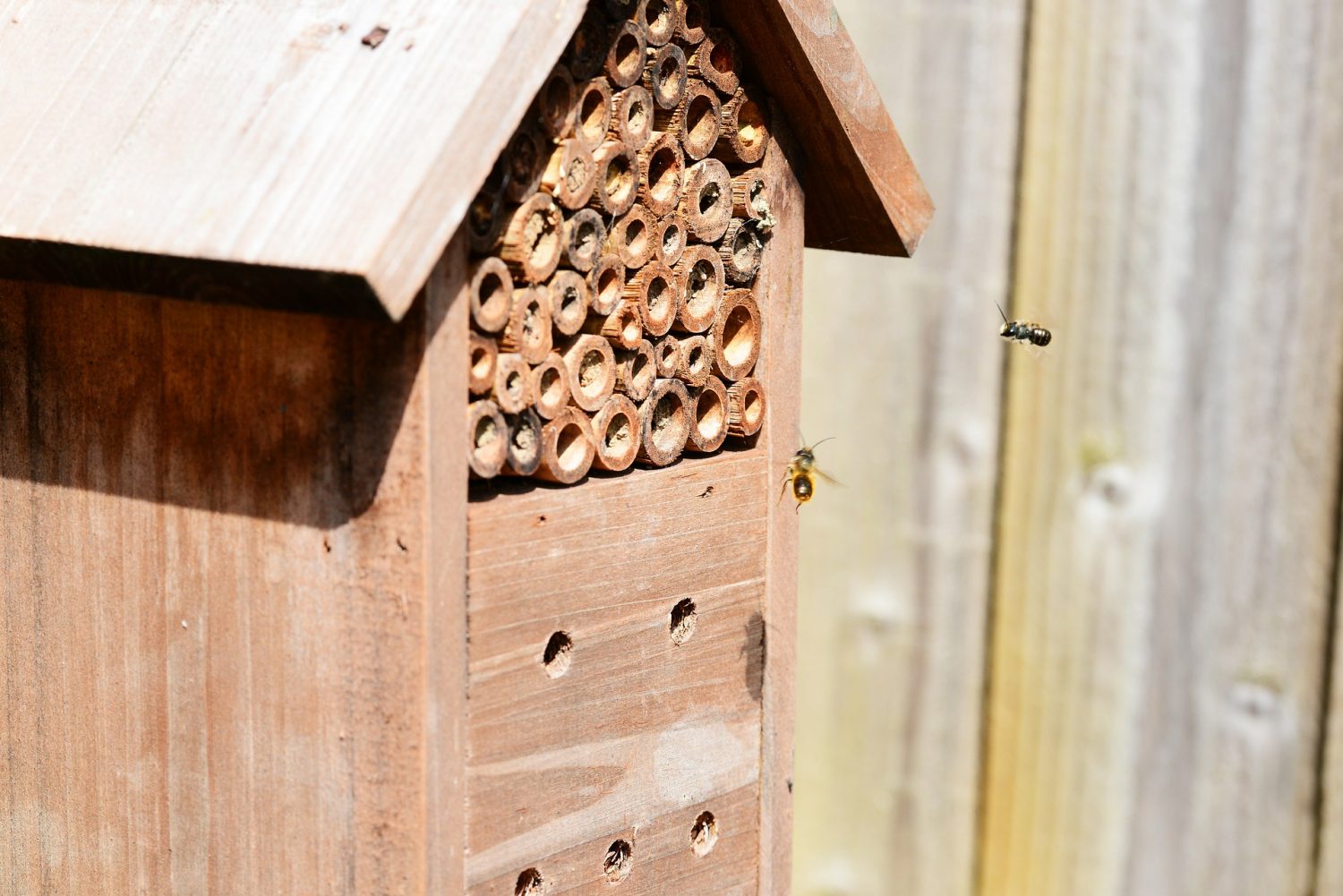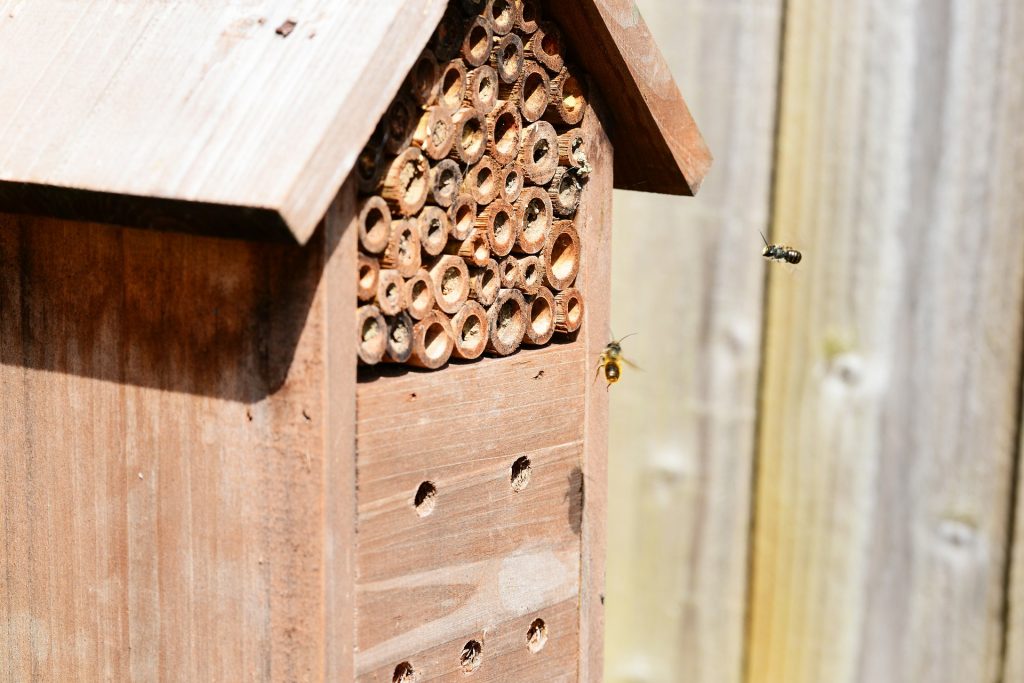 Keeping mason bees in your home, garden or farm requires you to learn some basics of mason beekeeping. You should also read up on the care and management of mason bees. Your mason bee house may get clogged in some places with the passage of time. Mason bees eggs hatch after 10 days. The larvae eat the food around them and then spin a cocoon. Adult mason bees then emerge from this cocoon.
Some mason bee nest owners change the location of their mason bee houses. Once your mason bees have laid eggs, filled the chambers and plugged them well with mud or clay, they die off. You will notice less activity by adult bees in and around the mason bees nest. This coincides with the end of summer.
The mason bee eggs hatch and continue the life cycle in the mud plugged mass of the nest. Production of mason bee cocoons requires you to break apart the nest once cocoons have formed. You may explore this practice with your mason bees for cocoon sales or garden and farm pollination. The practice of taking apart the nest and cleaning them keeps your nest free of mites. Such mites eat the mason bees as they are developing in the cocoons.
Mason bee cocoons attacked by mites not produce an adult mason bee. After breaking up the nest, viable cocoons float to the surface of water while dead cocoons sink. This is how you know which cocoons to keep and which to discard. You may lightly clean cocoons that have mites on them.
Mites in mason bees are transmitted from one bee to the next. This happens during contact in the nest and during mating. The mites may infest your nest and remain for a long time reducing the yield of the nest. Various methods of controlling mason bee mites are available to beekeepers. They help prevent infestation and clear them when they happen. The best method of control is cleaning the cocoons if you note infestation. Stacked nesting houses and mason bee nesting blocks make the collection of mason bee cocoons more effective and easier for you to carry out.
Mason bees love narrow spaces such as in naturally occurring cracks, gaps and cavities. They also use holes made in wood by wood-boring insects alongside hollow stems. In their reproductive and life cycle, male mason bees see the world before their female peers. They emerge from the nests earlier and stay near the nest waiting for females to emerge. The female mason bees then mate with adult males that die soon after. Mason bees are solitary. They are not aggressive but will sting when wet, trapped or squeezed. Male mason bees do not have stingers. Additionally, the stinger of the female mason bee is not barbed.
Once you have set up your mason bee house, do not move it again or change tube arrangement. Mason bees have a hard time with perfect alignments. This is unlike honeybees that find it easy to find their way around perfect alignments. Some mason bee houses use an imperfect arrangement and alignment of mason bee nesting tubes. This makes it easy for individual mason bees to find their tubes and holes. A 3D setup of the mason bee tubes in your nest is a great way to assist mason bees in their navigation around the nest.
How to Set up a Mason Bee House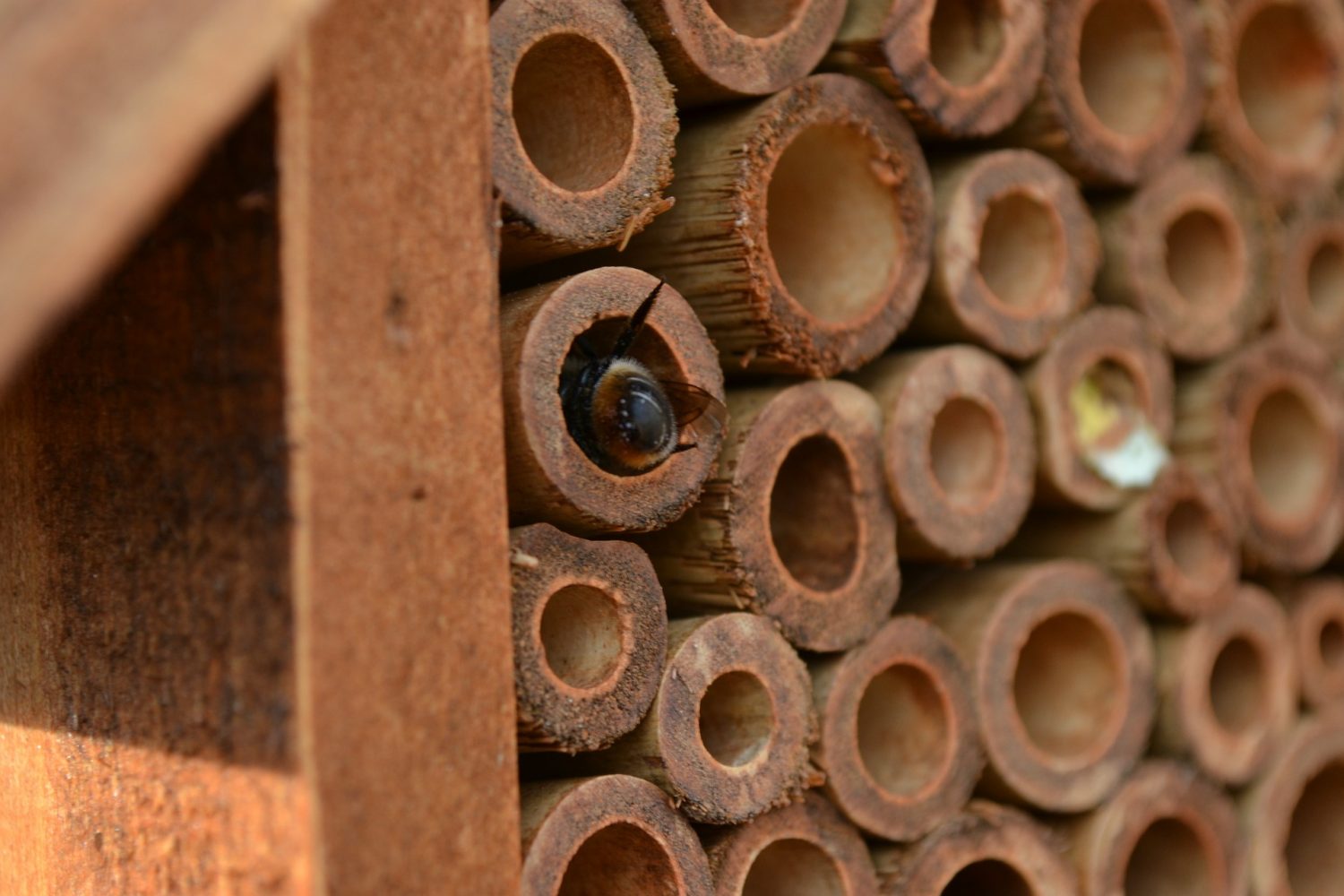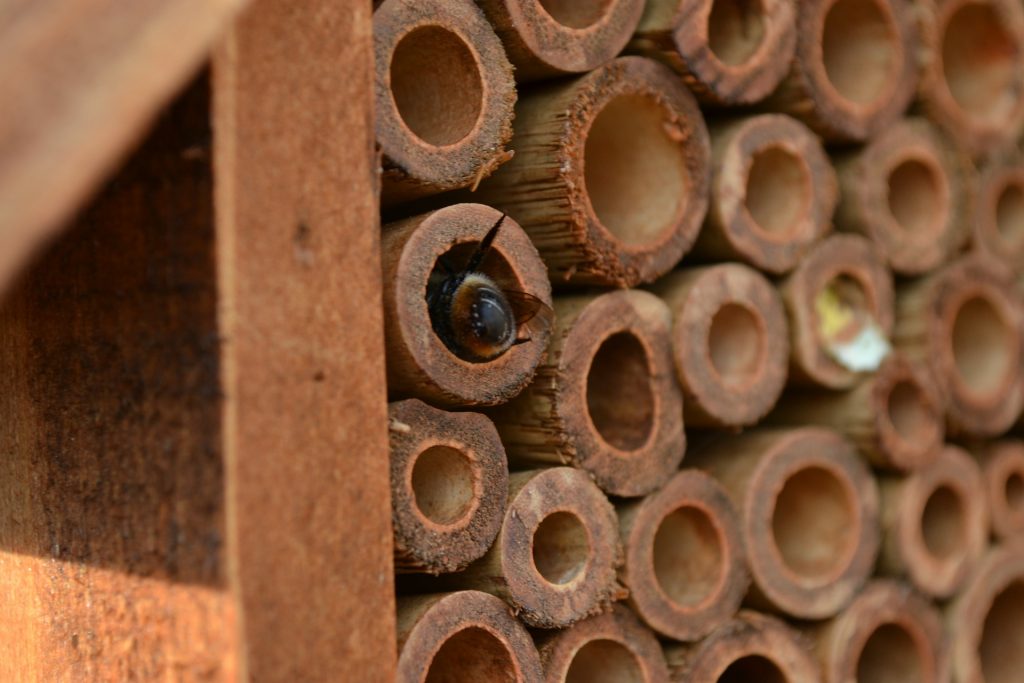 In this section, we are going look at how to set up a mason bee house, the installation and the proper placement of a mason bee house.
As we've seen above, there are many types of mason bee houses available to beekeepers. Indeed, beekeepers and farmers looking at having mason bees around them have a variety of mason bee houses to pick from. The materials used to make these mason bee houses vary by maker and beekeeper preferences. You may make your own mason bee house or buy one that is ready to go (any of the above are a good choice). Popular designs are the cottage style that uses wood and the tear-drop shaped design that utilize bamboo. Some mason beekeepers use paper products of various forms and hardiness to keep mason bees.
Some points to note:
Mason bees love to make their nests close to each other. Mason bee houses sold to beekeepers take advantage of this behavior. They have various sizes available for purchase.
Bigger sizes of mason bee houses and nesting supplies mean more mason bees over time. From your starter population, the mason bees will gradually take up the whole nest.
You may start a new nest once your first mason bee house is full. This is only necessary if you have the space for an additional mason bee house and feel you should be having more mason bees for your needs.
Large scale mason bee keeping for pollination purposes requires you to have a number of nests to cover larger land areas.
The cottage style mason bee house style gives your mason bee nest superior protection from the weather and allows you to easily place the mason bee house. Beekeepers get more likelihood of colonization with bamboo. Some beekeepers have tried out a blend of the two and got excellent results in keeping mason bees. They use a wooden exterior with a bamboo core. Bamboo is a natural wood for mason bees and they readily take to it.
Having a mason bee house and installing it are the start of an interesting journey for both amateur and professional beekeepers. After acquiring a mason bee house and setting it up, you may wait for mason bees to discover the house by themselves or purchase a starter population. Mason bees are sold in cocoon form. Starting a mason bee nest using mason bee cocoons requires you to place them into the mason bee house and they will hatch in there. The entire nest will mate and lay eggs in your nest. Once mason bees colonize a nest area, they rarely leave.
The rate at which the mason bee population grows is not as large as that of honeybees. This makes mason bee management very important. The average area covered by a mason bee as an active agent in the environment is 100 meters. A single mason bee house can thus hold enough mason bees to cover a wide area. In backyard beekeeping, mason bees will benefit you and your neighbors. They are friendly and are not likely to get you into trouble. Mason bees are known to wander. Those that travel too far may not find their way back to the nest. Lost mason bees may start building a new nest in a new location.
When to Install a Mason Bee House
A mason bee house takes many shapes and forms. In the wild, mason bee nests occur in a variety of sizes. Commercial mason bee houses use bamboo tubes bundled together to provide a place where the bees can lay eggs. They gather pollen and nectar and seal it up with an egg in a cell. One mason bee may make several such cells in a series within a single tube before seeking out a new location for a nest. Adult mason bees die soon after laying eggs and setting up a nest. The younger generation emerges from the nests to take over.
Where possible, let the morning sun hit your mason bee house. It helps warm up the bees and gets them to start being active early in the day. Bees, including mason bees, are ectothermic. They depend on the environment, and muscle activity to heat up their bodies.
Beginner beekeepers starting mason beekeeping should have their mason bee house ready for spring. They should also purchase cocoons and have them ready.
As spring advances and flowers increasingly bloom, place the cocoons in the bee house or mason bee nest you are using. Refrigerated cocoons of mason bees do not require thawing. They will be warmed up by the spring sun and continue development.
Timing is very critical in mason beekeeping. If you miss spring, especially with refrigerated cocoons, your mason bee population may fall. Mason bees need ample resources and time to mate, lay eggs, collect food resources and seal up chambers. If any of these important mason bee life cycle processes are not done properly, the whole nest may fail and produce no offspring the following season. This is a major contributing factor to mason beekeepers preferring to leave the nest within the mason bee house throughout the seasons. The bees follow their natural life patterns through both hot and cold weather. Rearing mason bees and allowing them to follow natural life cycles gives excellent results and increases their population numbers.
Where to Place a Mason Bee House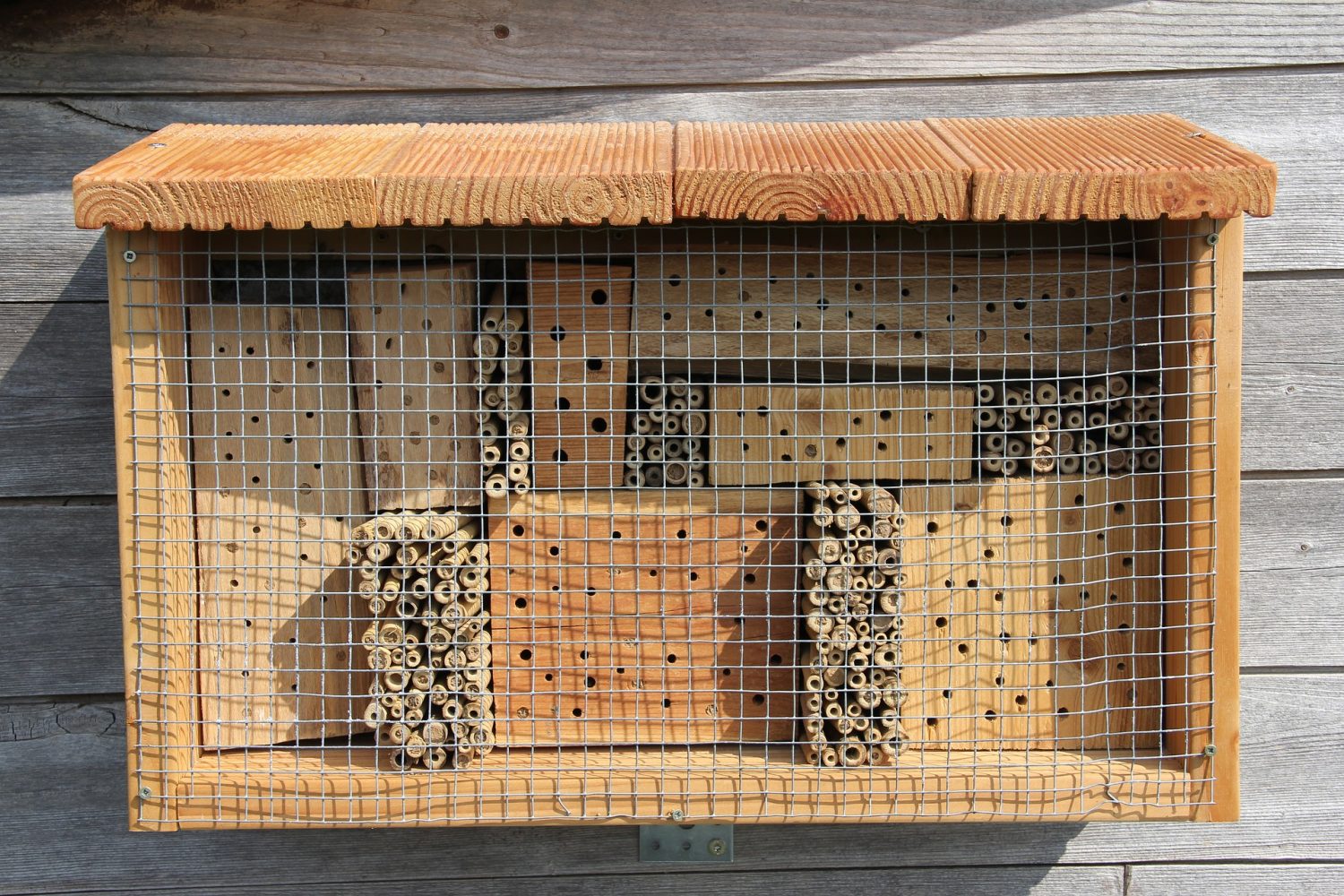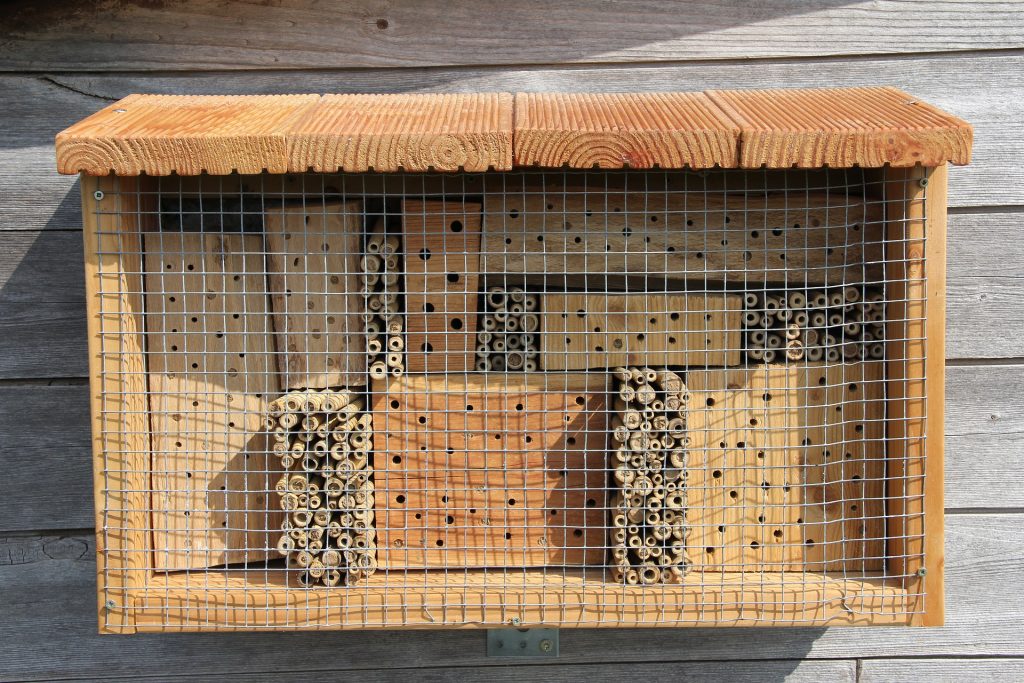 Houses for mason bees should be a few feet off the ground. Optimally, this is 6-7 feet above the ground. You should also protect your mason bee house from the elements. Beekeepers and farmers with mason bees often choose to locate the mason bee house under the eaves of their garages, sheds or houses. If you cannot place the it under an eave, go for one that has its own roof. It should be an adequate roof to prevent water entering the mason bee house.
Some mason bee house designs in production have tops that turn into overhangs. These are the Cube Mason Bee house, Slant-roof mason bee house and the Hex Mason bee house. These three mason bee house types can be hung on a fence post or tree.
Beekeepers who use paper products in their mason bee nests risk losing more in a predator attack.
Mason beekeepers facing squirrels and other small animals may use a protective layer of chicken wire over their mason bee house. This prevents the animal from pulling tubes and chambers from the nest and eating the contents.
For purposes of providing food for mason bees, beekeepers should place their mason bee houses near plants. Beekeepers do not need to have specific plants to keep mason bees. The bees adapt well to a variety of trees and plants. Native wildflowers that you can incorporate in the area near or around your mason bee house are recommended.
Your mason bee house is best placed with its back towards a flat surface. This seals up one end of the tubes and leaves entrances to one side only.
The bee house should be put in a location where it receives some significant amount of sunshine and warmth. Mason bees love a little warmth for an early start to the day. Popular locations are facing the direction the sun rises from. It allows the mason bee house to be illuminated and heated early in the morning. As the day progresses, the house can then be under shadow so it remains cool. Early light and warmth makes mason bees start the day and expend less energy warming their bodies up. In some regions, the south and south east directions are best for location of mason bee houses. Mason bees need to reach a body temperature of 90 0F to start flying.
The location you choose during setting up and installing your mason bee house, should take into account predators and harvesting. Robins are predators of mason bees. Crows, woodpeckers and starlings can also wreck havoc to your mason bee population. Storing away your mason bees nest can protect it from predators when need be. The early mornings are the most vulnerable time for mason bees. This is the time they are warming up. They also get attacked by these predators while out gathering mud and food resources.
Conclusion
Mason bees are known for their beneficial work of pollinating plants and flowers. They are also easy to tame and not aggressive as the honey bee. The best mason bee houses will make it possible for you to attract and keep these beneficial bees in your garden or backyard. They are the structure in which the mason bees will be living. You can use these mason bee houses to keep a colony of for your garden or small farm. You can also use them to keep mason bees as a hobby. Beekeeping enthusiasts that cannot handle honey bees, often go for the gentler mason bees. They play a great role in availing a colony of pollinators in their areas every year. You can keep mason bees in both rural and urban locations using these mason bee houses.
All in all, mason beekeeping is an engaging and rewarding activity for beekeepers. Farmers and gardeners looking to have better pollination also love having mason bees around. You can keep mason bees in both rural and urban locations using these mason bee houses. Use this guide on how to set up a mason bee house to enjoy the benefits of having your own mason bee population. Mason bees can also be turned into an income source as the population grows larger, as you will be able to sell cocoons or nests once you have reached the mason bee numbers you desire.
Do you own any of the mason bee houses on this list? Which mason bee house(s) do you think should be added to this list? Leave a comment below and let us know.