If you purchase an independently reviewed item through our site, we earn an affiliate commission. Read our affiliate disclosure.
It is generally a bad idea for beehives to be placed directly on the ground, for a number of reasons. One, elevating your beehive off the ground can be very helpful as it stops the beehive floor from coming into direct contact with the ground, prolonging the structural life of the hive and minimizing the effects of mold and fungi. Secondly, placing the hive directly on the ground can cause strain on the back due to constant bending. It is for these reasons that hive stands exist, and in this article we'll be reviewing the Ultimate Hive Stand for Beekeepers from Farmstand Supply to see if it's worth the investment.
About the Ultimate Hive Stand for Beekeepers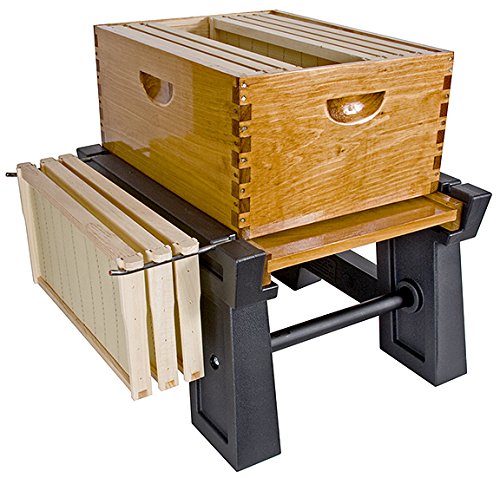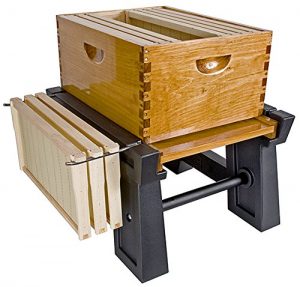 The Ultimate Hive Stand is just that – a hive stand. You place it on the ground then you place the hive on top of it, making it become elevated. The hive stand comes in various sizes – for 8 frame hives and 10 frame hives. It is made of a technopolymer construction that's made to withstand the worst of weather conditions, and standing up against rust and rot.
The Ultimate Hive Stand also has the added benefit of better ventilation for your hive and of course, easier access. Frame holders make inspecting the hive quick and simple. All you have to do is pull out a frame and put it on the holders and then you'll have room to slide the other frames to make sure that no bees are crushed. To keep your hive dry, the Ultimate Hive Stand has a built-in drain that gradually gets rid of all the excess moisture inside the hive.
The hive stand has four large footpads that spread the load of hive, ensuring stability and that your hive isn't all wobbly. Its ballast ports also allow the legs to be filled with sand for additional stability. Additionally, it comes with durable security screws that add extra strength and prevents hive from moving. The material is hard and durable too, easily withstanding the weight of your hive without strain.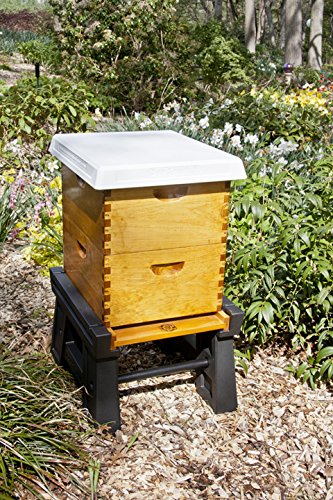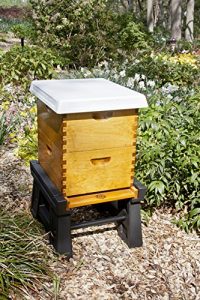 The Ultimate Hive Stand was designed to be beekeeper friendly. It's fast and easy assembly and you can have it shipped right to your door. Within less than two minutes, and with the help of your screwdriver, your hive stand will be ready for use. When not in use (which, if you're a serious beekeeper, will be never), it can be easily uninstalled and does not demand large spaces for storage. Temporarily, when frames are not used, frame holders can be folded out of the way and this gives you enough space for other stands, etc. All of these instructions are provided in its easy to use guide.
Using the Ultimate Hive Stand gives you a better protection as it prevents predators from attacking the hive. Through elevating your hives, insects are less likely to reach your structure. And as far as humans are concerned, this stand gives allow beekeepers to check the hives more conveniently; it is not too high, thus providing easy access.
Conclusion
The Ultimate Hive Stand as a simple design that won't detract from your hive, and blends well with its surroundings with its natural looking texture. As for cost, its price is less than similar products since it is made from recycled materials. It is an affordable yet durable and environmentally friendly product. Its durability will save you from maintaining and repairing your stand most of the time. Lastly, with its technopolymer constructions, the Ultimate Hive Stands never needs painting and will not rot. It is great value for money. To see our rankings of the best hive stands, click here.
Check Price