If you purchase an independently reviewed item through our site, we earn an affiliate commission. Read our affiliate disclosure.
The Niteangel Natural Bee House is a cute little insect habitat built in a house style. It features a double slanting roof covering the area where bees and other insects will stay. The insect house is largely made of wood. It has some mesh covering the uppermost and lowermost sections. This house is a well built shelter for a variety of insects, bugs and bees. The type of bees you will have in this house is however not the honeybee species. Mason bees are the most suited. Some wild bees and other insects might also find refuge inside this house.
For more information on high quality mason bee houses, be sure to check out Crown Bees, a highly reputed company specializing in mason and wild bees in the United States.
About the Niteangel Natural Bee House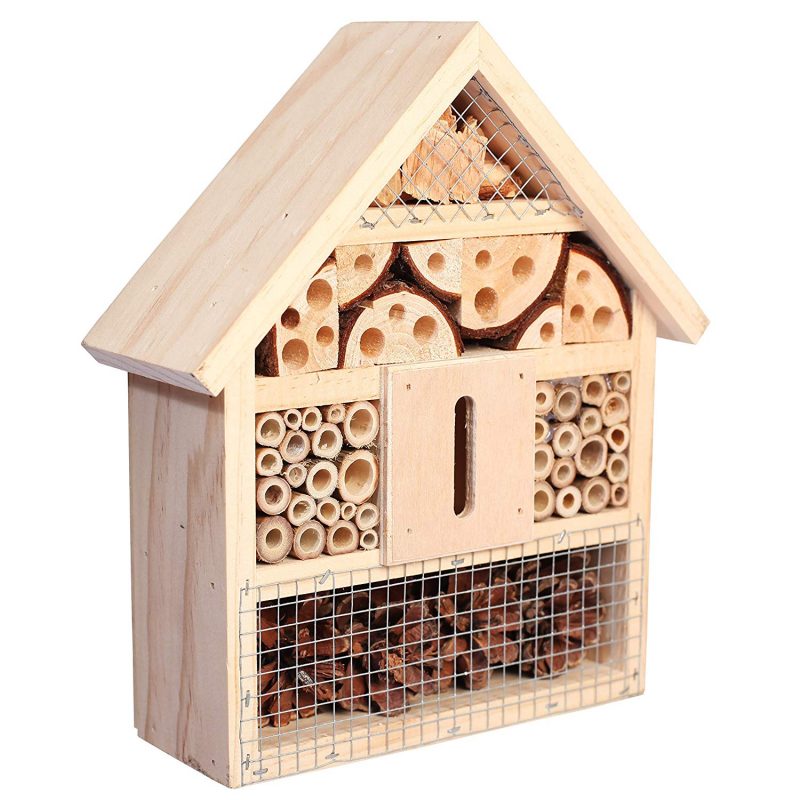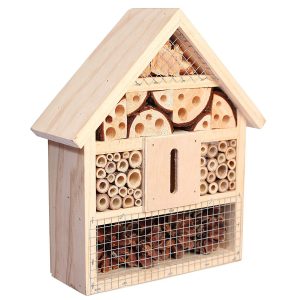 This bee house by Niteangel is handcrafted to very high standards. It is solid and sturdy. The joints are well put together to give the house great durability. Beekeepers and nature lovers are bound to enjoy the benefits of having a variety of flying bugs and bees in their garden. Pollination when you have one or two of these houses is easy in your garden. The bug house is a well thought out market offering to beekeepers and garden owners who have early flowering plants. Mason bees and other bugs get the job of pollination done before honeybees emerge from their winter bunkering down.
The back of the Niteangel Natural Bee House is fully covered. It allows the house to be safely placed against a wall or fence post with no risk of obstructing the occupants of the bug hotel. The front features some mesh that is protection against predators while allowing bugs access to the living quarters of the bug house. The house easily gives refuge to mason bees, butterflies, ladybirds, digger wasps, green lacewings and wild bees.
In addition to security for your bees from large predators, this bee house is built in a design that is not friendly to pests or parasites. It is a secure place to allow you enjoy having mason bees and pollinators around your plot of land. The Niteangel Natural Bee House is quite weatherproof and has the roofing and side panels made of quite thick wood. It is mainly made using weather resistant pine wood, pine cone and bamboo with a dash of wire mesh on some front sections. These attract a healthy variety of bugs, bees and insects to the house.
Pros and Cons
Pros
The house can host a wide range of insects. This allows you to benefit from their varying pollination and life habits. In addition to pollination, wasps living in the house rid your garden of destructive caterpillars.
The house is quite weather resistant. You may provide additional protection for the house in very cold weather of winter, but you can also leave it out with no devastating effects.
It is easy to find a location for the bee house. The best is a place where it can face south. The house is small and only needs little space to nestle. Overhangs are especially suitable locations as they provide the bug house with cover from wind and rain.
An instructions manual is included upon purchase. It is well detailed to help you through getting the bee house set up, located and providing shelter for insects.
Cons
The bee house is a little too small. It is 5 x 2.8 x 8.7 inches (W x D x H) in dimension. It barely leaves enough space for each type of insect that may want to call the it home.
Mason bees in the house may be eaten or threatened by birds feeding on other bugs in the bee house.
This bee house is not useful in mason beekeeping. Beekeepers aiming at keeping mason bees as a commercial venture are not suited by this bee house. It is not only small, but it is not friendly to the harvesting of cocoons. The number of mason bees that can occupy the bamboo tubes section of the bee house is small. They are not economically viable. Additionally, attempts at removing mason bee cocoons from this bee house will most likely leave the bee house damaged.
Check Price and Availability of the Niteangel Natural Bee House
Further Thoughts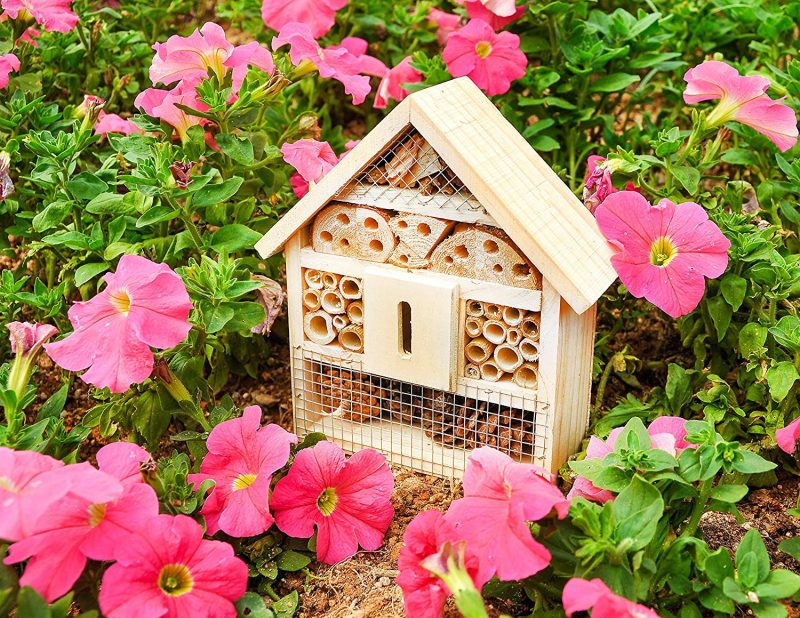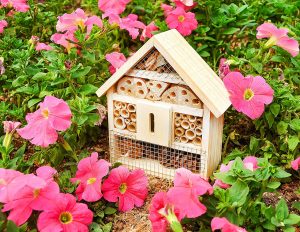 Weighing only 1.3 lbs, the Niteangel Natural Bee House is not heavy. It is easy to hang using simple materials found at home. A nail or screw in your selected location is enough to keep the bug house in place. A small hole in the back of the bug house allows you to easily put the house in location. The hole can be widened to fit the size of nail or screw you are using. Remember to place the bee house between 3 and 5 feet off the ground. It is easy for insects to find it and keeps predators from easily reaching it.
The Niteangel Natural Bee House is a great gift for bee and bug lovers. It is especially suited as a present to gardeners and small scale farmers with small plots of land. The bee house is easy to use by both amateur and professional beekeepers. It is great as a first bee house for those just venturing into mason beekeeping. Children who you are training and teaching to love bugs will also be fascinated by the bee house. It is a good teaching tool or first bug hotel for curious kids. With this bug house, you will stir in the children a love for nature and set them on their first steps towards understanding how nature works.
Conclusion
The Niteangel Natural Bee House comes from a manufacturer with a long list of small pet equipment. The company has served the needs of small pet owners and gardeners for many years. The wealth of experience in the company is seen very clearly in the this bee house. It is well built and very functional. It is a great buy and very convenient for those interested in having a few bugs, bees and other insects around their gardens.
Do you own the Niteangel Natural Bee House? Leave a comment below and let us know what you think of it.
Check Price