If you purchase an independently reviewed item through our site, we earn an affiliate commission. Read our affiliate disclosure.
Honey uncapping knives come in handy when it comes to honey extraction. Technological advancement has had a heavy influence in all areas of the global economy including beekeeping. In the olden days, honeybee combs were literally destroyed so as to extract the honey. This method worked, but it certainly was a destructive way of handling the honey combs. We should bear in that mind that for bees, their main work involves building the honey combs and filling these storage compartments with honey. Therefore, any destruction to the combs means extra work for the bees. The combs are the most valuable beekeeping resources. With technology, honey can now be extracted through highly efficient processes which include the use of centrifugal force. With using any of the best honey uncapping knives as we'll explain in this article, you can be able to prevent any damage to the honey combs.
What is Honey Uncapping?
Uncapping is a process that involves the removal of wax capping from the honey combs. An automatic uncapper is usually used in large commercial operations. This has a turn-around of up to 600 frames per hour which is ideally perfect for such a huge enterprise. However, small beekeeping operations are unable to invest in such expensive technology. The hand-held electric uncapper or the plain honey uncapping knife will suffice for small beekeeping operations.
No matter the technology you use, wax capping should be removed so as to facilitate honey harvesting from the combs. Uncapping makes it possible for the bees to reuse the same cells instead of building new ones. The energy that would have been used for building new combs will now be used for refilling the empty combs.
Honey uncapping knives are an essential implement when it comes to honey harvesting. As stated earlier, you can choose the automatic uncapper, electric knife, or the manual knife that does not use electricity. Electric uncapping knives are the most efficient, but they tend to be quite pricey when compared to the regular ones. However, they are both effective solutions for uncapping and therefore you should stick to what you can afford. Those who are just getting started can start out with a cheaper option, then move to an expensive choice later on. The manual uncapping knife works well even when cold but it is important to dip it in hot water if you want to quicken the uncapping process. You can also use two knives at a go so that they can be switched in hot water when one gets cold.
[ninja_tables id="14627″]
Overview of the Best Honey Uncapping Knives
10. Gooday Honey Uncapping Knife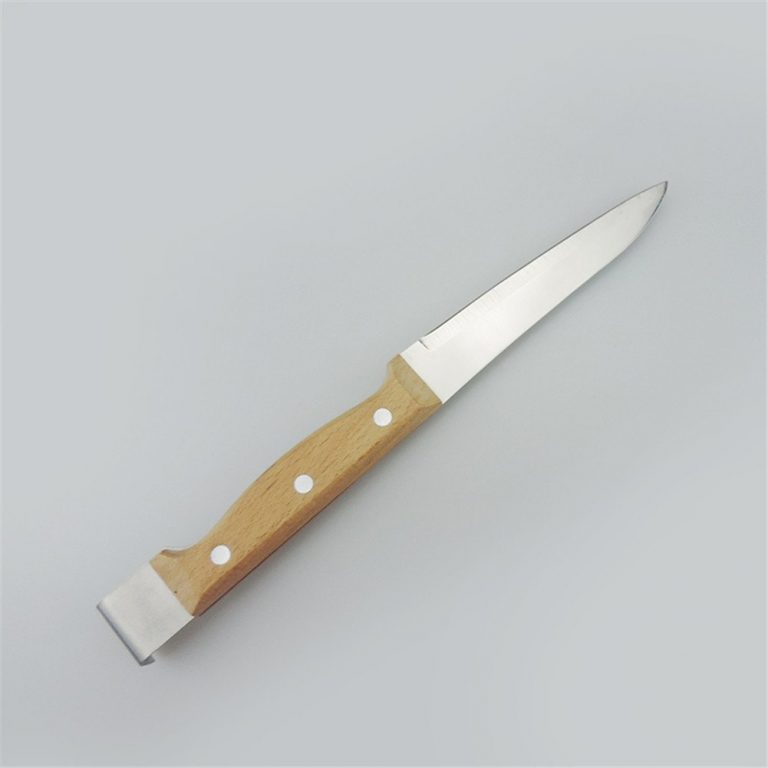 This is a great option for the beekeeper, whether a professional of beginner. It is a stainless steel uncapping knife that has a wooden handle and doubles up as a collection honey tool. Enjoy the benefit of two with the price of one when you invest in this knife.
This uncapping knife makes the process of cutting wax cappings easy. It easily slices through the frames so as to make it easy for the beekeeper to extract the honey from the combs. The knife's total length is 29.7 cm of approximately 11.69 inches. It is a cold uncapping knife and that means it does not require electric power to be useful. It is therefore wise that you purchase two of them so as to make the uncapping process fast and easy but alternating the two when uncapping. As for the price, this knife is affordable. It handle is comfortable to handle and the stainless steel material is hardy and rust-resistant.
Check Price
9. Primeonly27 Double Blade Uncapping Knife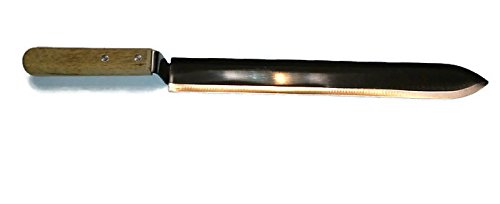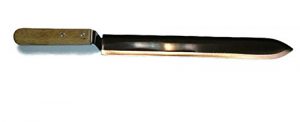 This cold uncapping knife from Primeonly27 features an 11 inch double blade that is designed to make the uncapping process easy and hassle free. This is a great choice for the beginner who has never handled electric uncapping knives. It can also act as a backup for the beekeeping professional who has an advanced uncapper.
This knife is made of stainless steel that is longer lasting and easy to sharpen. It is also food safe and resistant to abrasion and rust. It also has a wooden handle that is comfortable to handle. Since it operates without power, you will always find it reliable and convenient since power outage can never derail your honey harvesting. As for price, this knife is affordable.
It weighs 5.3 ounces and with dimensions of 16 x 3 x 1.9 inches.
Check Price
8. Livestocktool.com Stainless Steel Electric Uncapping Knife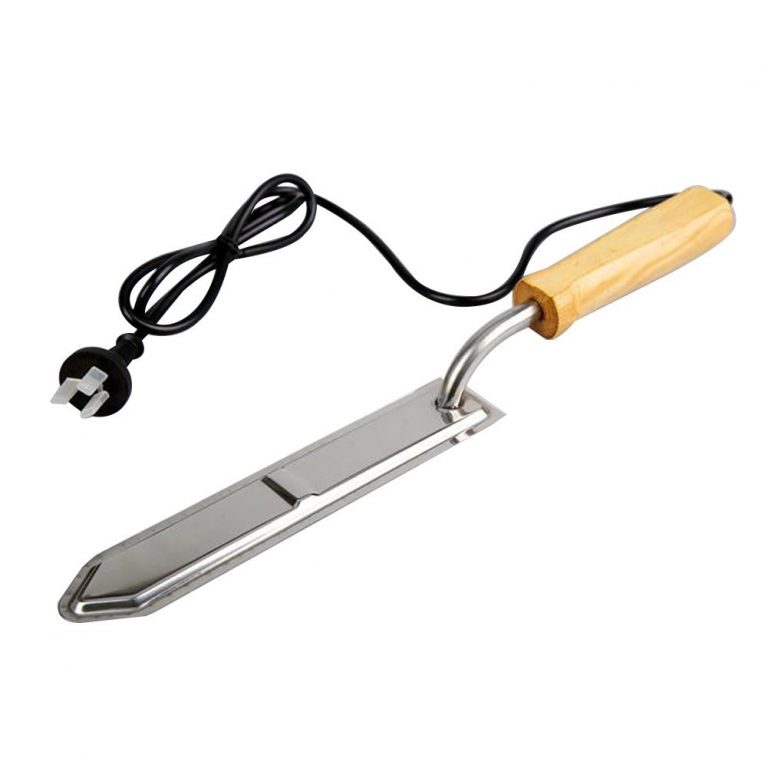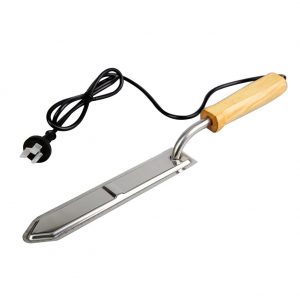 This stainless steel uncapping knife is an electric knife designed for removing wax cappings from honey frames. It is made of stainless steel which is not only durable but also food safe. The stainless steel is also resistant to rust and can easily be cleaned. One of the things I love most about this electric uncapping knife is the fact that it heats up quickly and has excellently designed edges that slides through the frame ends, making a nice cut. It is also takes a little effort to clean it.
Its highest temperature range is from 140 to 160℃. Remember to keep a tub of water close to where to operate so as to allow the knife to cool down when not in use. This will make the process easy and prevent tearing. This knife saves time and effort. Its wooden handle allows for a firm grip and the tool has a total length of 44cm and weighs only 1 pound. Its dimensions are 18 x 3 x 3 inches.
Check Price
7. Kocome Stainless Steel Electric Knife, 110V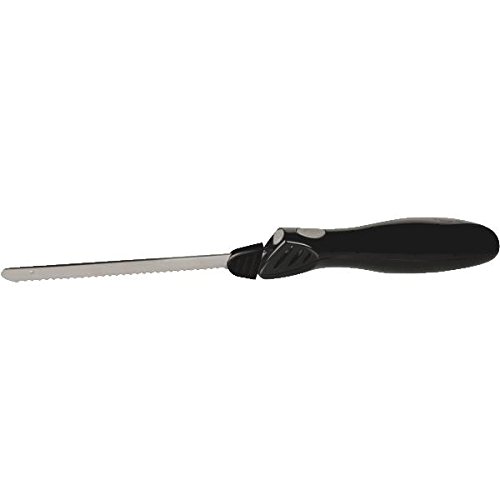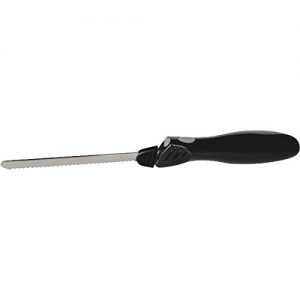 One of the most coveted electric knives in the market today is the stainless steel uncapping knife from Kocome. It is a 110V knife that has a wooden handle and a power cord. Its total length is 40 cm and weighs approximately 1.22 pounds. The fact that this uses electricity means it is highly efficient since it eliminates the need to boil water and keep dipping the knife whenever you are uncapping the frames. The wooden handle also enables you to have a firm grip on the knife and take full charge of the process.
This uncapping knife will suit all skill levels. There is no bias as to who should or should not use it. It all depends on your budget and preference.
Check Price
6. Agile Electric Honey Uncapping Knife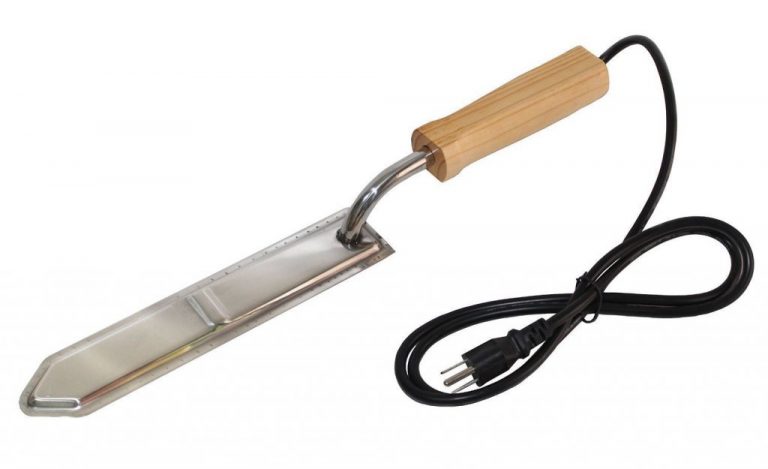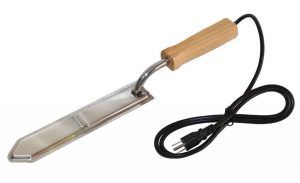 This is another great choice for the lovers of electric uncapping knives. It is designed to make the uncapping process seamless and cost-efficient. Those who are particularly engaged in full time beekeeping will find it efficient in uncapping a number of frames within a day. It is also a cheaper alternative if you cannot afford the automatic uncapper.
This stainless steel uncapping knife warms up easily and removes the wax cappings with ease. Its maximum temperature is 320 F and the user should switch it off once it becomes too hot.
On the downside, the knife sometimes gets too hot while in operation. Perhaps a temperature regulator could be implemented in a later model to keep it in control. That notwithstanding, this is a good buy altogether. As for price, it is quite affordable.
It has a handle of 6 x 1.5 inches and its blade is 9.85 x 2 inches. The electric power cord measures 59 inches and the total voltage is 110 V. The overall weight is 1.15 pounds and therefore never takes effort to handle.
Check Price
5. Pierce Beekeeping Electric Uncapping Knife


Nicknamed the 'Speed King', the Pierce Beekeeping Electric Uncapping Knife does well to live up to its nickname. This hardy knife is made of stainless steel and is suitable for both the beginner and professional. What's more, this knife is handmade with care, which results in it costing quite a bit more than its competitors.
This honey uncapping knife heats up quickly and can effectively cut wax cappings from the frames without much effort. Its wooden handle prevents heat transfer from the blade to the handle, but you should still practice extra precaution and use gloves.
The Pierce Beekeeping Electric Uncapping Knife runs on alternating current (AC) and is available in different models depending on the region. A 120 Volt model is available for the USA, Canada and Mexico, while a 220/240 Volt option is available for Europe, Australia and New Zealand. It comes with a grounded 8 foot power cord.
The Pierce Beekeeping Electric Uncapping Knife comes with an easy to read manual and a 2 year warranty.
Click here to read our full review of the Pierce Beekeeping Electric Uncapping Knife.
Check Price
4. ExGzimo Stainless Steel Electric Uncapping Knife, 120V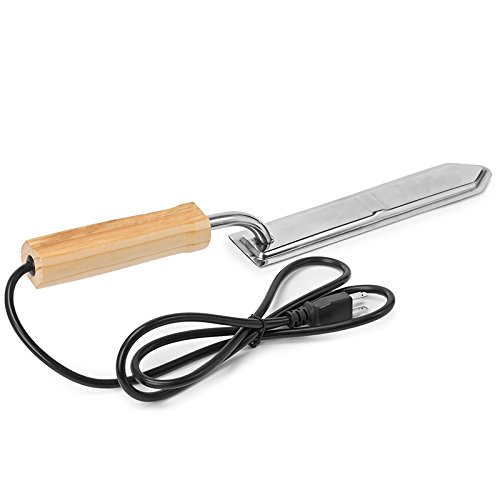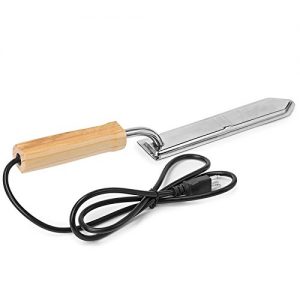 This is another top notch uncapping knife that I can never hesitate in recommending to every beekeeper. The uncapping knife is made of food safe stainless steel and is powered by electricity. It also warms up quickly and hence ideal for the busy beekeeper. It also slices through wax cappings with ease and uniformly. However, you should have a keen eye when it comes to monitoring temperature levels. Switch it off once it gets overheated. Remember its temperature can flare up to 320 F.
This electric uncapping knife has a blade that measures 9.85 x 2 inches. The handle measures 6 x 1.5 inches and is comfortable to grab. Available also is a 120V US plug for powering the knife. It is also important that the product does not have a switch and it begins to warm up once powered. You should also avoid touching it when powered. Its overall weight is 15.8 ounces. Buyers point out that it works great. As for price, it is definitely worth it.
Check Price
3. Little Giant & Ag HKNIFE Electric Uncapping Knife


This preset electric knife takes off the stress involved in removing wax from frames so as to extract honey. The knife warms up quickly and allows you to begin uncapping immediately. It is a stainless steel electric uncapping knife that has a wooden handle for comfortable and firm grip.
It is not only easy to operate but it also makes your work easier and eliminates the mess experienced with other uncapping knives. This works well for the professional as well as the beginner and hobbyist. Those who have used it say it works well and efficiently. Its preset temperature in particular is impressive since it helps maintain the required heat for uncapping. As for price, it is affordable.
It has a dimension of 18.6 x 8.5 x 0.1 inches and weighs 10.1 ounces.
Check Price
2. GoodLand Bee Supply GLUK-ELEC Electric Decapping Knife, 110 Volts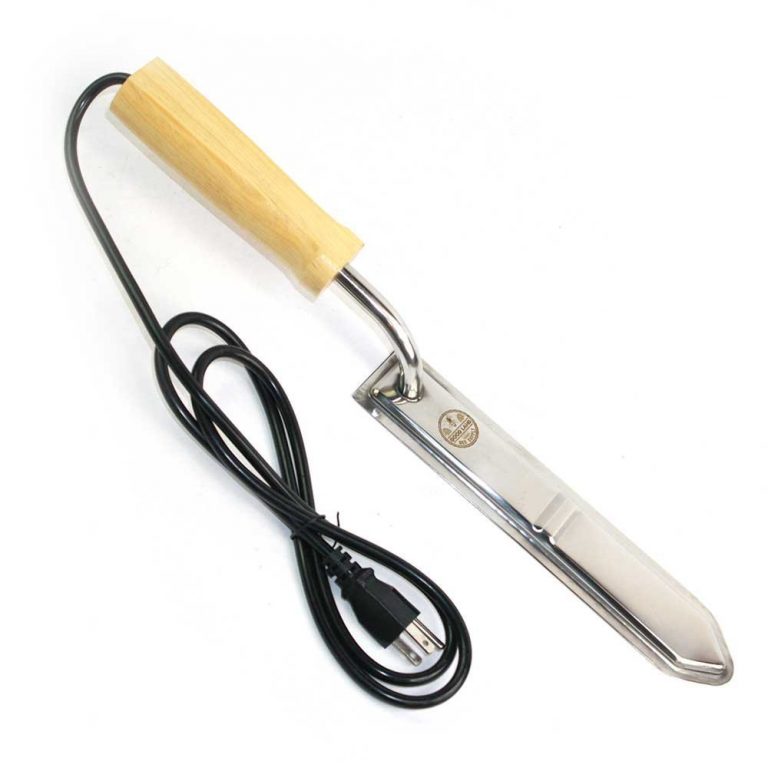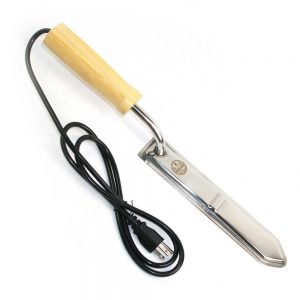 This is an excellent quality decapping knife from GoodLand Bee Supply, designed for the beginner or professional beekeeper. It has a power capacity of 110 volts and it is a corded knife.
One of the features that I found to be most impressive with this knife, is the fact that it has an excellent handle and warms up fast. It therefore makes things so much easier. This is unlike cold uncapping knives that have to be dipped in hot water every time. The blade is also well designed so as to make it easy to maneuver. As for price, this electric knife is surprisingly affordable when compared to similar models. In fact most buyers point out that it works as good as one that costs twice its price. It works more than expected and will definitely last long given the sturdy construction.
The knife has a dimension of 18.9 x 2 x 17.8 inches and weighs only 1 pound. Its shipping weight is 1.2 pounds.
Check Price
1. BeeCastle Electric Uncapping Knife with Temperature Control, 110V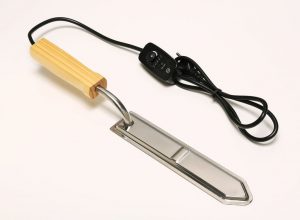 With the advancement in modern technology we do not have an option but to embrace change. BeeCastle has designed one of the most sophisticated electric uncapping knife that makes your work effortless and cost-efficient. Its latest model comes with a temperature controller that prevents overheating and ensures the wax cappings are subjected to the required levels of temperature. This makes the uncapping easy and fast.
This knife is made of stainless steel that is food safe, durable, and hardy. It easily slides through the frame edges so as t expose the combs for honey extraction. Waste no time in warming up your knife when this self-regulating electric knife can keep things in control. It also has a comfortable handle that measures 6 x 1 .5 inches. As for price, it is a sure steal for the beekeeper who knows what quality is all about. It is sure value for the money.
Check Price
Conclusion
You have three choices to choose from when it comes to uncapping equipment: the automatic uncapper, cold uncapping knife, or electric uncapping knife. Each of these works well but cannot be equal when it comes to their efficiency. They also come in varying prices. Therefore, try to evaluate your needs and budget before you buy any of the above mentioned best honey uncapping knives.
Do you own any of the honey uncapping knives on this list? Which uncapping knife do you think should be added to this list? Leave a comment below and let us know.