If you purchase an independently reviewed item through our site, we earn an affiliate commission. Read our affiliate disclosure.
Review Overview
The Esschert Design WA38 Bee House provides an affordable and cute way to get started in mason beekeeping.
The Esschert Design WA38 Bee House is hardy and great for keeping successive generations of mason bees. The bee house is built with a set of unique features that sets it apart from other mason bee houses. Indeed, it is well worth considering for all mason beekeeping nature lovers. Let's check it out.
For more information on high quality mason bee houses, be sure to check out Crown Bees, a highly reputed company specializing in mason and wild bees in the United States.
About the Esschert Design WA38 Bee House
Mason bees help fertilize your garden. They are quite docile and rarely resort to stinging. Generations of mason bees live in the same location and rarely move away. The Esschert Design WA38 Bee House gives mason bees a suitable protected space to live in. It is made using wood on all sides and features a bee line drawing on the front. The scientific name 'Apoidea' features prominently on the front under the bee, in reference to the superfamily of insect lineages that include bees and wasps.
One of the challenges that mason bees face in their habitats is parasites. The presence of parasites reduces the rate at which your mason bee colony will grow. It also causes reduced ability of mason bees to fertilize plants. The Esschert Design WA38 Bee House is carefully designed to control the level of parasites. By helping you keep parasites away from your mason bees, the house goes a long way in lowering your mason beekeeping costs.
On the sides and roof of the bee house are wide panel wood boards. These are also found on the bottom. Smaller boards line the lower and upper parts of the front section. The bee house makes use of bamboo pipes. Bamboo is a favorite nest material for mason bees and naturally attracts them.
Bamboo Tubes
The bamboo tubes in the bee house are of different sizes but all are of a good size for mason bee habitation. They are arranged in an irregular pattern at the front of the house. The combination of these two factors (size and arrangement) makes it easy for your mason bees to find their specific nest pipe. Mason bees work better with irregular patterns than regular symmetrical patterns. Bamboo holds mud very well as the mason bees use mud to plug cells. This adds to the suitability of the mason bee house.
Placement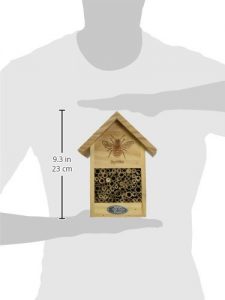 The Esschert Design WA38 Bee House is easy to work with. It comes with a hole in it for hanging on a fence or wall. The hole is made in the popular key-hole design with the bottom of the hole bigger than the top. It allows a nail head to go in through the bottom and hold the bee house against the wall.
Any suitably sized nail or screw is adequate to hold the mason bee house in place. It is also easy to remove the bee house from its location when it is time to stow it away in winter. Remember place the bee house facing a generally southern direction when hanging it. This allows the morning sun to rouse the mason bees early and warm the bee house.
Things to Note
Beekeepers using this mason bee house do so to have a close colony of mason bees. They are great for pollination in gardens.
It is important to note that the mason bees do not make honey. That is the nature of mason bees, not a fault of the mason bee house.
Check Price and Availability of the Esschert Design WA38 Bee House
Pros and Cons
Pros
The mason bee house is made using high quality materials. The boards round the sides and bottom are sufficiently thick to keep out water, predators and keep the mason bee house warm.
This bee house shows very solid construction. Joints are put together nicely and tightly. The bee house is sure to last for long. Even when you start with just a few cocoons of mason bees, the house will be adequate for your nicely sized colony as it grows over the years.
You can wait for mason bees to discover this bee house or introduce them via cocoons. You will not have to wait for long for mason bees to naturally find the house. Bamboo quickly attracts them and enables the bees to build a strong colony with ease.
It is an awesome gift item for nature lovers. It has both a functional use housing mason bees and a decorative one since it is so beautiful.
Cons
Harvesting mason bee cocoons from the mason bees is a rather difficult undertaking if not impossible. You have to largely take the bee house apart if you wish to access cocoons. Clearly, the bee house was not built with cocoon harvesting in mind.
The mason bee house does not come with instructions on how to set it up and use it. This can be a big challenge for those just starting out as mason beekeepers.
Further Thoughts
The Esschert Design WA38 Bee House is suitable for both professional and amateur beekeepers. Once you have a location for the bee house, there is little else you really have to do. Mason bees will colonize it quickly, or you can introduce them into the nest house using cocoons. Make sure to buy cocoons from a trusted and reliable source.
It is advisable to avail a mud source for the mason bees. This is done by locating a suitable wet area of open earth near the bee house. If your area does not have an abundance of flowering plants, be sure to plant a few crocus, lavender, salvia or sunflowers near the mason bee house. Black-eyed susans too are great flowers for mason bees.
Conclusion
The Esschert Design WA38 Bee House meets its intended function very well. Any farmer with a garden should consider buying one. Nature lovers who may want to do something about mason bees' conservation should also give this mason bee house high priority when choosing a nest house for their bees.
Do you own the Esschert Design WA38 Bee House? Leave a comment below and let us know what you think of it.
Check Price